Black bean quinoa salad – flavorful, fast and filling. Another great way to enjoy quinoa in a vegan, gluten-free way. This was a hit for vegetarians and non-vegetarians alike!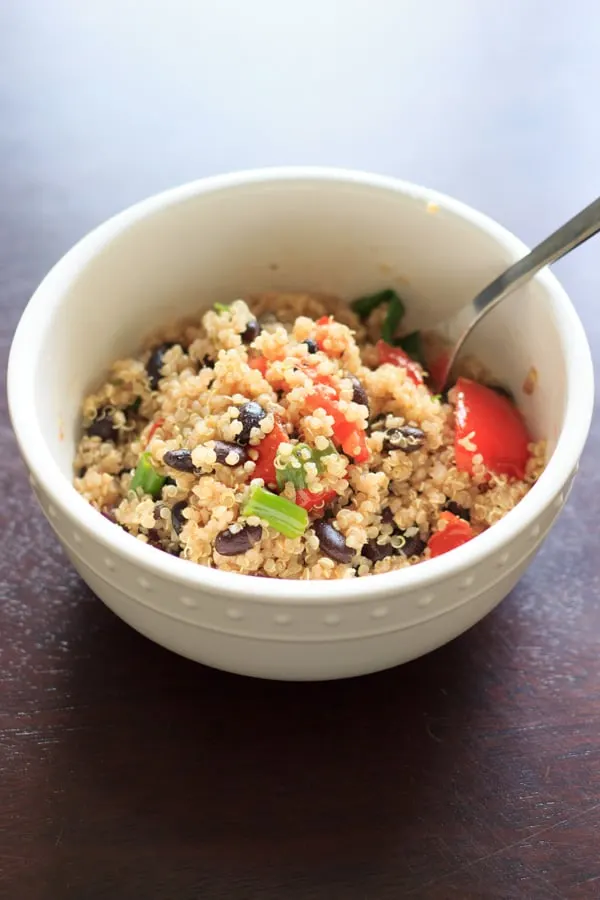 Recently, I had some family come to stay with me for the weekend.
I made sure I checked off everything on my to-do list. I cleaned my apartment. Made sure I had enough clean towels. I prepared my cats for the fact that there was going to be company interrupting their nap-time. The important things.
On the morning they were coming in, they called and asked about lunch. I played it cool and said "I've got it covered." But was really thinking "Oh right, I have to feed these people!"
Whoops.
I already knew where I was taking them for dinner that night, but I *almost* forgot about the fact that they would be hungry when they arrived.
I looked in my pantry to try to figure out what I could make quickly and that would feed 5 (very picky) people, and hiding behind a bag of pasta was quinoa! I've made quinoa burgers recently, but generally I tend to forget that quinoa is a great staple for quick and easy meals.
I couldn't make my Greek quinoa salad again because my several of my family members (shockingly) don't like feta cheese. So I pulled out a can of black beans and figured I could make it work. All it took on top of that was a tomato, green onions, olive oil, lime juice, some herbs and spices to throw this together.
My grandma couldn't even pronounce the word quinoa when I put this in front of her, and I was worried she wouldn't try it. She quickly got over her skepticism and repeatedly said how flavorful and filling this black bean quinoa salad was.
I call that a success!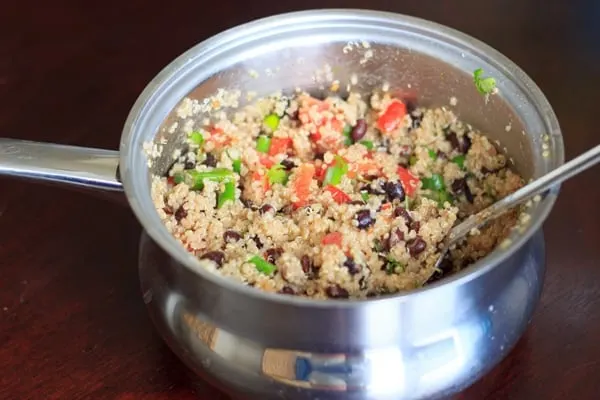 At first, I wasn't sure this was going to be enough to feed 5 people. But even after everyone had seconds there were still leftovers.
It's a good thing lunch was a hit, because my idea to make overnight french toast for the next morning had to be scrapped. Mainly because I forgot to buy bread! As my family pointed out to me, that's kind of an important ingredient for french toast.
Can't win 'em all.
Next time, I'll spend more time making my to-do list.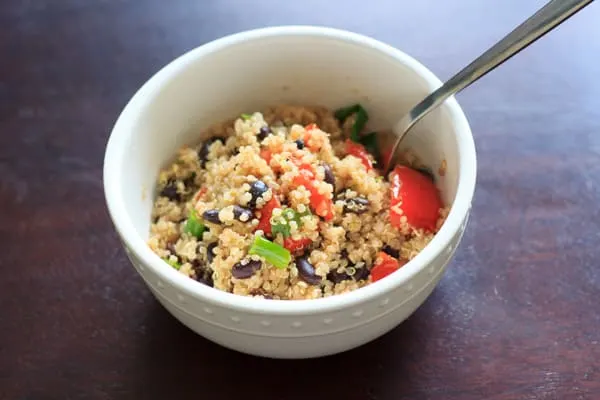 Yield: 6
Black bean quinoa salad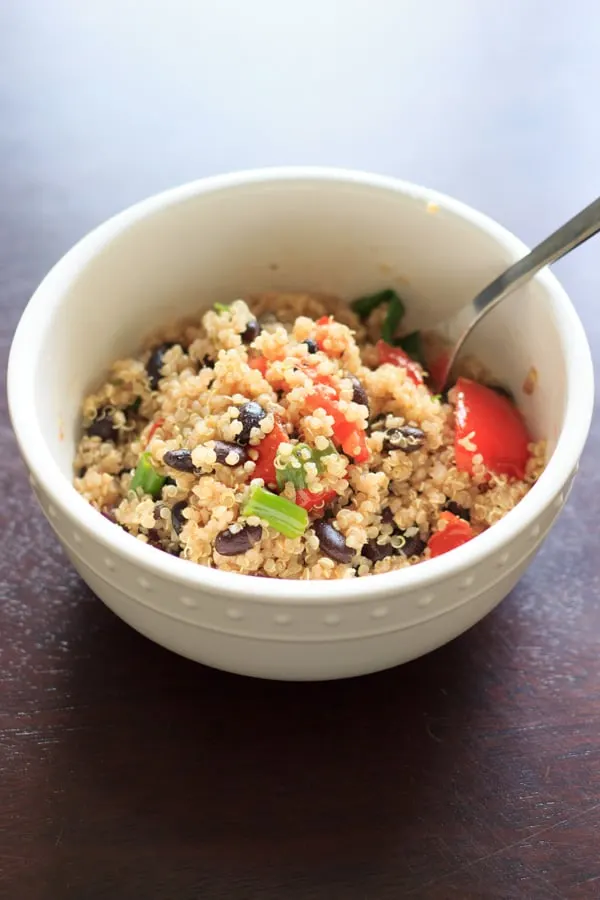 Black bean quinoa salad - flavorful, fast and filling. another great way to enjoy quinoa in a vegan, gluten-free way. This was a hit for vegetarians and non-vegetarians alike!
Ingredients
1 cup uncooked quinoa, rinsed
2 cups water
1 (15 ounce) can black beans, drained and rinsed
5 green onions, chopped
1 large tomato, chopped
1/4 cup olive oil
1/4 cup chopped fresh cilantro
2 teaspoons cumin
1 lime, juiced
salt and pepper, to taste
Instructions
In a medium-large saucepan, add quinoa and water and bring to a boil.
Once water starts to boil, reduce to medium-low heat, cover, and let cook for 10-12 minutes or until water is absorbed. Remove from heat.
Add the black beans, green onions, and tomato to the quinoa.
Mix in olive oil, cilantro, cumin, and lime juice and stir thoroughly.
Add salt and pepper to taste.
Store in refrigerator until cold if desired, or serve immediately.
Nutrition Information:
Yield:
6
Amount Per Serving:
Calories:

235
Total Fat:

11g
Saturated Fat:

2g
Trans Fat:

0g
Unsaturated Fat:

9g
Cholesterol:

0mg
Sodium:

59mg
Carbohydrates:

28g
Fiber:

5g
Sugar:

1g
Protein:

7g
Nutrition information is calculated automatically by an online tool at Nutritionix. It is not always accurate. Please use your own tools to check if you rely on this information.