Chopped Caprese salad that takes 10 minutes and 5 ingredients to make. An easy way to enjoy this delicious gluten-free appetizer any time you want! This fresh salad will keep you coming back for more.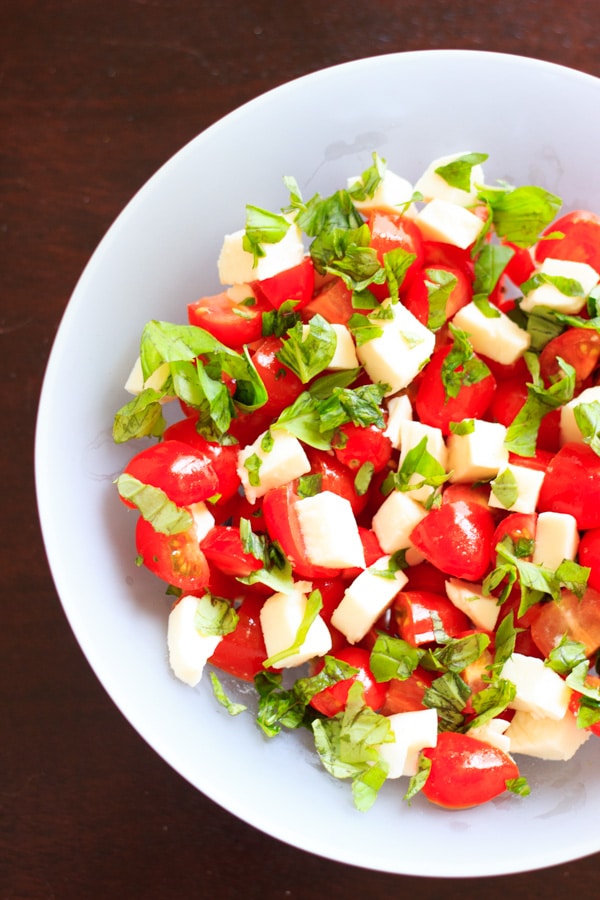 Click here to save this Caprese salad recipe on Pinterest!
Confession: I'm in love with Caprese salad.
Fresh mozzarella, flavorful tomato, it all just WORKS.
Usually I only see this as an appetizer choice in Italian places, and I don't get to order it often.
Though let's be honest, I have been known to eat cherry tomatoes with a handful of cheese while I stand in front of the fridge. What, am I the only one?
When I realized that I could actually make a "real salad" for this, one that doesn't require fork AND knife, I immediately went to the store to load up on tomatoes and cheese.
Luckily, I have a fresh supply of basil at my doorstep.
After I broke a full bottle of balsamic vinegar in the store, ran and hid (kidding, kind of), I came home to make this beautiful salad.
Here's a thing I learned though. Do NOT mix the balsamic vinegar in. Balsamic is for drizzling! See for yourself…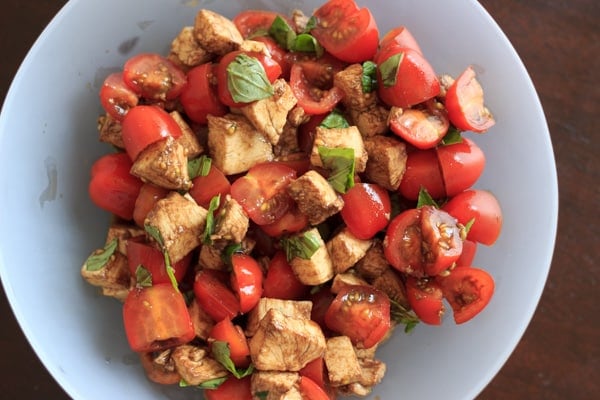 #Pinterestfail.
Not the most gorgeous picture.
Luckily it still tastes good, and enough so that I finished it off and immediately made a second batch that was much prettier to photograph.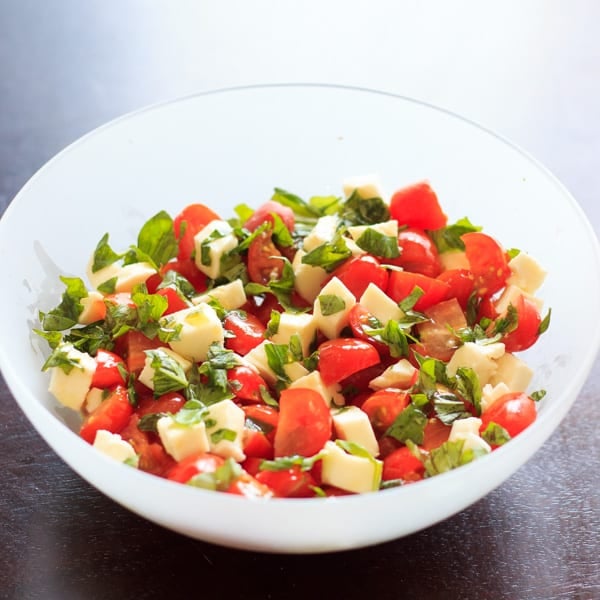 So again, balsamic is for DRIZZLING.
Also, when I was reading other's recipes about this chopped Caprese salad, many of them had (in my opinion) way too much oil and vinegar added.
I only used 2 Tablespoons olive oil and 1 Tablespoon balsamic vinegar. One recipe called for 1/4 cup balsamic alone, which I started to do in the first batch but realized it was drowning in brown liquid.
I'd recommend to start small with the oil and vinegar. You can always add more later!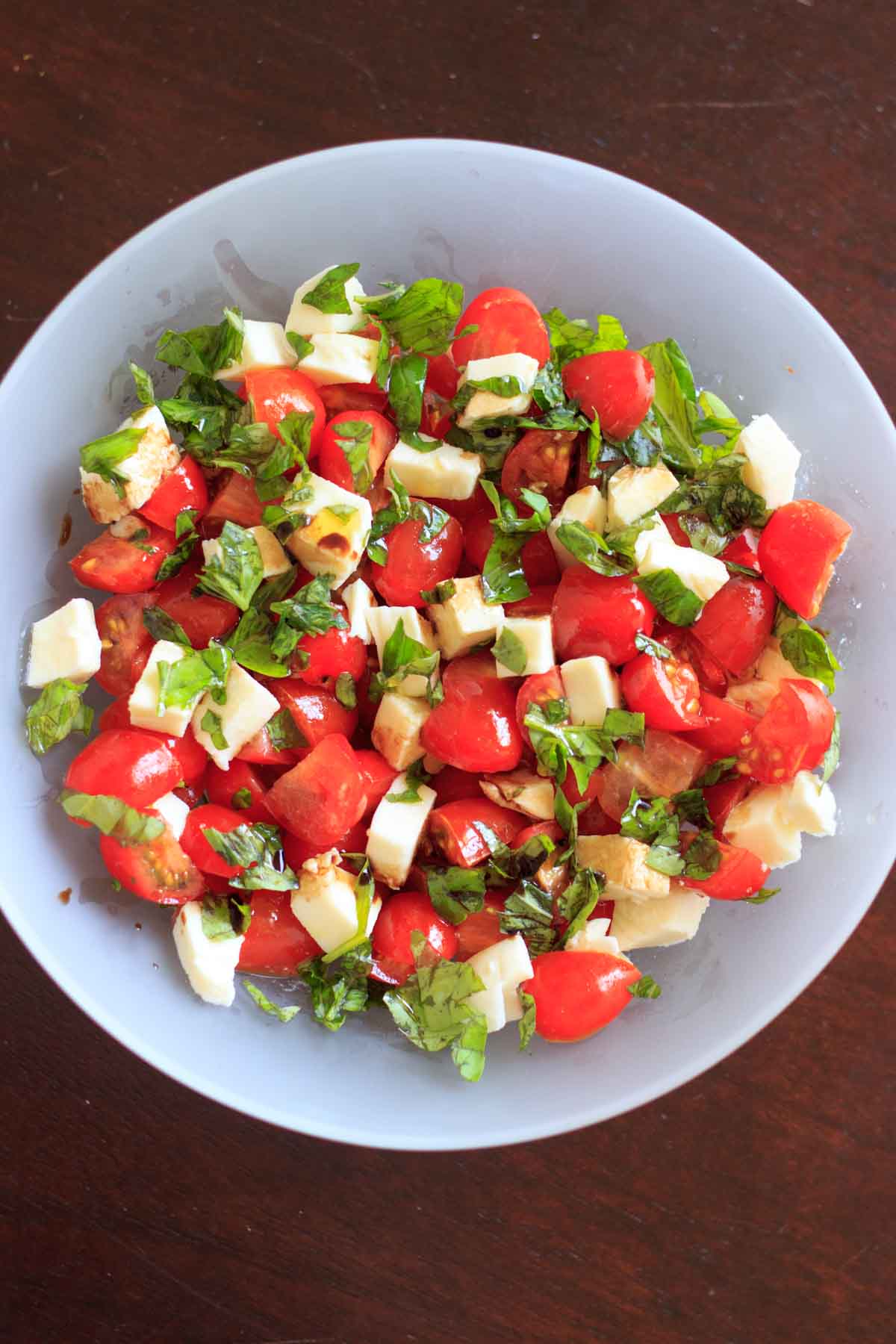 Other Caprese recipes you will love:
Chopped Caprese salad
Chopped Caprese salad, 5 ingredients and ready in 10 minutes. An easy way to enjoy this delicious appetizer any time you want! This fresh salad will keep you coming back for more.
Ingredients
1

10 oz. container

grape tomatoes

, halved or quartered

4

ounces

fresh mozzarella cheese

, cubed

1/2

cup

fresh basil leaves

(I used about 25 small leaves), torn

2

tablespoons

extra virgin olive oil

1

tablespoon

balsamic vinegar

(or balsamic glaze)

sea salt

, to taste ( I like pink himalayan)
Instructions
In a medium bowl, toss together the cut up tomatoes, mozzarella, and basil leaves.

Add olive oil to bowl, and lightly toss together.

Drizzle the balsamic vinegar over the top of salad.

Sprinkle salt as desired.
Notes
Can add more olive oil or balsamic vinegar as desired - it's always good to start small and work your way up!
Balsamic glaze is thicker and you can use either this or balsamic vinegar - even better if you want to use a little bit of both! The glaze gives it a nice finished look.
Recommended and useful items for this chopped caprese salad recipe:
Balsamic glaze, salad bowls, and herb choppers are all available in the Trial and Eater amazon shop!
*There are affiliate links within this post that we can earn a commission on at no extra cost to you. Thank you for helping to support the site!
You might also like: Peach Caprese Salad