Wonderful veggie-friendly burger substitute. This quinoa burger will have your family asking for seconds!
Veggie burgers sometimes get a bad rap.
Meat eaters usually don't understand why you'd eat a veggie version if you can have the real thing. Or they run closer at the word "burger" and then feel tricked after the first bite.
I'll admit I have been guilty of trying to fool a couple people over the years that you "can't even tell!" it's not real meat or that they'll love it anyway.
Even though I have only had 3 "burgers" in my life (they were from a McDonalds, so who knows what kind of meat that was) I'm sure it's safe to say a veggie burger will never taste like a beef burger.
But for us veggie lovers out there, that's not really what we're looking for, is it?
I served this quinoa burger (yep, burger made out of quinoa – take that, McDonalds) at a dinner party recently.
My friends tried this creation – reluctantly, at first – and to my surprise they asked for more!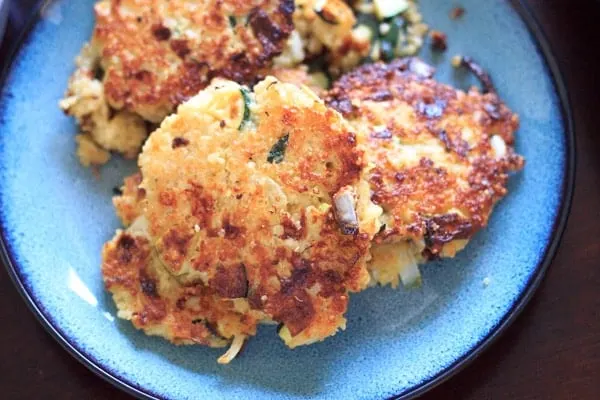 It took me a few tries to get the patties to actually stay together – I realized that if I refrigerated the mixture before I fried them, they were much less likely to fall apart.
Also be sure your pan is hot hot hot – and the olive oil is too, before you drop the quinoa in.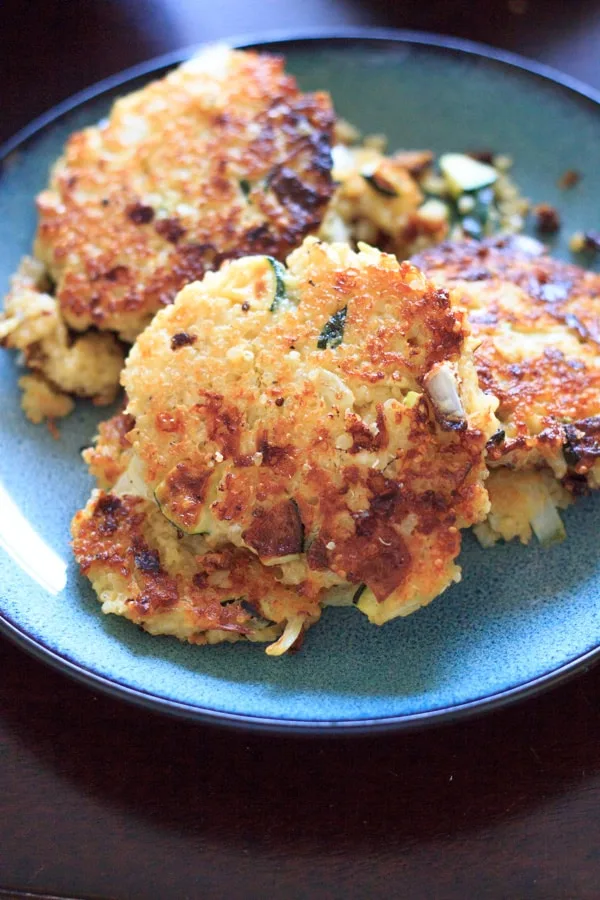 My hope is that these quinoa burgers will bring both vegetarians and meat lovers together for the same meal. Is that asking too much?
While you can't trick them into thinking this is anything close to meat, I am pretty sure they'll like it. Either way, you quinoa-lovers will definitely love it. They're really good, trust me!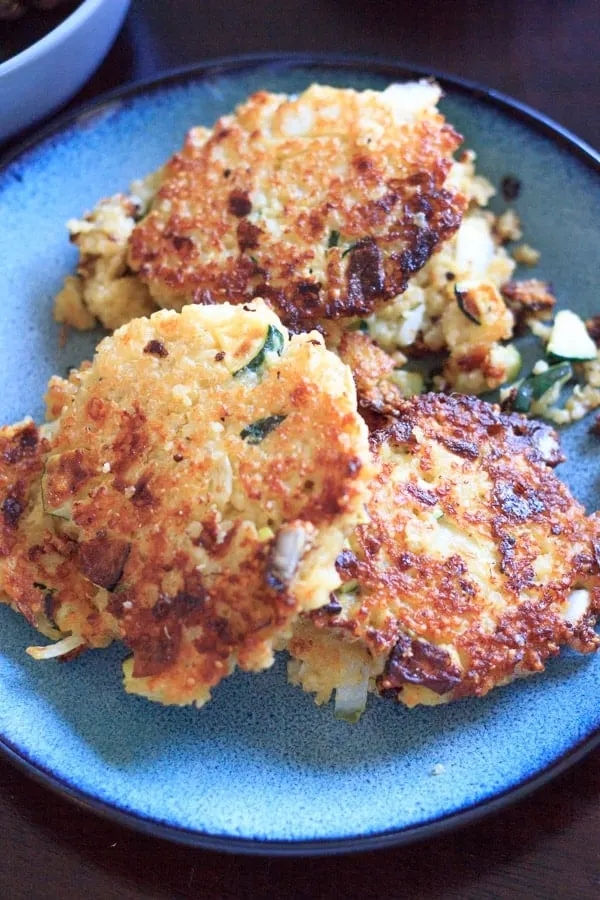 Serve plain or jazz it up with some chunky relish and your favorite bread. Be sure you make enough for everyone to have seconds!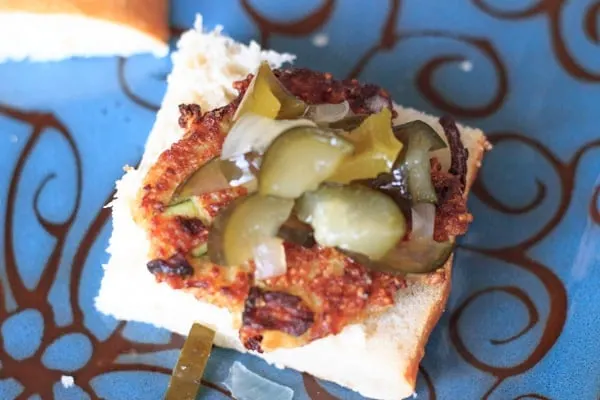 Wonderful veggie-friendly burger substitute. This quinoa burger will have your family asking for seconds!
Ingredients
1 cup uncooked quinoa
2 cups water
1 onion, , diced
3/4 cup shredded cheddar cheese
1/2 cup cottage cheese
1 cup finely chopped zucchini
3 eggs
3 tablespoons flour
1 teaspoon cumin
salt and pepper, to taste
olive oil, for frying
Instructions
In a medium saucepan, combine uncooked quinoa with water and bring to a boil. Once it begins to boil, reduce to low heat and simmer for 10-15 minutes until water is evaporated (or according to package instructions).
Add the rest of the ingredients to cooked quinoa while cooking over low heat, stirring after each ingredient. Remove from heat and let cool.
If you have time, refrigerate for about an hour. You can skip this step, but I found that the patties stayed together better after letting the mixture sit.
In a frying pan, add olive oil and turn to medium heat. Scoop 1/4 cup of quinoa mixture at a time into patty shapes (I was able to cook 3 or 4 at a time). Cook about 3-4 minutes on each side, or until golden brown.
Nutrition Information:
Yield:
12
Amount Per Serving:
Calories:

131
Total Fat:

6g
Saturated Fat:

2g
Trans Fat:

0g
Unsaturated Fat:

3g
Cholesterol:

55mg
Sodium:

125mg
Carbohydrates:

13g
Fiber:

1g
Sugar:

1g
Protein:

7g
Nutrition information is calculated automatically by an online tool at Nutritionix. It is not always accurate. Please use your own tools to check if you rely on this information.