These nutrition-packed cookies are referred to as lactation cookies because they help nursing mothers produce milk, but they can be eaten by anyone! Made two ways, there is a gluten-free recipe with peanut butter as well as an easily customized flour cookie.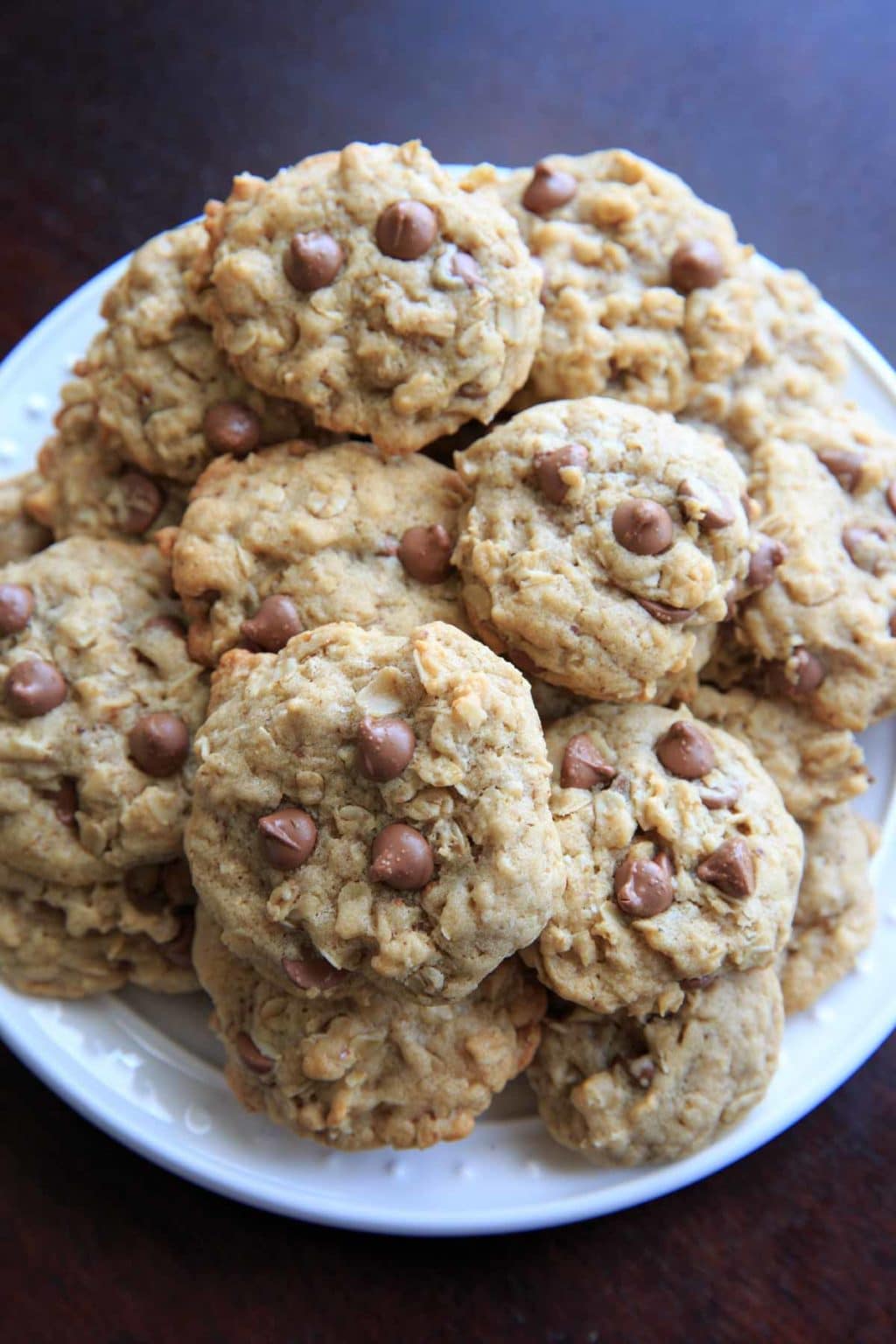 Let me start out by saying, to all my friends and family reading, to please not be thrown off by the title of this recipe. I am not lactating, nor have any need to lactate at this time. This is not meant to be a hint of any kind.
But I do have friends that have recently welcomed little ones and it's because of them I learned about the term "lactation cookies."
The only real difference between lactation cookies and regular cookies is the addition of a few ingredients, namely: brewers yeast, flax meal and oats.
Some people also add wheat germ or other vitamins but I couldn't find them easily.
Though I did have a jar of brewers yeast that I sometimes would feed to my cats but I had never tried it myself.
(Note: I bought it at a health food store so it's not pet-specific. You can also find it online.)
You can read about some of the health benefits of brewers yeast here.
In true "trial and eater" fashion I immediately tried three different variations of this cookie.
What I'll end up sharing with you today is a base model cookie that you can adjust to your preferences if you like, and then a peanut butter oatmeal cookie that is gluten-free.
Both of mine have chocolate chips, obviously.
This is not a typical "lets reduce the sugar or fat in this recipe" here because new moms NEED the calories.
You'll have to wait til the next Food Fail Friday to see the third variation. (Photo below is gluten-free.)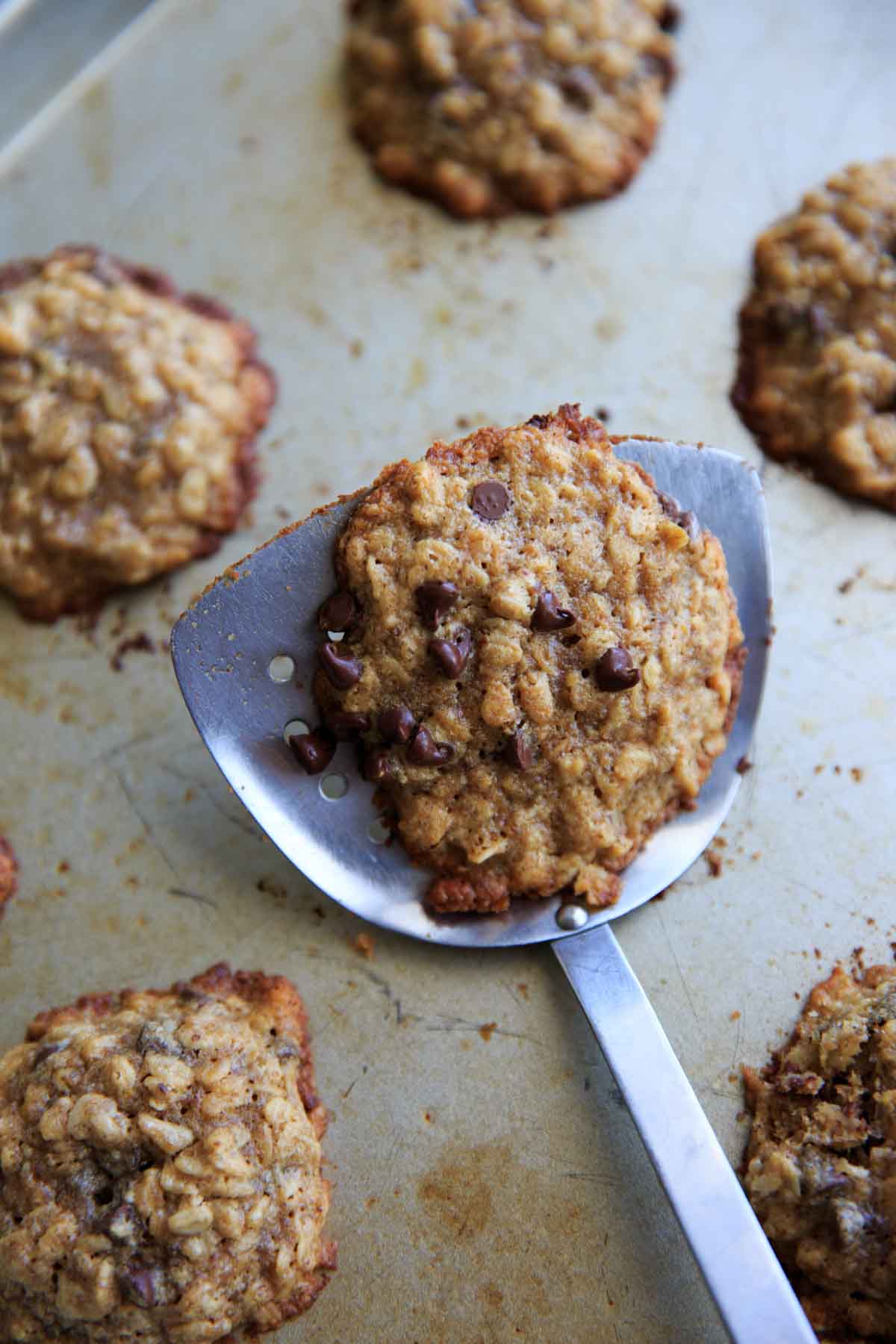 Since oats are one of the main ingredients, it isn't hard to make these gluten-free by subbing more of the oats for the flour.
(Note that not all brewers yeasts are gluten-free, though. Check the label if this is important to you.)
Though they can end up being a bit crumbly if they have too many oats (and not enough liquid binding them together), and a bit crispier if they have fewer oats.
Use this knowledge to customize to your favorite cookie consistency!
I preferred the "base" recipe with flour but my friend Lauren prefers the peanut butter + oats combo.
Originally I was afraid that they would taste weird with the brewers yeast.
Brewers yeast is essentially a by-product of brewing beer, and since I had never eaten it myself I was a tad skeptical.
But in all honesty it took quite a bit of it for me to even notice the taste at all!
With each batch I baked, I added a little bit more and a little bit more to test the limits.
Everybody's taste buds will be a little different, so you probably want to start small if you're unsure.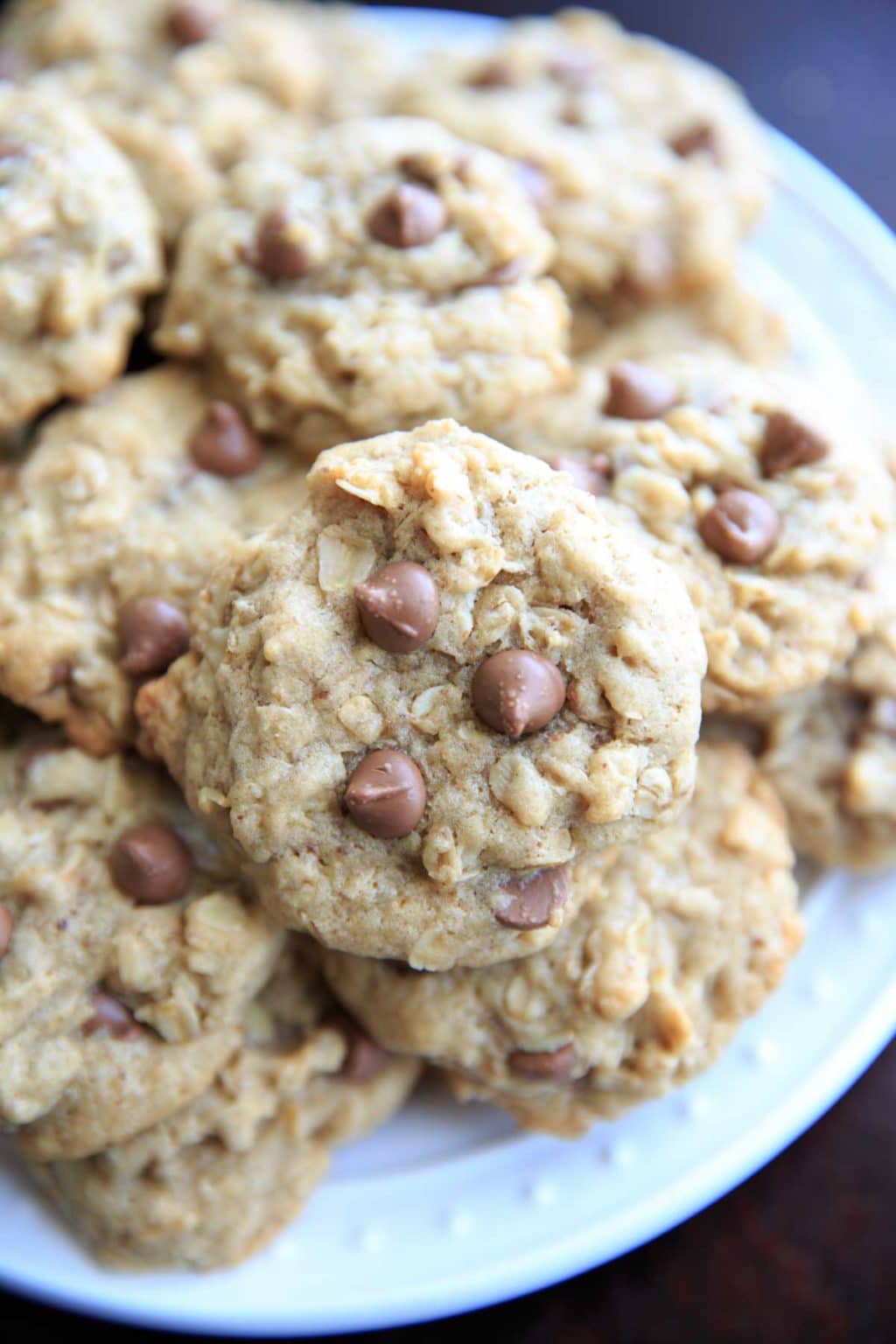 Mommas have enough to worry about – making food for their babies shouldn't be one of them. If you have a friend who could use some of these cookies, make them a batch!
I'll repeat: I am not lactating and I still ate and enjoyed these cookies. So you can keep some of the batch for yourself regardless.
Though if you want some unique cookies that don't have anything to do with breast-feeding, try these chocolate chip ones with pomegranate seeds!
Also: Never in my life did I think I'd say or type "lactating" that many times in a row.
Yield: 36 cookies
Lactation Cookies - two ways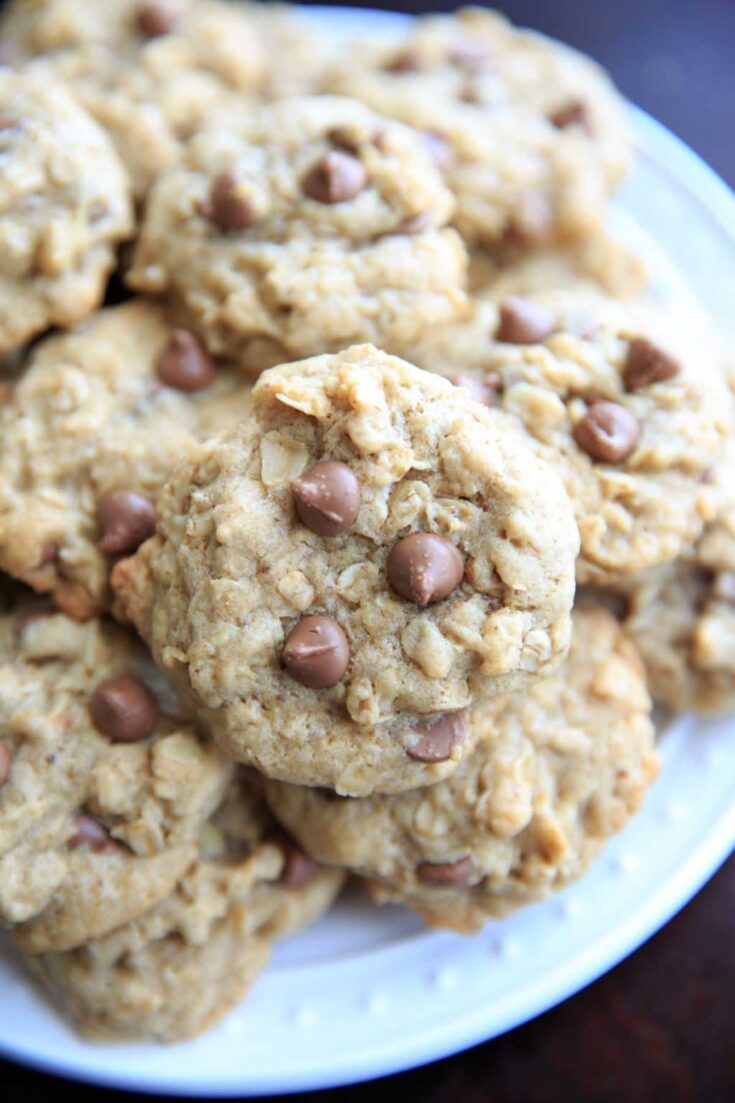 These nutrition-packed cookies are referred to as lactation cookies because they help nursing mothers produce milk, but can be eaten by anyone! See notes for the gluten-free oat version as well as optional mix-ins for customization.
Ingredients
1 cup unsalted butter, (2 sticks), softened or melted
1 cup sugar
1/2 cup brown sugar
1 1/2 teaspoons vanilla extract
2 large eggs
4 tablespoons brewers yeast, (I've gone up to 6 tablespoons)
2 tablespoons flax seed meal, (I've gone up to 4 tablespoons)
2 cups all-purpose flour, (see notes for gluten free version)
1 teaspoon baking soda
1 teaspoon salt
2 cups rolled oats
1 cup mini chocolate chips
Instructions
Preheat oven to 350°F.
In a large bowl, beat together butter, sugar, brown sugar, vanilla and eggs. Add flax meal and brewers yeast and mix well.
Add flour, baking soda and salt to butter mixture and stir until combined. Stir in rolled oats and chocolate chips.
Place on greased cookie sheet and bake at 350°F for 11-12 minutes, or until lightly browned.
Notes
TO MAKE THESE GLUTEN-FREE: Replace the 2 cups flour with 2 cups additional oats, and no need to add the baking soda. I also like to add 1/2 cup melted peanut butter to this version for peanut butter + oat cookies. (Note that not all brewers yeasts are gluten-free, so make sure you check the label. You may have better luck with brewers yeast pills for gluten-free.)
I've also tried to replace half or more of the butter with coconut oil, with success. Note that the cookies will spread using the oil.
Optional mix-in ideas for either version: nuts, nut butter, dried fruit, coconut flakes, chia seeds, peanut butter chips, or more chocolate chips.
Recommended Products
As an Amazon Associate and member of other affiliate programs, I earn from qualifying purchases.
Nutrition Information:
Yield:
36
Serving Size:
1 cookie
Amount Per Serving:
Calories:

153
Total Fat:

7g
Saturated Fat:

4g
Trans Fat:

0g
Unsaturated Fat:

3g
Cholesterol:

24mg
Sodium:

101mg
Carbohydrates:

20g
Fiber:

1g
Sugar:

11g
Protein:

3g
Nutrition information is calculated automatically by an online tool at Nutritionix. It is not always accurate. Please use your own tools to check if you rely on this information.