Bang Bang Brussels Sprouts! Easy and spicy side to liven up your veggies. Adjust spice to your tastes and/or serve with skinny bang bang sauce. Gluten-free, vegan.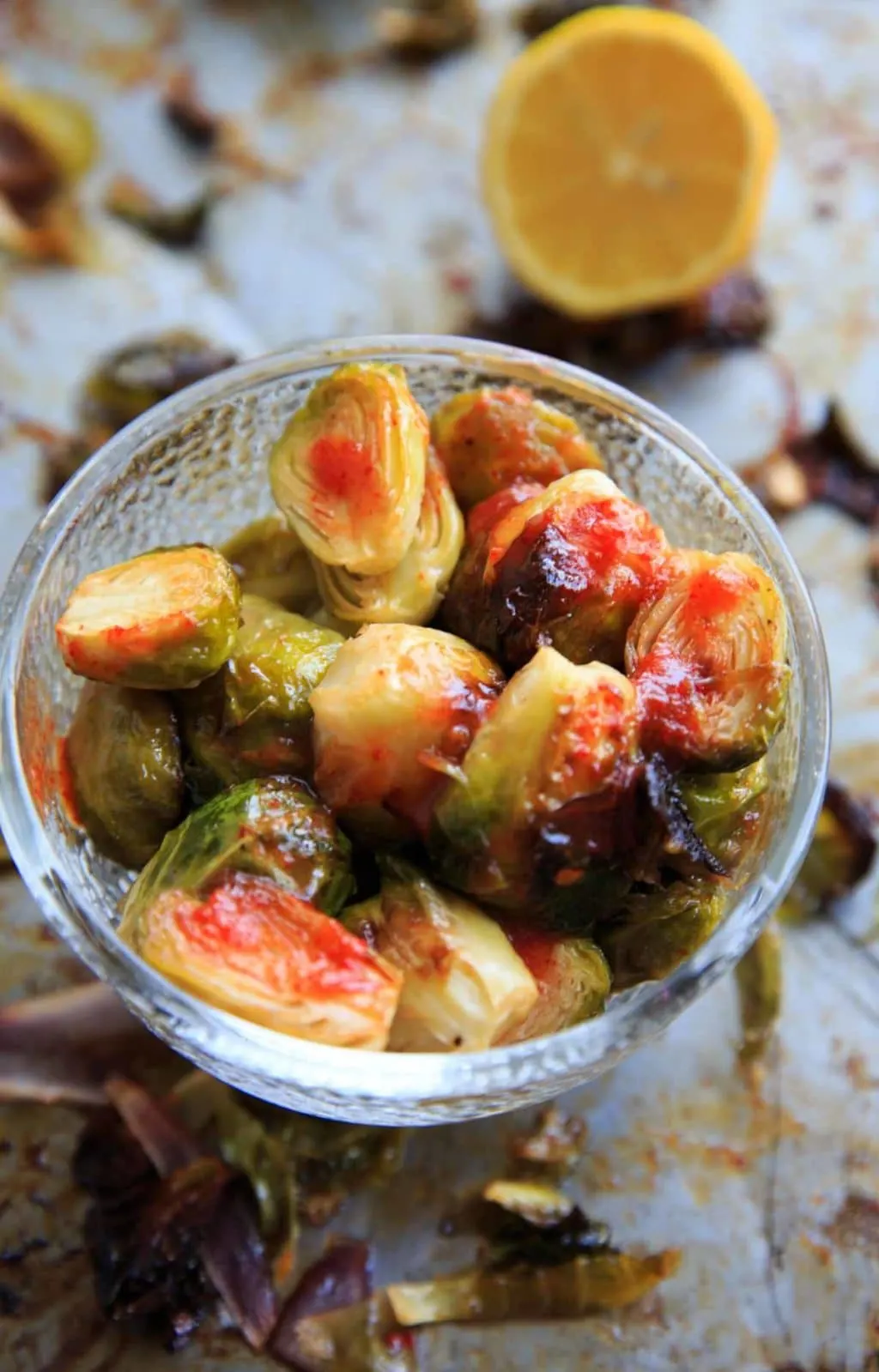 I eat Brussels sprouts ALL. THE. TIME. But yet somehow this is the first time they've made it to the blog.
(I burned them to a crisp once in my first food fail friday post, but that's it.)
Most people have a weird hate for Brussels sprouts. I think those are the people who were served it boiled and flavorless and that was the vegetable that they were forced to eat at the kitchen table before they could be excused.
But in my experience they can be SO flavorful! Roasting (or even grilling – don't get me started) them with some simple sea salt makes for vegetables that people fight over.
Or maybe I just hang out with people who really like vegetables?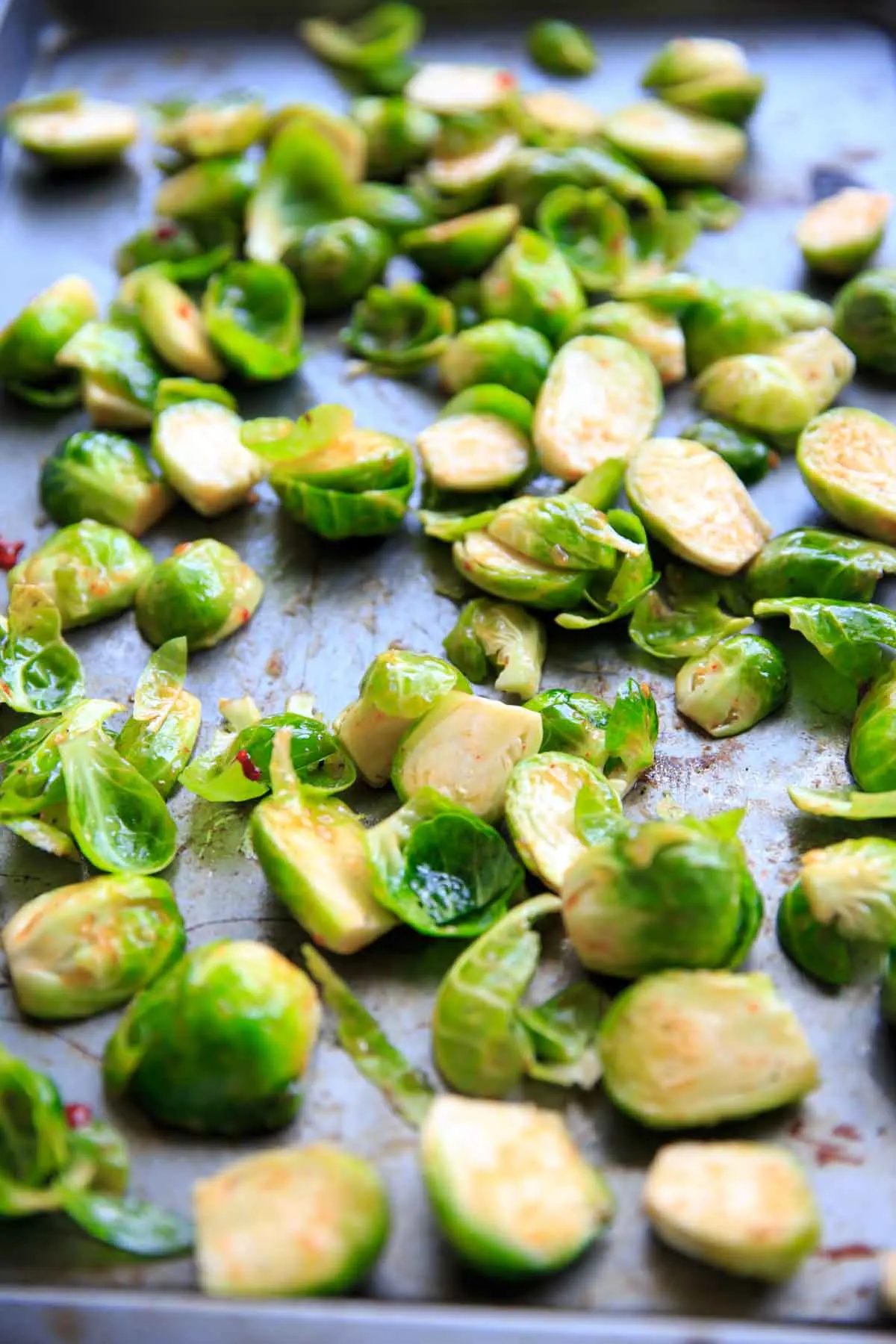 The trick is to make sure they are roasted long enough so that a fork goes in really easily. Otherwise you'll be chewing more than necessary and we don't want eating veggies to feel like work.
My favorite is buying the sprouts when they are still on the stalk (<-which happens to be my very first Instagram picture) but they aren't available year-round. Cut them in half (or quarters if they are really big).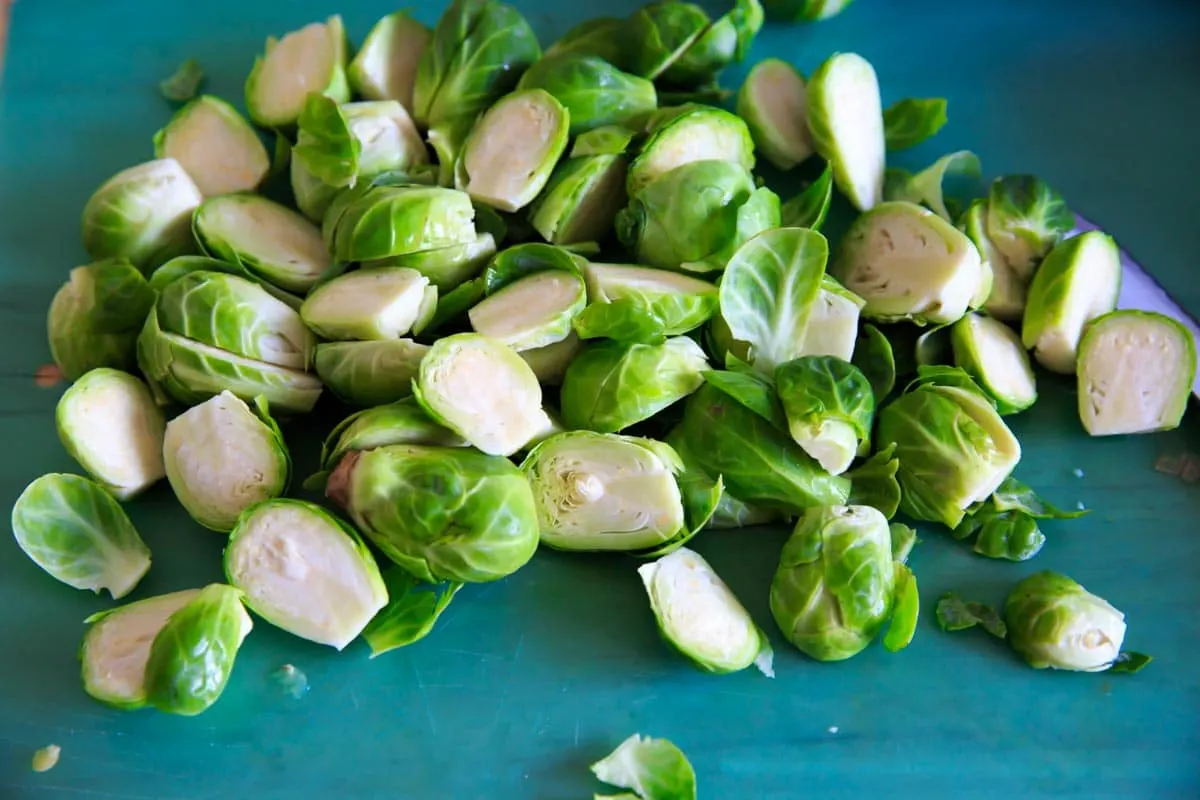 Then drizzle with olive oil, sweet chili sauce, sriracha, salt and pepper.
Finish off with lemon juice for an extra tang.
They are really easy to burn, so keep an eye on them! It helps to toss them on the baking sheet about halfway through so they are cook evenly.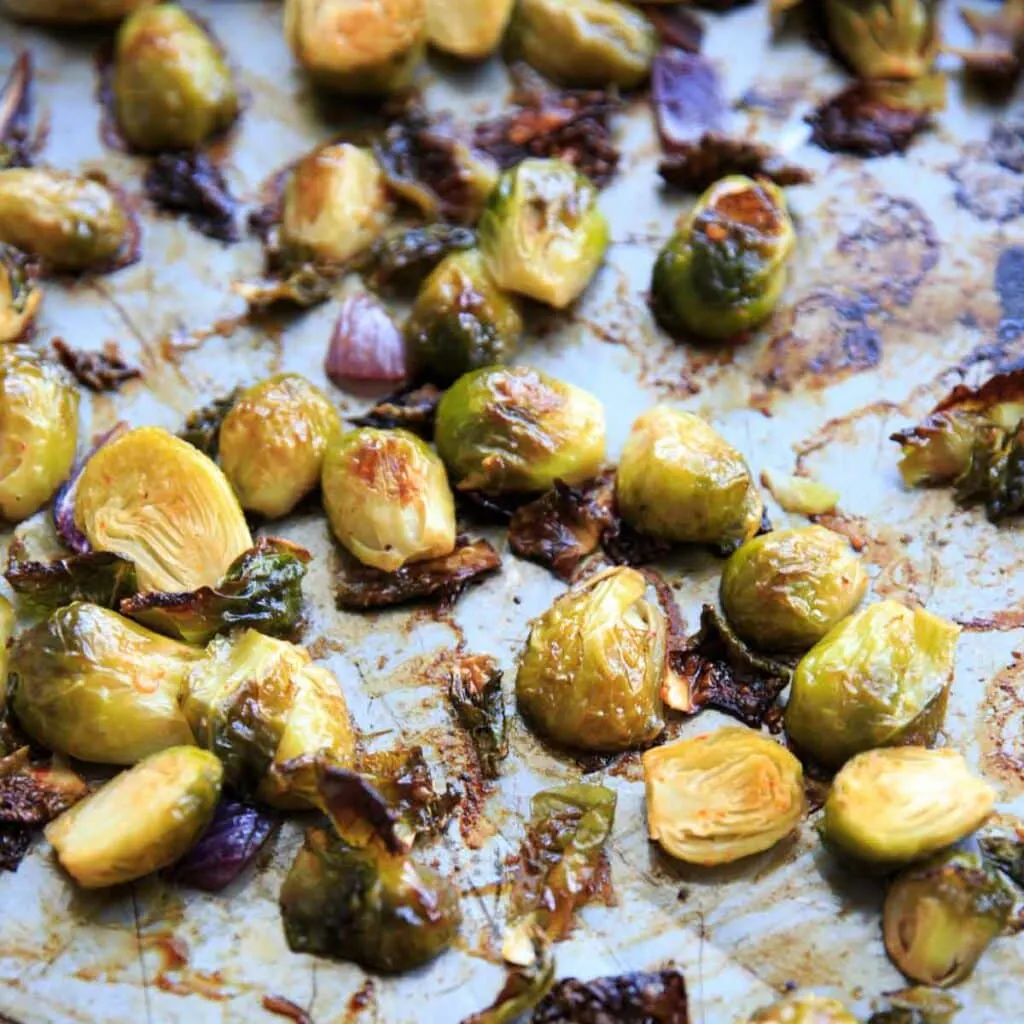 When I baked mine first, they didn't have enough "bang" in them. So to make them bang BANG I added a pinch of cayenne and more sriracha on top.
Depending on how crazy you are about spicy foods, you may or may not need to add the extra. Another option is to whip up a quick batch of bang bang sauce for dipping. (It's greek yogurt based so not vegan if that's important.)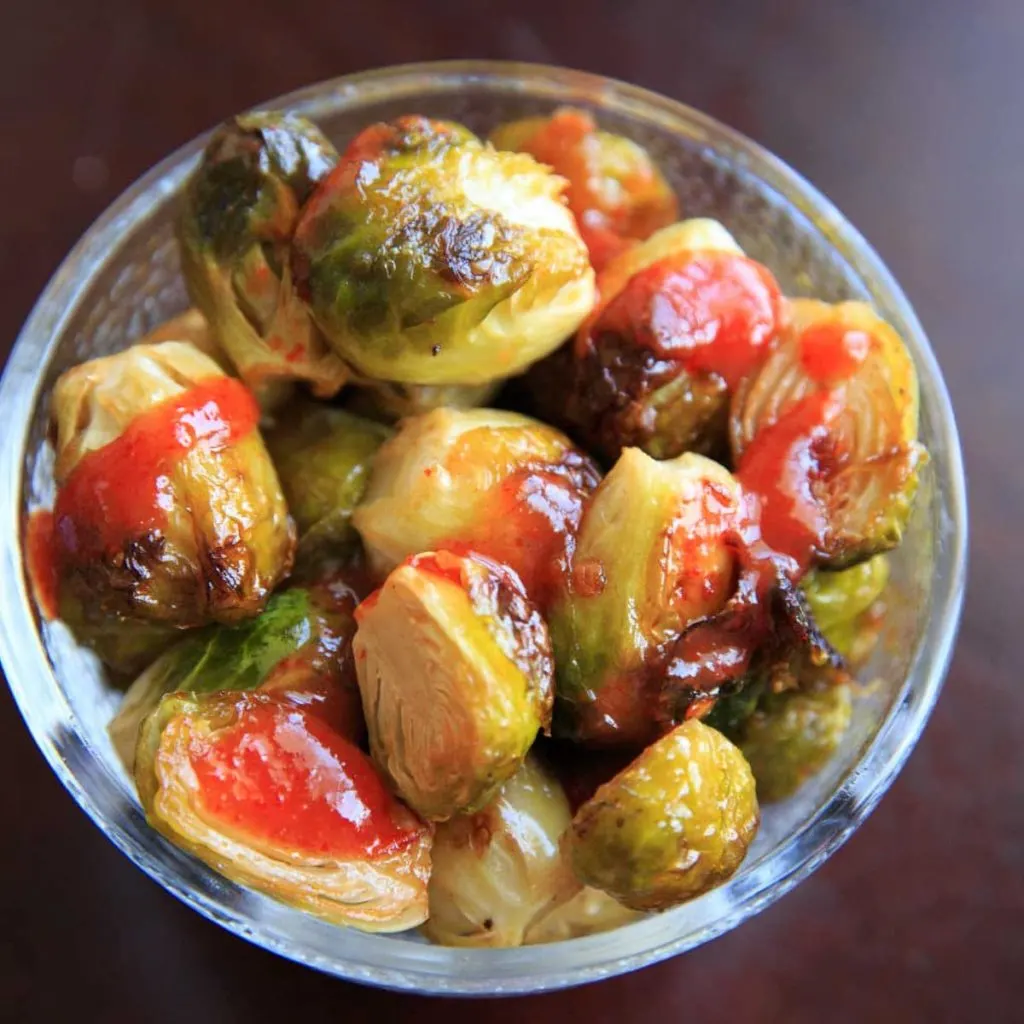 And to add to my things I've learned list – they are Brussels sprouts NOT brussel sprouts. The 's' on Brussels is important as is the capital 'B.'
Do you like Brussels sprouts? What's your favorite way to eat them?
Yield: 4 side servings
Bang Bang Brussels Sprouts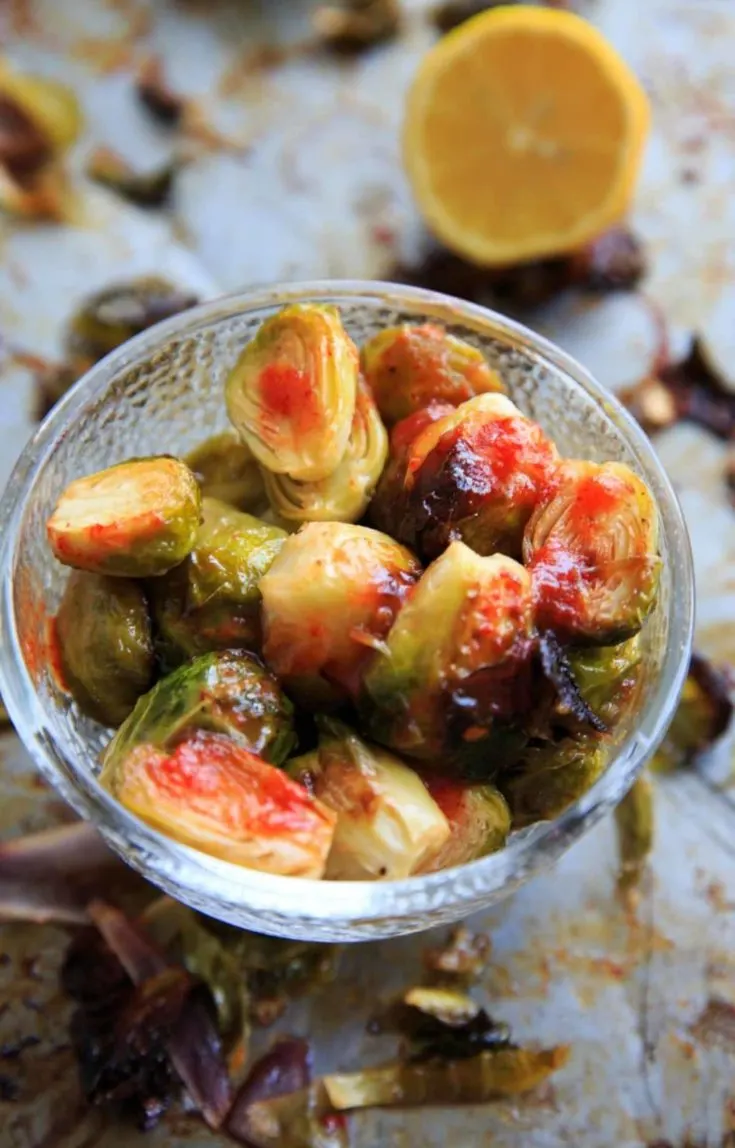 Bang Bang Brussels Sprouts! Easy and spicy side to liven up your veggies. Adjust spice to your tastes, serve with extra sriracha sauce or even with skinny bang bang sauce.
Ingredients
1 lb. Brussels sprouts
2 tablespoons olive oil
2 tablespoons sweet chili sauce
1/2 tablespoon sriracha sauce (more for serving, as desired)
1/8 teaspoon cayenne pepper (optional)
salt and pepper, to taste
1/2 lemon, , juiced
bang bang sauce, (optional, for serving) <-note that the bang bang sauce is not vegan
Instructions
Preheat oven to 425°F.
Wash Brussels sprouts and cut in half (or quarters if sprouts are very large).
In a small bowl, combine the olive oil, sweet chili sauce and sriracha sauce.
In a large bowl (or ziploc bag), add the chopped Brussels sprouts and pour the sauce mixture in to combine until evenly coated. Spread out on baking sheet in an even layer and sprinkle with cayenne pepper (if using), salt and pepper.
Roast for 25-30 minutes or until tender. Watch for burning!
Sprinkle with lemon juice, and serve with extra sriracha sauce or a serving of bang bang sauce. Enjoy!
Nutrition Information:
Yield:
4
Amount Per Serving:
Calories:

138
Total Fat:

8g
Saturated Fat:

1g
Trans Fat:

0g
Unsaturated Fat:

6g
Cholesterol:

1mg
Sodium:

296mg
Carbohydrates:

16g
Fiber:

4g
Sugar:

8g
Protein:

3g
Nutrition information is calculated automatically by an online tool at Nutritionix. It is not always accurate. Please use your own tools to check if you rely on this information.
Recommended and useful items for this bang bang Brussels sprouts recipe:
Sweet chili sauce & Sriracha sauce
If you like this bang bang recipe, you might also like: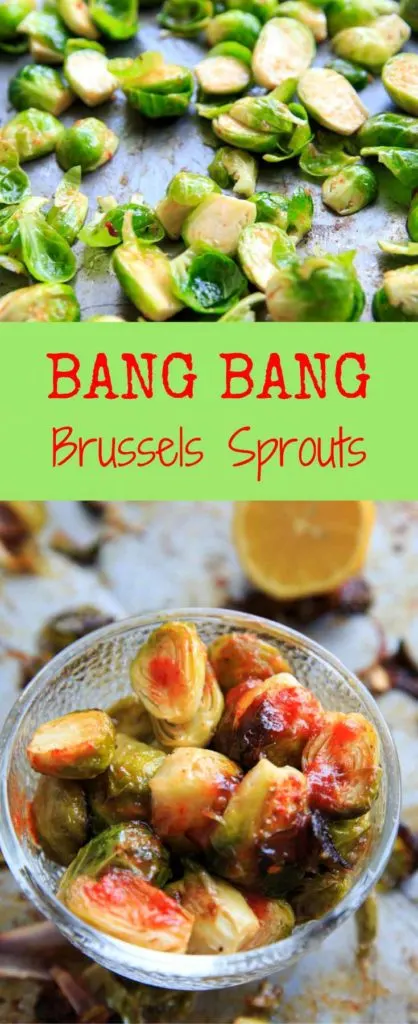 *There are affiliate links within this post that we can earn a commission on at no extra cost to you. Thank you for helping to support the site!