How to make homemade vanilla extract. Super easy, fun, and cost effective. Great as gifts for Christmas, housewarming parties, or your foodie friends birthdays!

Let's talk about vanilla extract.
If you're a baker, you use a lot of the stuff.
Those tiny little jars you buy at the grocery store probably don't last you very long, and this isn't an ingredient you can afford to go without.
Have you ever thought about making own vanilla extract at home (or did you even know you could)?
While it does take a while for it to age, it only takes a few minutes to get started and you only need two ingredients – vanilla beans and vodka.
The tricky part is finding beans.
You might see them at the grocery store or specialty store, but they are usually quite expensive.
I order Madagascar beans online (linked below in the recipe).
I have seen the general rule of thumb is 3 beans per 8 ounces of vodka, but I've used 2 beans and it worked well.
The beans I had were 7 inches long, which I think is about normal.
You can use more beans if you'd like (I've seen some people using up to 5), but from my personal experience 2 worked just fine.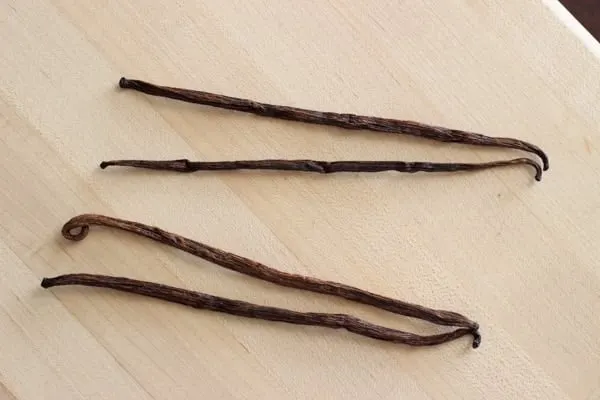 An important trick is to cut the beans into about 1-inch pieces, and slice them down the middle so all the flavor can come out.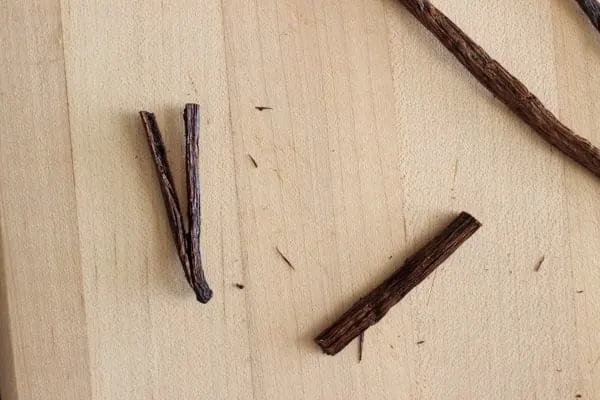 In a jar that has a tight-fitting lid, add these vanilla bean pieces into a cup (8 ounces) of vodka.
I used these blue mason jars
, but you can find plenty of cute jars for this purpose.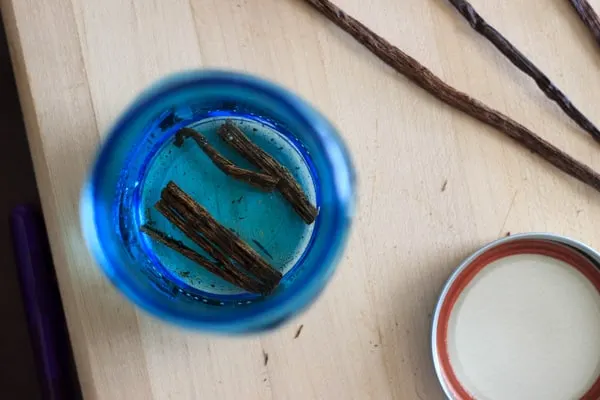 It won't look like much right off the bat. At first, it will just look like dirty vodka.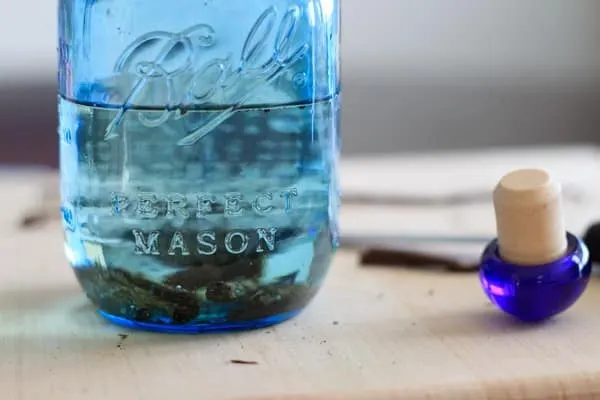 Shake it up real good and put it in the cupboard.
Here comes the waiting part.
For the extract to age properly, it needs to sit at least 2 months, preferably 3. Every week or so, take out the jar and give it a good shake to mix up all the vanilla bean goodness.
Here's what mine looked like after 2 weeks: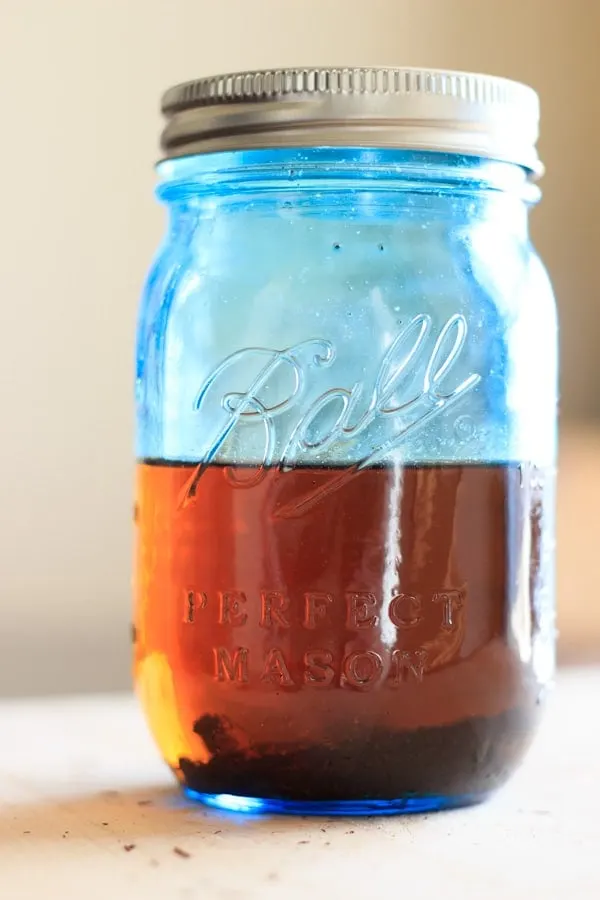 And here's what it looked like after 1 month: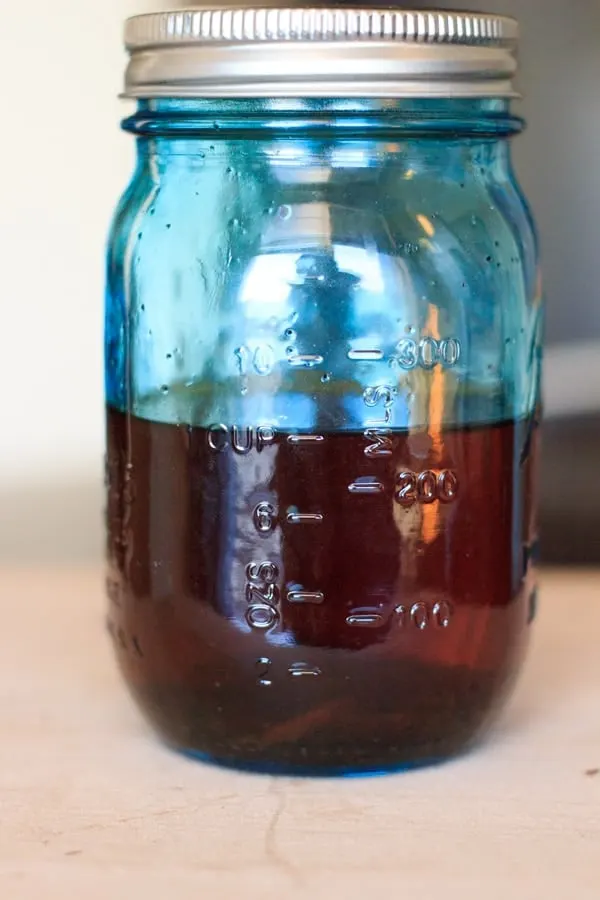 By the time it's ready to use, it should have a deep dark color and a strong vanilla scent.
I love making my own vanilla extract, and also giving it as gifts!
I once found a "make your own vanilla" kit at a Homegoods store, and brought it to a white elephant holiday party.
The woman who picked it was so excited, she had never thought to make her own vanilla!
It was basically a jar with a couple vanilla beans in it, with a label that said "just add vodka."
The best part is you can just keep adding vodka and more beans as you start to run low.
No need to start over from scratch every time!
So go buy some vanilla beans and make some!
Yield: 1 cup
How to make vanilla extract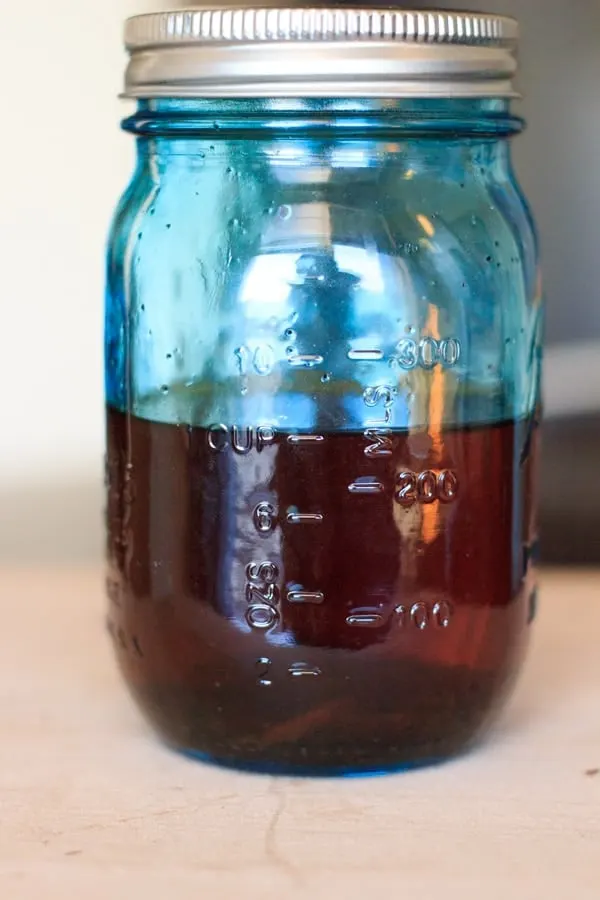 How to make your own homemade vanilla extract. Super easy, fun, and cost effective. Great as gifts for Christmas, housewarming parties, or your foodie friends birthdays!
Instructions
Cut vanilla beans into 1 inch pieces, and cut the beans open by slicing down the middle.
In a jar with a tight-fitting lid, add vanilla bean pieces and vodka.
Shake well.
Store in cupboard and shake well about once a week for at least 2 months.
After about 2 months the vanilla extract should be ready to use. If you can wait 3 months, that's even better!
Notes
Make it fun and use some unique or colorful jars to put the vanilla extract in. I used these blue mason jars and there are so many other options to add that extra touch!
Nutrition Information:
Yield:
1
Amount Per Serving:
Calories:

552
Total Fat:

0g
Saturated Fat:

0g
Trans Fat:

0g
Unsaturated Fat:

0g
Cholesterol:

0mg
Sodium:

3mg
Carbohydrates:

2g
Fiber:

0g
Sugar:

2g
Protein:

0g
Nutrition information is calculated automatically by an online tool at Nutritionix. It is not always accurate. Please use your own tools to check if you rely on this information.