Chocolate Chip Cookies with Pomegranate Seeds. Sweet from cinnamon and vanilla, and slightly tangy from the seeds, these cookies are addicting!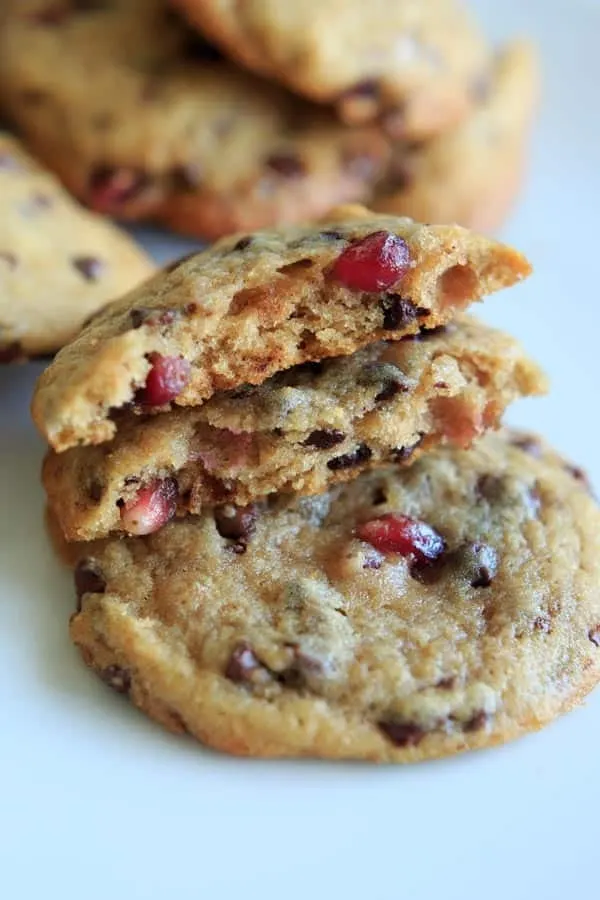 There are certain food items I buy whenever I see them, even if they aren't on my list and I have no plan for them.
Pomegranate seeds are one of those items, because I only occasionally see them at Trader Joe's and have to snatch them up when I have the chance.
(Trivia for the day: The seeds are technically called "arils.")
I was going to use the pomegranate seeds in a salad, because that's all I really knew how to use them.
But when I realized I was out of spinach and needed to use the seeds quickly before they were bad, I googled what they went well with.
The answer? Chocolate. Cinnamon. Vanilla.
Well, there's actually lots of answers, but those are the ones I chose to see.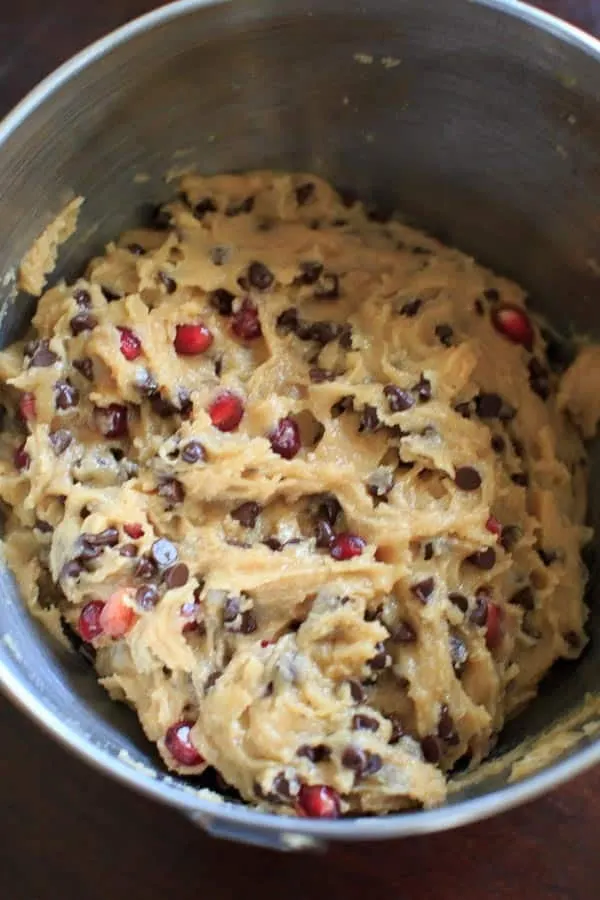 I basically used a modified version of "Kelly cookie's" recipes (a.k.a. Nestle Tollhouse recipe on the back of the chocolate chip bag) with added vanilla and cinnamon.
And pomegranate seeds.
Even better if you want to use some homemade vanilla extract.
Scraping out an actual vanilla bean in the dough would also add a great flavor.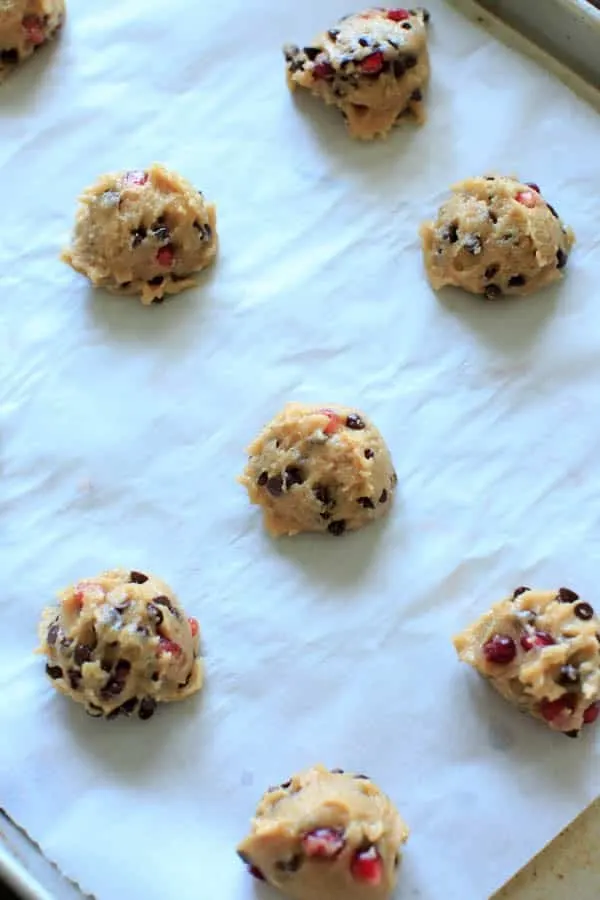 One of my "tricks" for cookies is to melt the butter.
This is mainly because I like to mix things by hand (I guess I'm old fashioned) and this makes it easier.
But after one batch I refrigerated the rest of the dough for later.
I'm pointing this out because it does make a difference in the appearance and crunchiness of the cookie.
On the left is the melted butter version – flatter, slightly crunchier.
On the right is the refrigerated dough (or if you just creamed the butter instead of melting it you'll get a similar result) – a more compact, softer/chewier cookie.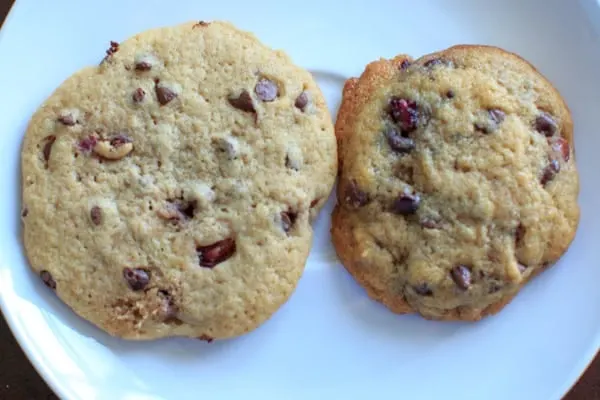 Pomegranate seeds also have vitamin C, potassium and fiber. So these cookies are basically healthy.
Not really, but a little bit of added vitamins can't hurt!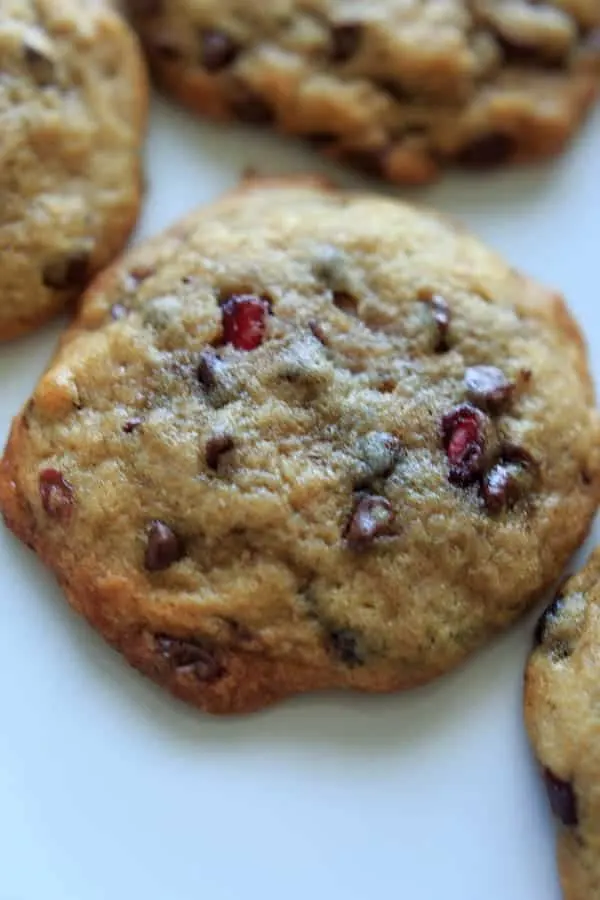 Another fun way to use pomegranate arils in dessert is these chocolate candies!
What are other ways you like to use pomegranate seeds?
Yield: 3 dozen
Chocolate Chip Cookies with Pomegranate Seeds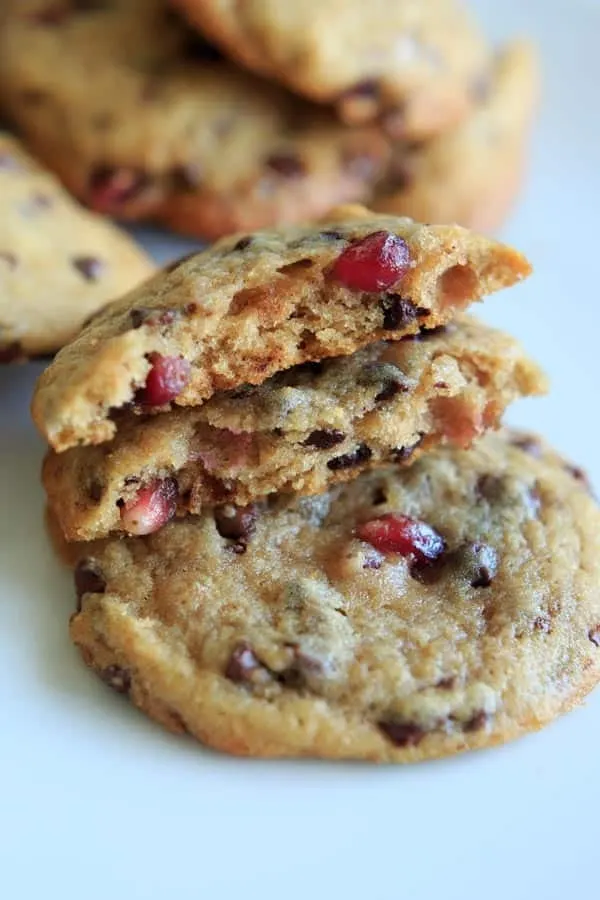 Chocolate Chip Cookies with Pomegranate Seeds. Sweet from cinnamon and vanilla, and slightly tangy from the seeds, these cookies are addicting!
Ingredients
2 1/4 cups all-purpose flour
1 teaspoon baking soda
1 teaspoon salt
1 teaspoon cinnamon
3/4 cup granulated sugar
1/2 cup brown sugar, packed
2 eggs
1 cup unsalted butter (2 sticks), melted (see note*)
2 teaspoons vanilla extract
1 cup semisweet mini chocolate chips
1/2 cup pomegranate seeds
Instructions
Preheat oven to 375°F.
In a medium bowl, combine flour, baking soda, salt and cinnamon. Set aside.
In a large mixing bowl, combine sugar, brown sugar, eggs, butter and vanilla extract.
Slowly add flour mixture to the large bowl until all ingredients are mixed together.
Add the chocolate chips and pomegranate seeds.
Using a cookie scoop or spoon, arrange dough on baking sheet (each cookie about 1.5 tablespoons of dough)
Bake for 9-10 minutes or until edges are slightly browned.
Notes
Melted butter makes it easier to mix by hand, and will result in a flatter, slightly crunchier cookie. If you desire a slightly fluffier and chewy cookie, use room temperature butter and/or refrigerate dough before baking.
Nutrition Information:
Yield:
36
Serving Size:
1
Amount Per Serving:
Calories:

129
Total Fat:

7g
Saturated Fat:

4g
Trans Fat:

0g
Unsaturated Fat:

2g
Cholesterol:

24mg
Sodium:

100mg
Carbohydrates:

16g
Fiber:

1g
Sugar:

10g
Protein:

1g
Nutrition information is calculated automatically by an online tool at Nutritionix. It is not always accurate. Please use your own tools to check if you rely on this information.