Asparagus Tart with Egg and Goat Cheese (on puff pastry) – a great vegetarian addition to your breakfast/brunch or appetizer spread!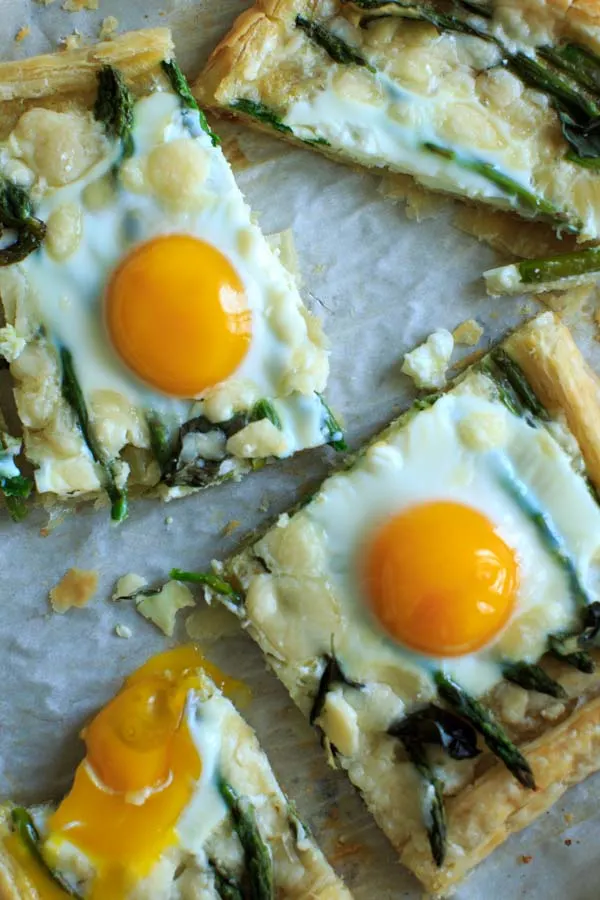 I have a tendency to buy vegetables in bulk. That can normally be a good thing, but not when you don't have a plan for them. I always seem to forget that vegetables go bad if you don't use them in a reasonable amount of time.
Asparagus is one of those things I don't usually know what to do with. Sure you can sauté it, but beyond that I don't really eat it much. So it baffled me that I found not just 1, but 2 packages of asparagus in my fridge that I needed to use ASAP.
I came across this asparagus tart recipe from Just a Taste at just the right time.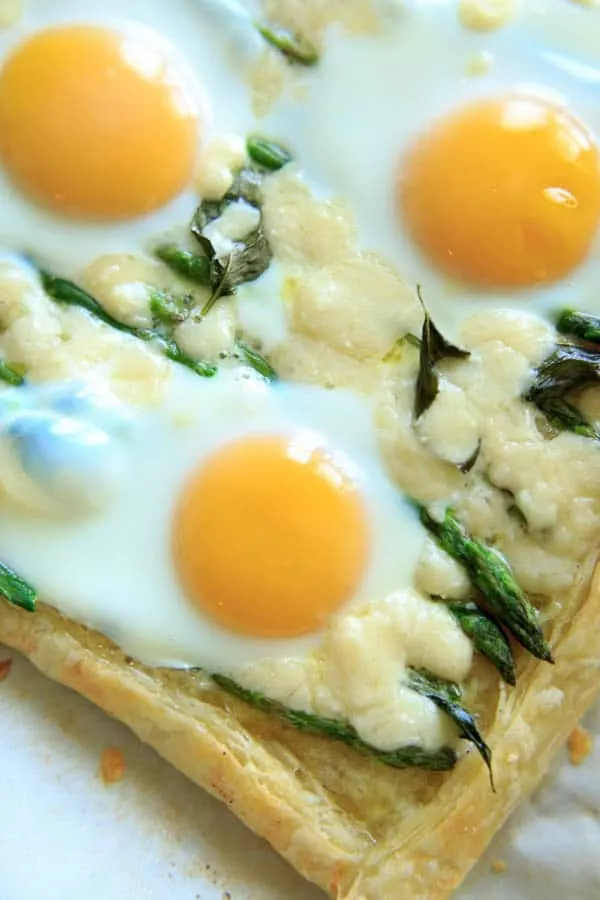 I've been wanting to try eggs on pizza for a long while, so this seemed like a good way to try out the idea. I know some of you are thinking "eggs on pizza, really?" so I'm just warming you up to the idea.
Actually when I sent a preview picture of this to my mom, she responded with "What's happening?!" which isn't really a good response. So I realize some of you may just have to trust me on this.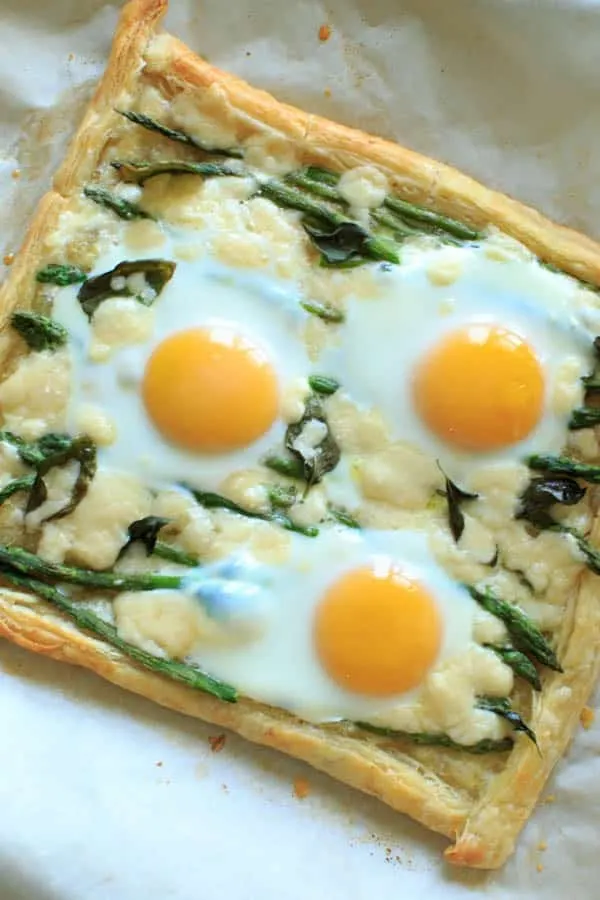 I'm not even always a big egg person but this combo I really liked.
Some recommend to crack the egg open and put it in a bowl first, then transfer to the pastry. I thought there would be more risk of the yolk breaking that way, so I just took a risk and plopped it right on top.
It helps to have a little divot or space between the asparagus spears to "hold" the egg in place, because otherwise it might just slide right off (I speak from experience).
Other than that you just need your favorite goat or crumbly cheese, and fresh herbs always help. I used basil because somehow I haven't yet killed my current basil plant, and it's been alive a record time of a month.
This tart would be perfect for a breakfast or brunch where you want to impress, or even as a unique appetizer.
This is my new favorite way to eat asparagus (and maybe eggs too!).
A reminder that you can make your own puff pastry with this quick recipe. The frozen sheets work just as well though.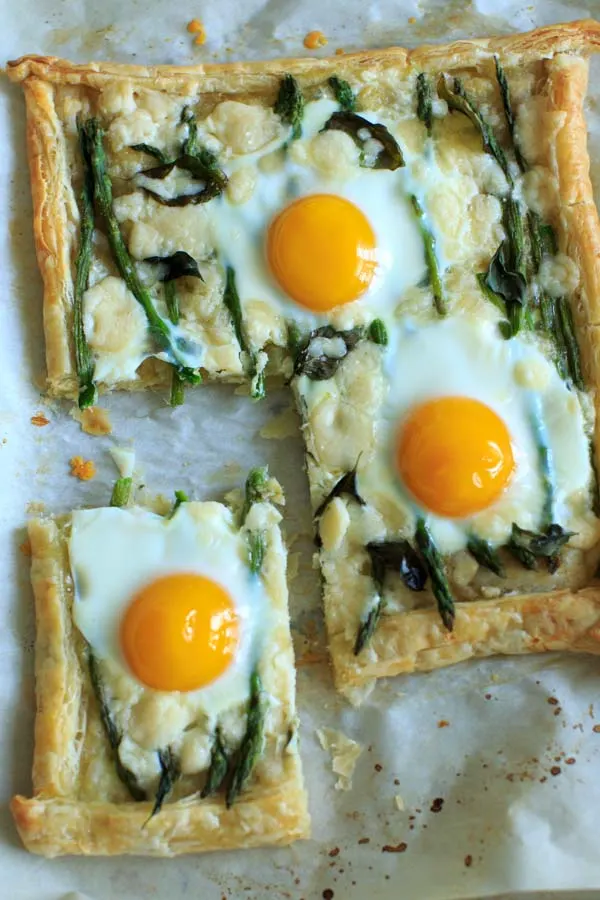 What's your favorite way to eat asparagus?
Yield: 4
Asparagus Tart with Egg and Goat Cheese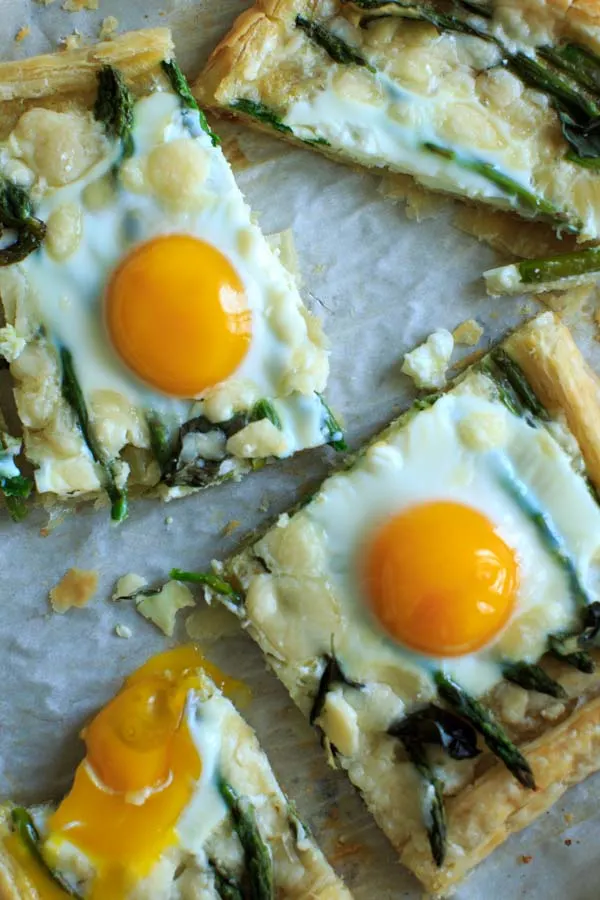 Asparagus Tart with Egg and Goat Cheese (on puff pastry) - a great vegetarian addition to your breakfast, brunch or appetizer spread!
Ingredients
1 sheet puff pastry, (thawed if frozen)
12 spears asparagus, (trimmed and cut in half or 1-inch pieces)
1/2 cup goat cheese
3 eggs
fresh basil, (optional)
Instructions
Preheat oven to 400°F.
Line a baking sheet with parchment paper for puff pastry. Fold up edges of pastry about 1/2 inch around all sides to make a barrier for the asparagus and eggs.
Bake puff pastry for about 10 minutes or until lightly browned.
Press down center of puff pastry if it has puffed up after baking. Arrange the asparagus spears on top, and sprinkle goat cheese and basil (if using).
Crack open each egg and carefully place on top of pastry. (It helps to put the eggs in some space between asparagus spears so it stays in place.)
Bake again for 10-12 minutes or until egg whites are solid and cooked.
Nutrition Information:
Yield:
4
Amount Per Serving:
Calories:

138
Total Fat:

10g
Saturated Fat:

5g
Trans Fat:

0g
Unsaturated Fat:

4g
Cholesterol:

153mg
Sodium:

190mg
Carbohydrates:

2g
Fiber:

1g
Sugar:

1g
Protein:

11g
Nutrition information is calculated automatically by an online tool at Nutritionix. It is not always accurate. Please use your own tools to check if you rely on this information.