Nana's Potica recipe – a Slovenian nut roll traditionally served at Easter and Christmas. Make this to give as gifts or for dinner parties.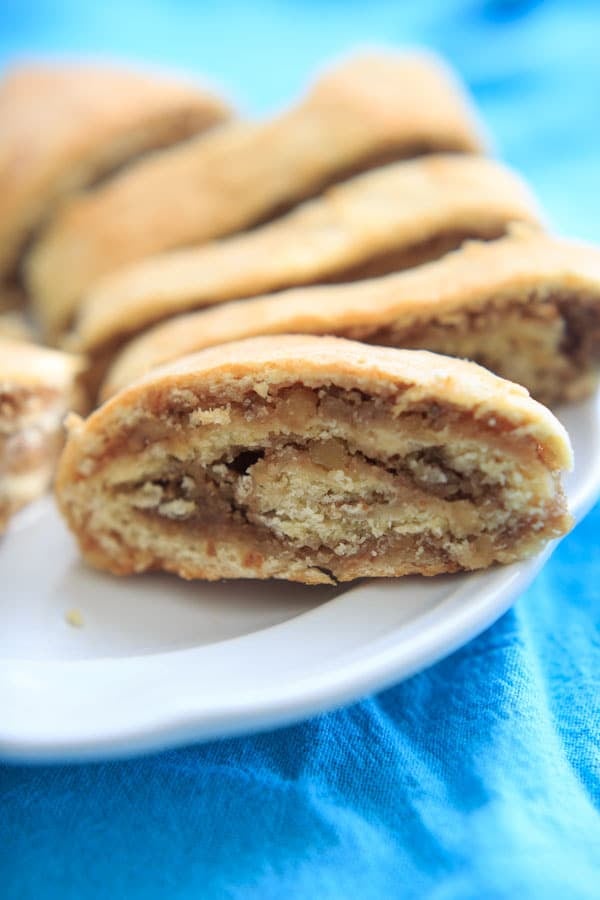 My Nana was an awesome baker. When I would visit her in summers growing up, I would spend hours leafing through her cookbooks with dreams of owning my own bakery when I grew up. Little did either of us know that my fascination would instead turn into a food blog one day.
I'm actually trying to imagine trying to explain what a blog is to my Nana. I'm not sure she even understood what a computer is! I know I'm so lucky to have these memories of her since most people never even know their great-grandparents, let alone get to spend time with them in the kitchen.
My Nana passed away a couple weeks ago. She would have turned 99 years old this summer. Maybe her baking had something to do with her long life? I'll believe it.
I've shared her Easter bread recipe on here before, and another recipe she would make for the holiday is this potica (pronounced po-teet-sah), a Slovenian nut roll traditionally made for Easter and Christmas. I'd never actually made the potica before until now, so this seemed like a perfect way to honor Nana.
I had the opportunity to work with Bob's Red Mill flours on this post, which I love. Firstly, they are based in Oregon, and since I was born there I already have an allegiance to them. Also, I learned that they originally started in the 1960's with a set of millstones from a flour mill in North Carolina, which is where I grew up and live now. So it's kind of like how your favorite sports team is usually the one from your home state. Is it weird I just compared baking to sports?
Anyway, on to the potica. After all the mixing is done, it's pretty simple. The yeast dough is refrigerated (trust me, this helps), then rolled out and a sweet nut filling is scooped on top. Then rolled tightly. Try not to overstuff the filling – if you have leftover you can always add it as a topping.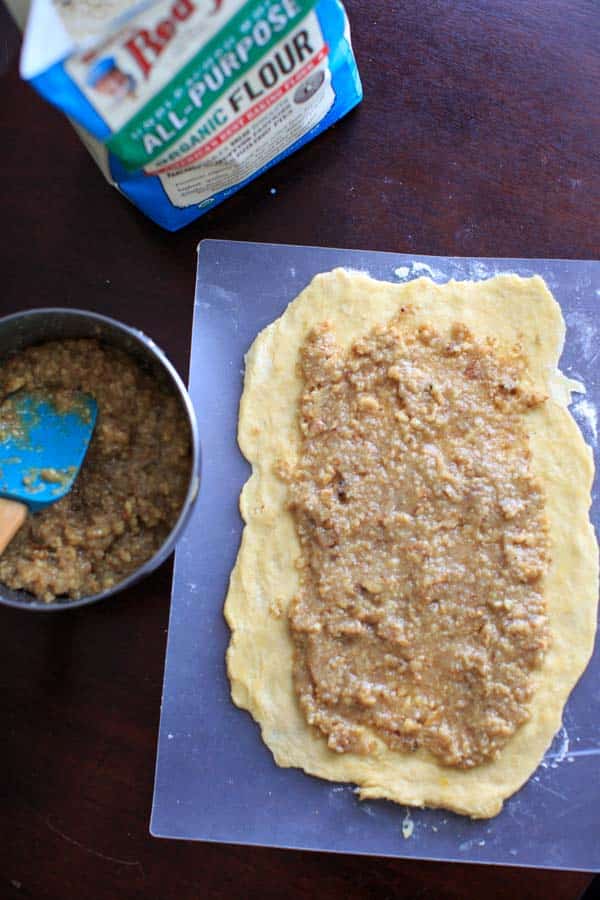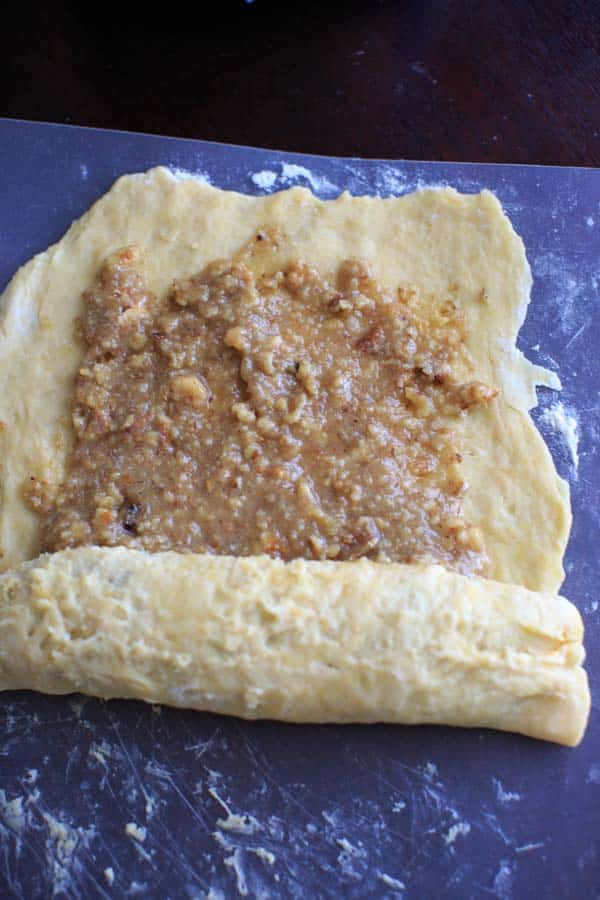 I made 4 loaves out of my batch, but you can make 2 or 3 larger loaves if you prefer. You'll just need a larger area to roll out the dough initially, but they will obviously be thicker rolls resulting in more layers. This makes each slice appear more "swirly," if you will.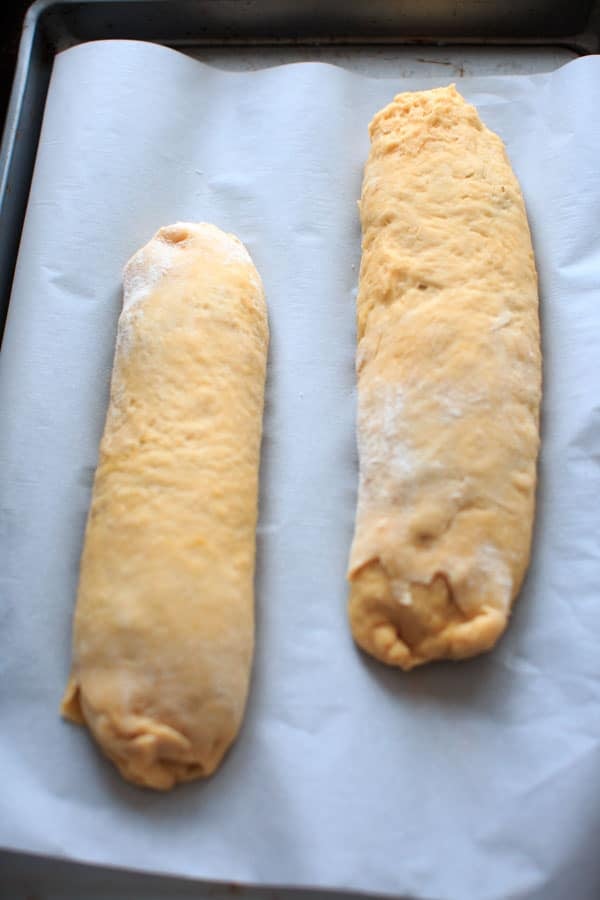 I used the Bob's Red Mill Organic Unbleached White Flour, which is freshly milled from Organic hard red wheat. Both the bran and the germ have been removed leaving the endosperm that is made into white flour. It is not enriched with any additives. This kitchen staple is incredibly versatile and perfect for all of your baking needs.
By clicking here you can get a special coupon for $1 off.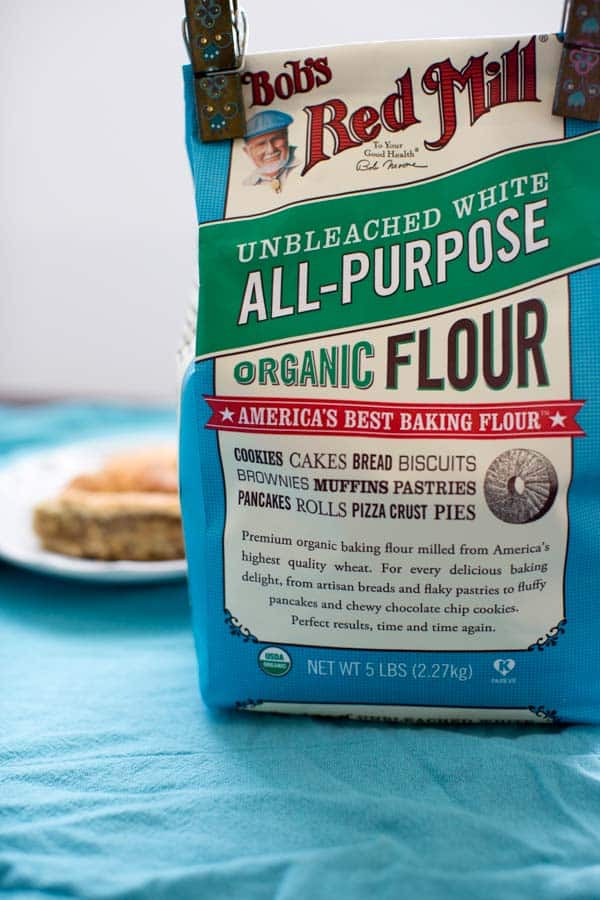 Everyone in my family loves this bread. My grandma brought some home from the funeral made by people at the church, my aunt also made this last week and TRIPLED the recipe, and by the time I made this and brought some home everyone was still eating it up.
I hope you're proud, Nana. Love you.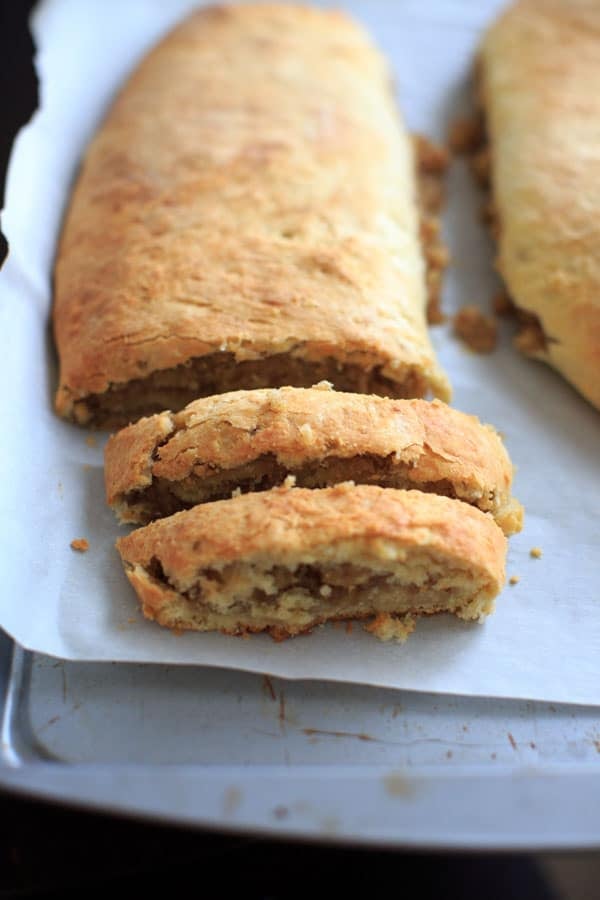 Need more Easter recipe ideas? Check out this list of 40+ vegetarian Easter mains, sides, and desserts
Nana's Potica
Nana's Potica recipe - a Slovenian nut roll traditionally served at Easter and Christmas.
Total Time
1
hour
15
minutes
Ingredients
For the bread:
4 1/2

teaspoons

yeast

(2 packets)

1/4

cup

warm water

1

cup

unsalted butter

(2 sticks)

1/2

cup

sugar

1

teaspoon

salt

4

egg yolks

(save the egg whites for the filling)

1

cup

sour cream

4 1/2

cups

Bob's Red Mill all-purpose flour

(plus more for rolling out as needed)
For the nut filling:
4

egg whites

1 1/2

cups

sugar

1

lb

ground walnuts

2

teaspoons

vanilla extract

3

tablespoons

milk
Instructions
In a small bowl, add the yeast and water and mix together to make a paste. Set aside.

In a large mixing bowl, cream the butter and sugar together. Add salt, egg yolks, sour cream, and start adding the flour 1 cup at a time until combined.

Add the proofed yeast (should be bubbly) to the flour mixture and combine. Dough will be sticky.

Refrigerate 1 hour or overnight (see note*)

Remove dough from fridge and separate into 3-4 balls.

Roll out each ball into rectangles (about 1/4 of an inch works well), adding more flour as needed to prevent sticking.

Mix together all ingredients for nut filling and spread evenly over dough, leaving a little room near the edges so it doesn't overflow when rolled.

Roll tightly.

Preheat oven to 350°F.

Let rise for 1 hour (will rise more in the oven if the dough has been refrigerated for a longer time)

Bake at 350°F for 30 minutes or until browned.
Notes
I tried this recipe by refrigerating the dough only briefly (30 minutes to an hour) and also overnight. If you are in a hurry, it will still turn out mostly the same by refrigerating briefly but the longer time will help the dough be more manageable when you need to roll it out from my experience.
*Prep time does not include rising time or refrigeration
**Calories are for 1/12 of a loaf.
***This nut roll can be served hot or cooled - whichever your preference! Kind of like a cookie. I prefer room temperature.
Recommended and useful items for my Nana's Potica (nut bread) recipe:
*There are links within this post that we can earn a commission on at no extra cost to you (known as affiliate links). Thank you for helping to support the site!
I was selected for this opportunity as a member of Clever Girls and the content and opinions expressed here are all my own.