My grandma's vegetarian baked ziti will quickly become a family favorite. Requires only 5 ingredients! Easy comfort food that you can make ahead or freeze for later. Hands down the best baked ziti recipe.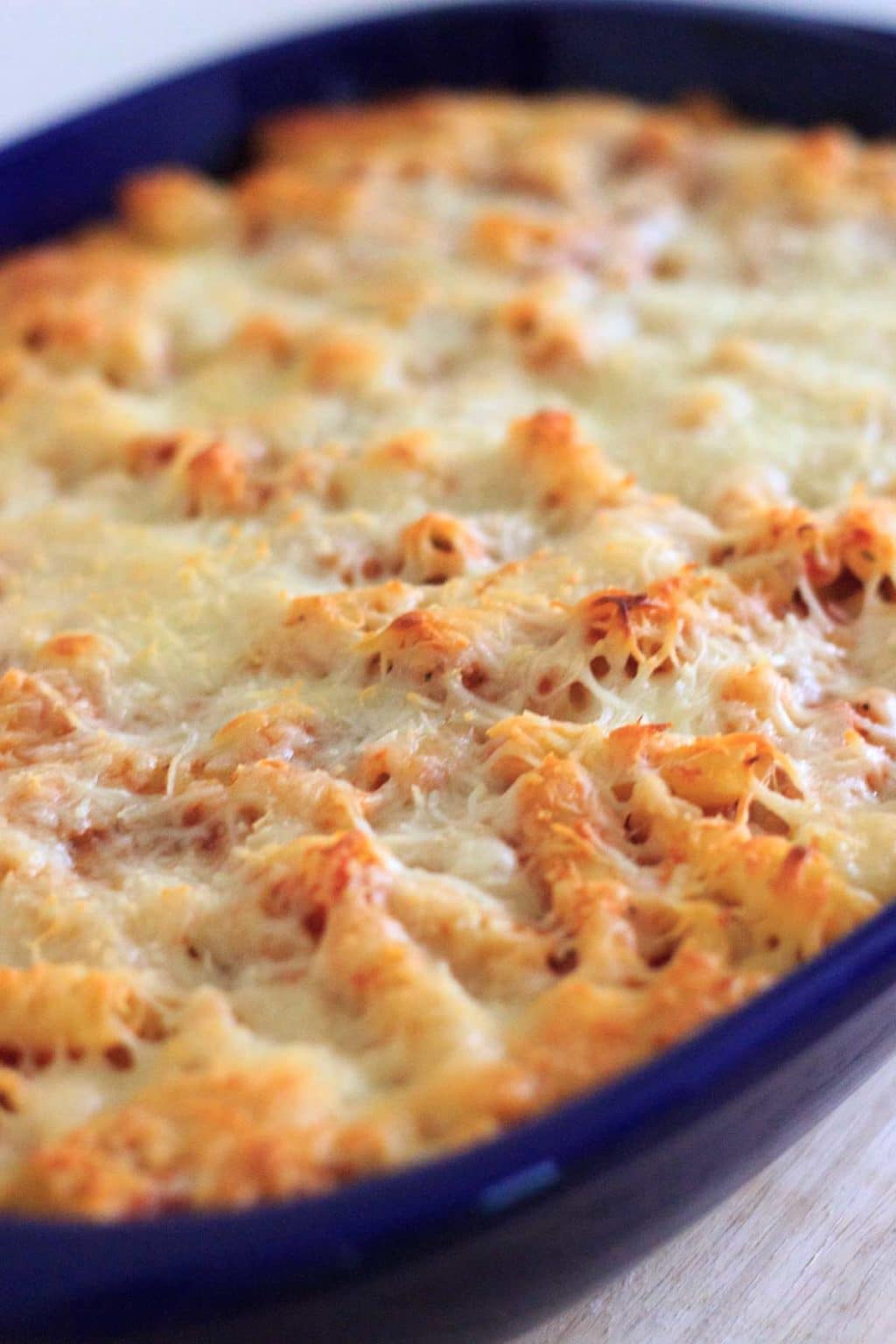 I'm kind of surprised this wasn't the very first recipe I ever posted to the blog. (Though my first post was not surprisingly still in the carb family).
This baked ziti recipe used to be my signature dish.
Whenever I would invite people over for dinner, this was my go-to casserole.
The recipe comes from my grandma (though she wants me to clarify it came from my grandpa's side of the family in NY) and is so simple and fool-proof, I never saw a need to make anything else.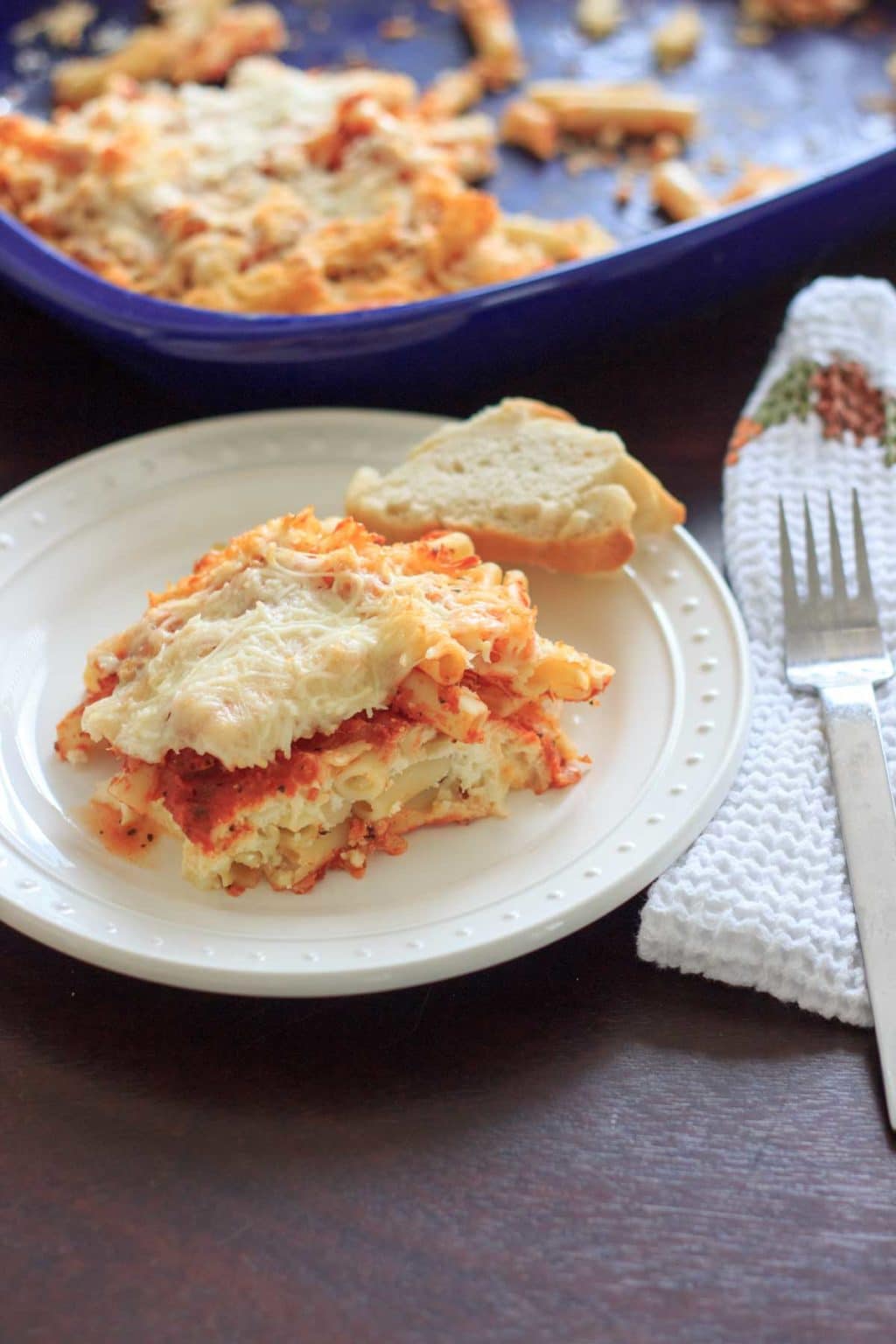 I still have the original email from her from over a decade ago, which would have been when I moved into my first college apartment.
I would pop this in the oven along with some Sister Schubert dinner rolls, maybe buy a frozen vegetable dish to heat up to go along with it and I was done.
Even after I started to branch out more and started this blog, I have still made this recipe a handful of times and it is always a home run.
(Now I've just upped my game with homemade marinara sauce, homemade bread, and homemade veggie sides.)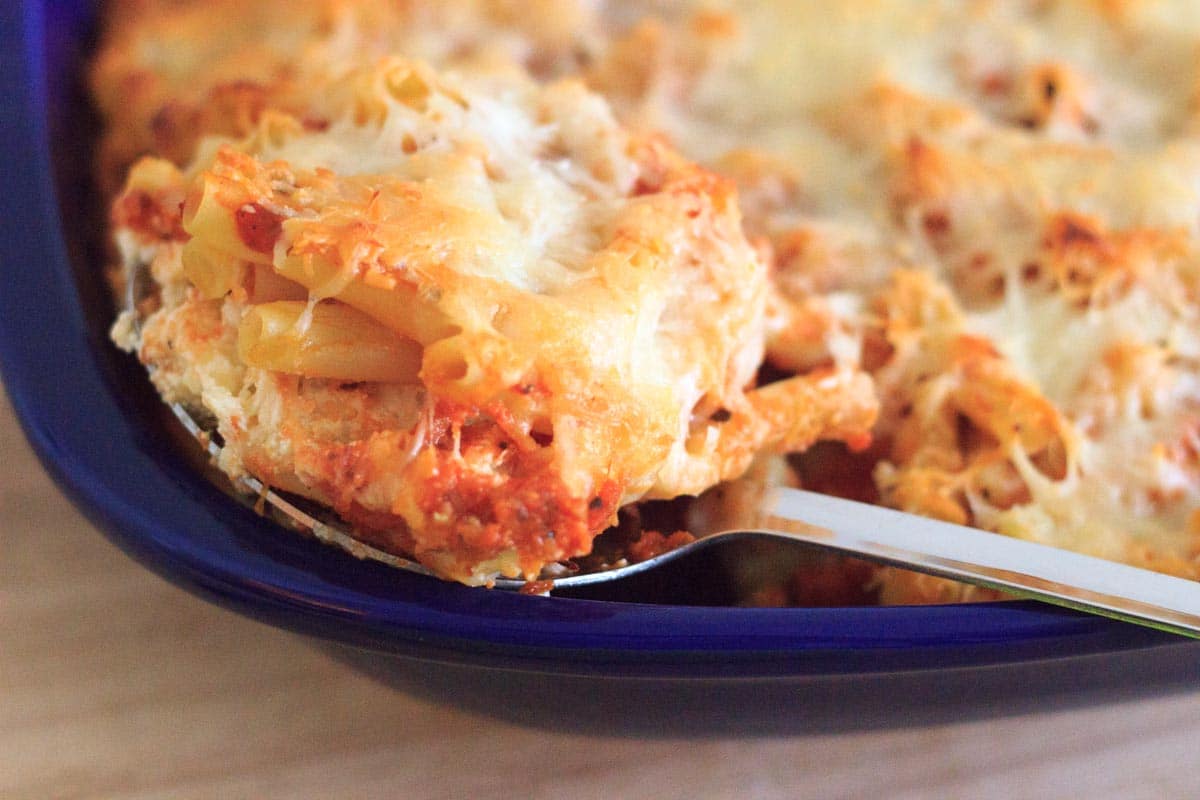 How to make this easy baked ziti:
Prep time is minimal and feeds an army, or at least 12 very hungry people. For dinner parties I usually just make one big casserole dish (14×10 "), but you can also split it into two and freeze one or both to bake later.
The layers seem like a mouthful (get it? aren't I funny?) but it's pretty easy: a little sauce, half the (cooked) ziti, ricotta cheese mixture, a little more sauce, the rest of the ziti, the rest of the sauce, sprinkle shredded cheese. No meat. Pasta perfection.
See it in action: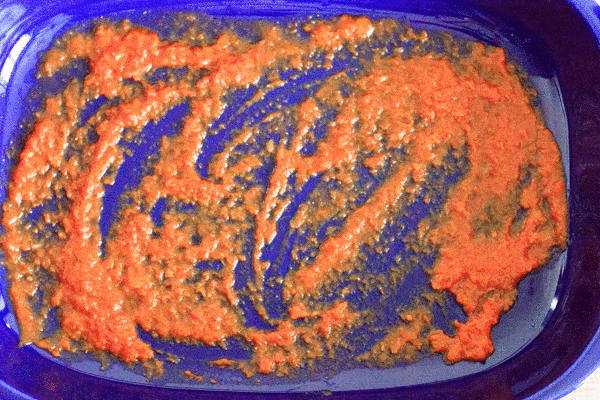 Not only is this great for a holiday meal or family gathering, but it also is perfect for any Meatless Monday comfort food meal. So easy and delicious!
What's your "signature dish?"
Grandma's Baked Ziti
This vegetarian baked ziti will quickly become a family favorite. Easy comfort food that you can make ahead or freeze for later!
Ingredients
1

lb

box of ziti

1

24-ounce jar

marinara sauce

(or 3 cups homemade sauce)

1

15-ounce container

ricotta cheese

3

eggs

2

8-ounce packages

shredded mozzarella cheese
Instructions
Preheat oven to 350ºF.

Boil/cook ziti according to package instructions.

In a medium bowl, mix ricotta cheese, eggs and 1 package of the shredded cheese. Set aside.

In a casserole dish (I use a 14x10 " dish, or you can use 2 8x8 " dishes), spoon a small amount of sauce to slightly cover bottom of dish.

Spoon in half of ziti, then evenly spread the ricotta cheese mixture on top. Pour more sauce over ricotta cheese (saving about 1 cup of sauce for final layer).

Add the rest of the ziti, and layer remaining 1 cup sauce over it. Sprinkle the other package of mozzarella cheese on top.

Bake for 45 minutes or until cheese is lightly browned.

Serve with italian bread and salad.
Notes
*If freezing for later, prepare the layers as listed before baking and cover securely before putting in freezer. When ready to bake, you can pull it out to let thaw in the refrigerator the morning of, or increase baking time by 10-15 minutes or until cheese is melted.
Click here to save this recipe on Pinterest
Like this ziti recipe? You might also like: Spinach Baked Ziti
Recommended and useful items for grandma's easy meatless baked ziti recipe:
*There are affiliate links within this post that we can earn a commission on at no extra cost to you.