Homemade marinara sauce. So easy, delicious and customizable with different herbs!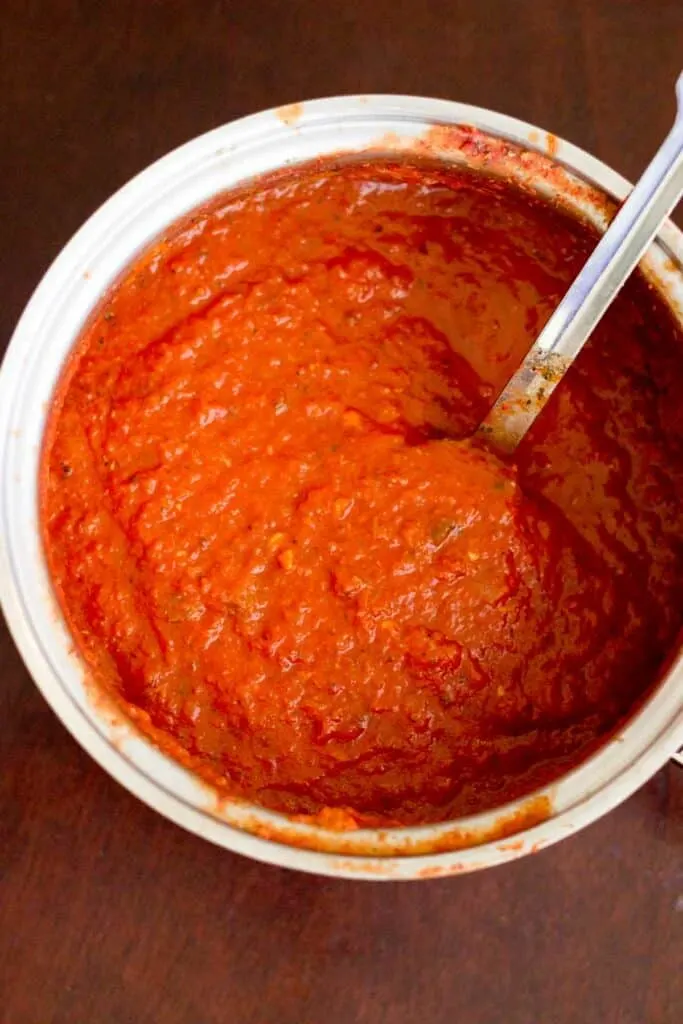 Contrary to what I made it sound like before, my grandma does send me recipes!
Lots of good ones and not enough time to make 'em all. I just had to make this one for marinara sauce though – if I'm remembering the story correctly, this is a recipe from a friend of hers that gives homemade batches of these out as holiday gifts. Now THAT is a good friend!
You can make a big batch of this and freeze some, or just eat it on everything for a week (which is what I did).
Pizzas, spaghetti, spaghetti squash, ziti – lots of marinara was cooked and devoured in my kitchen. When it was all gone I ACTUALLY FROWNED at the empty pot. True story.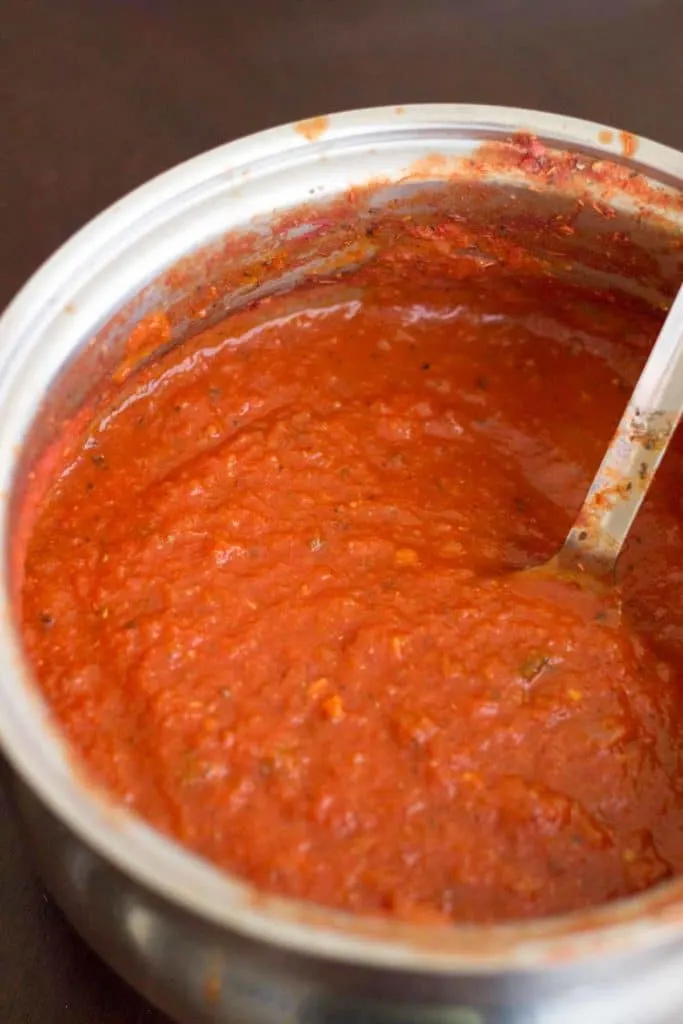 Oregano and basil are the spices used here, but you can adjust to your tastes.
Start with 1 teaspoon of each if using dried, 1 tablespoon if using fresh. (Conversion for fresh to dried is about 3x. The more you know.)
Add more as necessary. I added more oregano because I had that fresh, and I also like oregano. But if you're one of those crazies who doesn't like oregano, don't add as much (or at all!).
I'm typing oregano so many times it's starting to look weird. Oregano.
I'm thinking you could add other veggies in here too (maybe mushrooms?) but start with this as a base and go from there.
It's pretty simple – sauté the onion, celery and garlic, add crushed tomato, spices and a tiny bit of sugar and simmer for 20-30 minutes.
My grandma's tried it with fresh tomatoes and it just doesn't turn out the same. Maybe one day I'll figure out the trick.
I used an immersion blender to get rid of most the lumps, but you could leave it chunky if you like it that way.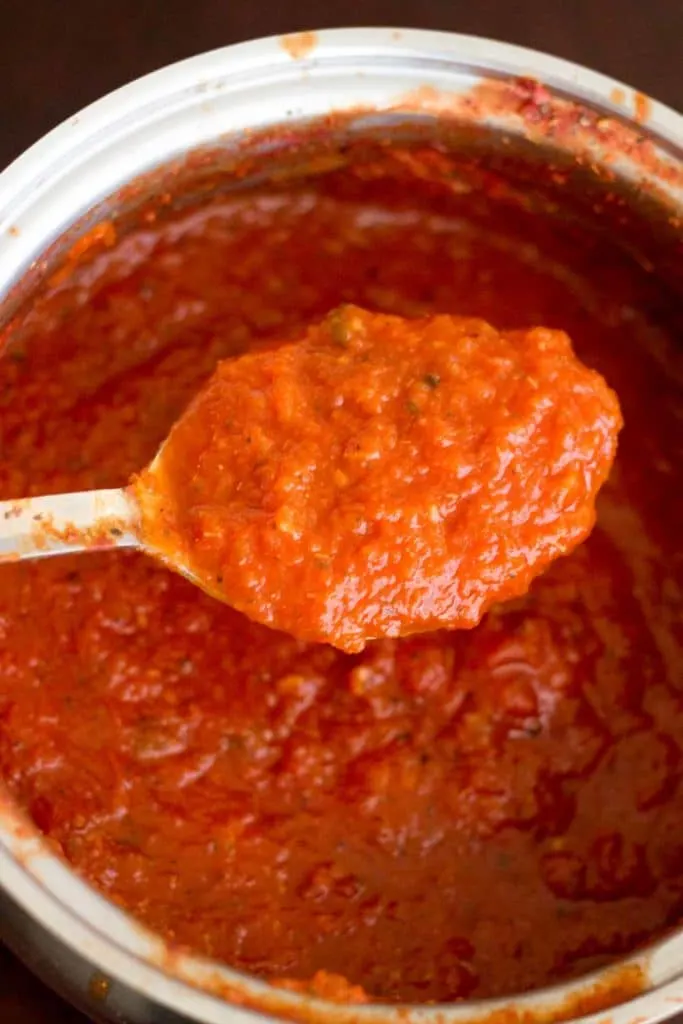 Yield: 6 cups
Homemade marinara sauce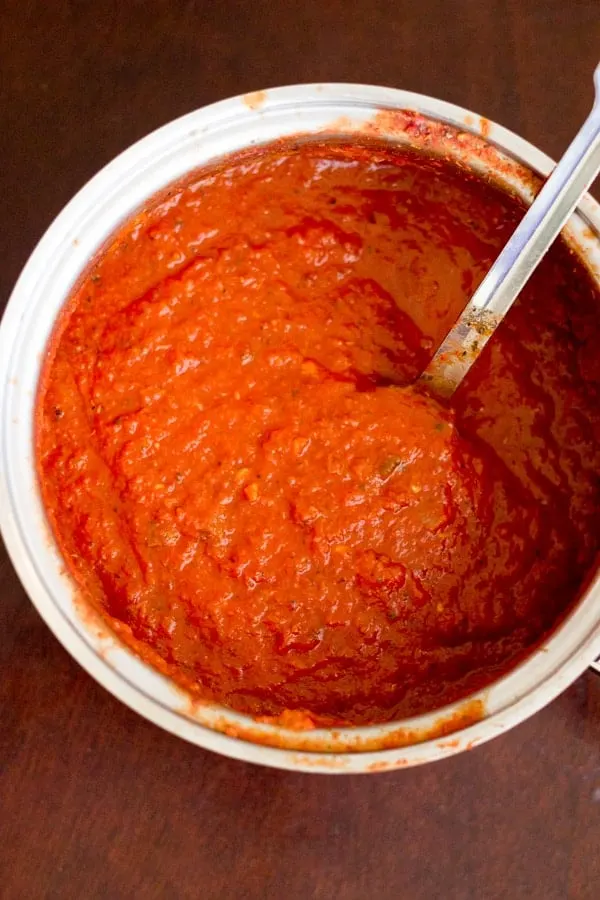 Homemade marinara sauce. So easy, delicious and customizable, you won't want to buy store brand ever again!
Ingredients
1 tablespoon olive oil
1 medium yellow onion, chopped
2-3 stalks celery, chopped
3 cloves garlic, minced
2 cans (28-oz.) crushed tomatoes
1 teaspoon dried oregano, *
1 teaspoon dried basil, *
1-2 tablespoons sugar
salt and pepper, to taste
Instructions
Add olive oil to large pot and saute chopped onion, celery and garlic on medium heat for 4-5 minutes.
Add crushed tomatoes, spices, and 1 Tablespoon of the sugar.
Reduce heat and let simmer for 20-30 minutes.
Taste test and if necessary add more spices to taste (and/or the remaining tablespoon of sugar).
Use an immersion blender if smoother consistency is desired.
Serve on pasta, pizza, etc.
Notes
Can use fresh herbs in place of dried. Typically 1 teaspoon of dried equals 3 teaspoons (or 1 tablespoon) of fresh herbs. Oregano and basil are suggestions, you can substitute other italian spices as you like. Option to add other vegetables (like mushrooms!) while you saute onion.
*Nutrition information is for 1 cup of marinara sauce.
Nutrition Information:
Yield:
6
Amount Per Serving:
Calories:

57
Total Fat:

2g
Saturated Fat:

0g
Trans Fat:

0g
Unsaturated Fat:

2g
Cholesterol:

0mg
Sodium:

69mg
Carbohydrates:

9g
Fiber:

1g
Sugar:

6g
Protein:

1g
Nutrition information is calculated automatically by an online tool at Nutritionix. It is not always accurate. Please use your own tools to check if you rely on this information.