Homemade Challah bread recipe that's so delicious it will disappear in minutes. Everybody asks for this family "secret" recipe!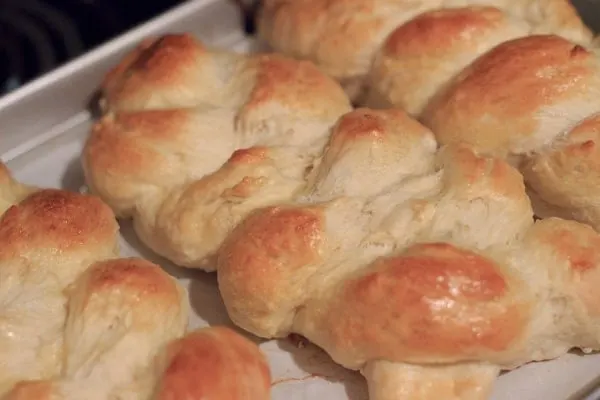 My grandma makes this challah bread a lot for family dinners, and it always disappears very quickly.
Traditionally, you're supposed to give 1 of the 3 loaves away as tzedakah (charity). But you better do it before you start eating or else you won't have one left to give away.
In fact, when I was looking through the pictures I took for this post I realized there were hardly any to choose from… and then I remembered, I starting eating it as soon as it came out of the oven.
This recipe is really easy to make – it requires a couple hours for rising time, but it's so, so worth it.
One thing I love about this recipe is that rarely do you need to add much, if any, additional flour to the dough when kneading.
Doesn't it bother you when you follow a recipe perfectly, and then still have to add a ton more flour because it's way too sticky and you wonder why they didn't just tell you to add more flour in the first place?
Just me? Okay.
Anyway, the dough is really easy to handle, which is great because you'll be braiding it together.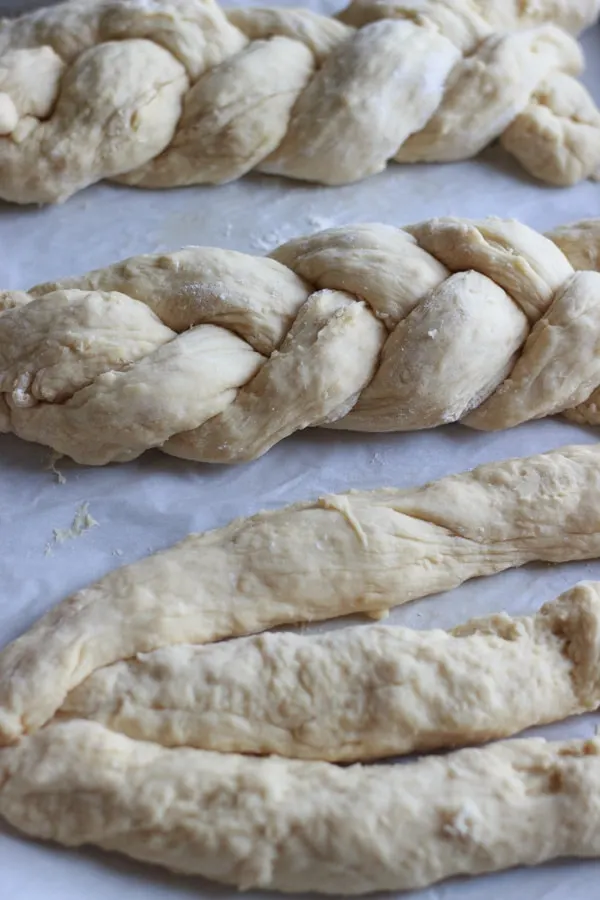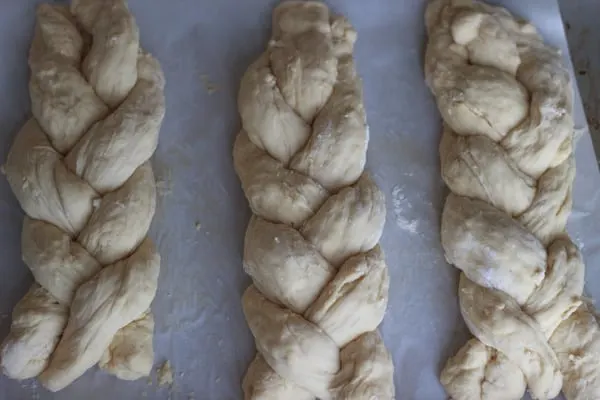 Make sure you brush the dough with a whole egg (not just the egg white!) to give it the great color that makes everybody fight over it right away.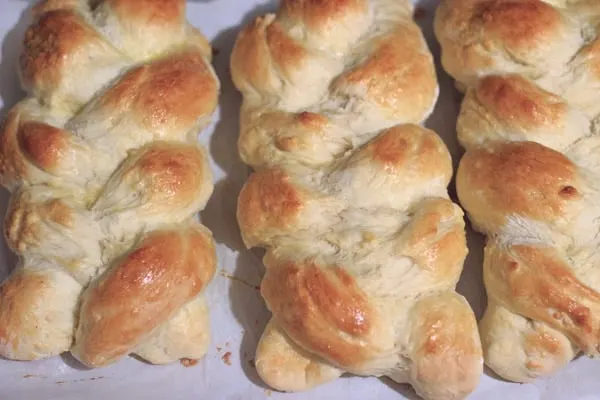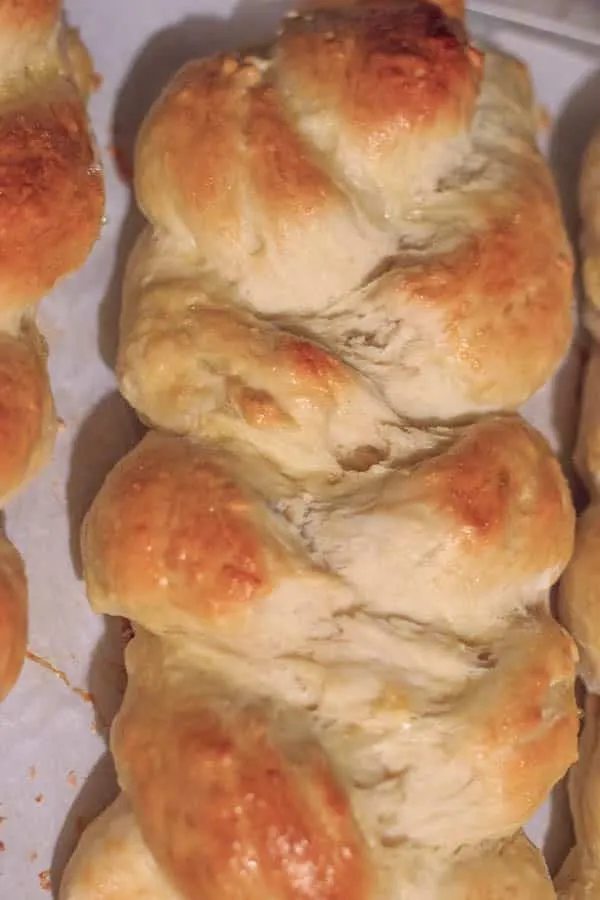 You may want to save one of these challah (pronounced "hollaaa", preferably loud and with a little attitude) to make extra special stuffing like I did!
Or just eat it all plain. Either way, I promise it will be gone before you know it.
Another version if you want to get fancy, is this honey apple challah!
Yield: 3 loaves
Challah bread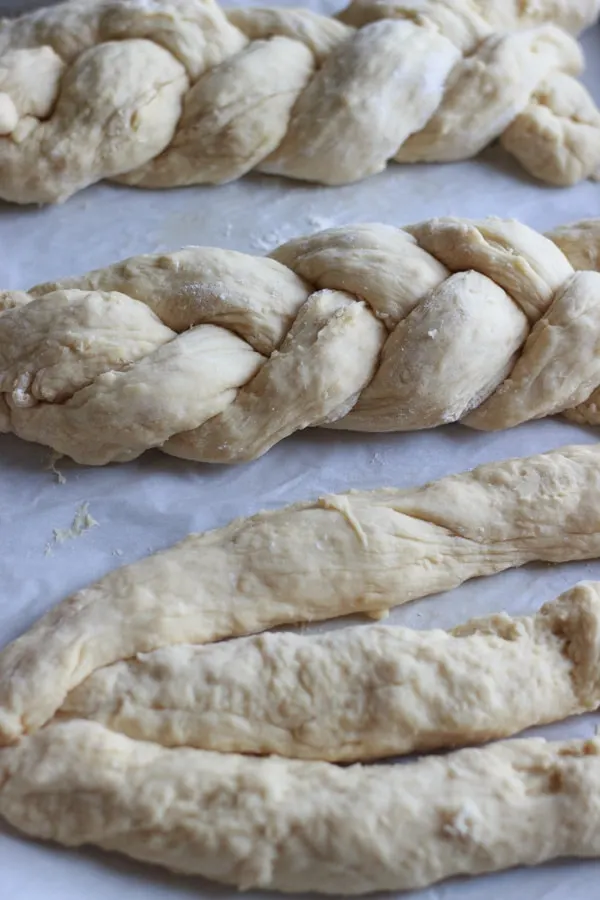 Homemade Challah bread recipe that's so delicious it will disappear in minutes. Everybody asks for this family "secret" recipe!
Prep Time
2 hours
20 minutes
Total Time
2 hours
45 minutes
Ingredients
1 1/2 cups water
4 1/2 teaspoons quick rise yeast, (2 packes)
1/2 cup sugar
6 cups all-purpose flour, (divided)
1 dash salt
3 large eggs, (2 for dough, 1 for glazing)
Instructions
Prepare the yeast by mixing in with warm water and sugar. Once yeast starts to bubble, mix in 2 cups of the flour and a dash of salt.
Let rise 1 hour.
Slowly add in remaining (4 cups) flour and 2 eggs, using a dough hook to knead together.
Let rise 1 more hour.
Take dough out of bowl and knead well, adding more flour if necessary. Divide dough into 3 sections,
Take each section and divide again into 3 more sections, making long strips of dough for braiding. Braid 3 dough strips together each for 3 challah's. Dust each loaf with remaining beaten egg.
Bake at 350 for 25 minutes or until golden brown.
Notes
Note: turns out, the original recipe from grandma also called for 1/2 cup olive oil. I didn't discover this until years after making it without oil, so it tastes great either way. But if you want to include the olive oil, add it in before the final rise.
Nutrition Information:
Yield:
3
Serving Size:
1 loaf
Amount Per Serving:
Calories:

1130
Total Fat:

8g
Saturated Fat:

2g
Trans Fat:

0g
Unsaturated Fat:

4g
Cholesterol:

186mg
Sodium:

136mg
Carbohydrates:

227g
Fiber:

8g
Sugar:

34g
Protein:

35g
Nutrition information is calculated automatically by an online tool at Nutritionix. It is not always accurate. Please use your own tools to check if you rely on this information.