This Lemon Garlic Spinach Pasta recipe is an easy, healthy meal for 1 or 2 that can be on the table in 15 minutes. Vegan with a gluten-free option.
As an Amazon associate, I earn from qualifying purchases.
Today is the start of a new series for quick, healthy and flavorful meal ideas that serve just 1-2 people.
Cooking for 1 can be a drag sometimes, whether you have to do it on the reg or even just occasionally when everyone else has dinner plans.
And sometimes you want a hearty meal (like pasta) but you don't want to be eating those leftovers for the next 8 days straight. Am I right?
So here's a solution that is in the middle: this will serve 2 people as a main, or 1 person with an extra portion for leftovers.
Items needed:
A pot for boiling pasta
A strainer for draining pasta (if your pot doesn't have one built in)
A skillet for cooking the spinach and to mix everything together
A good knife for cutting the lemon, garlic, and tomato
Start by boiling water and cooking the pasta (I used a penne, can use gluten-free variety if needed).
While the pasta is cooking, saute the spinach in the cast iron skillet with a little garlic and olive oil. (Remember spinach cooks down A LOT).
Toss 'em together.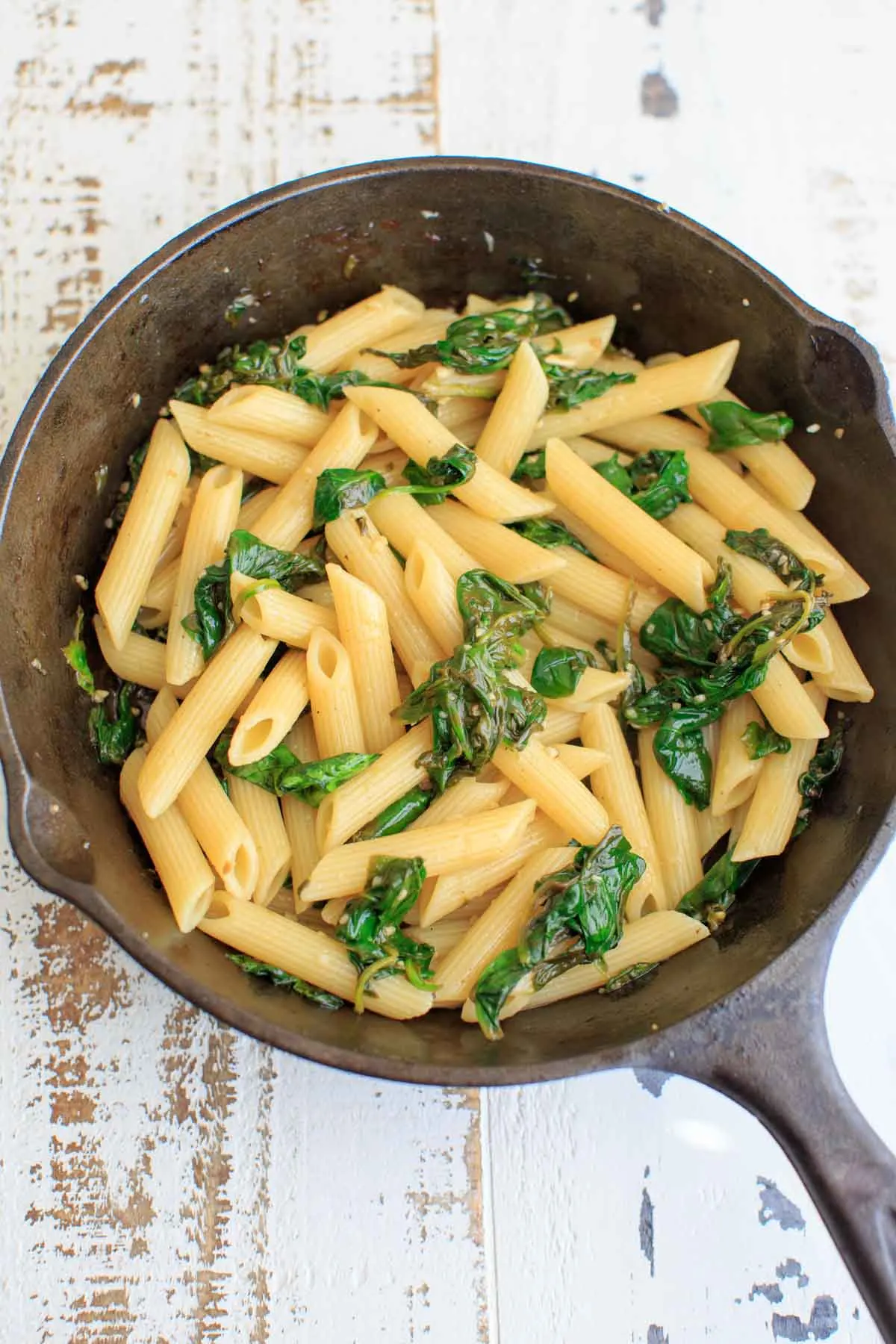 Add a squeeze of lemon juice, salt and pepper, and a little more olive oil if you want.
Maybe a few slices of tomato. If you like things pretty basic, your meal is pretty much ready.
Options to "upgrade" the flavor a bit: herbs (a sprinkle of basil, parsley or oregano are all good options here); a sprinkle of cheese; avocado.
Yes, I said avocado.
I like to add the avocado on the side for some healthy fats and fiber, and it makes the meal a little more filling.
Aaaand I pretty much add avocado to everything I can. If that sounds weird to you, leave it off.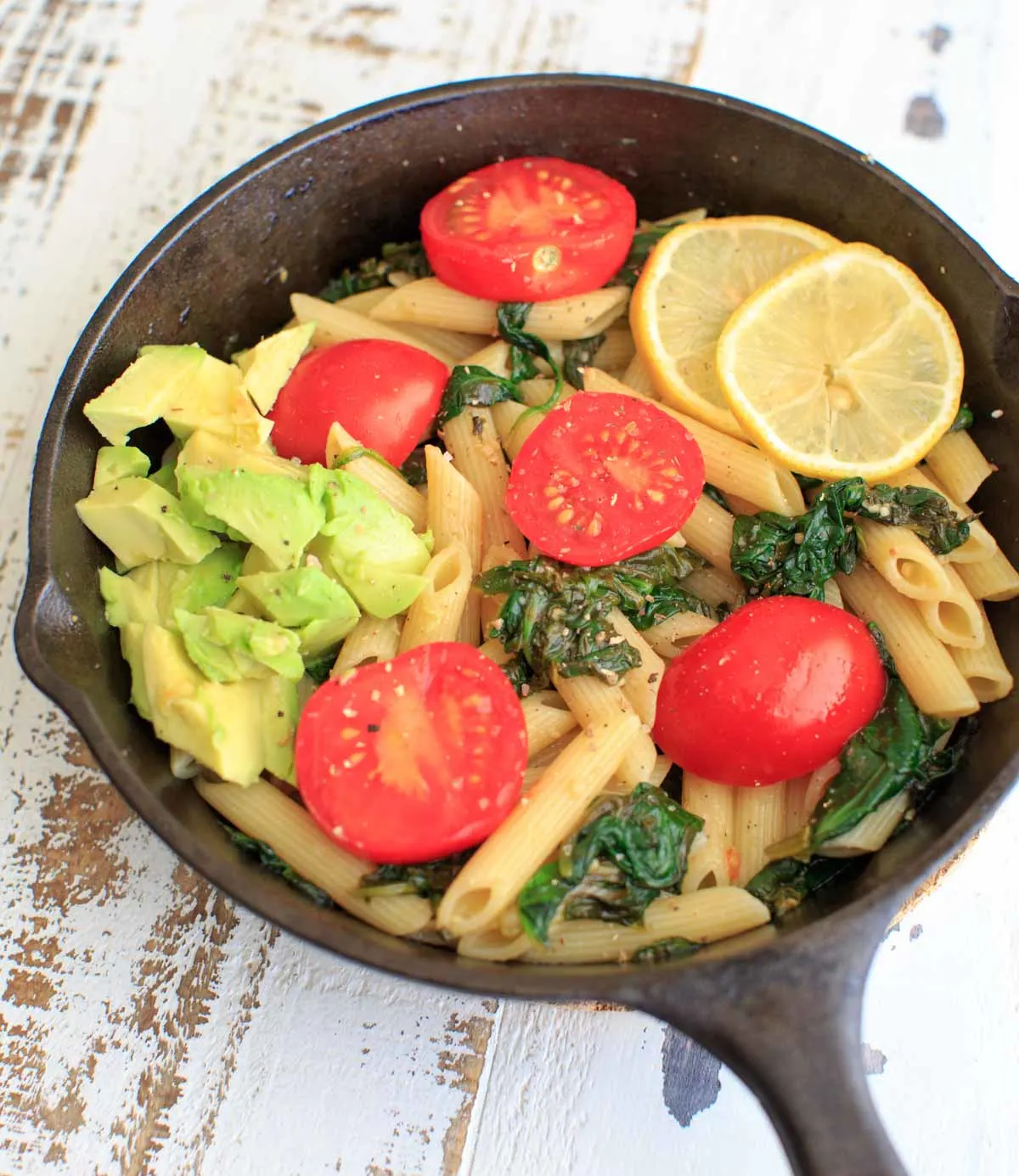 So here's the vitamin breakdown of this meal:
Lemon: Provides vitamin C
Spinach: Provides protein, fiber, and lots of nutrients
Tomato: Provides vitamins A, C, K, potassium
Avocado: Provides healthy fats, vitamin K, B5, B6, potassium, fiber
Just to name a few.
And it's all ready in 15 minutes.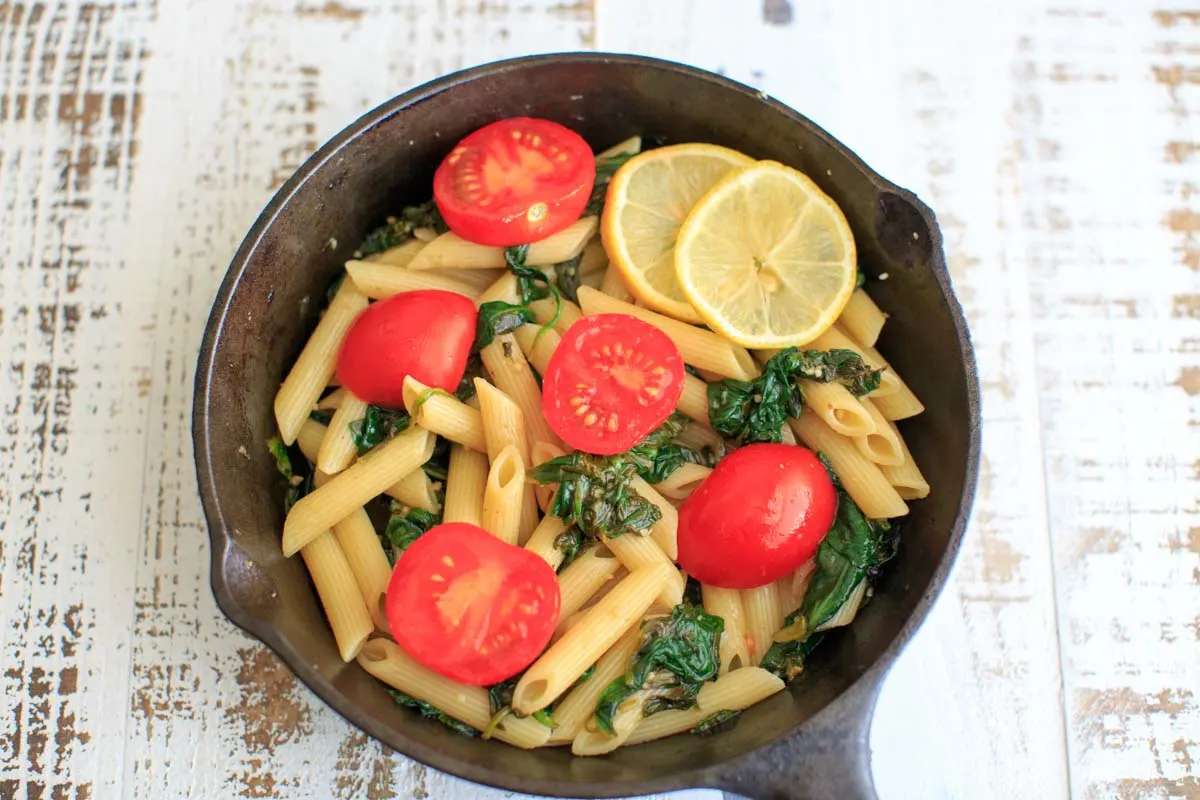 This makes for a perfect lunch or quick meal!
Filling on its own, but would also pair well with a light salad or soup.
Tell me: do you like small quick meals like this?
Yield: 2
Lemon Garlic Spinach Pasta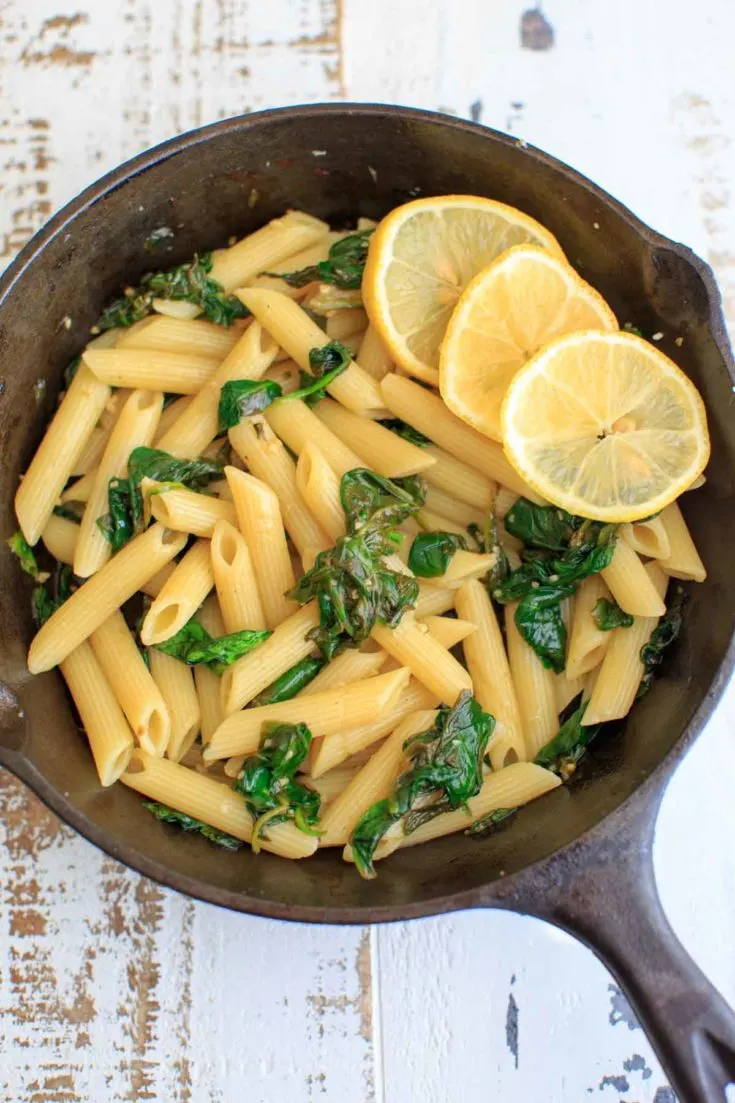 This Lemon Spinach Pasta recipe is an easy, healthy meal for 1 or 2 that can be on the table in 15 minutes.
Ingredients
1 1/3 cup penne pasta (substitute a gluten-free pasta if needed)
1 tablespoon extra virgin olive oil, plus more for drizzling
1-2 cloves garlic, minced
5 oz. baby spinach
1/2 lemon
slices of cherry tomato
salt and pepper, to taste
1/2 avocado (on the side), optional
Instructions
In a medium pot, boil water. Add pasta and cook according to package instructions (usually 8-9 minutes). Drain.
While the pasta is cooking, heat oil in a skillet over medium-high heat. Add garlic and stir for 1 minute.
Add spinach to pan and saute for 2-3 minutes until cooked down, remove from heat.
Combine pasta and spinach. Squeeze lemon juice over pasta dish, add tomato slices and drizzle more olive oil as desired. Sprinkle with salt and pepper.
Notes
Options to customize: Add a sprinkle of cheese, sauce, or spices (basil, parsley or oregano are my favorites); garnish with lemon slices.
Avocado on the side is optional for more nutrients + healthy fats.
*You may prefer more spinach than a 5 oz. package, as spinach cooks down a ton! Especially if you aren't including the avocado and have fewer toppings.
Nutrition Information:
Yield:
2
Amount Per Serving:
Calories:

297
Total Fat:

15g
Saturated Fat:

2g
Trans Fat:

0g
Unsaturated Fat:

12g
Cholesterol:

0mg
Sodium:

210mg
Carbohydrates:

35g
Fiber:

7g
Sugar:

2g
Protein:

8g
Nutrition information is calculated automatically by an online tool at Nutritionix. It is not always accurate. Please use your own tools to check if you rely on this information.