Hot Cross Buns with added dark chocolate pieces, dried cherries, and/or raisins. Traditionally eaten on Good Friday before Easter, these spiced sweet rolls will be a holiday hit.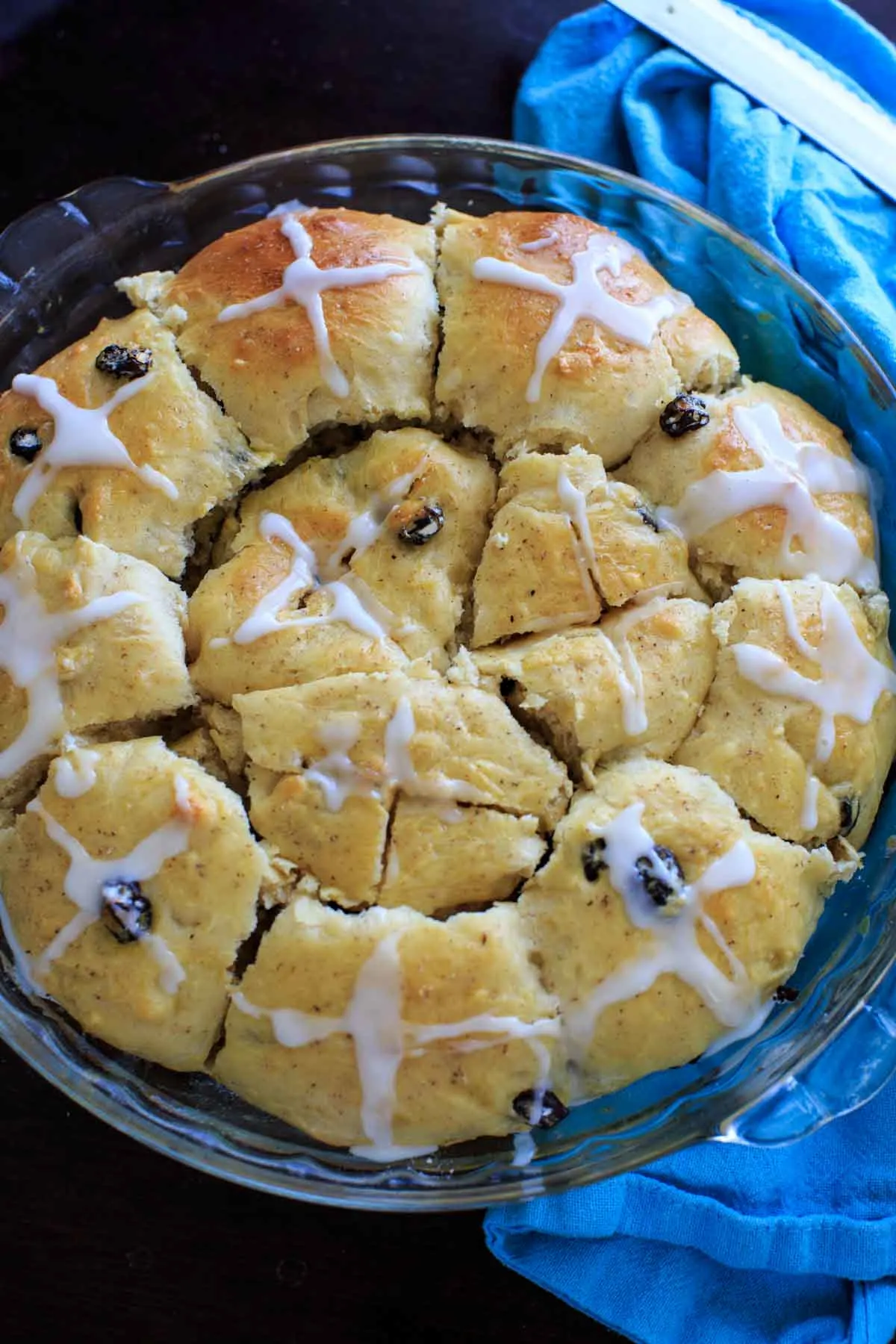 Hot cross buns ALMOST ended up permanently on my Failed list.
Leave it to me to go off-script and with something as timeless as hot cross buns.
But never fear, I got back on track, adapting from one of Nana's recipes!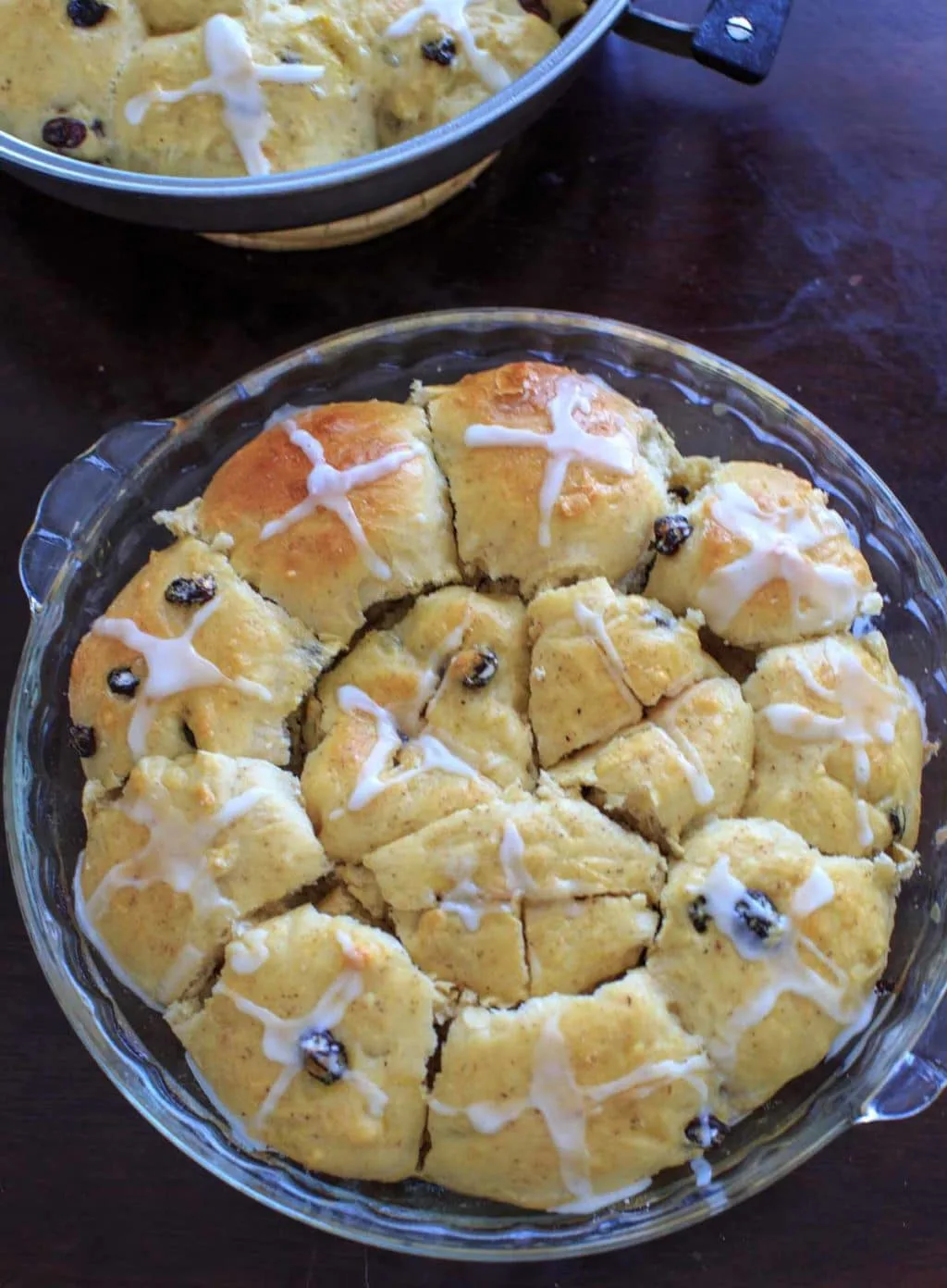 What makes a hot cross bun a hot cross bun?
Basically it's spiced (with cinnamon and possibly nutmeg), with added dried fruit (usually raisins or currants) and a cross usually made out of either icing or pie crust.
I wanted to make mine a little bit different so I decided to add dark chocolate pieces and use cherries instead.
I also tried a batch with a mixture of dried cherries and raisins together (mostly because I was running out of cherries), so go with whatever proportion you feel like.
Since my first batch was such a fail, I figured I couldn't go wrong starting with a tried and true recipe and adapting from there.
Enter: Nana's Easter bread.
I started with that recipe (minus some of the butter and added egg yolks), added spices and sweetness.
And orange juice! That's my secret ingredient in some recipes that need a hint more sweetness, and I figured it would work here since I've seen some recipes that use orange rind.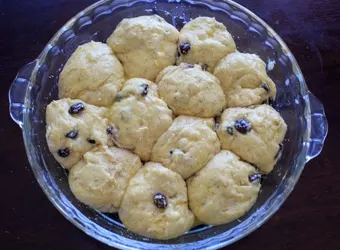 The second picture above has an egg glaze with some grated nutmeg on top.
You can either mix in the chocolate pieces or press some into the top of the dough before baking.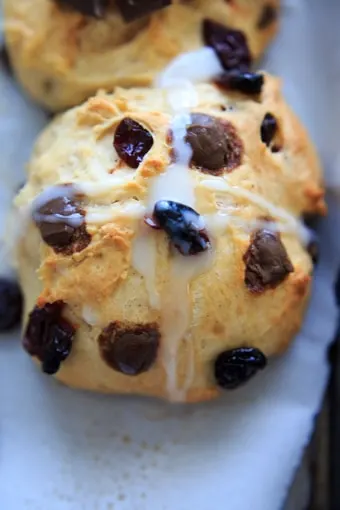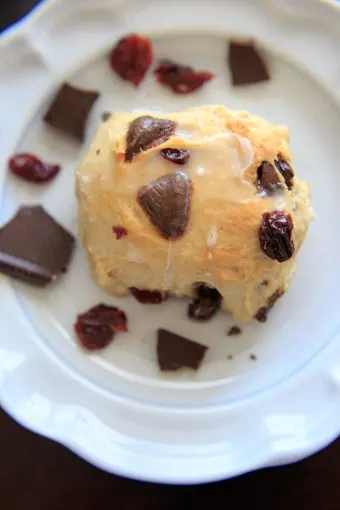 My crosses might need some work.
ALSO I learned that there is a thing called "not cross buns." I wanted to call this post "not hot cross buns" but then all I could think of was that dumb game "hot or not hot." Isn't that similar to how Facebook started?
Anyway, to get back on track, a NOT cross bun is just one that doesn't have a cross on top.
They originated because people started to get mad (/cross) when hot cross buns were sold before Good Friday (since that is when they are traditionally eaten in some countries or religions).
To I guess make people happier (or "not cross"), some bakeries started putting something other than a cross as decoration.
Like a smiley face. 🙂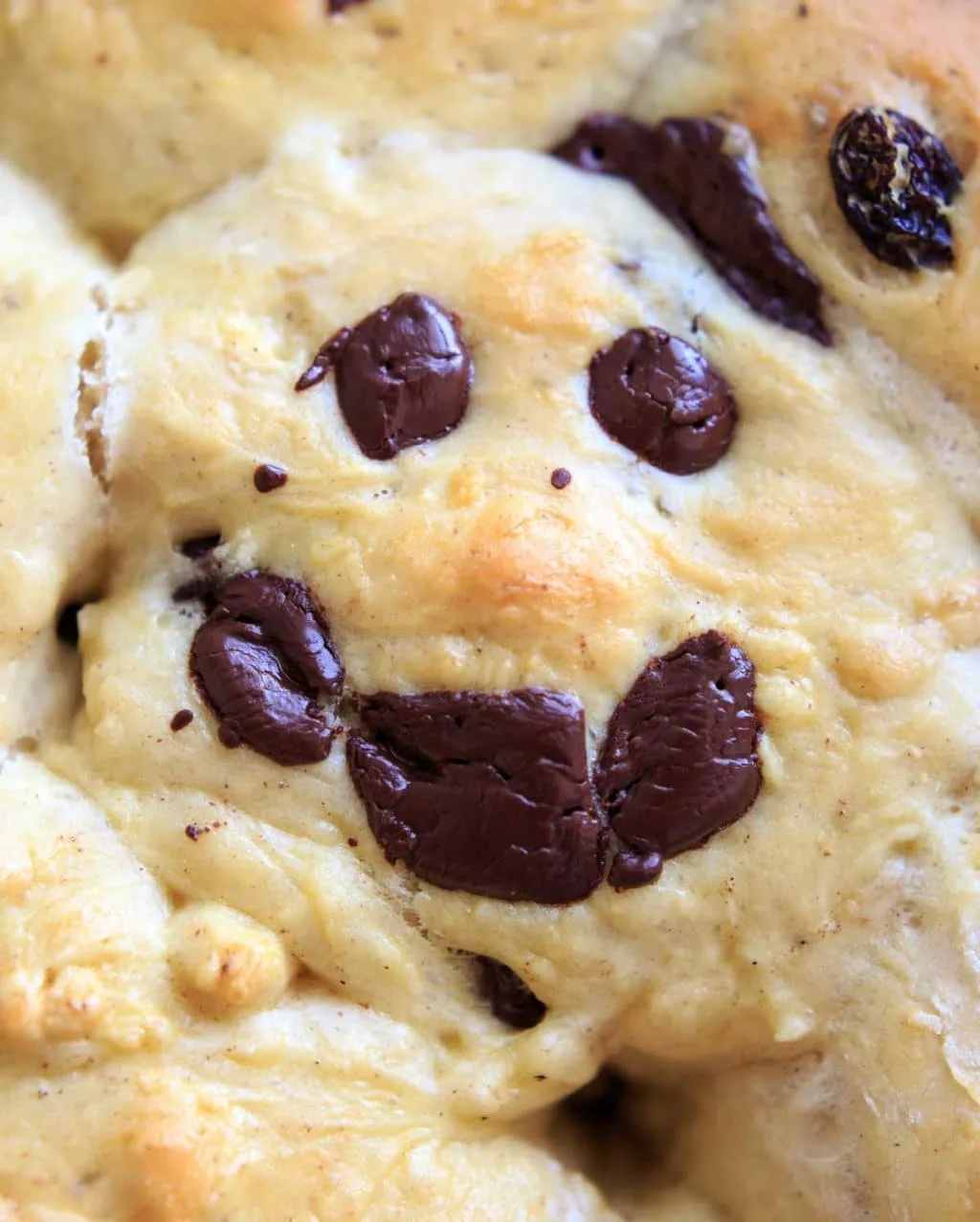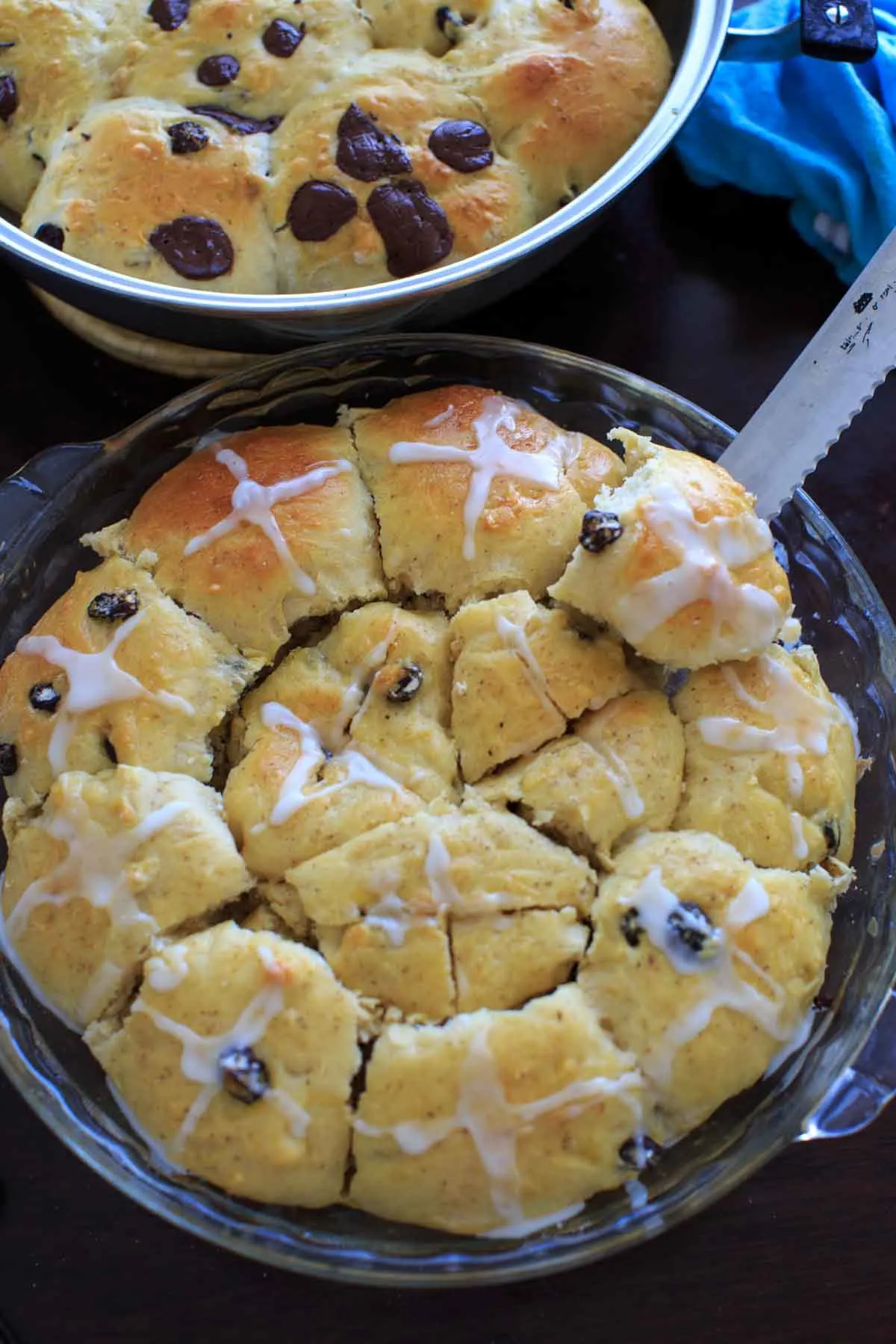 All of my decorating needs some work. I get it. But these are delicious!
Will you make them cross or not cross?
Yield: 24 buns
Hot Cross Buns with Dark Chocolate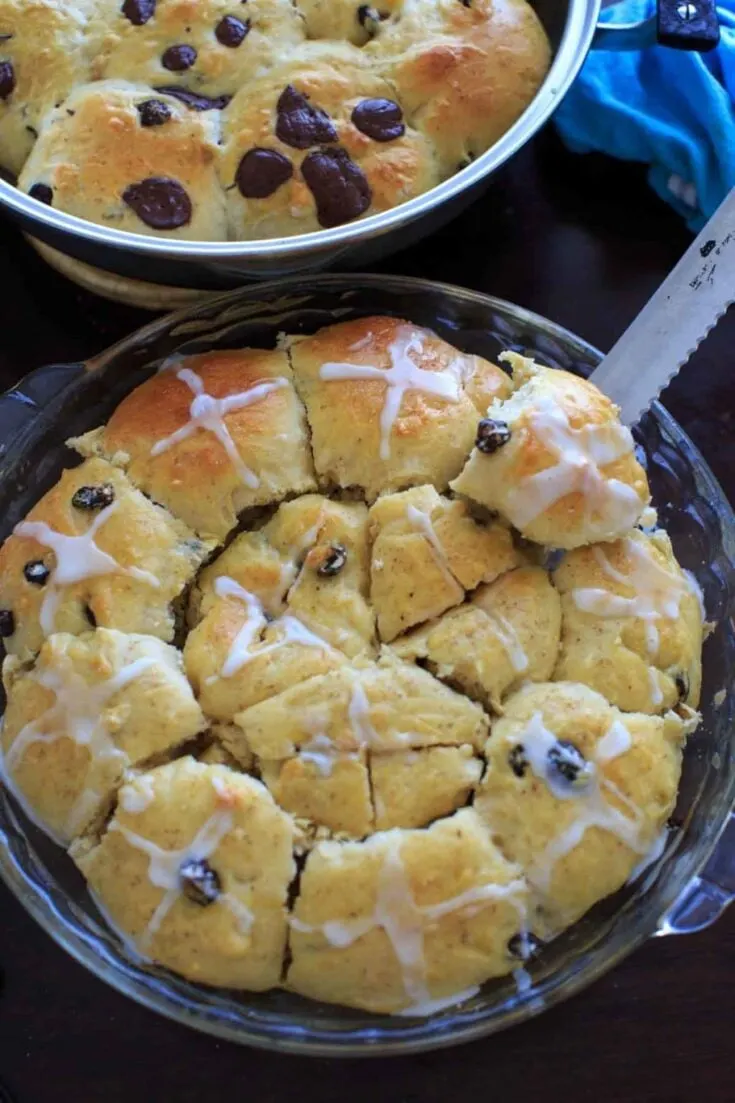 Hot Cross Buns with added dark chocolate pieces, dried cherries, and/or raisins. Traditionally eaten on Good Friday before Easter, these spiced sweet rolls will be a holiday hit.
Prep Time
2 hours
15 minutes
Total Time
2 hours
40 minutes
Ingredients
1 cup milk
1/2 cup sugar
1/4 cup orange juice (no pulp)
4 tablespoons unsalted butter (1/2 stick or 1/4 cup)
1 teaspoon salt
4 1/2 teaspoons yeast (2 packets)
1/2 cup hot water (around 115°F)
5 1/2 cups all-purpose flour
2 large eggs
1 teaspoon ground cinnamon
1 cup dried cherries, or raisins, or a mixture
3.5 ounces good quality dark chocolate, , broken into pieces
For glaze (optional):
1 egg
nutmeg, for sprinkling (optional)
For icing:
1/4 cup powdered sugar
1/2 tablespoon milk
Instructions
In a medium pot, heat the milk, sugar, orange juice, butter and salt on the stovetop over medium heat. Stir occasionally and remove from heat once butter has melted (about 5 minutes). Do not let boil.
Meanwhile, prepare the yeast by mixing it with the hot water. Let sit for 5 minutes until bubbly.
Add the yeast mixture and 2 cups flour to a large mixing bowl. When combined, add in milk mixture, eggs, remaining flour and cinnamon.
Knead with a dough hook or by hand for 5-10 minutes until smooth and elastic. Add in dried cherries and chocolate pieces while kneading.
Let rise in bowl for 1 hour.
Separate into 24 rolls and place on greased baking sheets or pie pans. Let rise for another 30 minutes to an hour. Glaze tops of buns with a beaten egg and sprinkle freshly grated nutmeg if using.
Preheat oven to 350°F. Bake for 22-27 minutes or until lightly browned.
Prepare icing by combining powdered sugar and milk in small bowl. Once buns have slightly cooled, add icing in the shape of a cross (or any other desired shape to make "not cross buns!").
Nutrition Information:
Yield:
24
Serving Size:
1
Amount Per Serving:
Calories:

211
Total Fat:

4g
Saturated Fat:

2g
Trans Fat:

0g
Unsaturated Fat:

2g
Cholesterol:

30mg
Sodium:

106mg
Carbohydrates:

38g
Fiber:

2g
Sugar:

13g
Protein:

5g
Nutrition information is calculated automatically by an online tool at Nutritionix. It is not always accurate. Please use your own tools to check if you rely on this information.
Need more Easter recipe ideas? Check out this list of 40+ vegetarian Easter mains, sides, and desserts.