Maple roasted carrots are an easy vegetable side dish that you can throw together for any meal. Vegan, gluten-free, paleo, 5 ingredients or less.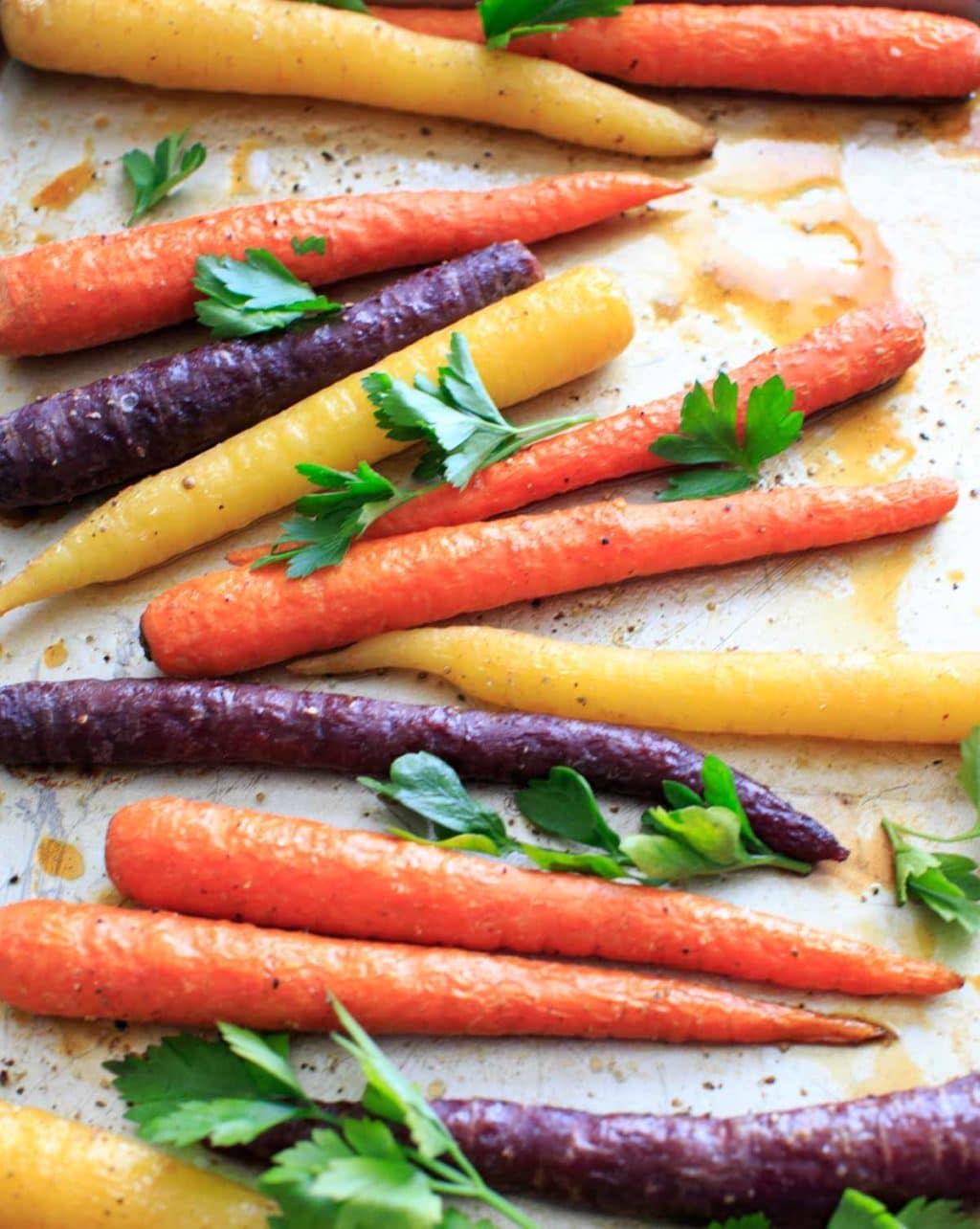 Time for some fresh veggies up in this house.
Well I guess not technically fresh since these are roasted. But whatever, it's time for some vegetables.
After all the baking I seem to do for every holiday, I always seem to crave colorful + easy veggies for the week afterwards. It helps me feel lighter (literally and figuratively) after carb-loading on breads and sweets.
In this case the holiday was Easter, and as much as I love my traditional recipes from my Nana I think I'm going to be eating just carrots for a while.
Get the latest recipe ideas + deals to your inbox! Add your name to the "insider list"
here
.
Okay, maybe not JUST carrots. These are a great pairing for just about any dinner. I like to buy multicolored carrots so I really feel like I'm eating the rainbow (I get mine at Trader Joe's). Toss on some fresh herbs (parsley or thyme are good options) to make it feel even healthier.
The (REAL) maple syrup goes a long way, I use only a tablespoon of it per pound of carrots.
Same measurement for olive oil. Also if you'd like to get fancy, try it with truffle oil! Adds a whole new dimension to the flavor.
You could also use honey though it wouldn't technically be vegan any more if that's important to you.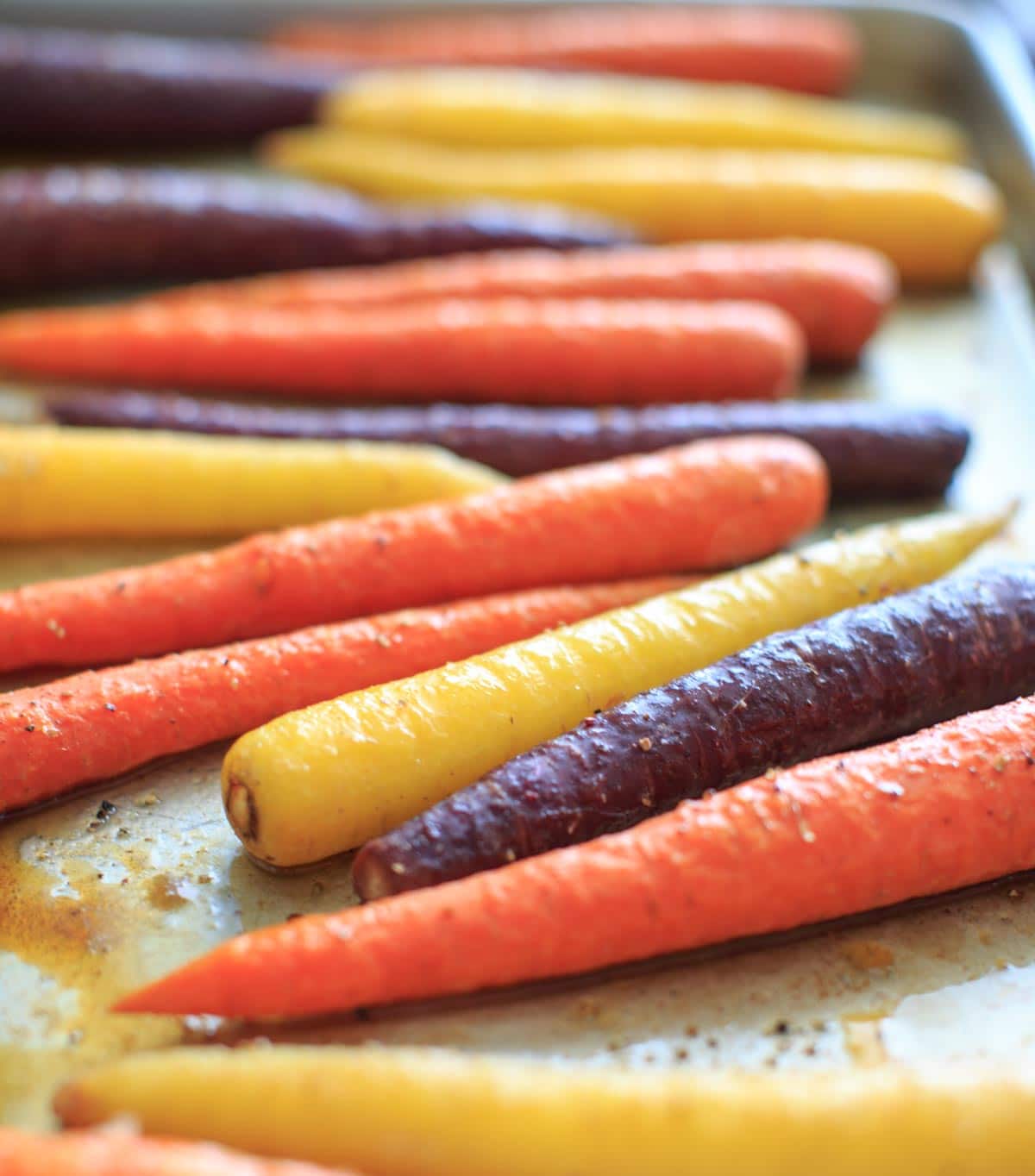 Fun fact of the day: Did you know bunnies don't actually eat carrots? Or rather, they shouldn't only eat carrots. I think they'll eat them if you give them to 'em. But it's not in their natural diet.
Their main diet should actually consist of hay. I guess it wouldn't be as fun for kids to leave out hay for the Easter bunny to eat? I don't exactly know where that tradition came from.
And yes, these are things that I spend my time googling.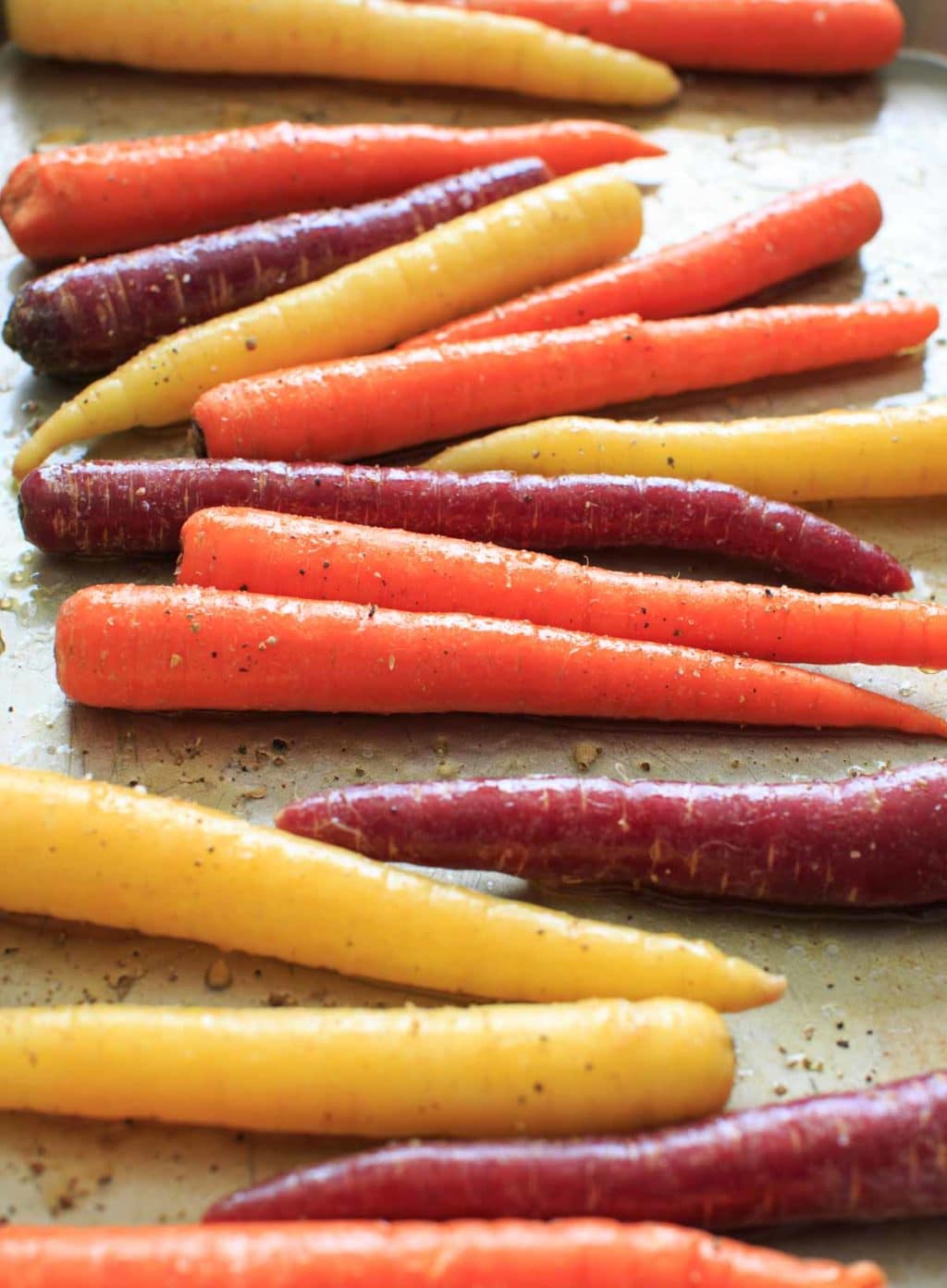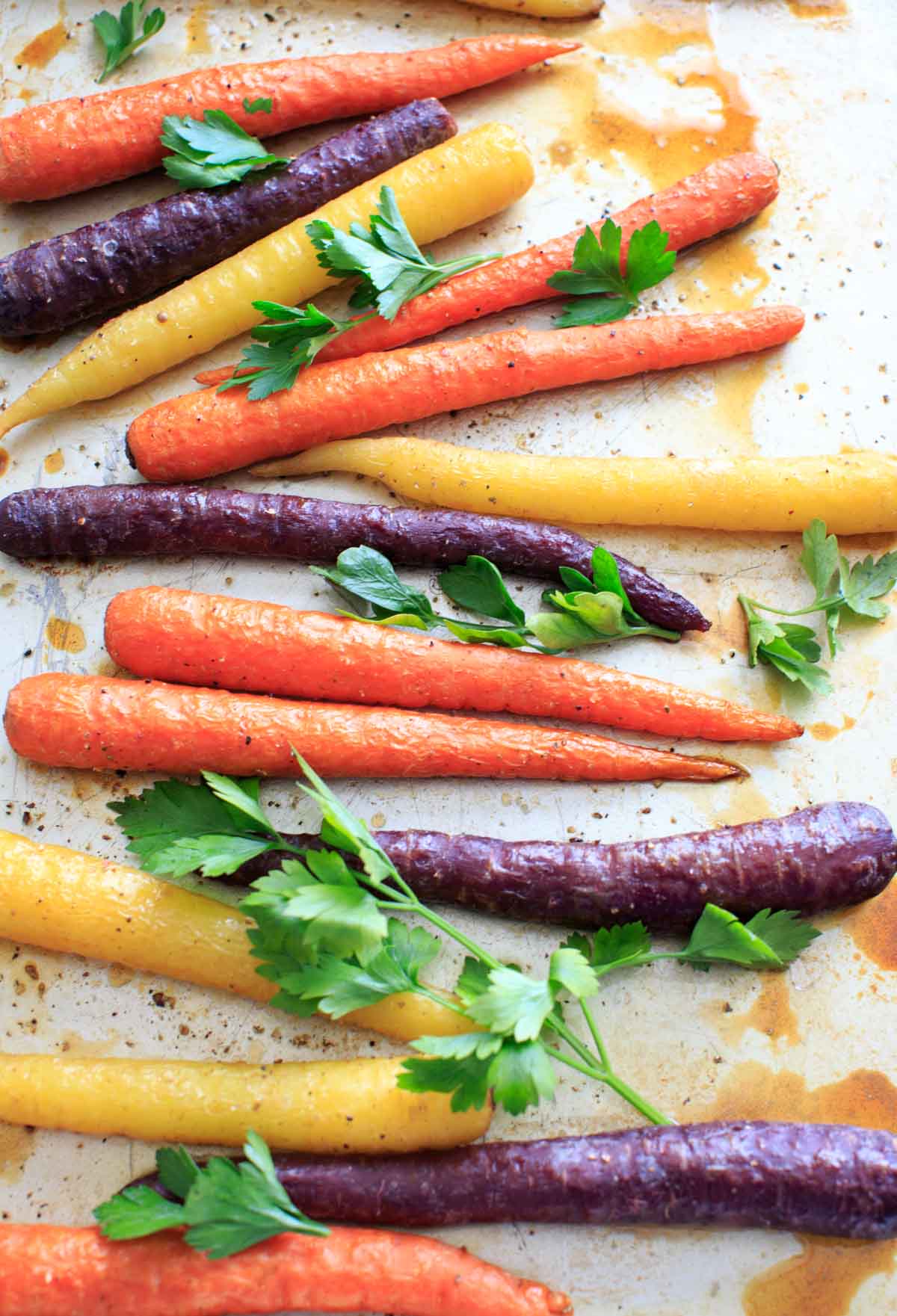 Yield: 8
Maple Roasted Carrots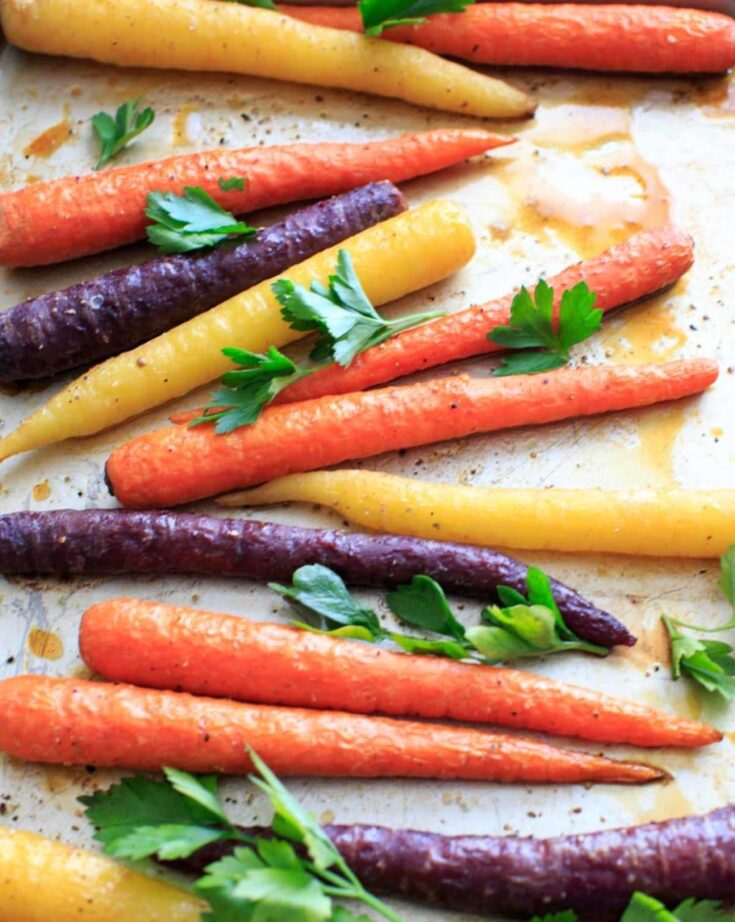 Maple roasted carrots are an easy vegetable side dish that you can throw together for any meal. Vegan, gluten-free, paleo, 5 ingredients or less.
Ingredients
2 lbs. whole carrots (I like the multicolored ones)
2 tablespoons extra virgin olive oil (can also try truffle oil for added flavor!)
2 tablespoons pure maple syrup
salt and pepper, to taste
fresh herbs like parsley or thyme, for serving, optional
Instructions
Preheat oven to 400°F.
Place carrots on a baking sheet (use a baking sheet with sides so oil does not drip off). Drizzle olive oil over carrots, tossing by hand (or use pastry brush) to help distribute evenly. Repeat with maple syrup.
Add salt and pepper as desired.
Roast for 20 minutes or until fork slides in easily.
Serve with fresh parsley or other herbs if desired.
Nutrition Information:
Yield:
8
Amount Per Serving:
Calories:

84
Total Fat:

4g
Saturated Fat:

1g
Trans Fat:

0g
Unsaturated Fat:

3g
Cholesterol:

0mg
Sodium:

104mg
Carbohydrates:

13g
Fiber:

4g
Sugar:

7g
Protein:

1g
Nutrition information is calculated automatically by an online tool at Nutritionix. It is not always accurate. Please use your own tools to check if you rely on this information.