Heads up: this recipe is sponsored by Lentils.org in collaboration with their #SpringCleanse campaign.
Belgian Waffles made healthy with split red lentils, blood orange juice and blueberries. Breakfast doesn't get any better than this!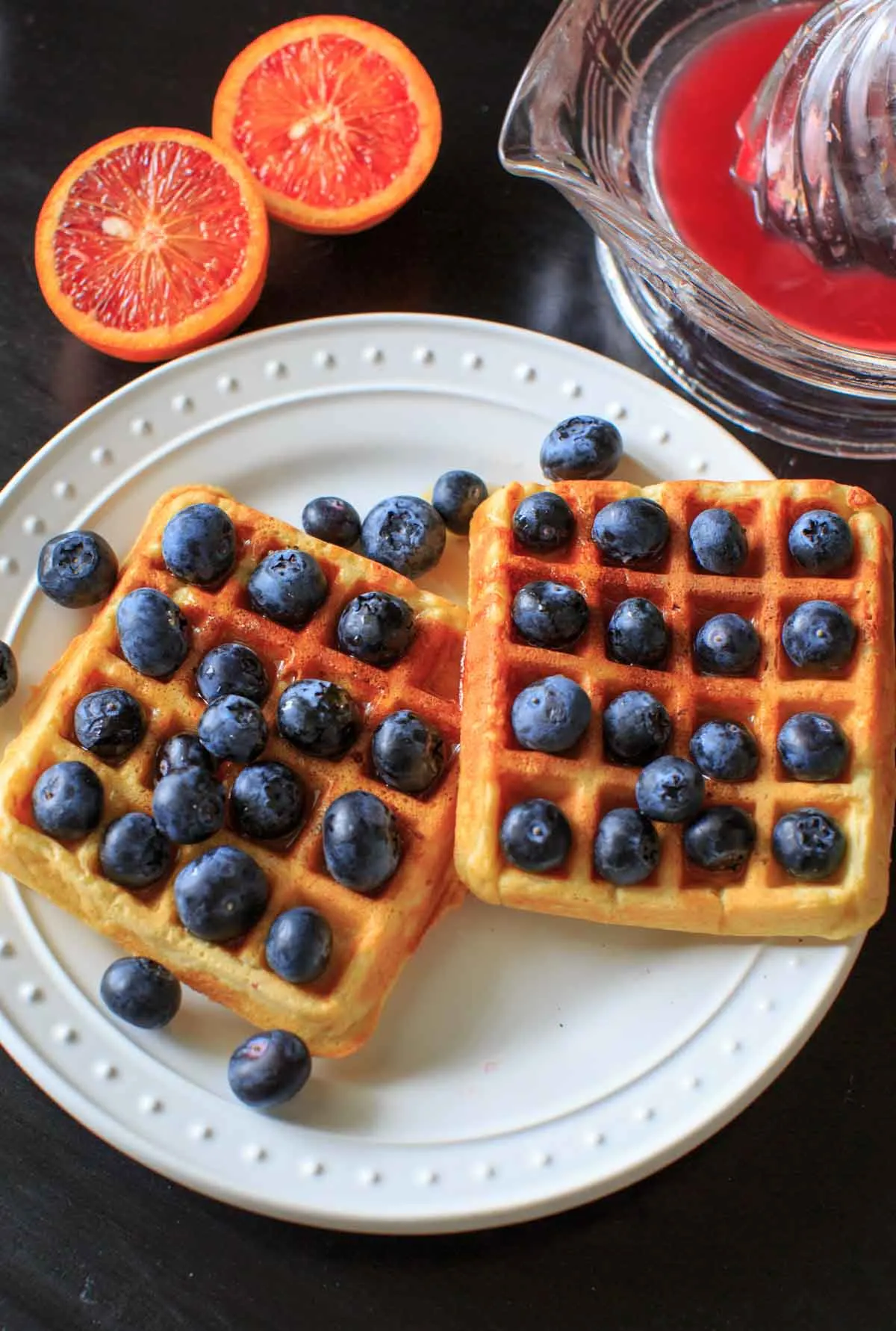 This waffle recipe is brought to you by… lentils.
What the what?
Let me start from the beginning.
Over a year ago, I went to a conference where one of the breakfasts was sponsored by Lentils.org. When I first saw that on the agenda, I thought we'd be eating lentil soup for breakfast.
I was so wrong.
There were muffins and scones and energy bites and lentil granola parfaits. It was like lentil paradise. Learning about the versatility of lentils was amazing. Ever since then, it has been on my list to be like the cool kids and use lentils in an unexpected way. So when I was asked to participate in their #SpringCleanse campaign, I knew this was my chance.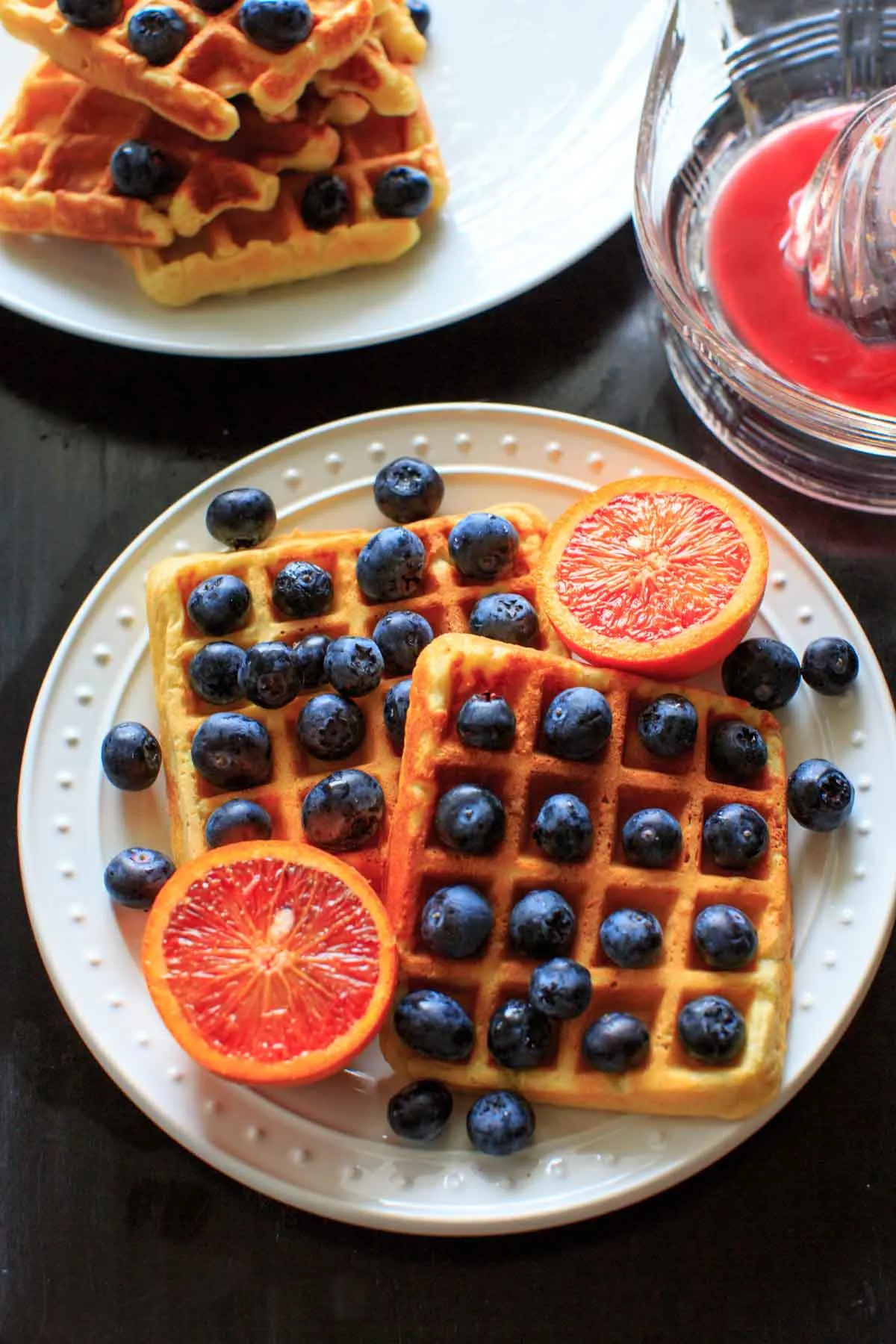 This hashtag is right on trend because it is PRIME TIME for spring cleaning. The other day I did a deep-clean of my kitchen AND my pantry. I felt like superwoman after I was done.
Spring cleansing goes hand in hand with spring cleaning. All those baked goods and comfort foods from the holidays and cold weather have weighed us down (literally and figuratively), and the weather warming up has our bodies craving healthier foods that will still keep us fueled throughout the day.
Healthy food doesn't have to be boring, guys. I've tried to make that a theme on this site but it's especially true with these waffles.
The story of how these lentil waffles came to be:
Last week (around the time I deep-cleaned the kitchen) I suddenly had a craving for pancakes. Which was weird, because I don't really like pancakes. I much prefer waffles.
But the pancake craving persisted. Since I was also brainstorming lentil recipe ideas, I finally realized: I should make lentil pancakes!
Wait, I thought I was talking about waffles? I'm getting there.
I proceeded to make several different versions of pancakes incorporating lentils. And since I don't LIKE pancakes, I couldn't quite get the recipe to feel blog-worthy. It wasn't the lentils fault, it was the pancakes fault. Not only did none of the pancakes turn out but my pancake craving was long gone after the first batch.
So. WAFFLES. Because that's what I originally said I like better anyway.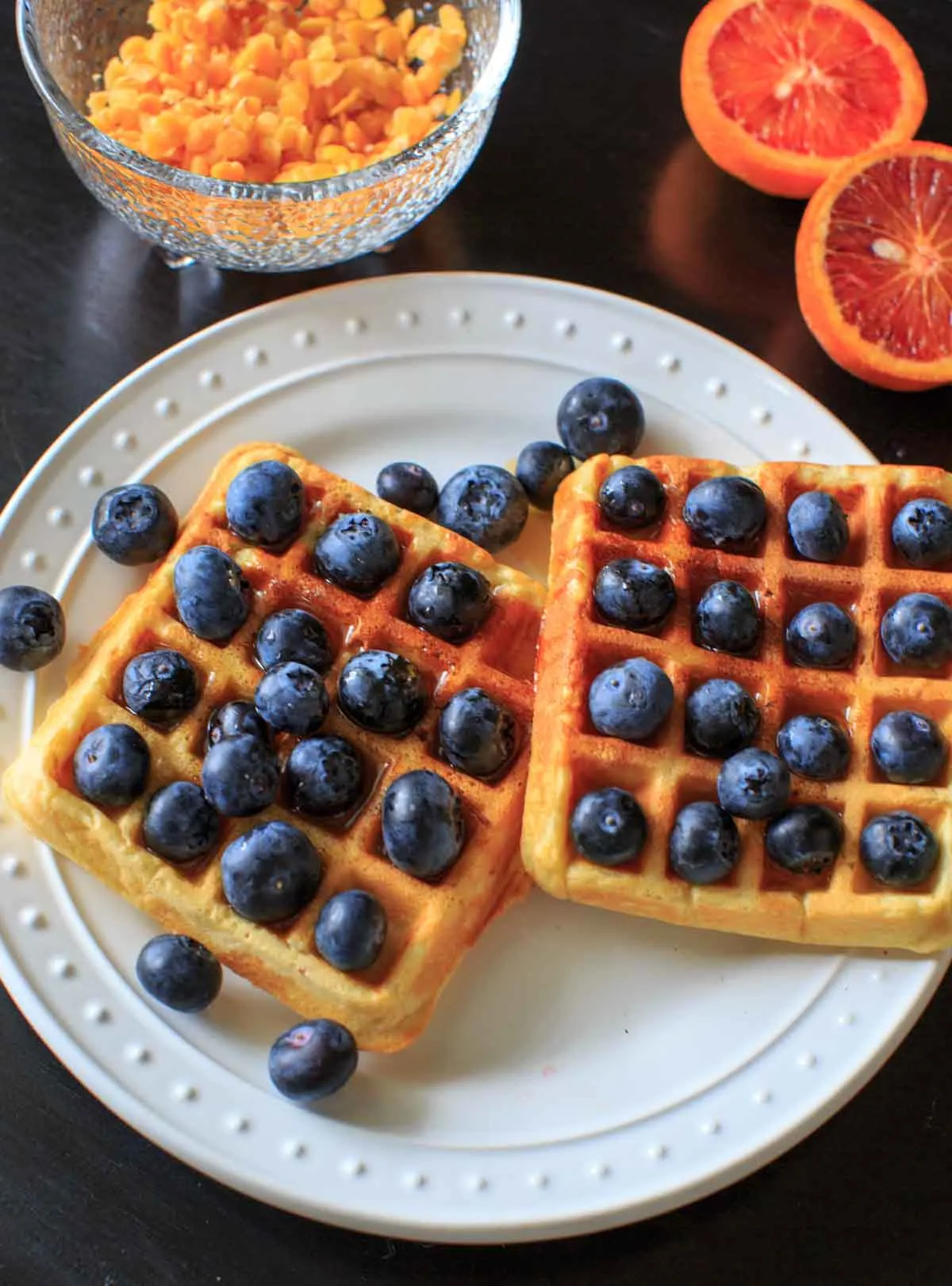 What are lentils?
Lentils are a pulse crop, like beans, peas and chickpeas. Most commonly you will find whole green lentils or split red lentils at your local grocery store. This waffle recipe uses split red lentils, which means their seed coat has been removed and they cook a lot faster than whole lentils.
They are high in protein, fiber and other nutrients such as iron. Because of this, they make a great addition to healthy meals. The opportunities are endless here, let your creativity go wild.
Here's what split red lentils look like before and after being cooked for 5-10 minutes: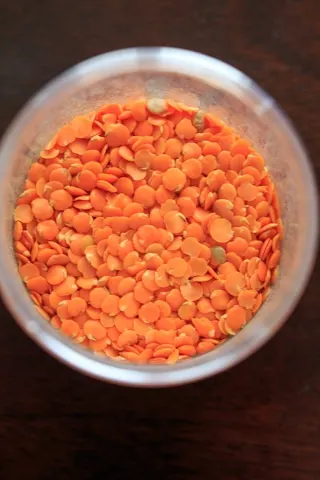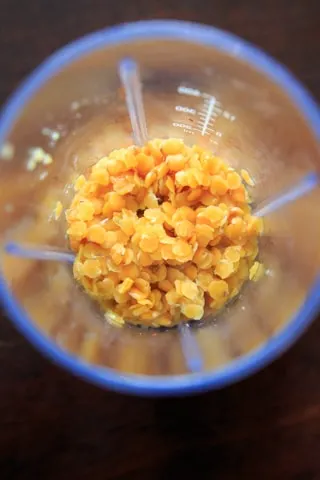 You can cook a bunch at once if you like and refrigerate or freeze the leftovers for other meals later. This recipe uses 1/2 cup dried lentils (which will at least double when cooked to make 1 cup).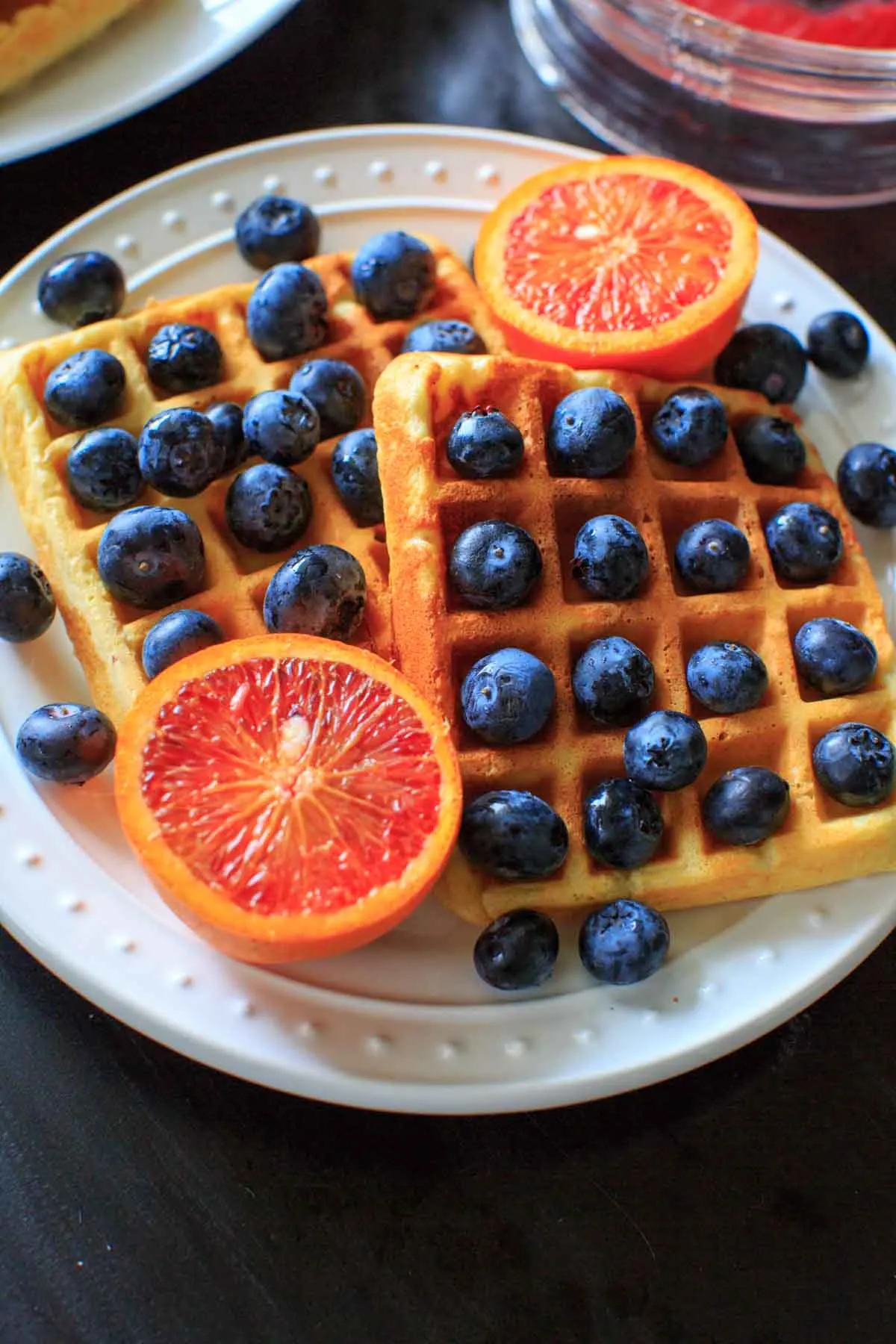 Why put blood orange juice in the Belgian waffles?
I've been known to add regular orange juice to other recipes to sweeten it up, so I wanted to add an extra twist to these waffles by replacing some of the milk with blood orange juice. Naturally this idea came to me solely because that I had a big bag of blood oranges.
Blood oranges have more antioxidants than regular oranges, and that's where they get their red color from. They are less acidic than regular oranges and have more of a berry flavor, which is why I thought they'd go well with the blueberry theme.
They are fairly small (at least the ones I have) so I only used 1/2 cup juice. That took 6 blood oranges. If you want to get fancy you can also add some of the zest to the recipe.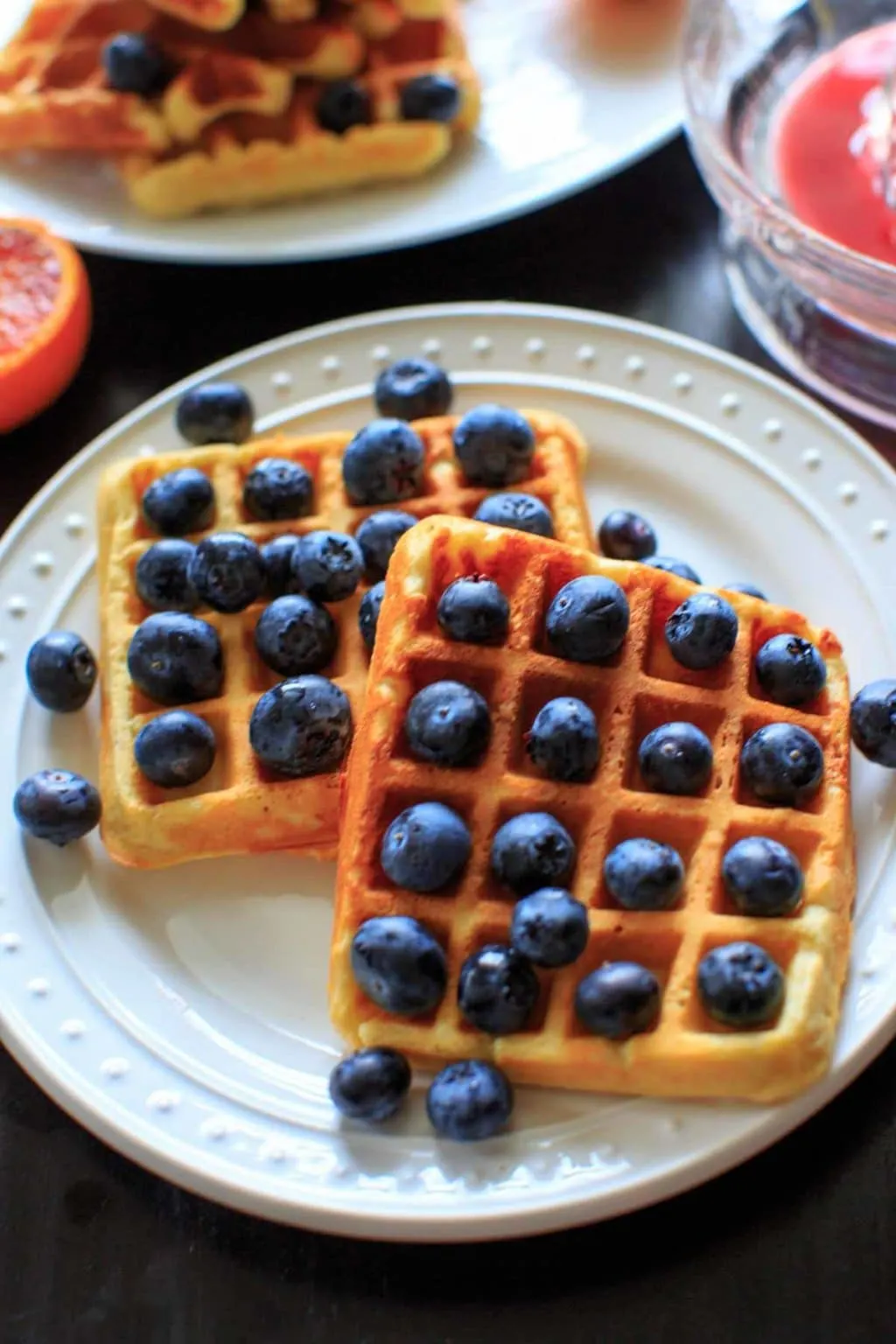 Guys: I DON'T LIE TO YOU. So when I say these lentil Belgian waffles are amazing and you can't taste the lentils and it's not weird AT ALL you should BELIEVE me.
You know I like to substitute weird ingredients sometimes (case in point: chickpea cookie dough and avocado mousse). But I always tell you. I don't try to hide it from you or tell you it tastes different than it does.
The lentils blend up easily after cooking for 5 minutes. I add them in the blender with the OJ to help them blend well. So you won't see or taste them. You'll just be adding all the nutrition to your breakfast.
So seriously. Add the lentils to your Belgian waffles. You won't regret it.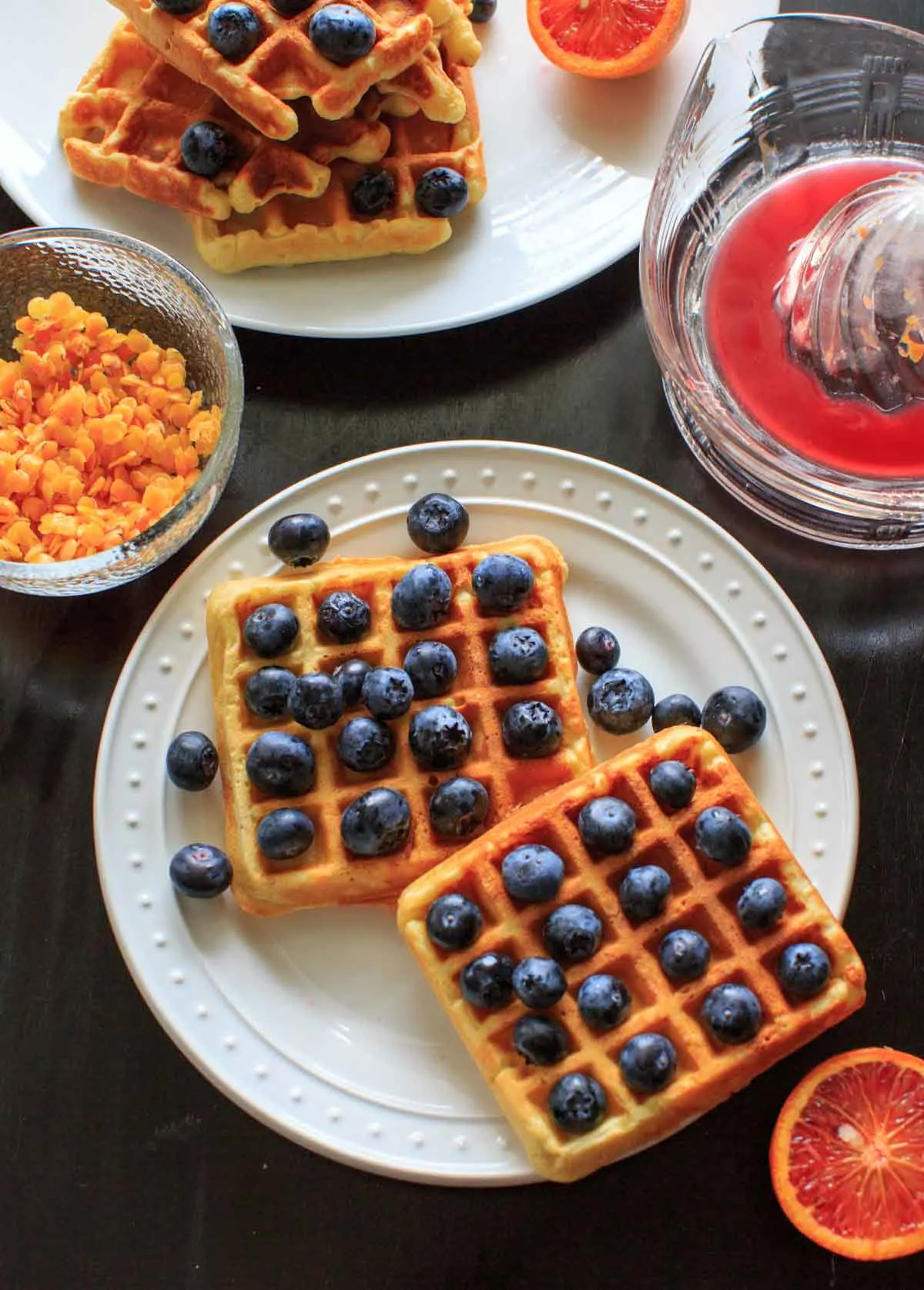 Top 'em off with blueberries and pure maple syrup. (Though really I was eating them plain after I ran out of toppings. GOOD.)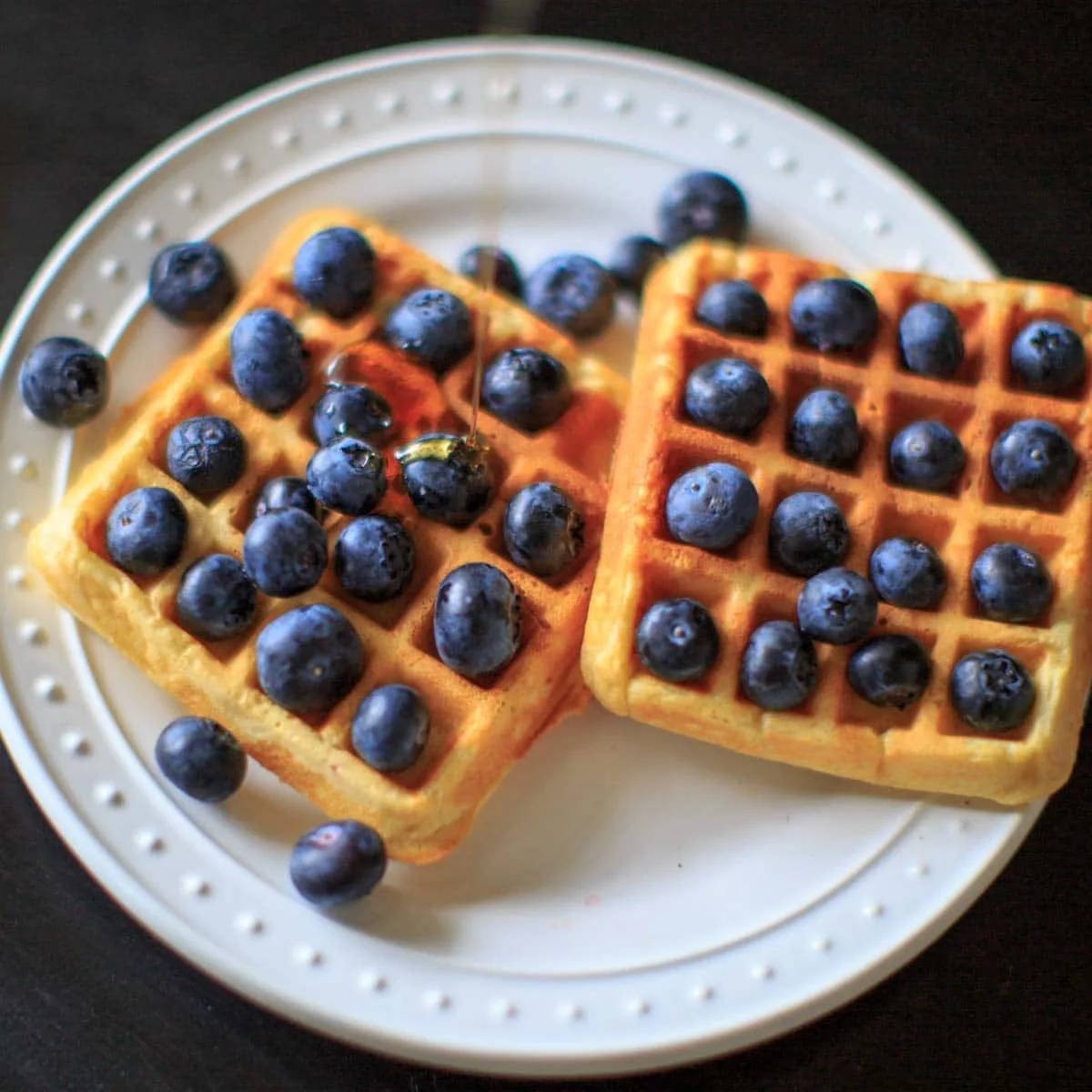 Confession: Sometimes I have to reign myself in. I ALMOST made these gluten-free by trying coconut flour instead of all-purpose (inspired by my recent coconut flour baking). Blueberry and blood orange coconut flour lentil Belgian waffles was just too much of a mouthful.
Will you try these waffles? Let me know in the comments!
Yield: 16 waffles
Blueberry and Blood Orange Belgian Lentil Waffles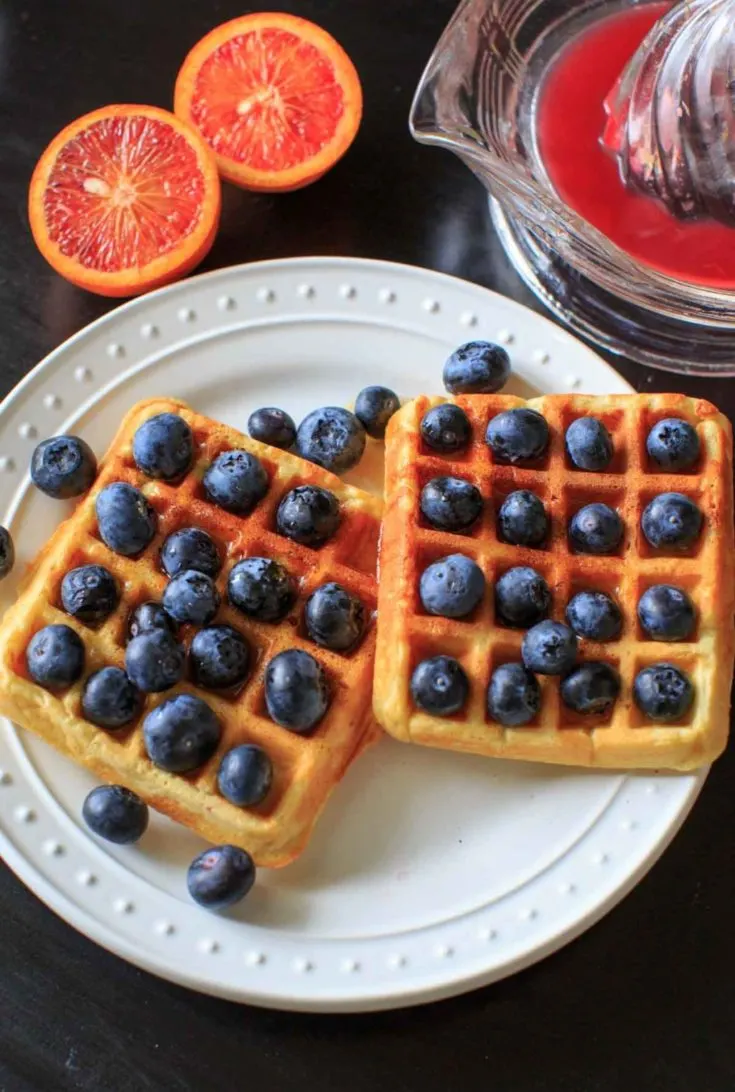 Belgian Waffles made healthy with split red lentils, blood orange juice and blueberries. Breakfast doesn't get any better than this!
Ingredients
For the lentils:
1/2 cup dried split red lentils
1 1/2 cups water
For the waffles:
2 cups all-purpose flour
1 tablespoon baking powder
1/4 teaspoon salt
2 eggs (separated)
1 cup milk
1/2 cup juice from blood oranges (from about 6 small blood oranges)
1/4 cup coconut oil, melted (or other oil)
2 tablespoons sugar
1 teaspoon vanilla extract
Waffle toppings:
fresh blueberries
pure maple syrup
Instructions
Cook the lentils:
Rinse lentils and combine with water in stove pot. Turn on high heat to let boil, then reduce head to low and let simmer for 5-7 minutes until soft. Remove from heat and strain out extra water.
Prepare the waffle batter:
Add the flour, baking powder and salt to a bowl and set aside.
Place the egg yolks in a large bowl. Add milk, coconut oil, sugar and vanilla.
In a blender, add the cooked lentils and the blood orange juice and pulse until blended. Add to egg yolk mixture.
Add in flour mixture and stir to combine.
In a separate bowl, whip the egg whites until stiff peaks form. Fold gently into the rest of the batter.
Pour batter into waffle maker. Top waffles with fresh blueberries and maple syrup.
Nutrition Information:
Yield:
16
Serving Size:
1 waffle
Amount Per Serving:
Calories:

129
Total Fat:

4g
Saturated Fat:

3g
Trans Fat:

0g
Unsaturated Fat:

1g
Cholesterol:

24mg
Sodium:

162mg
Carbohydrates:

19g
Fiber:

1g
Sugar:

4g
Protein:

4g
Nutrition information is calculated automatically by an online tool at Nutritionix. It is not always accurate. Please use your own tools to check if you rely on this information.