I've visited Charleston at least a handful of times. Sometimes they were short day trips, which made for a LONG day because it's like a 4 hour drive from me. One time was in college and as broke students we were planning on camping out for a night, not knowing there was going to be a wind storm. Luckily instead we ran into people we knew and found a place to stay (indoors).
(This is the same group of girls where we went to bed before 7pm while camping because we couldn't keep a fire going for light.)
But I'm getting off topic. Just recently, I visited Charleston again for a conference. It's such a fun city to visit so although I didn't take city pictures this time, I thought I'd write about the trip and some of my favorite things to do there.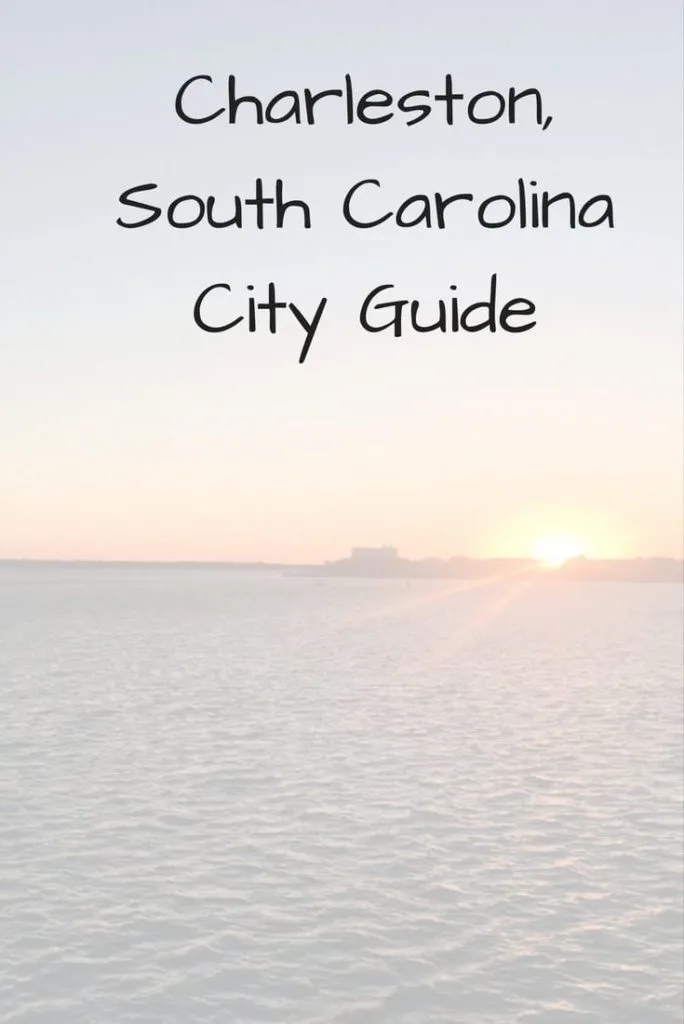 Where to Find Vegetarian Eats in Charleston
It's only natural I talk about food first, right?
Charleston definitely has a lot of southern-cookin', fried-chicken type places to eat, especially for brunch. But luckily I haven't had too hard of a time finding vegetarian options as well.
Favorite Vegetarian Spot: Dellz Uptown
This place is tucked back a little between some houses and busy streets. But there is a small parking lot available in the back for customers. I wanted EVERYTHING on the menu but I went with the highly recommended Jazzy Pizza (pictured below, excuse the cell phone blurriness). Basically a taco on a pizza. They have a ton of vegan options (including for this pizza) and it all looks delicious. They aren't strictly a vegetarian spot but the majority of their food is.
See: Dellz Uptown menu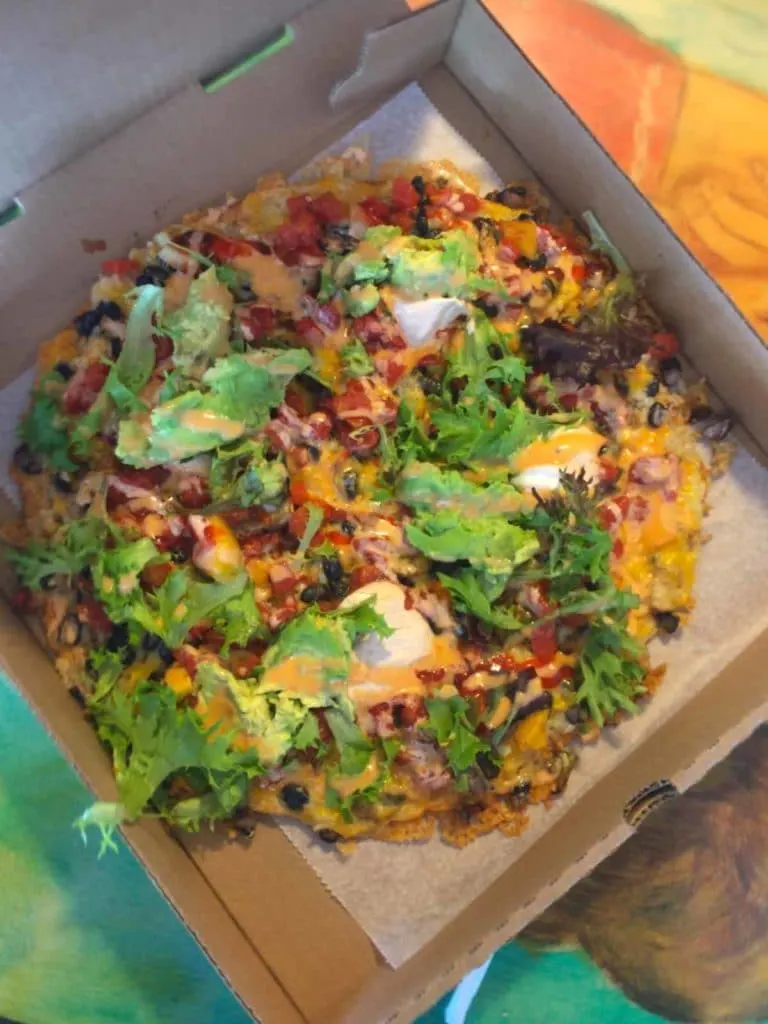 Favorite Drink – Tapio: A Boba Tea Cafe
Granted, this was my first time ever trying boba (bubble) tea, but this is where I fell in love with it. Pictured below are two fruit versions with exploding boba (strawberry with kiwi boba and mango with pomegranate boba). Love.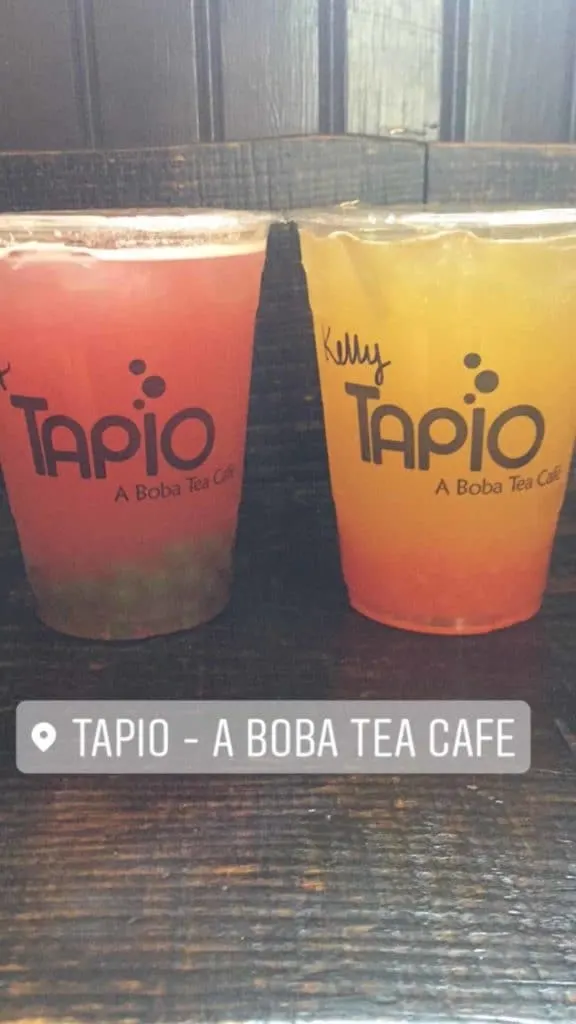 Other great restaurants:
Things to Do in Charleston
Charleston is full of history, which means there are lots of tours available to help you explore the city.
Ghost Tours
My top recommendation if you're going to be there for an evening is a nighttime walking ghost tour! There are many options available, and your hotel or even some restaurants will have information on how to find one. If you're traveling with kids, you may want to ask specifically about family-friendly tours as they can vary in creepy-factor level. (Note: I'm not someone who enjoys horror or scary movies, so the ones I've been on haven't been particularly scary. You do tour graveyards and hear some eerie stories, but there's definitely room to up the ante if you want to be creeped out.)
See: Bulldog Ghost Tours
Walking Tours
If ghosts aren't your thing, there are plenty of day-time walking tours available too. From ones led by a pirate to ones focusing on the extensive history, you're sure to find something fun.
See:
Horse Drawn Carriage Tours
If walking ain't your thang either, there are a few other ways to see the city. One of the more unique and leisurely ways is by horse.
See:
Bus Tours
Finally, bus tours. If you want to see the tea plantation (America's only tea garden!) or more than just the downtown area, this is the way to go.
Boat Tours
Almost forgot! There are also boat tours. I went on a dinner cruise this last trip around the Charleston Harbor through Spiritline Cruises. Highly recommended.
Charleston Market
The Charleston City Market is one of the most well-known attractions in downtown, and is a must-visit. I stop by almost every time I make it to the city. There are a ton of handmade items (including an abundance of woven baskets-you'll see them on every corner!) and a great place to find souvenirs or gifts.
See: City Market website for hours and more info
Waterfront Park, the Fountain and Rainbow Row
Rainbow Row is a street of 13 brightly colored houses near the waterfront. It is a top tourist attraction as it represents the history of Charleston architecture. Some walking tours will include a stroll down this street, but if you're near the Pineapple Fountain at Waterfront Park you'll be close enough for a photo-op.
See:
Mediavine Conference
As I mentioned, my last trip to Charleston was because Mediavine (my beloved ad network) just held their first conference there! It was not only a great opportunity to meet fellow blogger friends but it was an extremely well-planned conference that helped me see more of Charleston.
Conference Locations
Upstairs @ Midtown: I keep wanting to type Uptown at Midtown, but it's Upstairs! This was a super cute spot where our welcome reception was held. If you're looking for a wedding or private event spot for 150 people or less, check out their website.
The Cedar Room: I LOVED this place. Located in the Cigar Factory, this event venue can accommodate up to 550 guests. Beautiful. Website here.
Holiday Inn Charleston Historic Downtown: The last days sessions were held here. I didn't stay in this hotel so I can't write from that experience, but the meeting rooms were nothing special.
Prohibition: Closing dinner was held at Prohibition. I loved the outdoor area and they have live music most nights of the week! Check them out here.
Dinner Cruise on Charleston Harbor
I already mentioned that we also took a dinner cruise on Spiritline Cruises around the Charleston Harbor. This was the highlight of the trip! DELICIOUS food, amazing views, and who doesn't love a dinner cruise? Check them out here.
Sunset from the boat: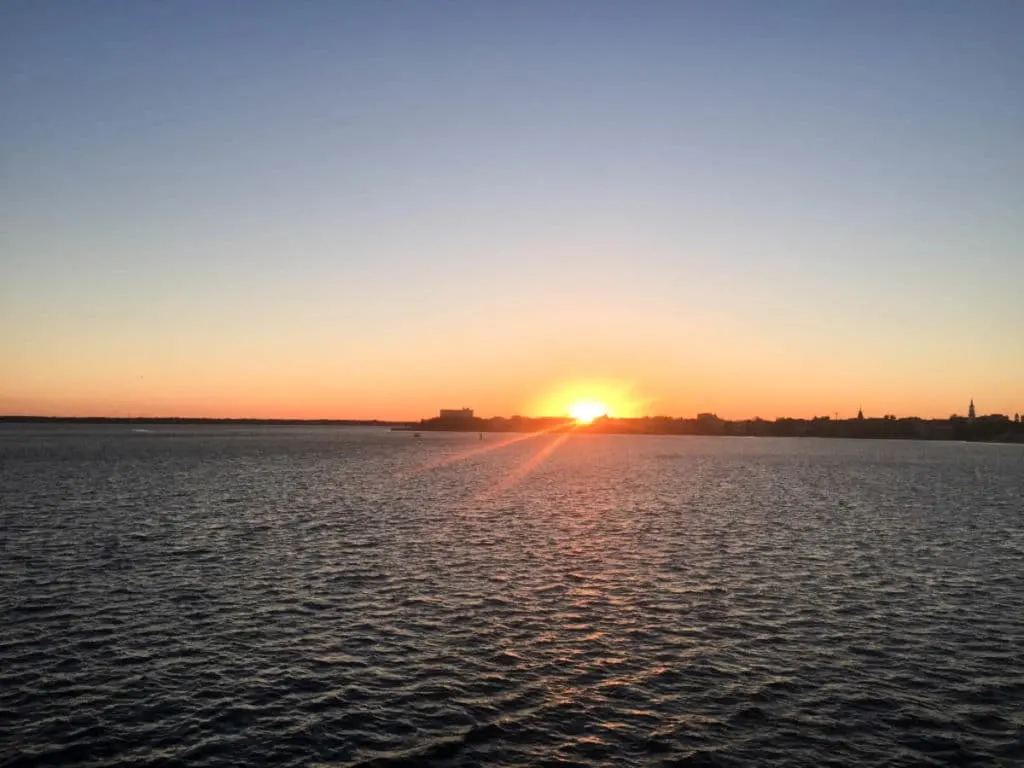 Me and my momma.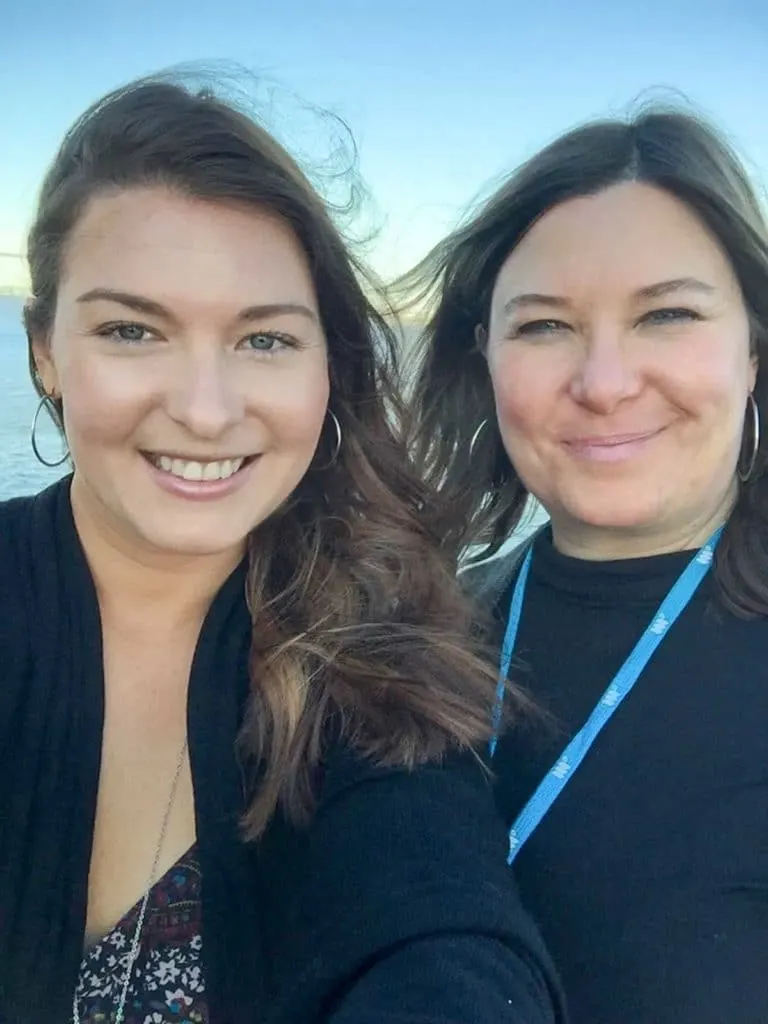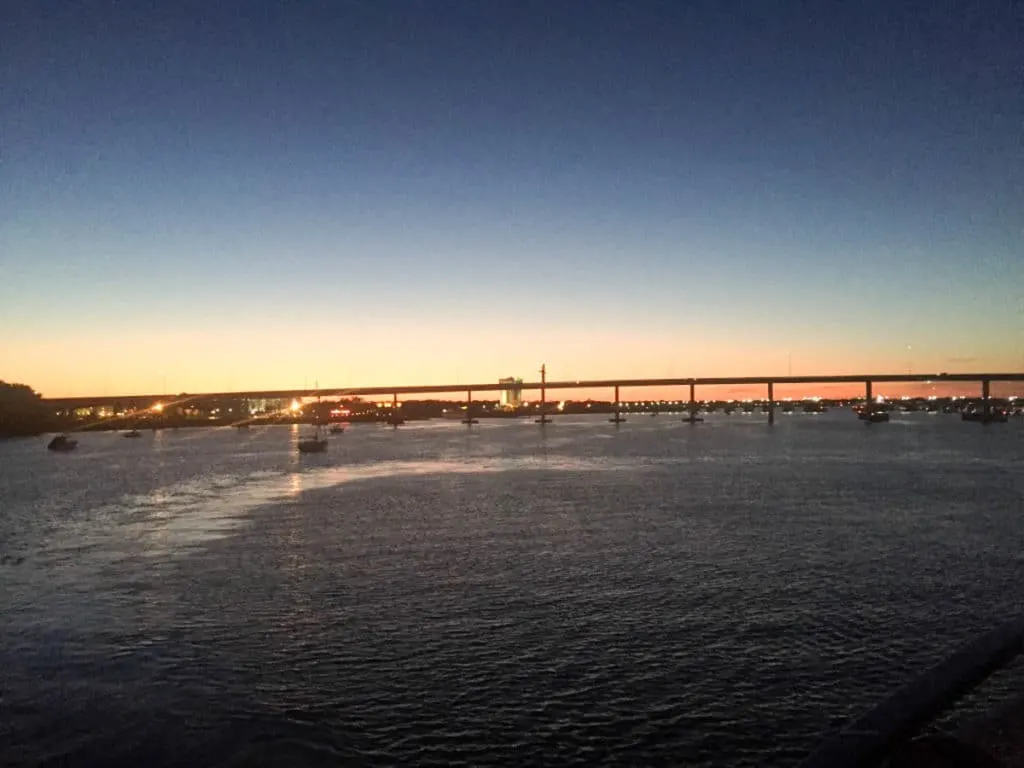 Food Photography Workshop with Helene Dujardin
As part of the conference I also took a special workshop with Food Photographer Helene Dujardin. She's worked with many big-time publications and cookbooks (Food & Wine, Southern Living, just to name a couple).
Since it was the first time I've ever taken a photography workshop I was a little intimidated at first, but she was so helpful and passionate that it was hard not to be inspired by her. She brought a ton of food props and backdrop boards for us to play with and even freshly prepared food so we can photograph our own Buddha bowls. (I want to live in her prop room.)
A little behind the scenes (yes, it's common to shoot on the floor):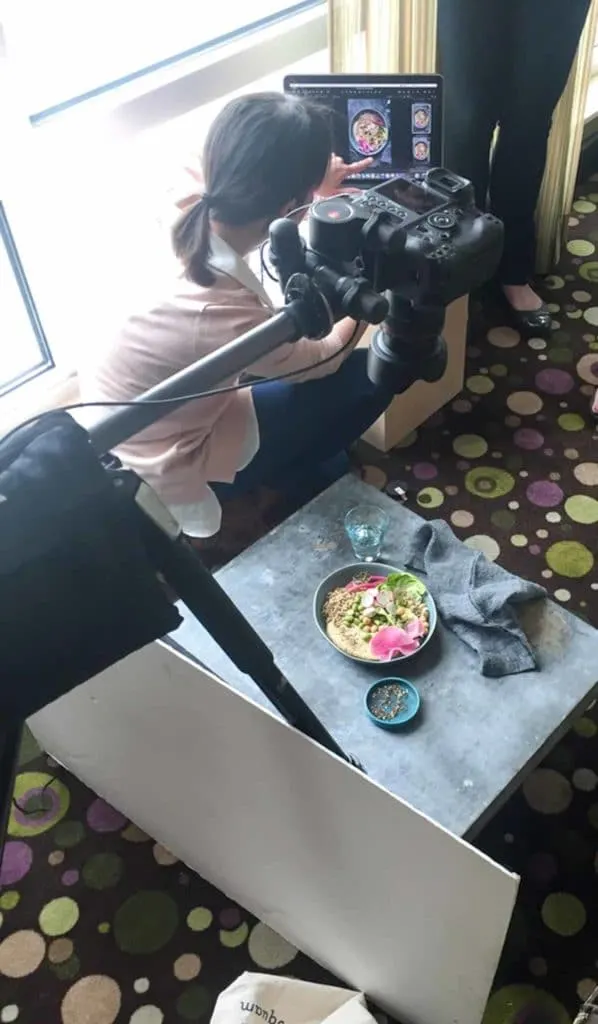 My buddha bowl turned out a little bare since we were running out of time (I'm not good under pressure), but I loved this backdrop so I had to share.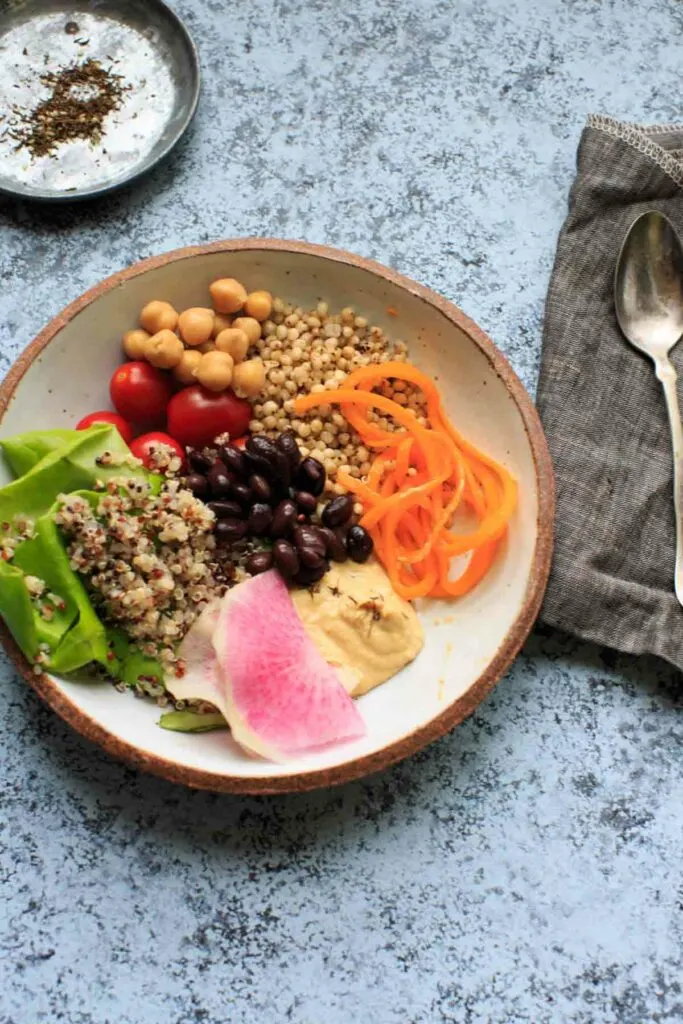 The Conference Swag
Anyone who's been to a conference will ask: how was the swag?? Well, not only was I impressed but many people were jealous of my swag box.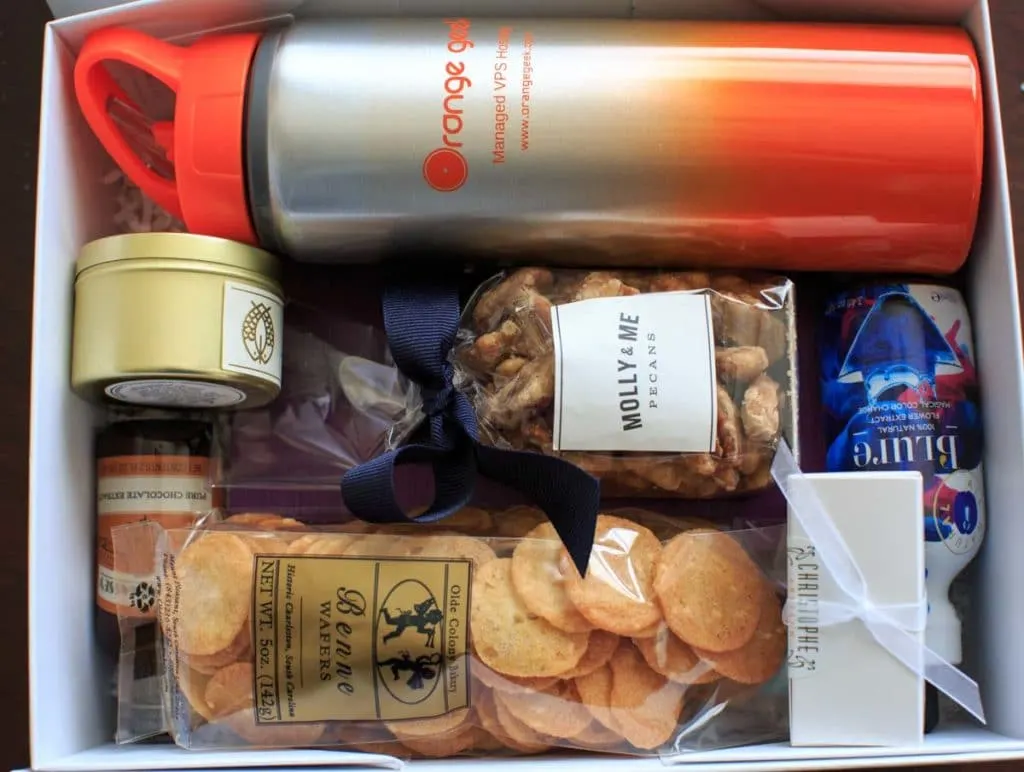 It was filled with local Charleston goodies.
It included: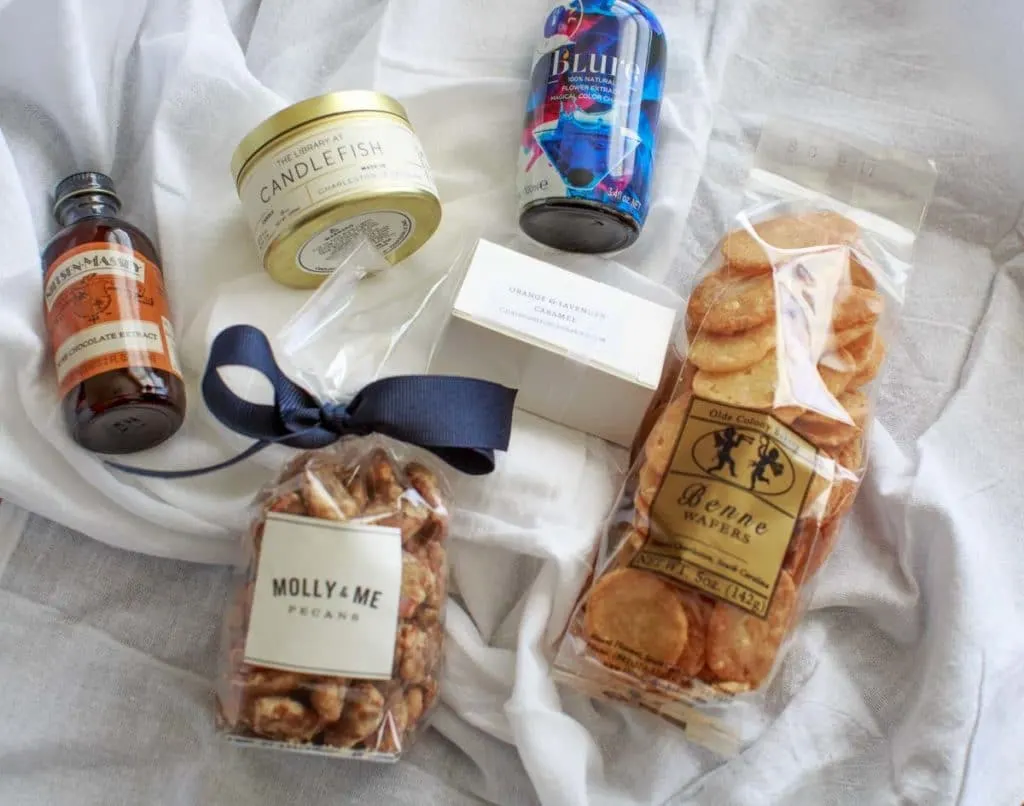 In Summary
If you're going to visit Charleston, it's pretty much guaranteed you'll have a good time! There are endless restaurants to try and plenty to see while walking around. My personal recommendation is to do AT LEAST one tour (walking, ghost, carriage ride) around downtown and stop by the Market if it's your first time. I do both almost every time I visit.
A special thanks to Mediavine for their excellent work on the conference and hosting it in one of my favorite cities!
Let me know your favorite things to do (or eat!) in Charleston in the comments!