Black Bean Enchilada Casserole with Roasted Corn and Bell Peppers. Vegetarian dinner full of veggies and homemade goodness.
Can you tell I've had a Mexican cooking theme lately?
First there was the best-ever guacamole.
Then there was the homemade enchilada sauce. Which I used in some Spanish "rice."
It was all leading up to this casserole!
You don't have to make your own enchilada sauce if you don't want to. Just giving you the option.
But I highly, highly recommend the guac.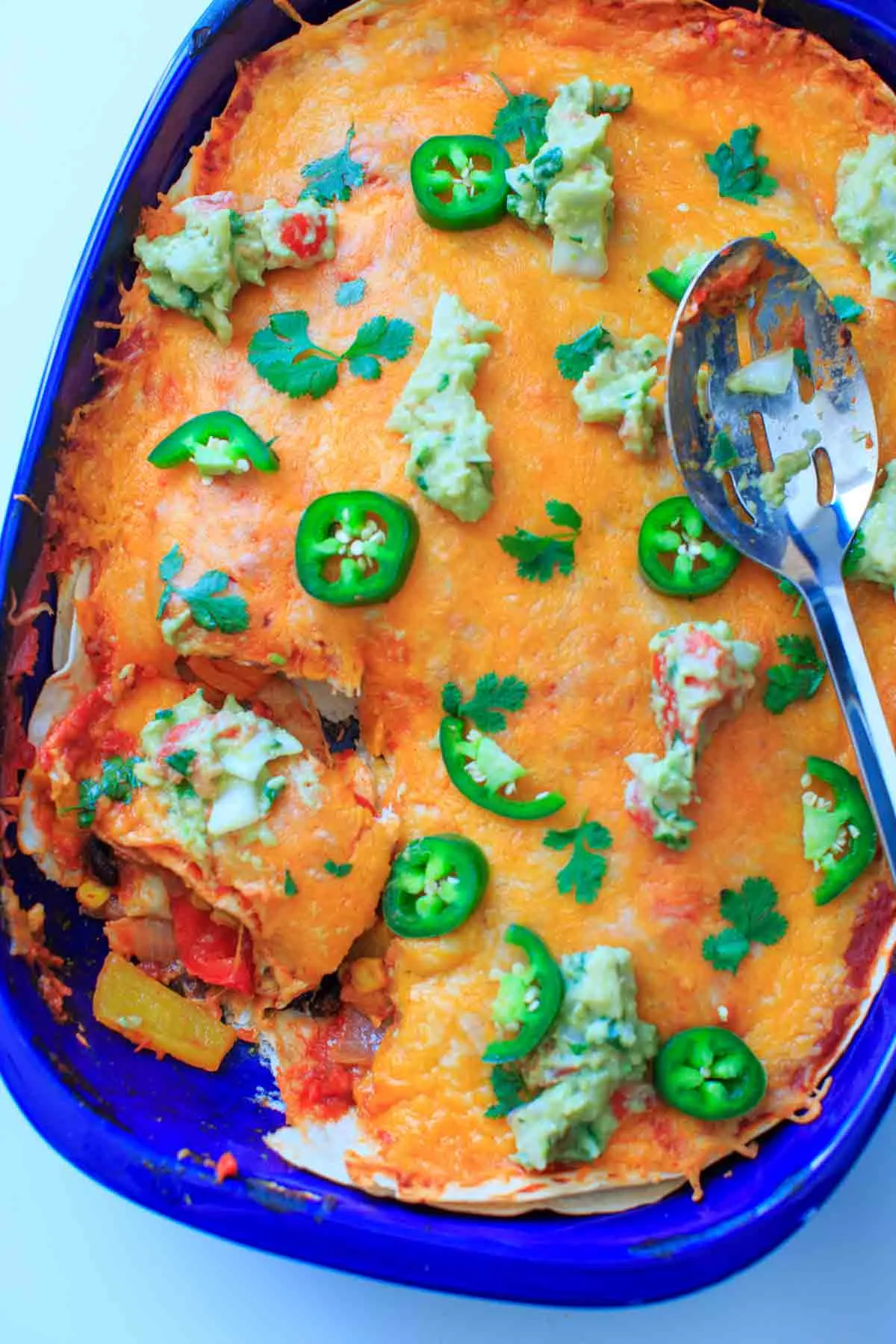 I set out with the intention to make a black bean casserole. Basically I always have black beans on hand. Except when I went to make this the first time, I literally could not find ANY.
My kitchen looked like a tornado had hit after I took everything out of my cupboard searching for just one can of black beans. Somehow after I started putting things back, I finally found one!
Originally I wanted to use two cans of black beans, but I was so happy to have found one, I made do.
The first round is usually a taste test anyway, so I told myself I'd do better next time. Well next time came and somehow I still only had one can of black beans. It's a weird black hole in there. So I decided to bulk it up with a little bit more veggies than planned, and it turned out well.
I'm still going to call it a black bean casserole though.
Do you know the difference between different colors of bell peppers? I didn't until recently. Honestly I bought the colors that were available or that I thought played well with the other colors in my dish. Since I already was going to have green from cilantro and guacamole, I went with orange and red and yellow. Now I understand why green peppers are always cheaper – it's because they are less ripe. As they ripen, they change colors into yellow and red and get sweeter.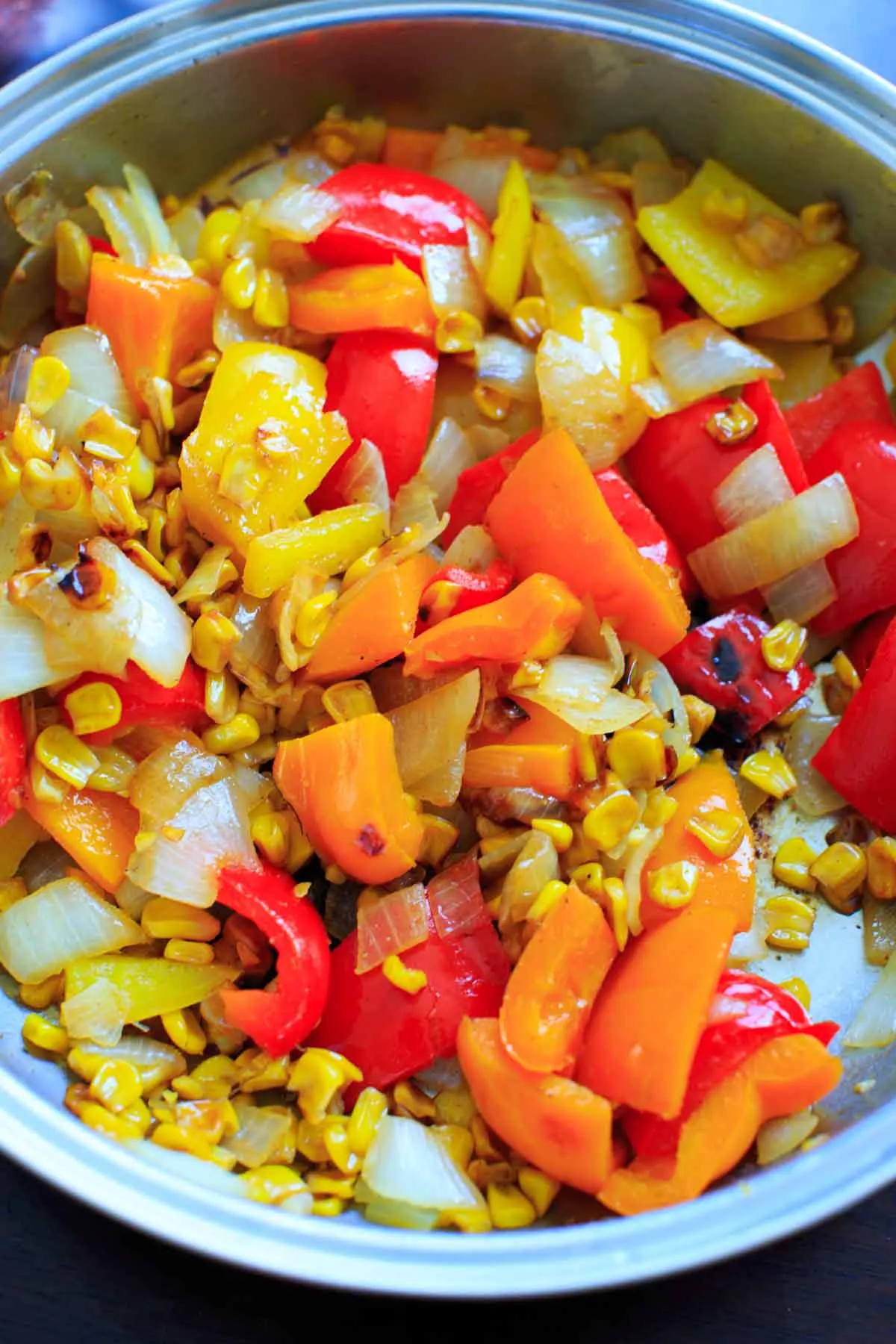 The recipe calls for roasting the corn and peppers on the stovetop with a little onion and spices. Though if you don't want to do this extra step, I have made it without pre-cooking the veggies and just throwing everything into the casserole.
You'll line a casserole pan with tortillas. (I used wheat because I don't prefer corn tortillas, but you can use corn tortillas to keep it gluten-free.)
Pour a little enchilada sauce. Then some veggies and black beans. Some cheese. And repeat.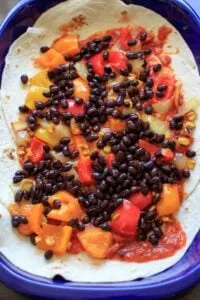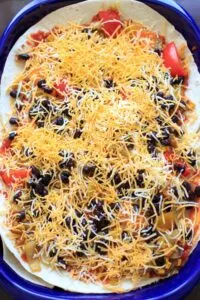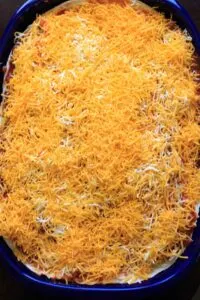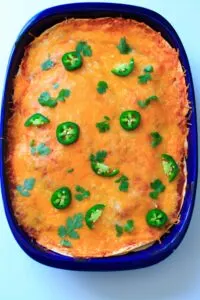 This close-up shot is a little messy, but it's the best I could do to capture all the ingredients in one photo.
Hey – don't forget the guac!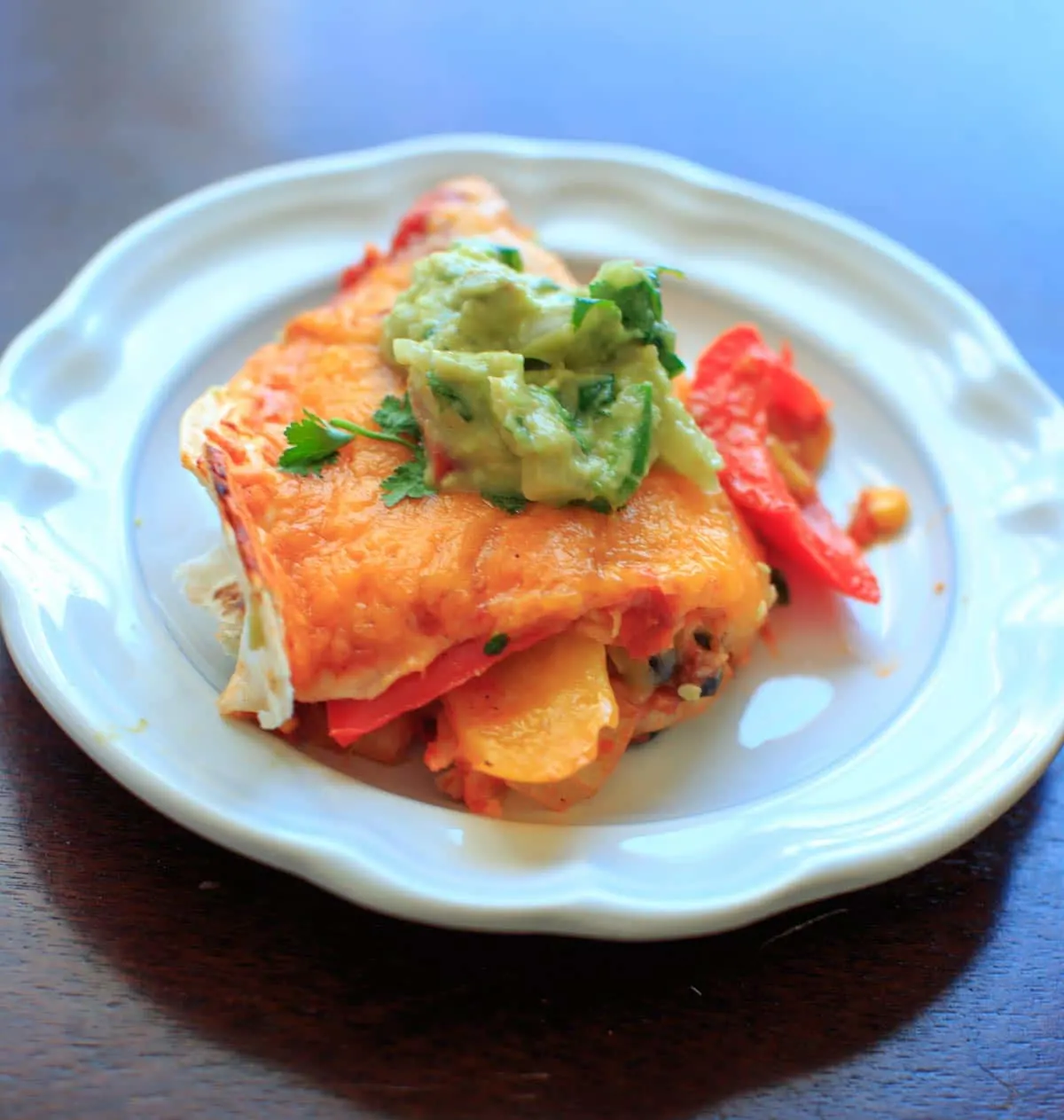 Yield: 12
Black Bean Enchilada Casserole with Roasted Corn and Bell Peppers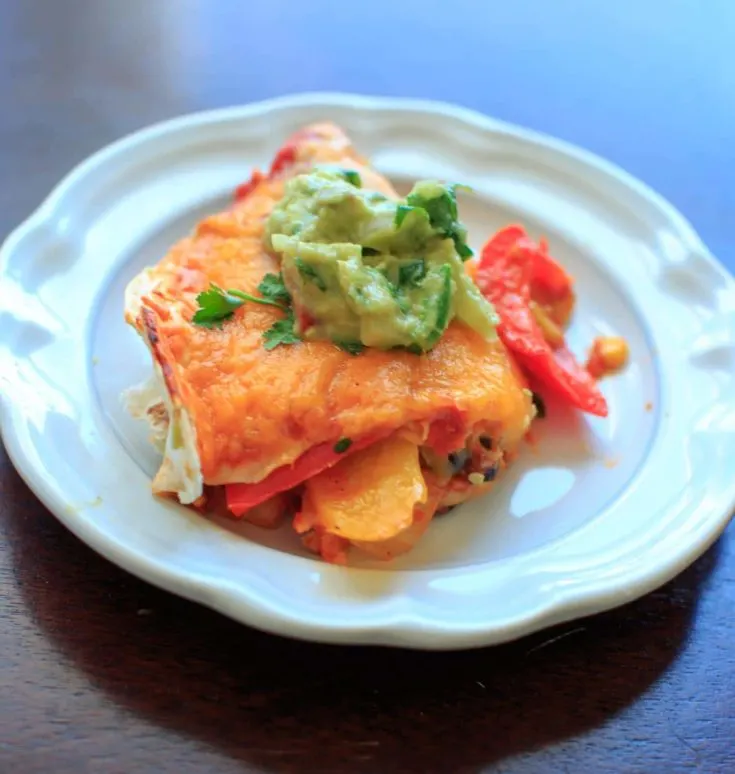 Black Bean Enchilada Casserole with Roasted Corn and Bell Peppers. Vegetarian dinner full of veggies and homemade goodness.
Ingredients
3 tablespoons avocado oil (or olive oil)
1 yellow onion, chopped
1 teaspoon cumin
1 cup corn
3 bell peppers, variety of colors, (I used 1 yellow, 1 orange, 1 red)
2 1/4 cups enchilada sauce *
8 large tortillas (I used wheat, but can use corn to keep gluten-free)
1 (15 oz.) can black beans, drained and rinsed
3 cups shredded Mexican cheese
guacamole, for topping
sliced jalapeno (optional)
cilantro, for garnish (optional)
Instructions
Prepare corn and bell peppers:
In a medium pan, heat oil over high heat. Add onion and cumin and saute until translucent, about 1 minute.
Add corn and bell peppers. Cook over medium-high heat, stirring consistently for about 10 minutes or until lightly browned. Remove from heat.
Prepare casserole (use pan 9x13 or larger):
Preheat oven to 375°F.
Lightly cover the bottom of your pan with a little enchilada sauce (1/4 cup or so).
Use 3 tortillas to cover the bottom of the pan, overlapping as necessary. I tore one in half and used it to the cover the sides in the middle.
Cover the tortillas with 1/2 cup enchilada sauce, half the roasted veggies and half the black beans.
Sprinkle on one cup of the shredded cheese.
Layer on two more tortillas, another 1/2 cup sauce, the remaining veggies and beans.
Layer on remaining 3 tortillas (like you did the first layer), remaining 1 cup sauce and 2 cups cheese.**
Bake at 375°F for 20-25 minutes, or until cheese is melted and lightly browned.
Serve with guacamole, and garnish with jalapenos and cilantro if desired.
Notes
*This homemade enchilada sauce has a gluten-free option, but if using another kind that is something to check for if gluten-free is a concern for you.
**I saved most of the cheese (2 cups) for the top, so I skipped adding cheese to the second layer. Option to add 1 cup cheese before final layer of tortillas, with 1 cup remaining for topping.
Nutrition Information:
Yield:
12
Amount Per Serving:
Calories:

284
Total Fat:

14g
Saturated Fat:

6g
Trans Fat:

0g
Unsaturated Fat:

7g
Cholesterol:

27mg
Sodium:

263mg
Carbohydrates:

28g
Fiber:

3g
Sugar:

2g
Protein:

12g
Nutrition information is calculated automatically by an online tool at Nutritionix. It is not always accurate. Please use your own tools to check if you rely on this information.