This "Ultimate Vegan Breakfast Sandwich" with sauteed vegetables on an English muffin will keep you full all morning and is packed with good nutrition.
As an Amazon associate, I earn from qualifying purchases. This recipe is adapted from the Vegan Weight Loss Manifesto book, of which I was gifted an advance copy.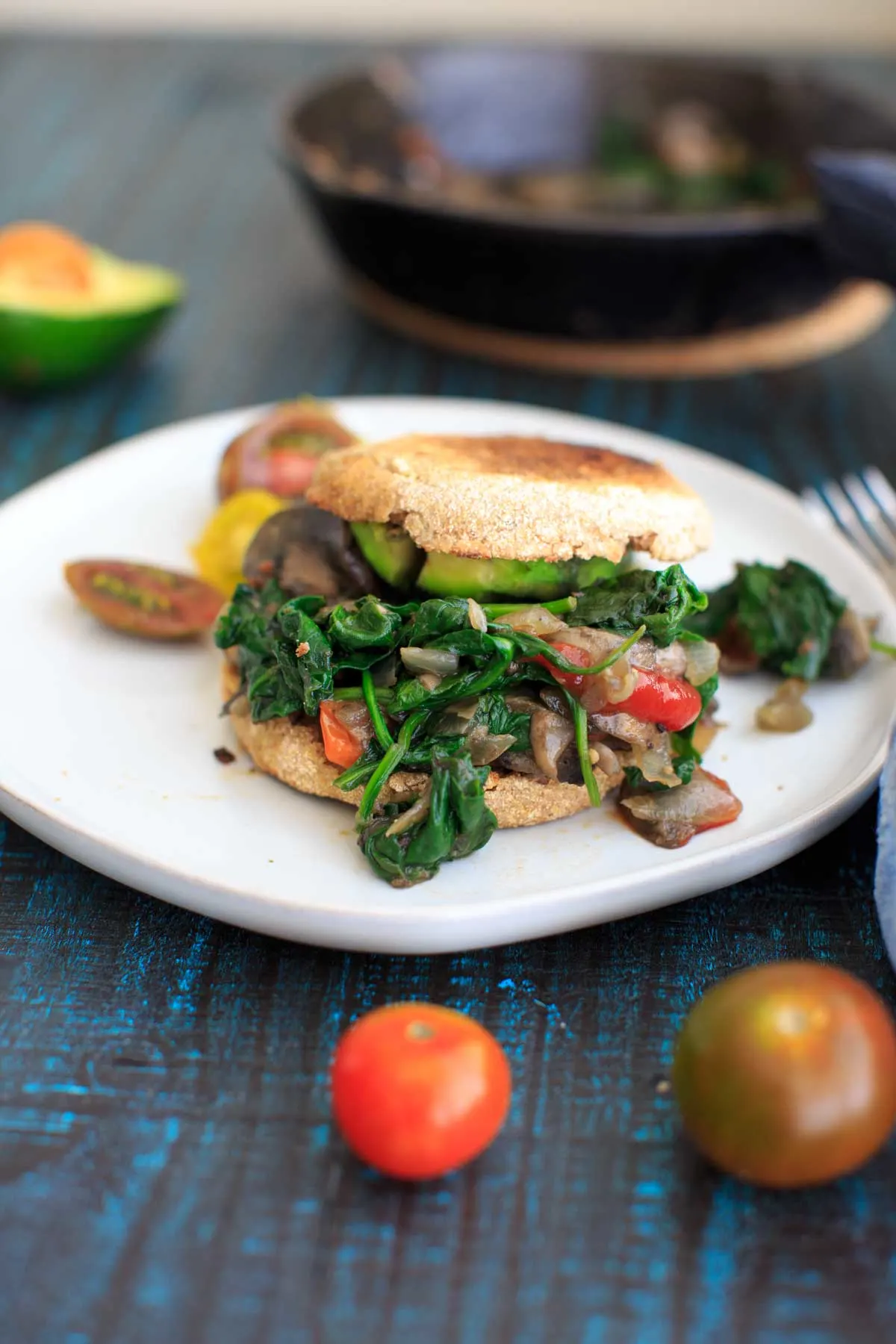 While I'm not a vegan, I do find that I tend to cook vegan pretty regularly. When you're focused on fresh vegetables it happens fairly naturally – until you (meaning I) reach for the cheese!
So when I had the opportunity to check out the new Vegan Weight Loss Manifesto (thanks to Zuzana and Nikki from Active Vegetarian), I thought it would be a good chance to discover more healthy vegan recipes that I could add to my weekly rotation that DON'T have to have cheese to make me happy.
But this book isn't just recipes – the first 59 pages are devoted to an 8-week breakdown of lifestyle shifts, meal plans, exercise suggestions and nutrition education that are meant to help guide you through the switch to a vegan diet.
Eating vegan doesn't always have to mean healthy, so this book gives many more guidelines of what to eliminate from your kitchen to achieve the "weight loss" part of the manifesto. Like processed foods, sugars, breads, many snacks – and even peanut butter!
In full disclosure, I'm not changing the blog to be exclusively gluten-free, sugar-free, vegan and peanut-butter-free.
This book does encourage vegan-ism as a complete lifestyle change and not just a temporary fix. But I do think that this book can provide helpful tips for those looking to switch to a healthier vegan diet (in part or whole), which is the approach I took while reading.
So who is this book for? People looking for recipes and tips to consume fewer animal products in general, or if you're looking for an 8-week, done for you vegan meal and lifestyle plan.
The recipes are divided up into 6 categories. Mornings, Lunchtime, Dinner, Snacks, Indulgences, and Dressings/Sauces/Condiments.
Breakfast is not my finest hour – if you've ever had the pleasure of being around me in the morning you'd know I need coffee before speaking and food before activity. Which makes cooking an adequate breakfast kinda hard for me, since I basically need food before I have the energy to cook food.
Even so, as I flipped through the book this Ultimate Vegan Breakfast Sandwich was calling my name.
I did make a couple tweaks to the recipe to fit my tastes: I added spinach to the mushroom mix for some greens, and I mostly left out the tomato in the saute. After I put a few mini heirloom tomatoes in, I decided I'd rather have fresh slices instead – but if you like cooking your tomato, have at it!
(Remember spinach cooks down a ton!)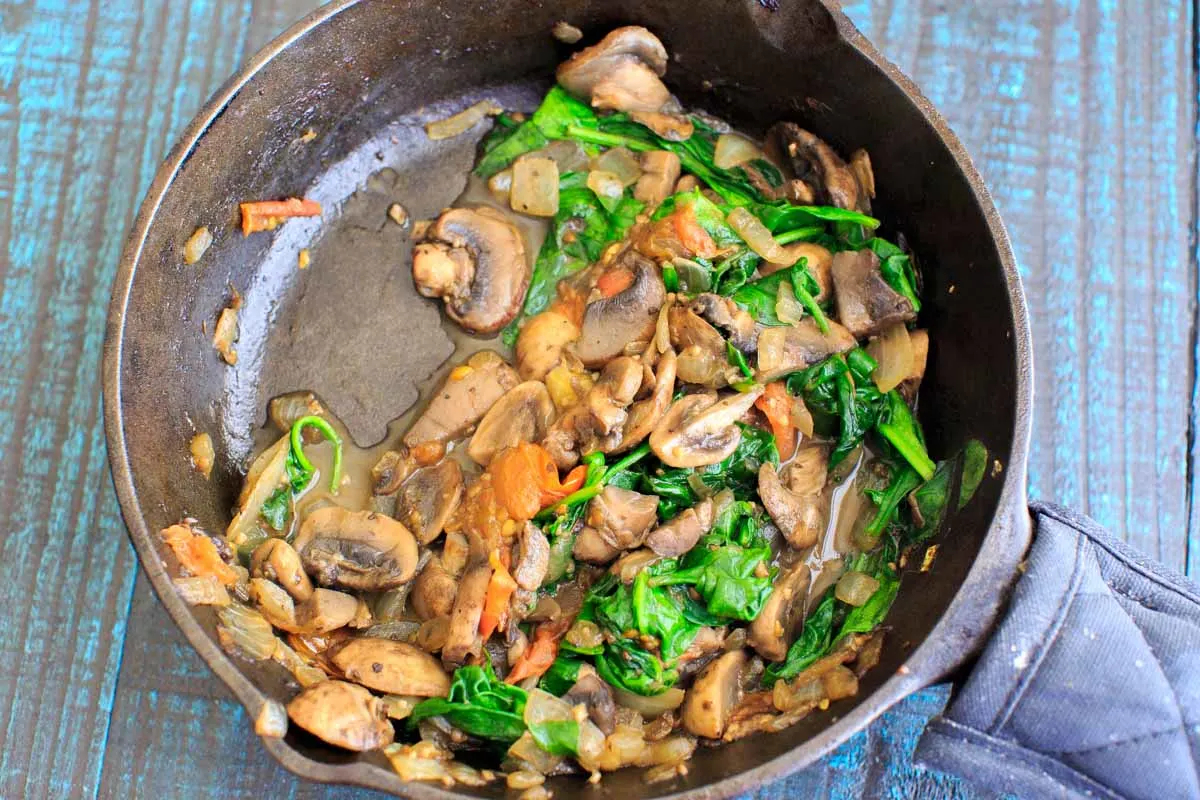 Toasting the English muffin really helps keep the "hot breakfast sandwich" vibe, so I definitely recommend.
I also increased the amount of avocado in the recipe (though you can't even tell in the picture) – because I just can't get enough.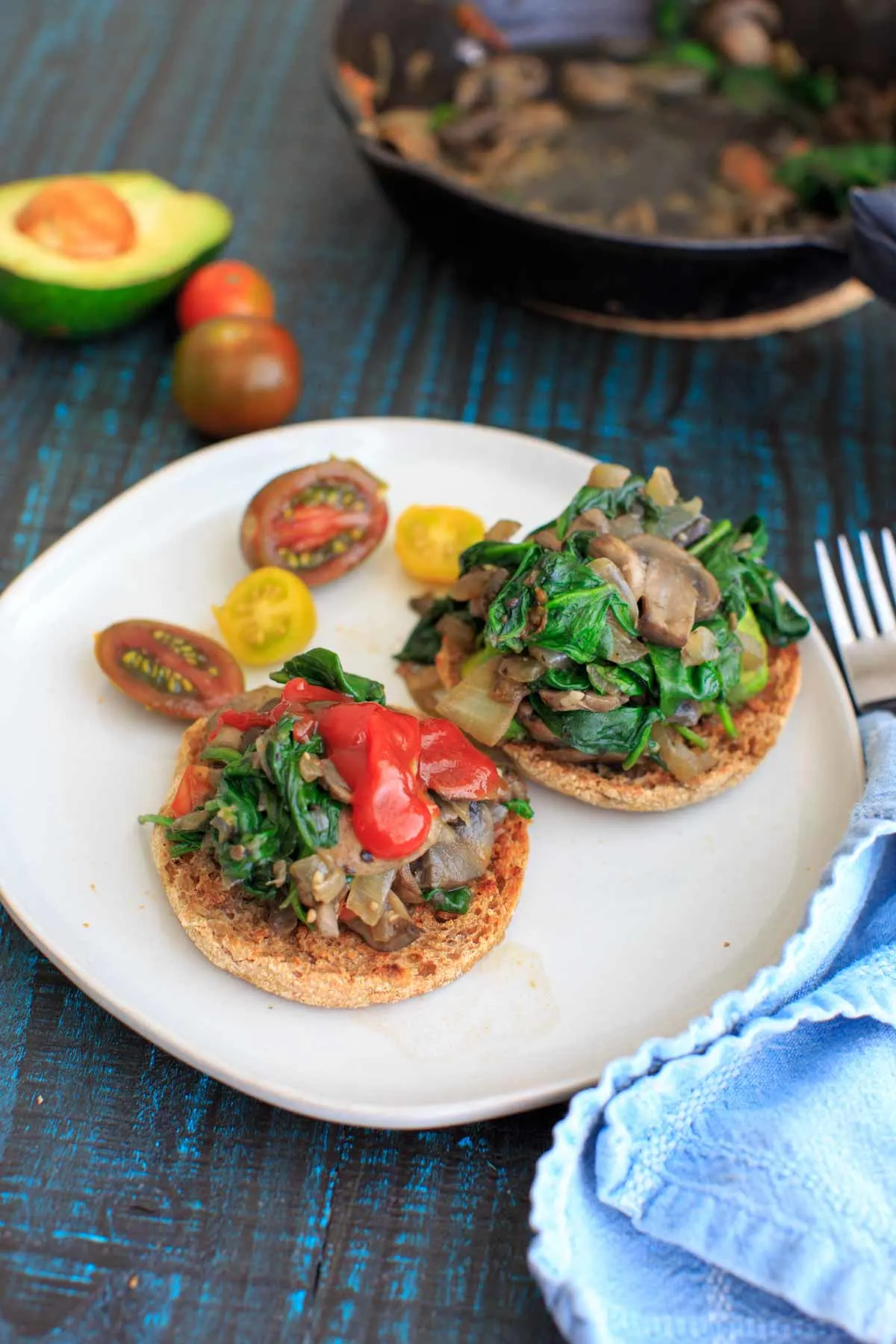 Whether you eat the sandwich "open-faced" or regular (closed-faced?) it makes for a filling meal.
The best news? It only takes 10-15 minutes to make – totally do-able while coffee is brewing.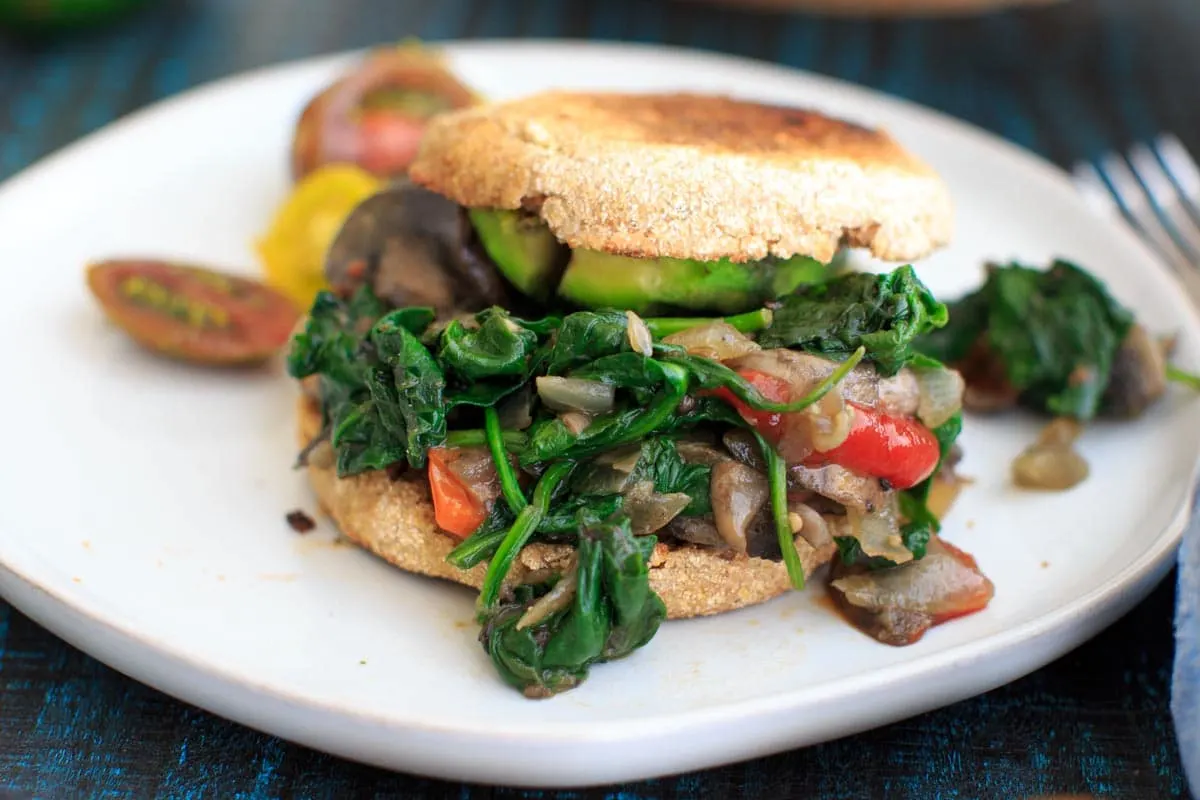 Yield: 2 sandwiches
Ultimate Vegan Breakfast Sandwich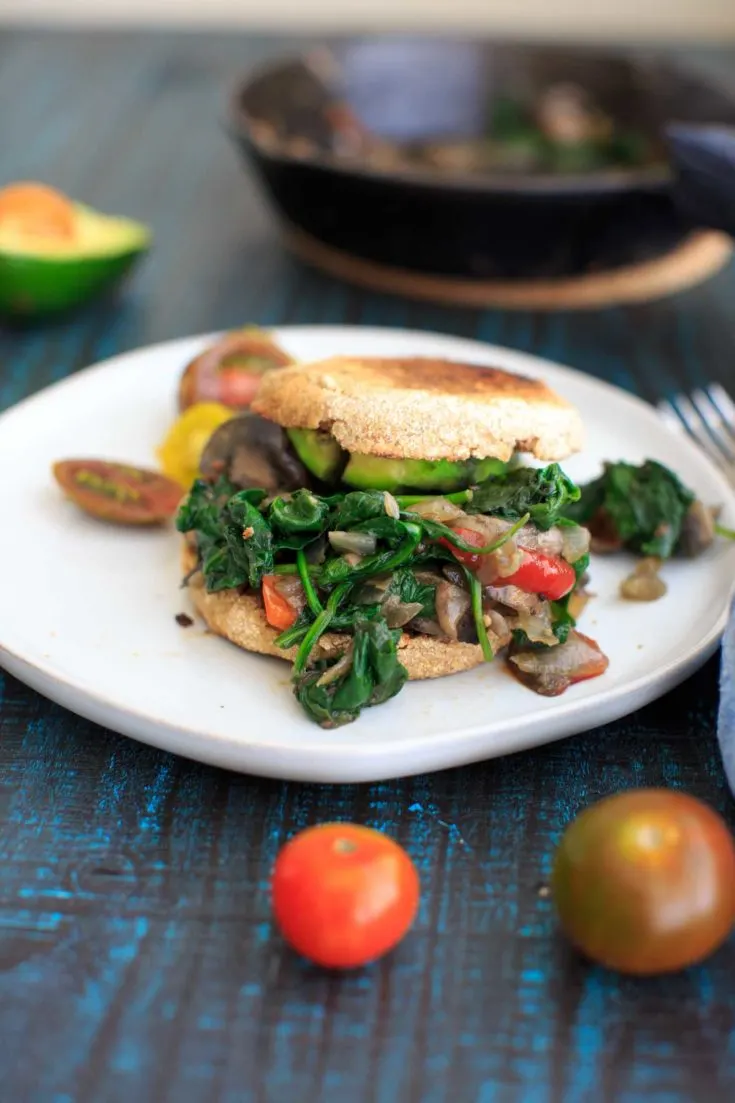 Ultimate Vegan Breakfast Sandwich with spinach, mushrooms, and avocado on an English muffin - from the Vegan Weight Loss Manifesto book.
Ingredients
2 tablespoons oil (I used avocado oil, can use coconut or olive instead)
1/2 white onion, chopped
2 cloves garlic, minced
8 organic white button mushrooms, sliced
1 teaspoon dried oregano
salt and pepper, to taste
2 cups fresh baby spinach
1 avocado
2 English muffins, sliced in half (gluten-free if needed)
ketchup, for serving
Instructions
Heat oil in skillet over medium heat. Add the onion and saute for 3-4 minutes, or until tender and translucent.
Toss in the garlic and stir for another 30 seconds to a minute.
Add in the sliced mushrooms, oregano and salt and pepper and saute for 5-10 minutes, or until they start to caramelize and turn golden brown.
Add in fresh spinach and gently stir in until cooked down, 1-2 minutes. Remove from heat.
Cut avocado in half and add slices to each English muffin.
Place veggies on top of avocado and top with ketchup, if desired. Top with other half of muffin (or split up the veggies and eat like toast / an open faced sandwich!).
Notes
*Ways to customize: Toast the English muffins before adding the toppings; add fresh herbs like cilantro or parsley; add fresh tomato slices or add in the saute with the other veggies.
**Makes two sandwiches or 1 sandwich with the remaining veggies as a side.
***Adapted from the Vegan Weight Loss Manifesto.
Nutrition Information:
Yield:
2
Serving Size:
1 sandwich
Amount Per Serving:
Calories:

464
Total Fat:

30g
Saturated Fat:

3g
Trans Fat:

0g
Unsaturated Fat:

25g
Cholesterol:

0mg
Sodium:

522mg
Carbohydrates:

45g
Fiber:

11g
Sugar:

5g
Protein:

9g
Nutrition information is calculated automatically by an online tool at Nutritionix. It is not always accurate. Please use your own tools to check if you rely on this information.