Savory Mushroom Palmiers.  A savory version of the puff pastry treat that can be served as a delicious appetizer or side. Especially great for holidays or dinner parties!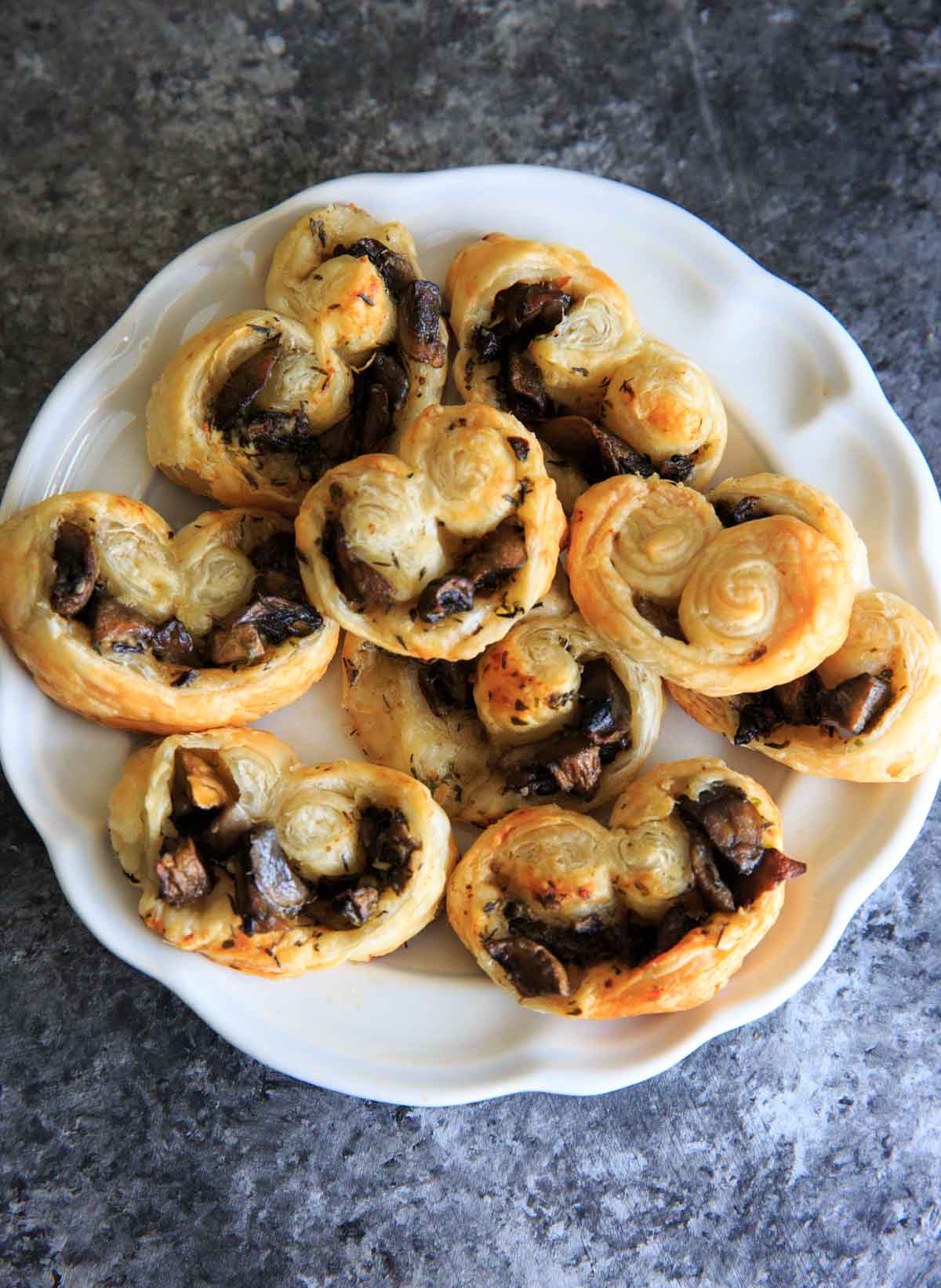 I have a running list where I jot down recipe ideas when I think or hear of them, so I can refer back if I find myself needing inspiration.
This is one I came across again while searching "mushrooms" in my spreadsheet. (Surprise! I bought produce without a plan.)
Palmiers (French for "palm tree") are traditionally a cookie made out of puff pastry dough and rolled in sugar.
I've also heard them referred to as "elephant ears" because of the shape they make.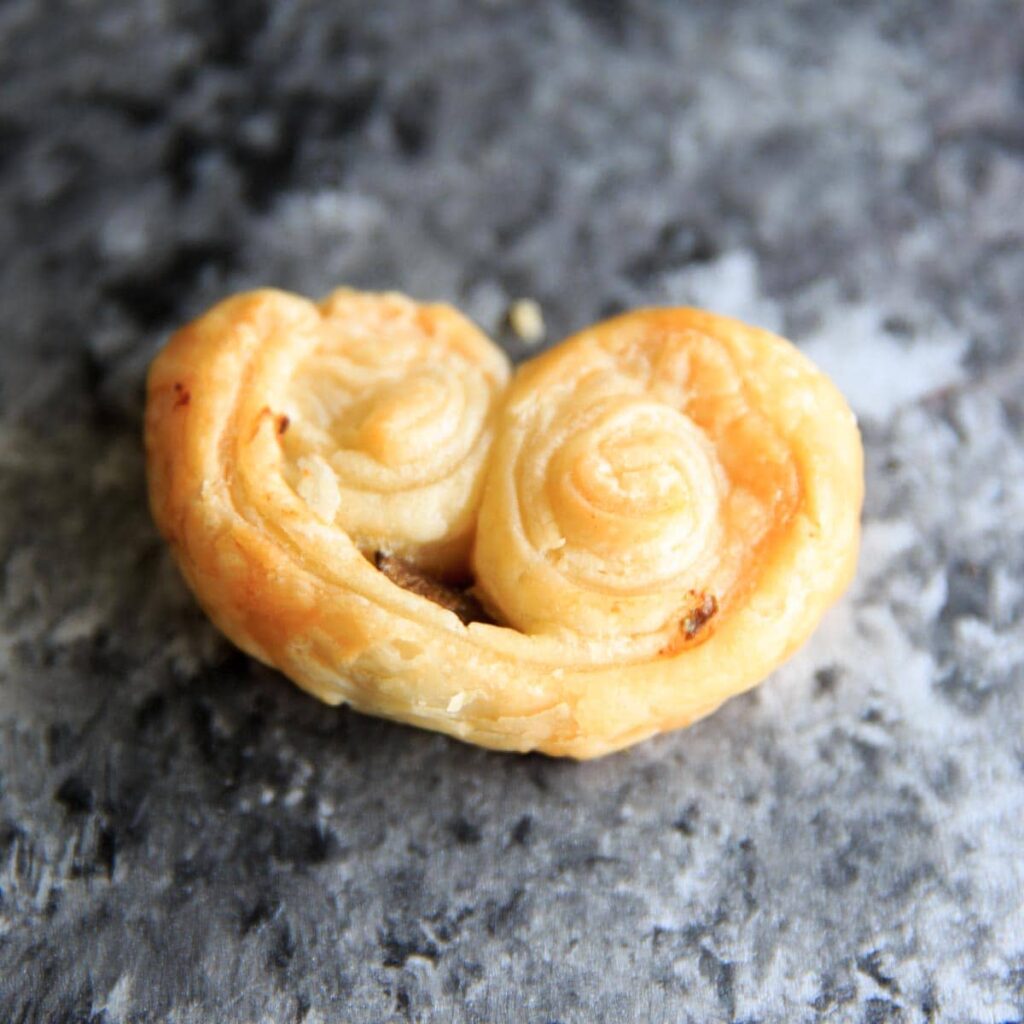 While I obviously want to make a traditional palmier some day (because they sound a-ma-zing), I was going for a savory version to make as an appetizer.
Would you judge me if I told you I ate the whole first batch myself?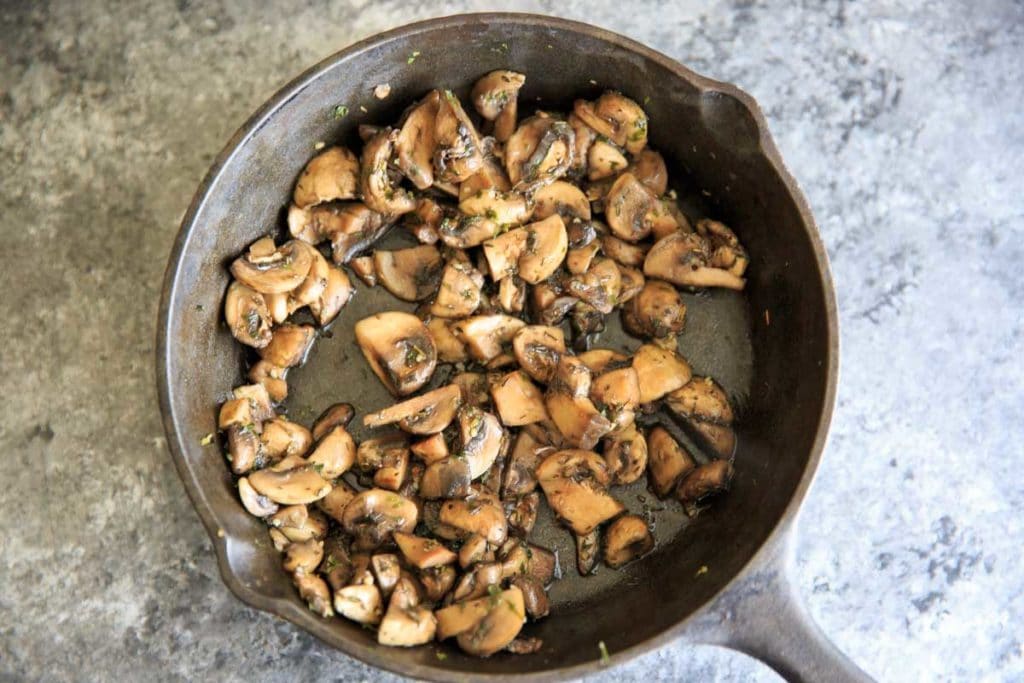 To top it off, this recipe is SO simple.
All you need to do is saute the mushrooms with garlic and a little bit of herbs (I used thyme and parsley).
Mix in just a bit of cheese, and let cool (very important). Otherwise, the puff pastry dough might melt from the heat.
That may or may not have happened to me.
The cheese I used was a chevre spreadable goat cheese, and believe it or not only 2 tablespoons covered the whole batch of mushrooms.
You don't want to overstuff this because you'll be rolling it up on both sides (see below) to achieve the "ear" shape.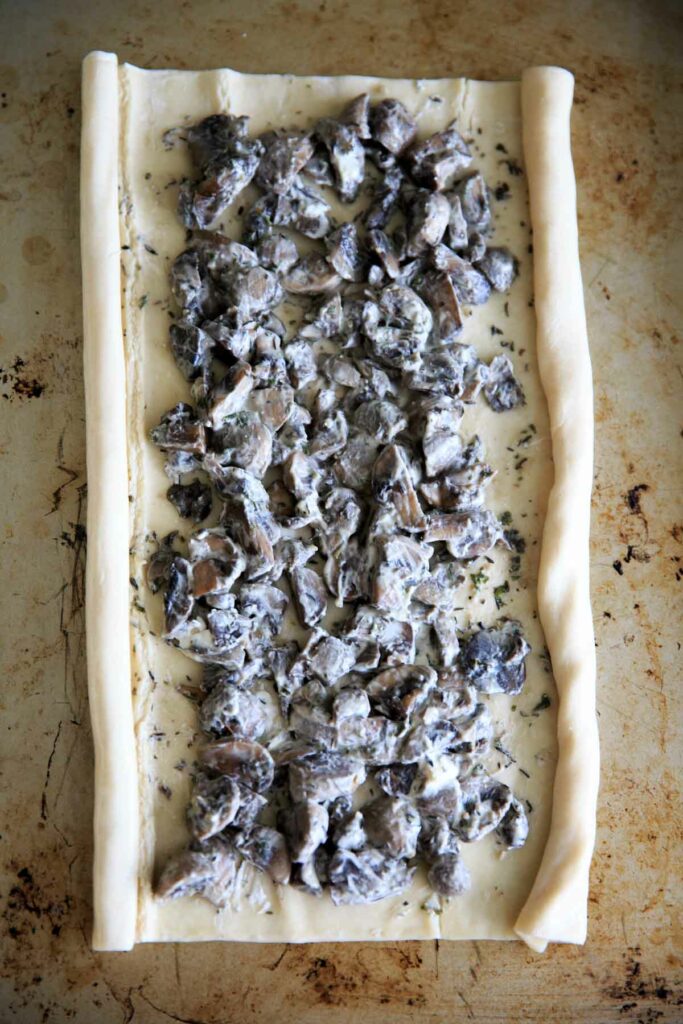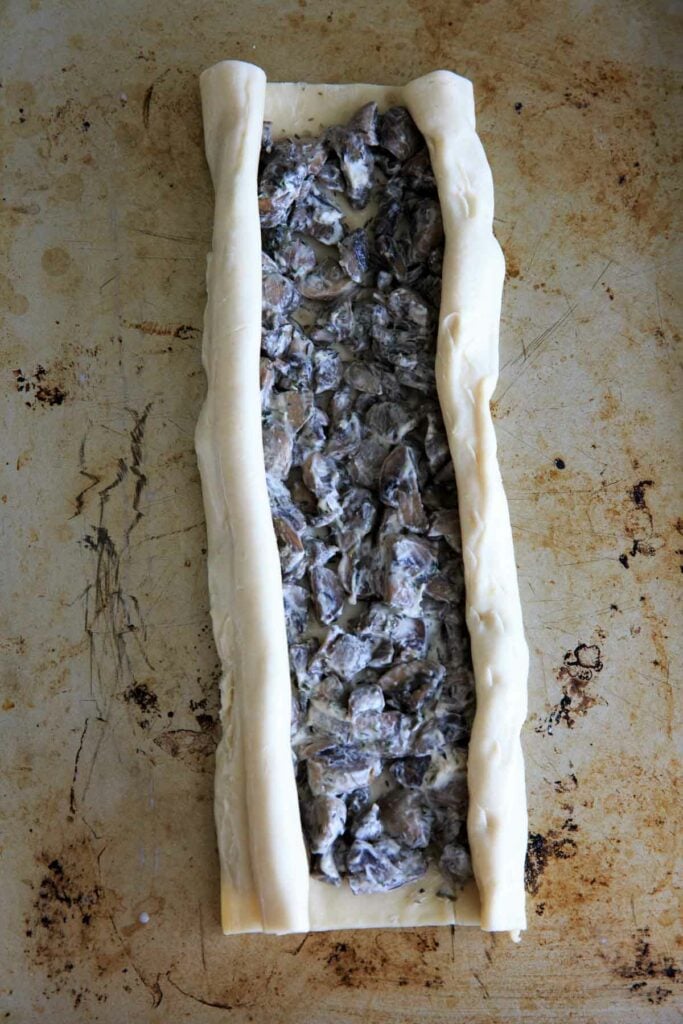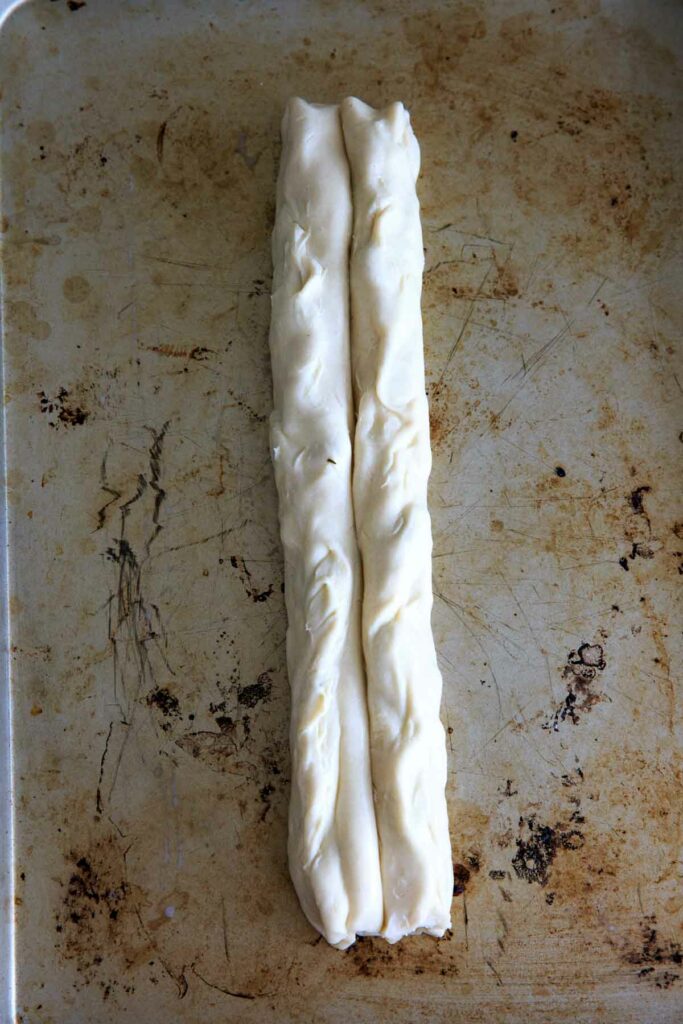 Then slice, bake, eat!
And invite me to your party, because I want some more.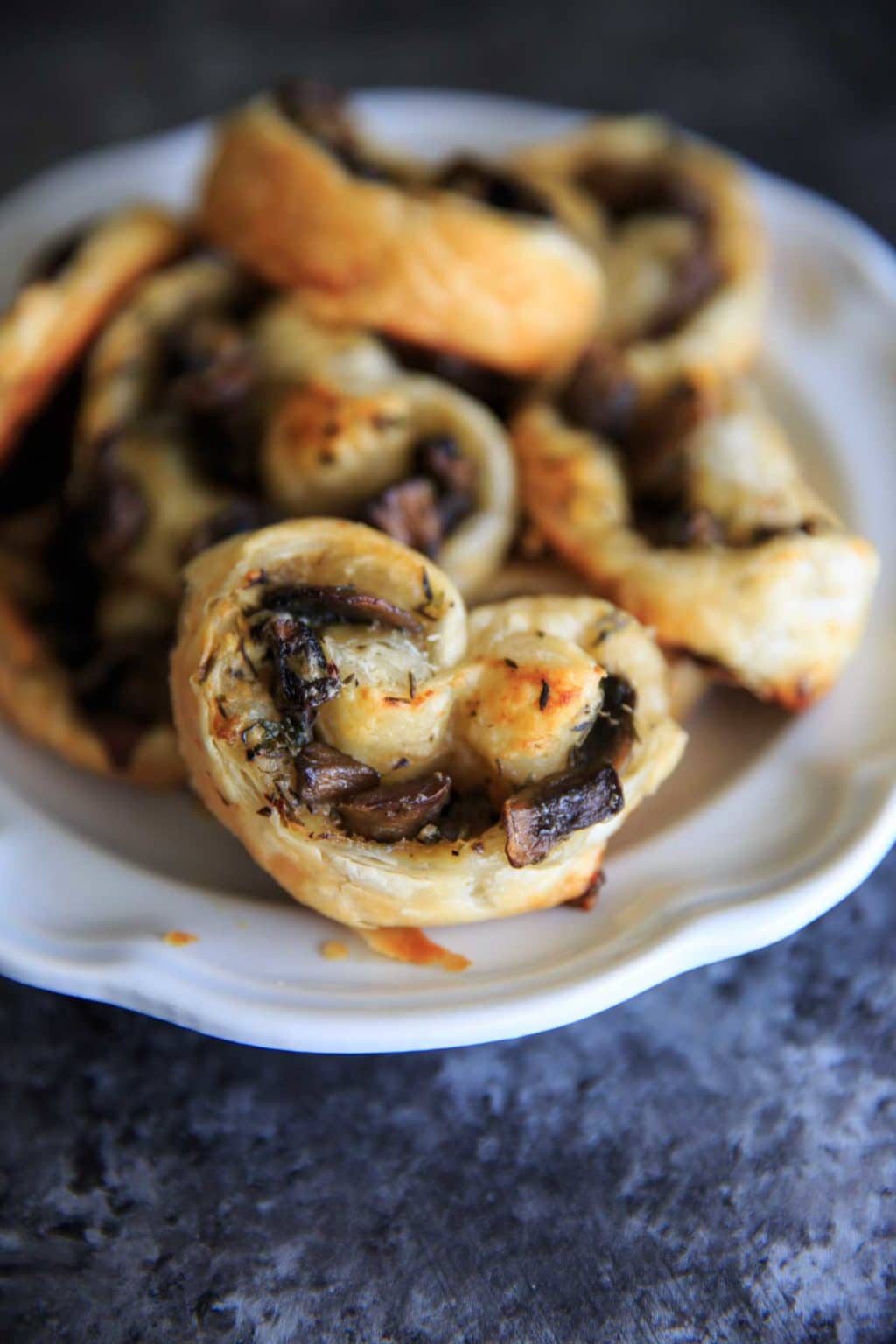 Remember the recipe for a quick version of puff pastry? That recipe would come in handy for this too if you want to make it all homemade.
Need more mushroom recipes? Try these stuffed mushrooms or this one pot spinach and mushroom pasta.
Savory Mushroom Palmiers
Savory Mushroom Palmiers. A savory version of the puff pastry treat that can be served as a delicious appetizer or side. Especially great for holidays or dinner parties!
Ingredients
1

sheet

puff pastry

2

tablespoons

oil or butter

2

cloves

garlic

, minced

8

oz.

mushrooms

(I used baby belle), chopped (about 2 1/2 cups)

1

teaspoon

dried parsley

1

teaspoon

dried thyme

2

tablespoons

goat cheese

(I used chevre)
Instructions
If using frozen puff pastry, take out of freezer to let thaw before unwrapping.

In a cast iron or saute pan, heat oil or butter over medium heat. Add in garlic, chopped mushrooms, parsley and thyme. Saute until tender, about 5 minutes.

Remove from heat, and stir in cheese. Let cool (very important so that the puff pastry dough doesn't get too soft from heat).

Place puff pastry dough on a baking sheet. When mushroom mixture is cooled, add to the puff pastry and spread out evenly, leaving room on either side.

Roll both sides in (widthwise, see pictures) until they meet in the middle. Cut into about 20 slices.

Bake at 400°F. for 15-20 minutes or until lightly browned.
Recommended and useful items for this savory mushroom palmiers recipe:

*There are affiliate links within this post that we can earn a commission on at no extra cost to you. Thank you for helping to support the site!