A list of 10 must-have spices to help you get creative with vegetarian or vegan dishes in your kitchen!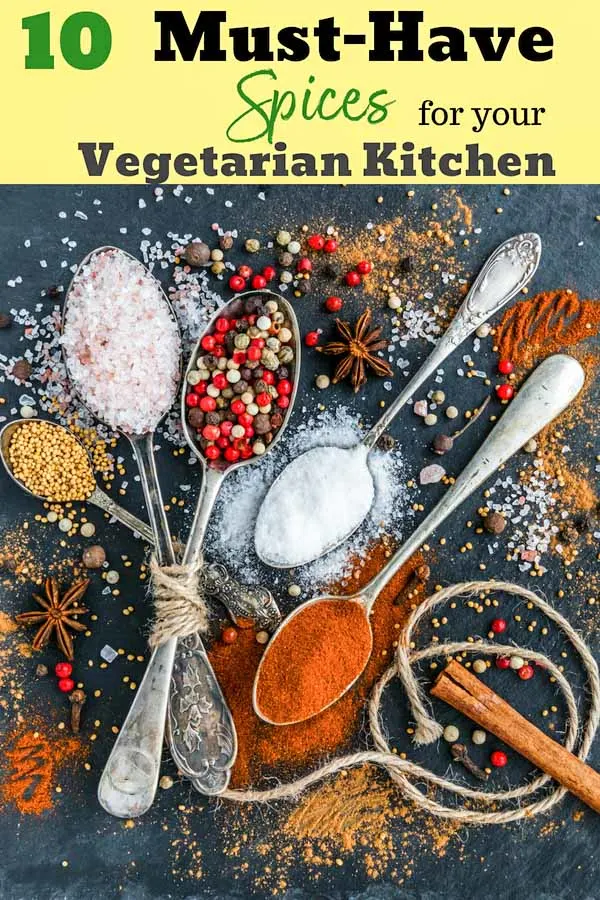 Photo source: Canva
*This post contains affiliate links. As an amazon associate I earn from qualifying purchases.
Spices, seasonings, herbs, oh my!
They really make all the difference in cooking – sometimes especially in vegetarian and vegan cooking.
There are such a wide variety of spices available – which sometimes can be overwhelming to know where to start!
But once you learn how to use spices to achieve the flavor your want – it's sort of like having a super power.
This is a good essential spice list for any kitchen, but if you are switching to a more meatless diet these can really help take your cooking to the next level.
Herbs vs Spices vs Seasonings
First let's give a quick definition of the differences between spices, herbs and seasonings. In our day to day language we sometimes use these terms interchangeably, but understanding the difference can be helpful!
Herbs come from the leafy part of a plant – think of greens like fresh basil, parsley, and mint. Herbs can be bought fresh or dried.
Spices come from the remainder of the plant – the roots, barks and seeds, and are always dried.
A Seasoning is a mix of several flavors that include sugars, salts and spices. An example would be taco seasoning, which is typically a mix of chili powder, garlic powder, onion powder, red pepper flakes, oregano, paprika, cumin, salt.
This article will talk about the essential spices to keep in your cupboard, and there will be a separate one for the best herbs to keep on hand.
Where to Find Your Essential Spices
There are specialty and bulk spice stores where you can stop in to sample or buy spices in small quantities, like Savory Spice Shop. I've provided links to buy each spice on the online store of Savory Spice Shop and Amazon – and most regular grocery stores will have these available as well!
The Spice Pantry Staples
I've accumulated more spices in my cupboard that I could probably use in a lifetime, but I find myself reaching for the same ones over and over again. Your pantry will vary according to personal taste, ethnic background, and food allergies, but these are a great way to get started!
Be sure to check out my go-to resource, the Vegetarian Flavor Bible for more tips on which foods to use these spices with.
Note: Some health benefits are listed based on internet research, but this is not intended as medical advice.
Spice: Cumin
Cumin is a must-have in my kitchen! I'm including this as the #1 because it's my personal favorite, but I also just learned that it's the world's second most popular spice! It has a bit of an earthy flavor and is popular in Indian, Mexican, and Middle Eastern cuisines.
Comes from the seeds of the parsley plant and is used in curry powder.
The most commonly used is ground cumin, and you can also get cumin seed, black cumin, or cumin powder.
Health benefits: promotes digestion, source of iron, magnesium and other vitamins. Source/Read more: Organic Facts
What to use cumin in:
Buy on Amazon // Buy on Savory Spice Shop
Spice: Turmeric
Turmeric is a member of the ginger family and has a slightly peppery, ginger/orange flavor. Most commonly used in powder form but is also available fresh.
Also used in curry powder along with cumin, which explains why these spices go well together. Common in Indian and Thai dishes.
Be aware turmeric likes to make everything yellow, and might stain some kitchen items!
Health benefits: Turmeric is known to fight inflammation, be good for your skin, and help detoxify the body. Source/Read More: DrAxe
It's best absorbed when combined with a little bit of black pepper (especially if taking as a supplement in pill form).
What to use turmeric in:
Foods where you want a yellow color
Vegetables like cauliflower, carrots, zucchini
Coconut and coconut milk based foods like curries
Tofu scrambles or egg dishes
Teas, milks, or drinks like this detox drink
Buy on Amazon // Buy on Savory Spice Shop
Spice: Cinnamon
Cinnamon is common in fall and winter dishes, and pairs well with nutmeg and sweeter foods.
While you can buy in cinnamon in sticks or even chips, ground cinnamon is most common.
Health benefits: High in anti-oxidants (one teaspoon of cinnamon has as many antioxidants as 1/2 cup of blueberries!), contains anti-inflammatory properties, can improve insulin sensitivity and stabilize blood sugar levels. Read more on: Health Line
What to use cinnamon in:
Baked goods and desserts
Breakfasts like French toast
Fruits, like bananas, berries and especially apples
Drinks like hot cocoa, teas, and apple cider
Buy on Amazon // Buy on Savory Spice Shop
Spice: Garlic
Garlic is great to have on hand to add flavor to any cooking – especially involving sautéing with olive oil and onions – sauces and dips, or even salad dressings. It is best minced from fresh garlic cloves but you can buy pre-minced, dehydrated garlic, or even powdered garlic.
Health benefits: Garlic packs in a lot of vitamins, like vitamin B6, Vitamin C, Selenium and Manganese. It is also believed to help improve the immune system and relieve symptoms of the common cold, and reduce blood pressure.
Source/Read More: HealthLine
What to use garlic in:
Salad dressings
Sauces
Soups
Potato dishes
Pastas
Buy on Amazon // Buy on Savory Spice Shop
Spice: Nutmeg
Nutmeg is sweet and spicy with notes of clove, and is best used as a finisher spice. You can buy ground nutmeg, but the best flavor is grating part a whole nutmeg.
Common in French cuisines, which explains why it pairs so well with cheese and dairy!
Health benefits: Nutmeg is a powerful antioxidant, promotes digestion, detoxifies kidneys and is a source of many vitamins.
Source/Read more: Natural Food Series
What to use nutmeg in:
Cheese/dairy dishes
Egg dishes (like frittata)
Greens like spinach
Pair with cinnamon for sweet dishes or herbs like thyme for savory dishes
Buy on Amazon // Buy on Savory Spice Shop
Spice: Peppercorns
The World's most popular spice! There are many kinds of peppercorns, but the most common is black pepper. Look for tellicherry black peppercorns, which (according to my Flavor Bible) are often regarded as the best in the world for their rich, complex flavor. You might also like white peppercorns (called Sarawok).
Health benefits: Peppercorns contain an exceptional amount of vitamins for a spice! They also help with nutrient absorption and digestion. Source/Read More on Natural Food Series
What to use black pepper in:
Anything you want! There's a reason it's the world's most popular spice.
Buy on Amazon // Buy on Savory Spice Shop
Spice: Sea Salt
There are so many kinds of sea salt! My personal favorite (and a versatile choice) is Pink Himalayan Sea Salt. As long as you have at least one good-quality sea salt, you'll be set.
Health benefits: There's a reason Pink Himalayan Sea Salt is superior to table salt. Natural salts have iodine (so they don't have to be added) and has over 80 minerals and elements. They may help balance pH, improve circulation, and balance electrolytes. Source/Read more: FitLife
What to use sea salt on:
Use as an every-day spice to add flavor to finished dishes.
Buy on Amazon // Buy on Savory Spice Shop
Spice: Paprika
What you may not know is that paprika is finely ground dried capsicums, which are a form of hot pepper. They are common spice on egg dishes and Spanish cuisines. There are many variations of paprika including smoked paprika (which, as the name implies, adds a smoky flavor) and Hungarian paprika (sun-dried and sweet).
Health benefits: Paprika is another spice that is rich in antioxidants that may help fight disease. It is also said to be good for the health of your heart and eyes. Source/Read more: DrAxe
What to use paprika on:
Egg dishes, especially deviled eggs
Potatoes and potato salads
Soups, stews and sauces
Buy on Amazon // Buy on Savory Spice Shop
Spice: Vanilla Bean
Vanilla bean pods can be used to make vanilla extract, or you can scrape the seeds from vanilla bean.
Madagascar vanilla beans are a great option to make your own vanilla extract.
Health benefits: Vanilla has antioxidants that can lower stress on the body, protect your immune system and reduce inflammation. The smell of vanilla is also good for soothing anxiety. Source/Read More on OrganicFacts
What to use vanilla bean and vanilla extract in:
Baked goods
Fruit dishes especially berries
Desserts
Combined with chocolate, cinnamon, and/or sugar
Buy on Amazon // Buy on Savory Spice Shop
Spice: Cayenne Pepper / Red Pepper Flakes
If you like to add a kick of spicy flavor every once in a while, cayenne pepper will do the trick. You only need a small amount (just a pinch or 1/4 teaspoon) to get the benefit of this spice.
Commonly used on bean dishes, lentils, chili and tomato dishes.
Health benefits: Cayenne pepper may boost your metabolism, lower your blood pressure and aid your digestion. Source/Read more on HealthLine
What to use cayenne pepper on:
Beans – garbanzo beans, black beans, etc.
Anything where you want to add a bit of a spicy kick
Buy on Amazon // Buy on Savory Spice Shop
BONUS Seasonings:
While these might not be "essential" there are a few seasonings that I use a good bit!
Za'atar seasoning: this is a mix of sumac, toasted sesame seeds, salt, cumin, thyme, oregano and marjoram. One of the world's greatest seasonings! Excellent in yogurt dishes.
Everything Bagel Seasoning: Trader Joe's calls this "Everything But the Bagel" seasoning and it's a mix of sesame seeds, sea salt, garlic and onion. A great topper for avocado toast, pastas and other carbs!
Italian Seasoning – a good blend of oregano, marjoram, thyme, basil, rosemary and sage if you don't want to get all those spices individually. Great for use for pasta and related dishes.
Final thoughts
Even if you don't have all these spices, challenge yourself to try at least one new one! Consider buying small amounts of new spices to experiment with until you learn what your favorites are.
Did I miss any of your favorites? Let me know in the comments!