Deviled egg pasta salad using elbow macaroni noodles. Light on the mayonnaise and big on flavor, this dish is a hit at cookouts or summer gatherings! Also a great way to use leftover hard boiled eggs.
We talked egg salad, and now we're talking egg salad pasta!
You can call this either egg salad macaroni or deviled egg pasta salad. Depends on how you mix it up.
And I literally mean "how you mix it up" not just what you decide to call it that day.
Prep Method 1: "Egg Salad Macaroni"
The first time I made it, I just mashed the hard boiled eggs together with everything. I was calling it "deviled egg" salad even though I didn't devil the egg. (Taking the yolk out and mix it with mayo or other ingredients.)
So that was technically the egg salad macaroni pasta.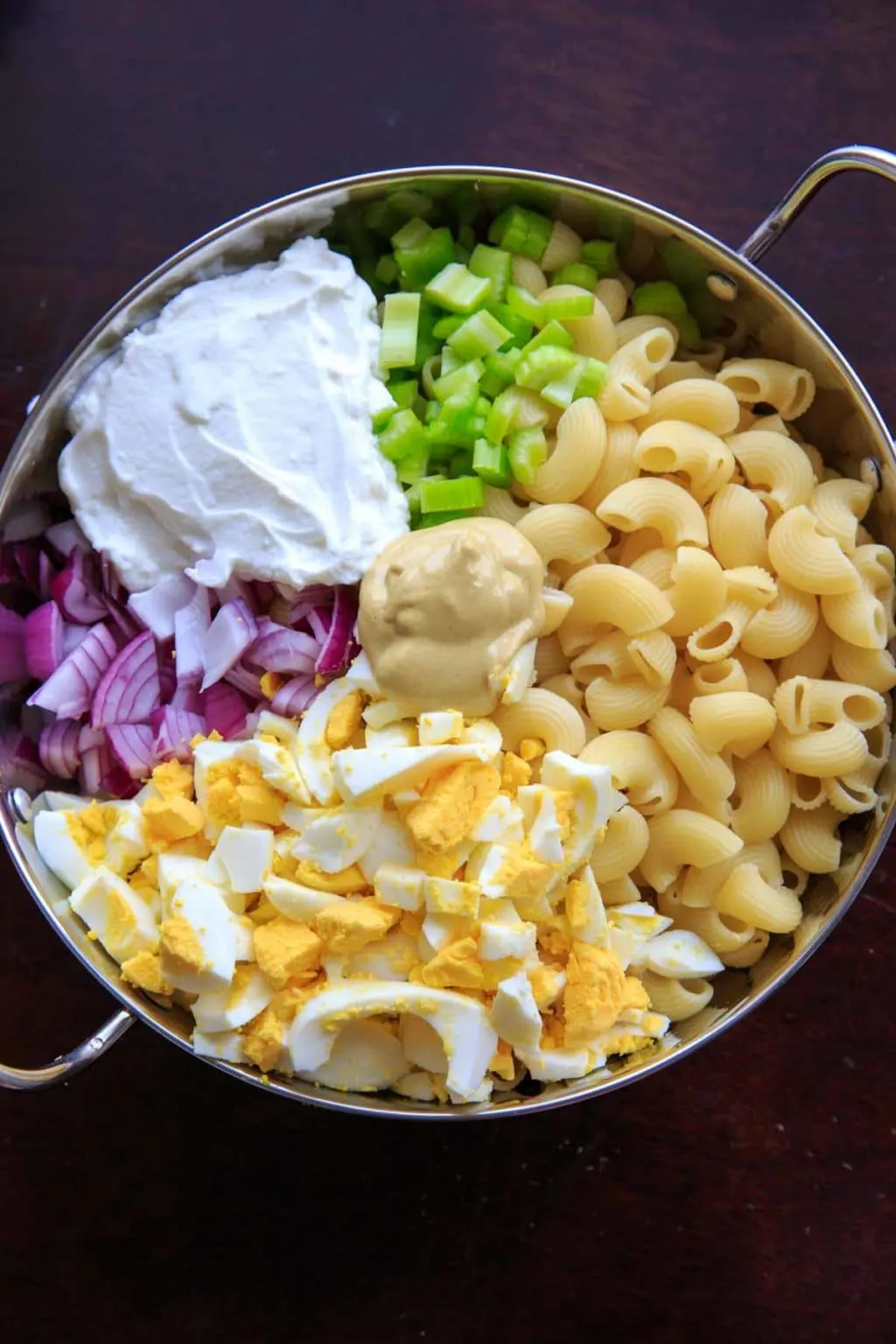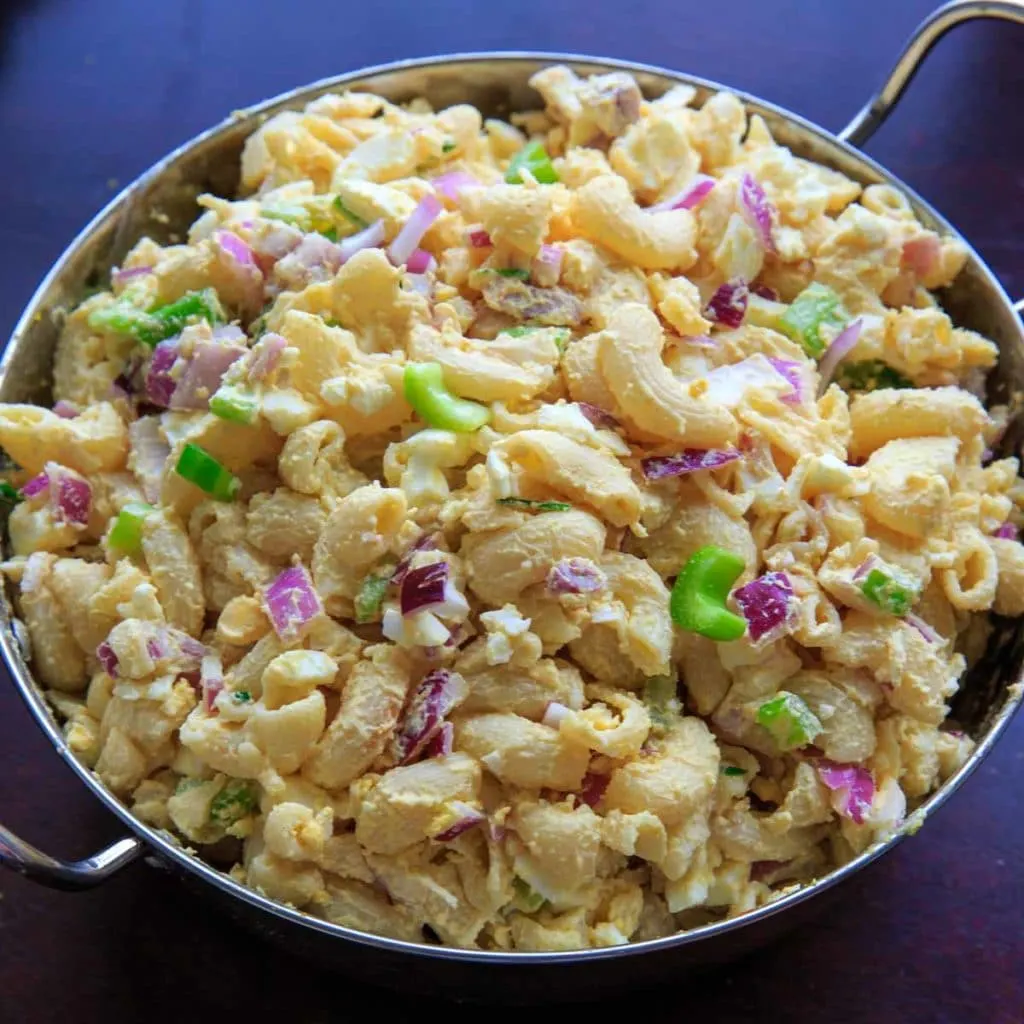 It worked okay, but I wanted to try it the real deviled egg way – separating the egg whites from the egg yolks, and mix the yolks with the other liquid ingredients (mayo, greek yogurt, mustard).
Notice I said greek yogurt! Just like in both egg salads I have posted before, I limit my use of mayonnaise.
I DID try to use ONLY greek yogurt in the first batch, and it was just missing that little bit of flavor.
So I caved and used a little bit of mayo along with the greek yogurt. If you're a fan, you can adjust those amounts as desired.
Prep Method 2: Deviled Egg Pasta Salad
Round 2, with egg whites separated: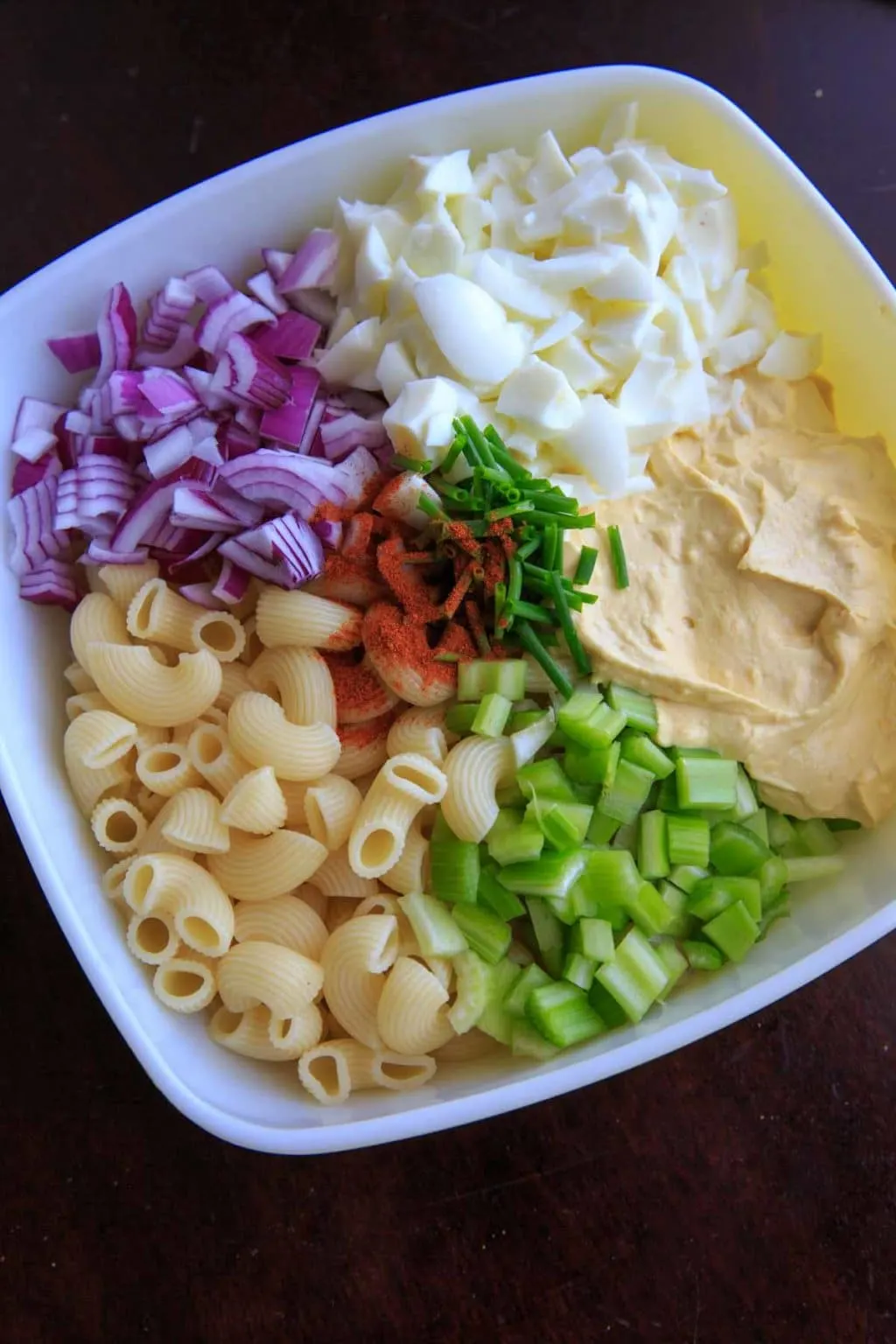 It ends up being just a bit creamier!
To "devil" the pasta (I don't really know that I'm using that correctly), mix the egg yolk with the mayonnaise, greek yogurt and dijon mustard in a small bowl. Chop up the egg whites and mix those in separately.
No matter which way you make it, it has the same ingredients and mostly same taste. Just a matter of how well the ingredients mix in together!
Mix-ins Options
I like a lot of crunch with my egg salad, so personally I think celery and red onion are really important here.
Other options to add in for extra flavor and/or crunch: dill pickles or pickle relish, bell pepper. Also, bacon bits are often accidentally vegan (the more you know!), though I'd suggest my homemade vegetarian bacon bits).
And if you're feeling saucy, ranch dressing – and I've even known people to add sriracha hot sauce, but that is truly for the brave.
Top with a bunch of paprika and chives, and refrigerate!
You CAN serve right after preparing, but salads like this are always a little better after the flavors have a little time to marinate.
After refrigerating, you may need to add a little more mayonnaise and/or greek yogurt and herbs to freshen it up before serving again. Leftover pasta tends to get dry as it soaks up the moisture while marinating.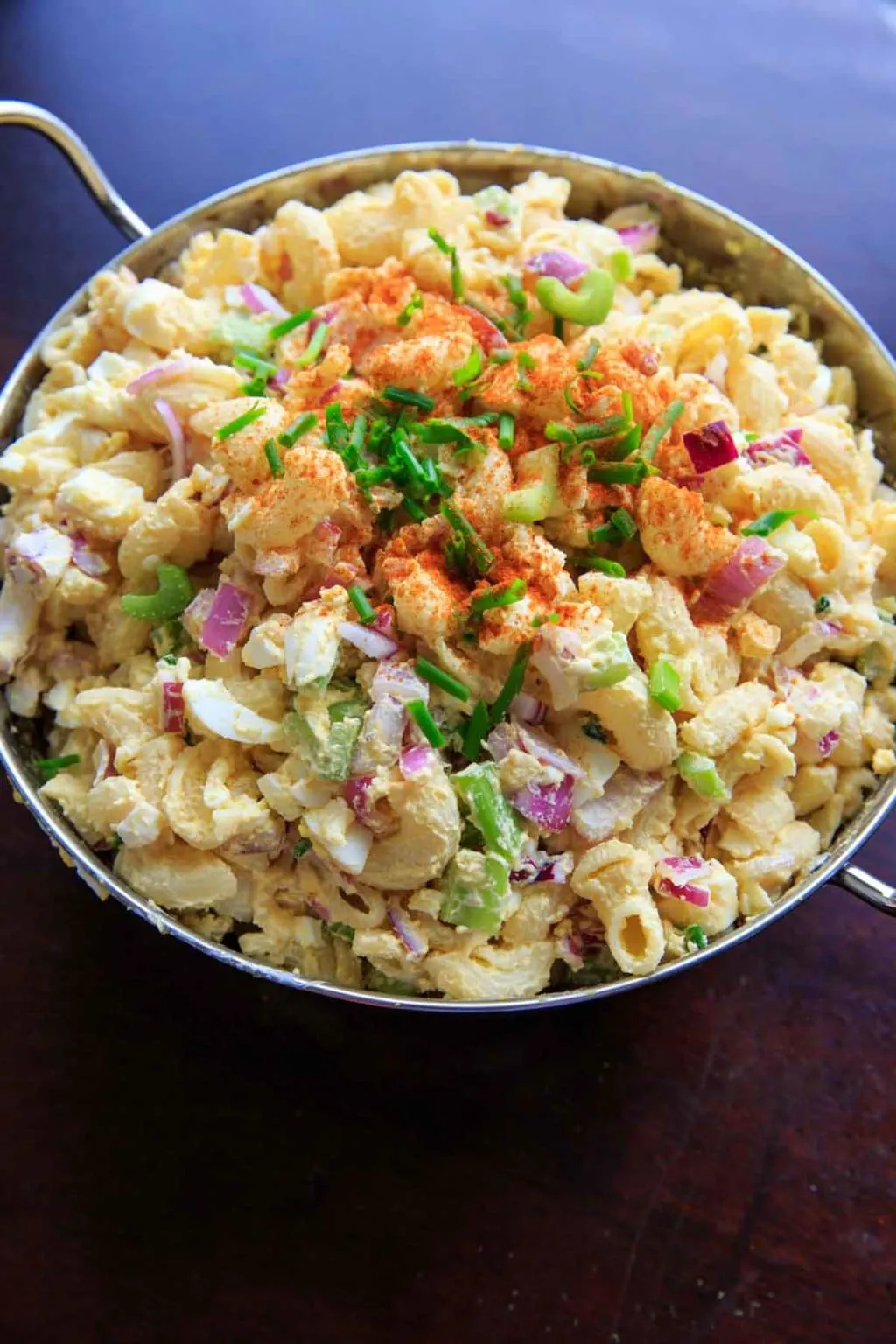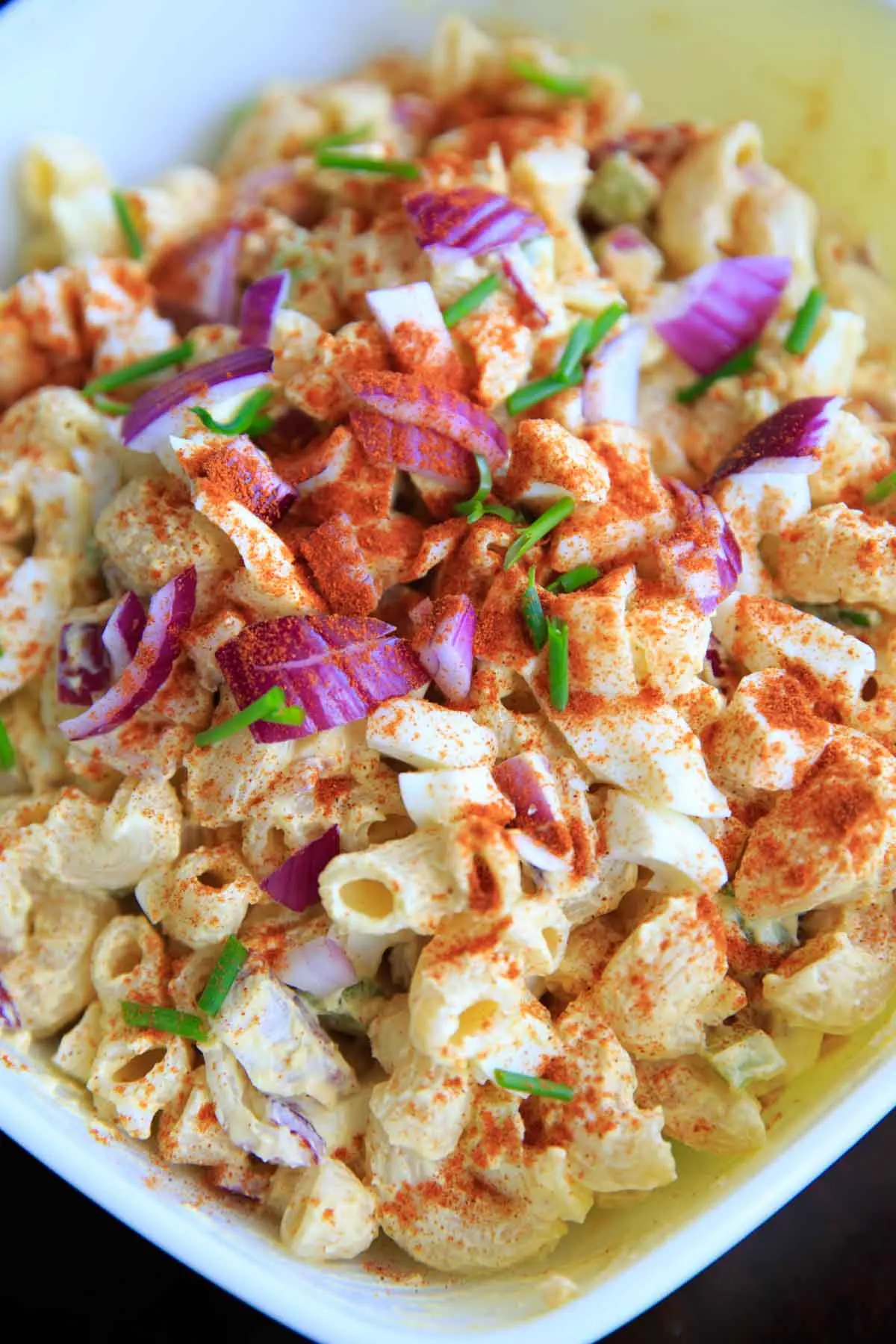 I brought this to a cookout and it was a big hit! This is great as a side or to bring to a party, but let's be honest – this was my dinner several nights in a row.
Other Hard-Boiled Egg Cold Salad Recipes:
Yield: 8 cups
Deviled Egg Pasta Salad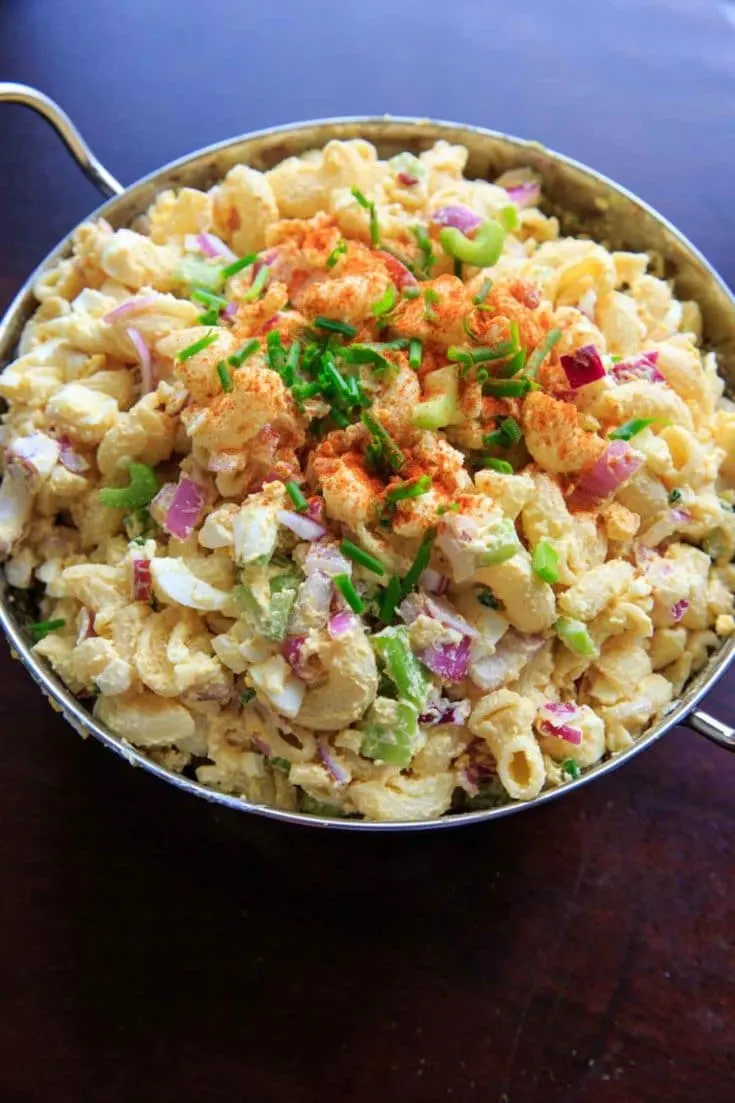 Deviled egg pasta salad with macaroni noodles. Light on the mayo and big on flavor, this dish is a hit at cookouts or summer gatherings! Great way to use leftover hard boiled eggs.
Ingredients
8 oz. macaroni pasta, (about 2 1/2 cups uncooked, 1/2 pound)
6 hard boiled eggs
1/2 cup plain greek yogurt
1/4 cup mayonnaise
1 tablespoon dijon mustard
1 small red onion, diced (see notes)
2 ribs celery, chopped
1-2 tablespoons chopped fresh chives
1/2 teaspoon paprika, more as desired
sea salt, to taste
Instructions
Cook macaroni in boiling water for 8-10 minutes (or per package instructions). Drain and rinse and set aside in large bowl.
Cut the hard boiled eggs in half and remove the yolks, and place the yolks in a small bowl. Chop the whites and add to the pasta bowl.
Mash the egg yolks with a fork. Stir in greek yogurt, mayonnaise and mustard.
Add the chopped onion and celery to the pasta bowl, and stir in egg yolk mixture until combined.
Top with fresh chives, paprika and salt as desired. Can be eaten immediately, but best served after being chilled in refrigerator for at least 1 hour. Add more mayo or yogurt if needed or when re-serving leftovers.
Notes
*If saving leftovers for later, pasta may dry out a little. This can be fixed by mixing in a little more mayonnaise (or greek yogurt). I also top with more paprika before serving leftovers also!
I use 1 *small* red onion, but if you aren't big on the taste of red onion you may choose to use only 1/2, as some readers have found the onion overpowering.
I always like to add a little extra paprika + salt on each serving (or you can mix it into the whole bowl - but some people don't like paprika, which is why I only include a little on top in the original recipe). Without the spices, it can be a little bland - so consider others if you don't like paprika or chives. (Ones that go well with egg include dill, garlic powder, more dijon mustard, etc.)
Nutrition Information:
Yield:
8
Serving Size:
1 cup
Amount Per Serving:
Calories:

195
Total Fat:

12g
Saturated Fat:

3g
Trans Fat:

0g
Unsaturated Fat:

8g
Cholesterol:

153mg
Sodium:

231mg
Carbohydrates:

11g
Fiber:

1g
Sugar:

2g
Protein:

10g
Nutrition information is calculated automatically by an online tool at Nutritionix. It is not always accurate. Please use your own tools to check if you rely on this information.
Recommended and useful items for this deviled egg macaroni pasta salad:
Egg Masher & Large Bamboo Salad Bowl: Both are available in the Trial and Eater amazon store!