Dill Pickle Egg Salad – serve as a side or eat as a meal. Light on the mayo and big on the crunch!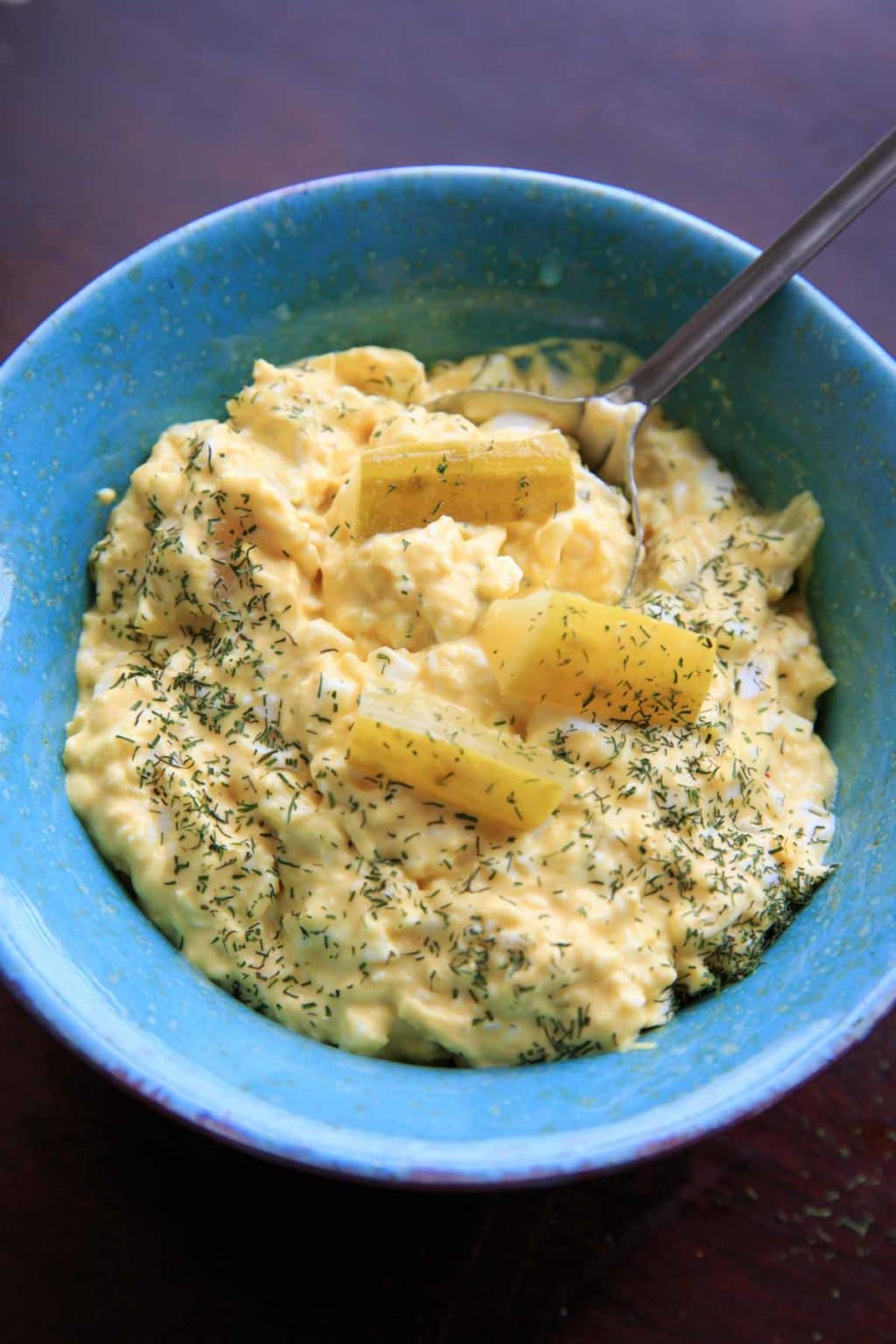 Originally I planned to make a dill pickle pasta salad, but before I realized what was happening, I was boiling eggs instead of pasta.
So, dill pickle egg salad it is.
Strange, because I don't make hard boiled eggs much. I have to be in the right mood to eat eggs, and that mood can change very quickly.
(Don't worry! Different pasta salad is coming up soon.)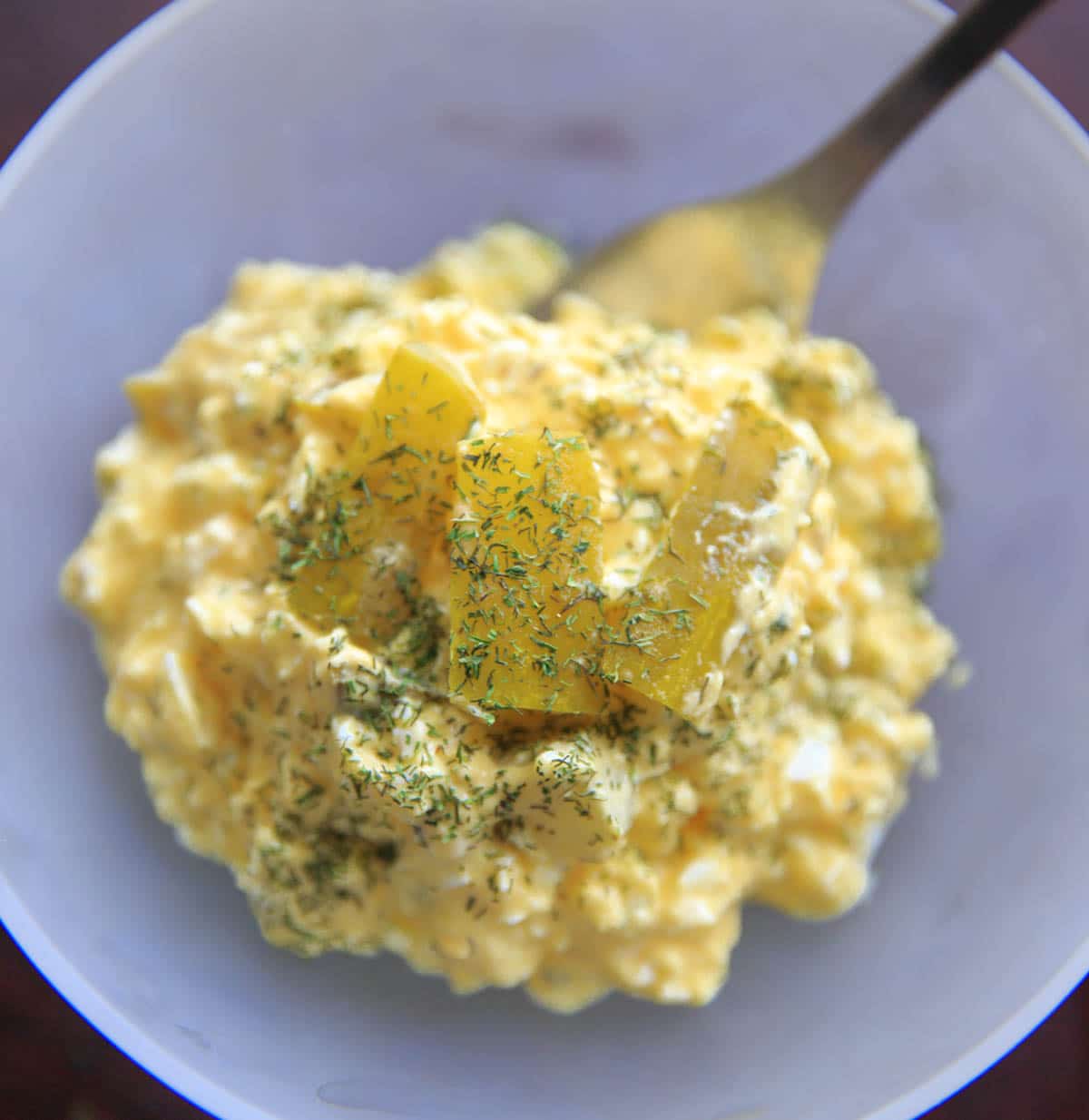 Mayonnaise and I aren't great friends. Any salad that has too much of it I can't stomach, and I never put it on sandwiches any more.
(This is why my avocado egg salad recipe was born!)
Because I'm not a big fan, I went really light on the mayo here. If you prefer your egg salad creamier, feel free to add more of it.
Recently I pickled up an avocado oil mayonnaise to try that I like a little better. (You remember my new obsession with avocado oil?)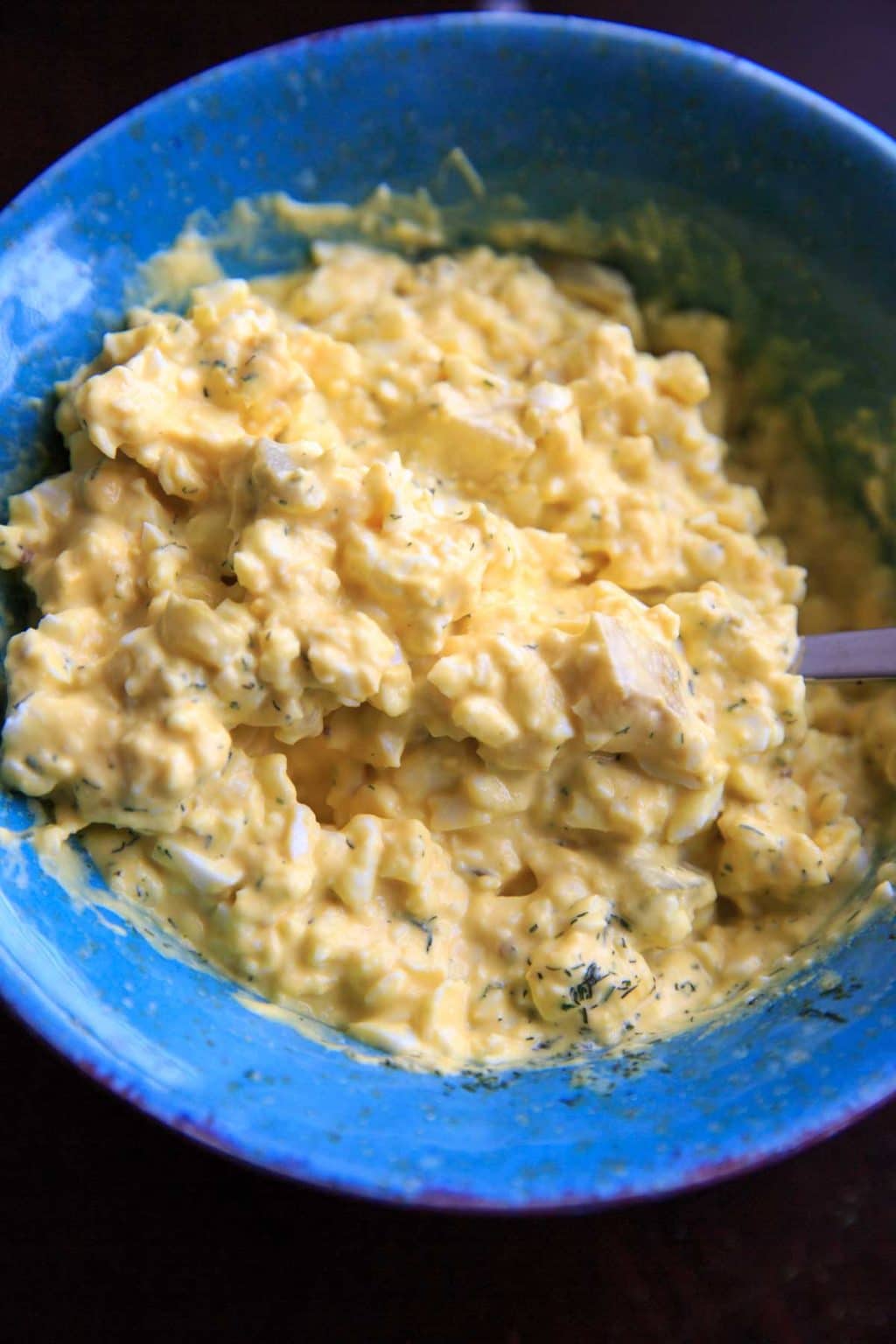 Just be careful to not add too much more, especially if you plan on putting it in a sandwich!
Between the pickles, juice and vinegar, I'm not sure how much more mayo this recipe could handle.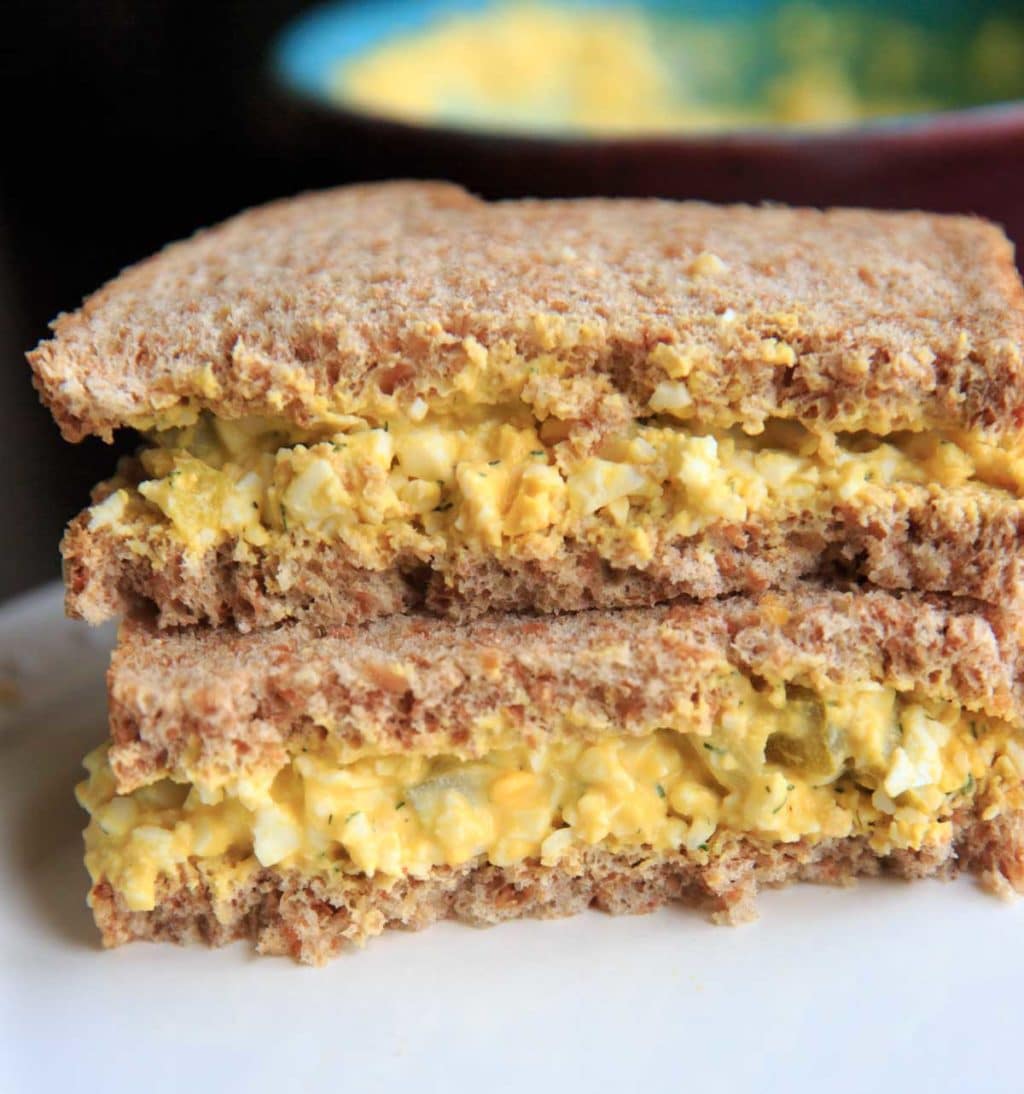 Also – I used chopped dill pickles and celery, both of which I think are very important for the crunch in this egg salad. Maybe it's the consistency issues I have with mayo but I think the crunch is key.
Many people like to add relish to their egg salad, so you can substitute dill pickle relish for the dill pickles. Since it's a more concentrated flavor though, I'd start smaller on those measurements until you get to the flavor you want.
I've been adding apple cider vinegar to so many things lately, it seemed normal for me to add a splash to this salad. But it's optional if you don't like that flavor.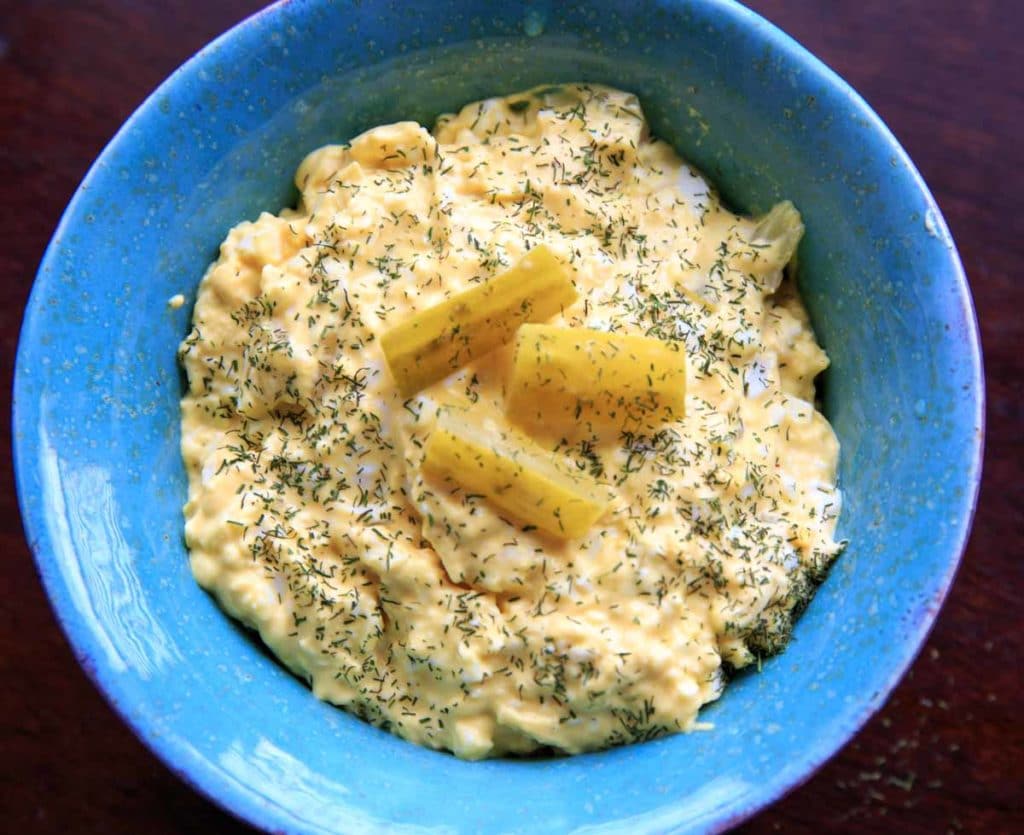 Side note: Everybody seems to have their own favorite way of hard boiling an egg, so I didn't include my way. If you want me to write it up (I've tried many ways!) let me know in the comments!
Dill Pickle Egg Salad
Dill Pickle Egg Salad - serve as a side or eat as a meal! Light on the mayo and big on the crunch! Great for pickle lovers.

Ingredients
6

hard boiled eggs

, peeled and cooled

1/3

cup

chopped dill pickles + 1 tablespoon of pickle juice

(or dill pickle relish, see notes)

2

tablespoons

mayonnaise

(I prefer avocado oil mayo, see notes)

1

tablespoon

mustard

(yellow or dijon, I used dijon)

2

stalks

celery

, chopped

2

teaspoons

apple cider vinegar

(optional)

1/2

teaspoon

dried dill weed

, plus more for garnish

salt and pepper

to taste
Instructions
Mash hard boiled eggs in a bowl with a fork. Add all ingredients (chopped pickles, mayonnaise, mustard, celery, vinegar and dill) and mix until combined.

Stir in salt and pepper to taste. Refrigerate until ready to serve.

Garnish with more pickles or dill.

Notes
* This recipe is light on the mayonnaise. If you prefer a creamier salad, add more mayo as desired.
**May want to go lighter on the measurement if using relish instead of chopped pickles since relish has more flavor. Start with a couple tablespoons and work your way up as needed.
*There are affiliate links within this post that we can earn a commission on at no extra cost to you. Thank you for helping to support the site!
Recommended and useful items for this dill pickle egg salad recipe: