Sugared cranberry cookies – sugar cookies with sugared cranberries baked in to make the sweetest cookie ever – with a twist.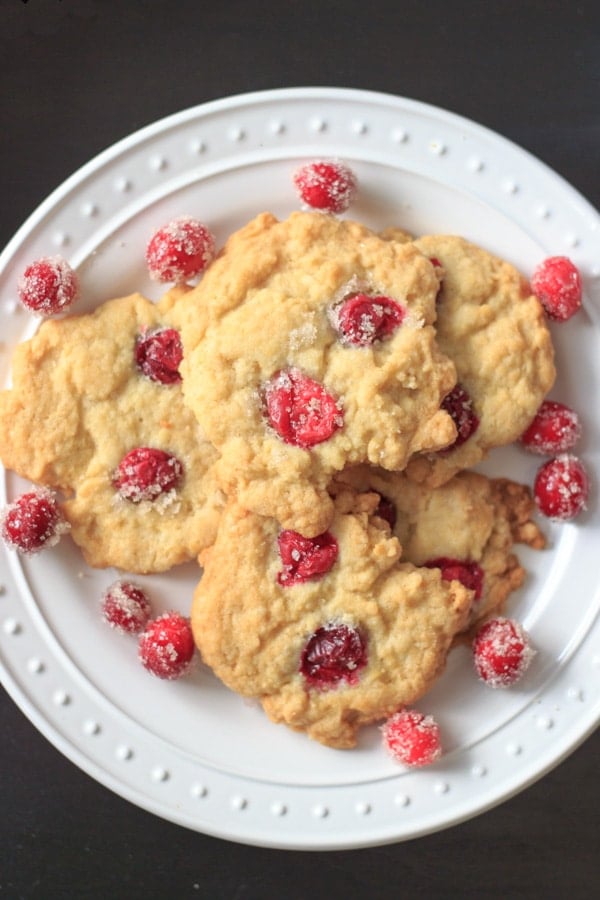 Remember those sugared cranberries we just talked about?
While they are surprisingly addicting just on their own, they make for gorgeous decorations on other desserts, too.
Originally I made them because I wanted to put them IN something. I've seen them on cakes, cupcakes, even in breads – but I haven't seen them in cookies! Dried cranberry cookies sure, but sugared cranberry cookies? Can't find 'em.
I don't know that I'm the first person to EVER to put them in cookies (dramatic much?), but just please don't burst my bubble. My very heavily sugared bubble.
Get the latest recipe ideas + deals to your inbox! Add your name to the "insider list"
here
.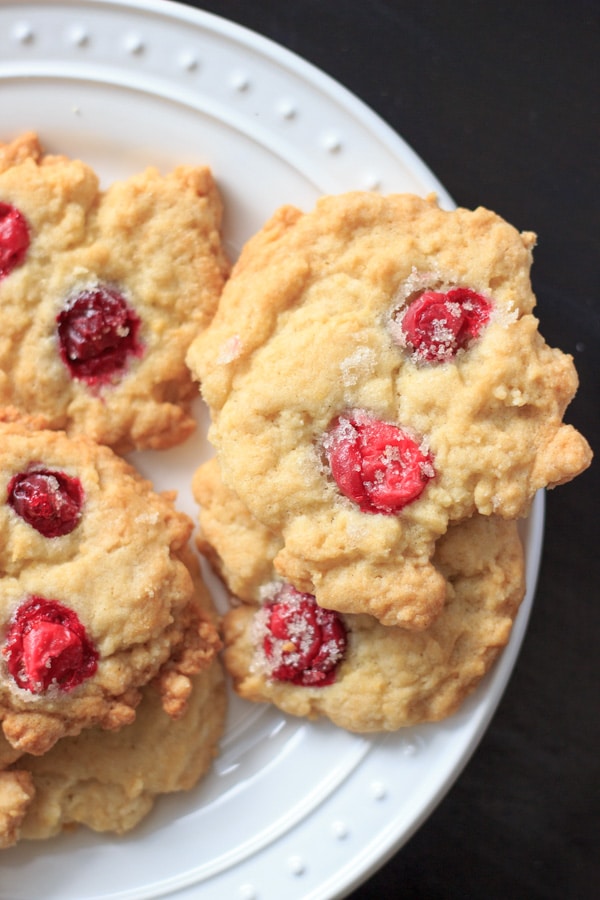 I haven't made ANY cookies this holiday season until these. I had been trying to stay away from the desserts and eat a little healthier (though still indulging in some eggnog), but I broke down in the name of gifting.
That's how much I love my friends, I'll fill my kitchen full of sugary goodness and sweet temptations.
The sacrifices I make.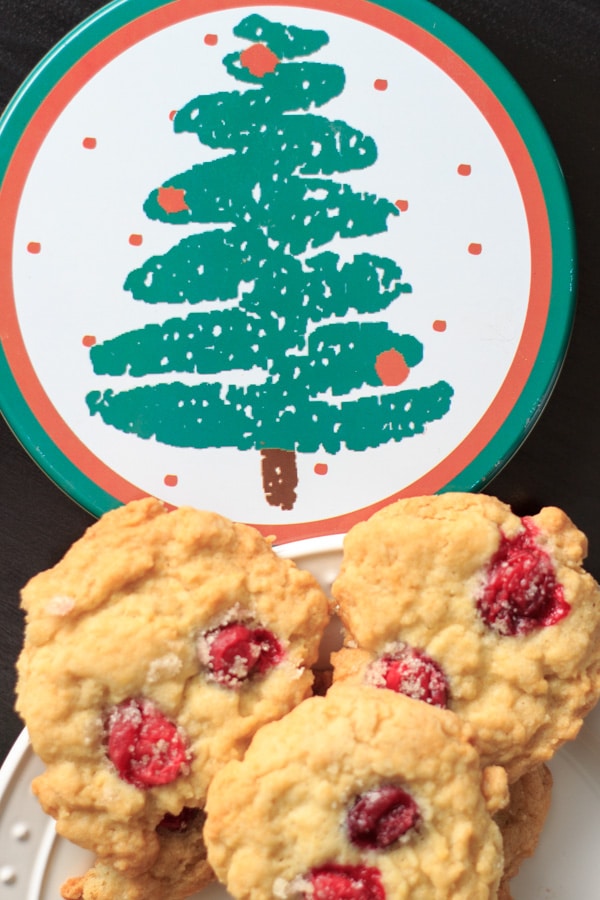 When I first mentioned to my mom that I was planning to make sugared cranberry cookies, she paused for a minute, and then simply said, "Hm."
In mom speak, that's her short way of acknowledging that I have spoken but ultimately deciding she thinks I'm being ridiculous or am wrong.
Let me just say, I brought some of these cookies home this week for the holidays – and she ate 3 of them in 5 minutes. So I think she's (literally) eating her word(s) now.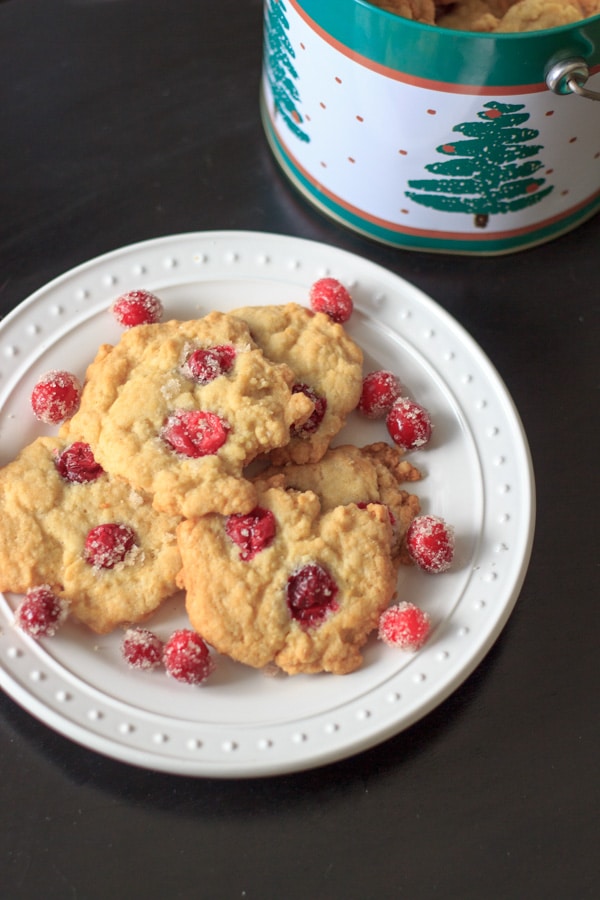 As always, if you make these I'd love to hear about how they turned out!
Yield: 36 cookies
Sugared Cranberry Cookies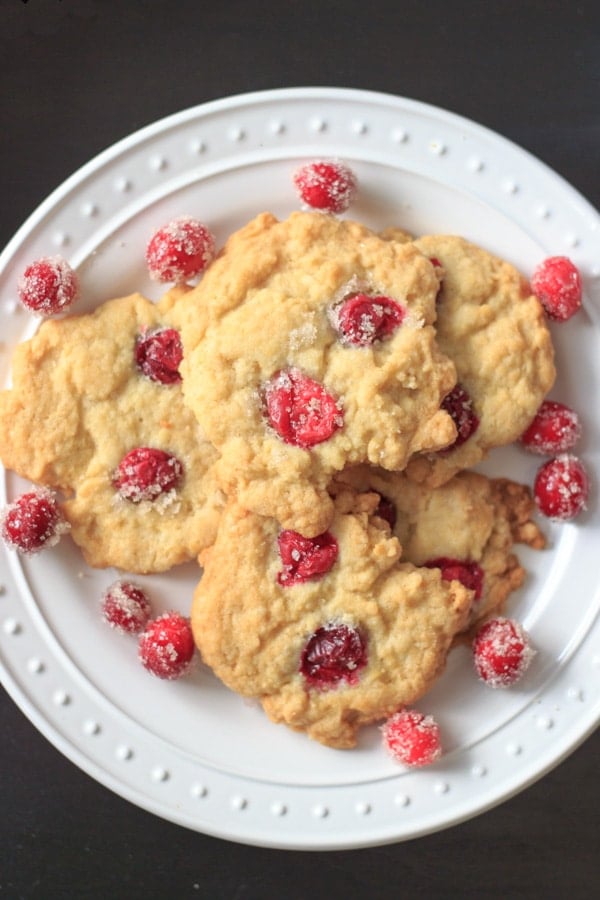 Sugared cranberry cookies - sugar cookies with sugared cranberries baked in to make the sweetest cookie ever - with a twist.
Ingredients
2 3/4 cups all-purpose flour
1 teaspoon baking soda
1 1/2 cups sugar
1 cup unsalted butter (2 sticks), melted
1 large egg
2 teaspoons vanilla extract
1 cup sugared cranberries, (or more as desired)
Instructions
Preheat oven to 375°F.
In a large bowl, mix flour, baking soda, and sugar together.
Add melted butter to dry ingredients and stir together.
Add egg and vanilla extract, mixing until combined.
Using a cookie scoop or spoon, form dough into balls and place on lined cookie sheet.
Add sugared cranberries to top of dough (I added 2 or 3 cranberries per cookie, add more as desired)
Bake for 10-12 minutes or until lightly browned.
Nutrition Information:
Yield:
36
Amount Per Serving:
Calories:

114
Total Fat:

5g
Saturated Fat:

3g
Trans Fat:

0g
Unsaturated Fat:

2g
Cholesterol:

19mg
Sodium:

38mg
Carbohydrates:

16g
Fiber:

0g
Sugar:

8g
Protein:

1g
Nutrition information is calculated automatically by an online tool at Nutritionix. It is not always accurate. Please use your own tools to check if you rely on this information.