How to make sugared cranberries. Great for decorating desserts like cakes, using in goods baked like holiday cookies or simply as a sweet snack!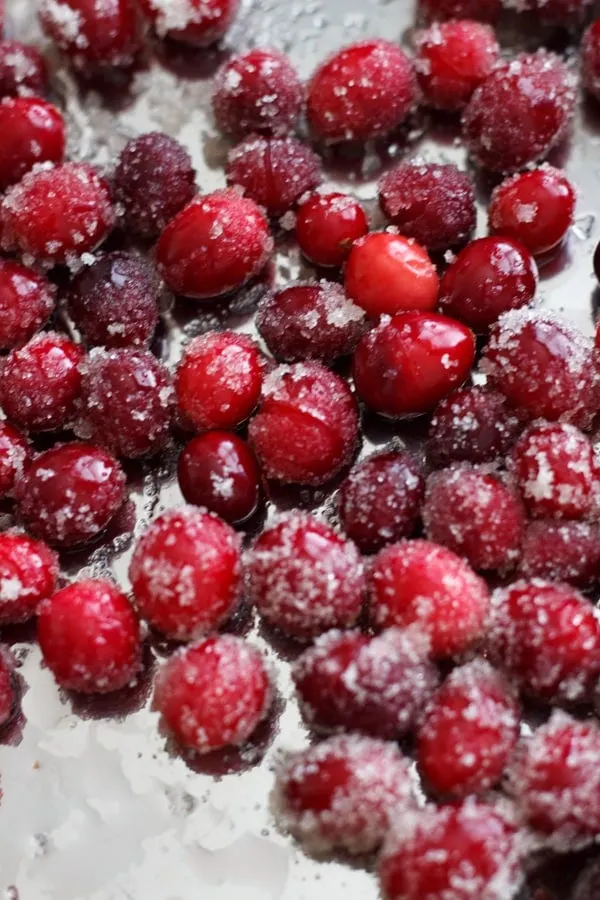 As I've previously mentioned, I'm not a huge fan of regular cranberries. Usually they are too sour for my liking, even when prepared in other dishes.
That's why I made a sweeter version of cranberry sauce with fruit juice and honey.
I must be behind the times, because I only recently heard of sugared cranberries.
Typically they are used for extra decoration for cakes and the like, and the first I saw them they looked almost too pretty to eat!
If you want to use them as display for another dessert, you'll need to have a little more patience than me – I got too excited to make the next recipe that features these cranberries and started to rush through the sugar coating application.
Also, I tried to make these "healthier" by cutting the sugar down from what I have seen. These still have a slight tang to them so if you like sweet & sour things, you'll love these!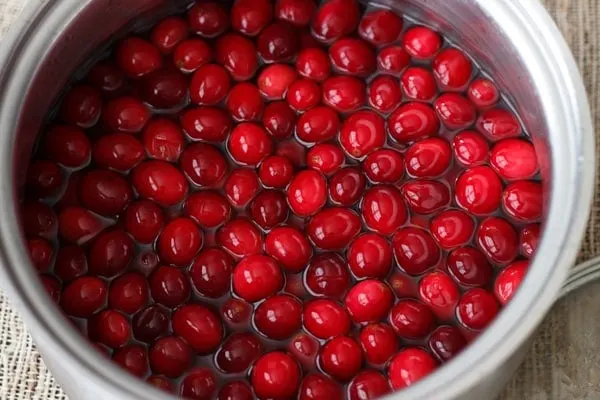 First you want to make the "lighter" simple syrup.
Basic simple syrup is 1 part water to 1 part sugar. I chose to do a "thin" simple syrup (3 parts water to 1 part sugar) or 1 and 1/2 cups water and 1/2 cup sugar. It definitely keeps a little bit more of the tang by diluting it a bit.
Boil that for a few minutes and then remove from heat once the sugar is dissolved. Let it cool before putting the cranberries in – otherwise they might pop and you'll end up with cranberry sauce!
Here's where I've seen different methods. You can let the cranberries sit in the sugar water for anywhere from 10 minutes on the counter, to overnight in the refrigerator. However much time you have.
After the cranberries have soaked in the sugar water, drain (don't rinse), spread out on a tray or parchment paper, and let dry for an hour.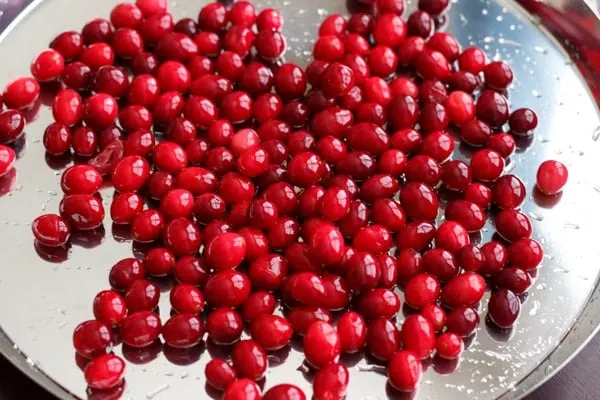 Now time for the hands-on (i.e. fun) part – roll them in some more sugar!
This is where I got impatient – and why the sugar isn't exactly evenly distributed on the ones in this picture. Still delicious!
After coating in sugar, let dry for a bit more and then you'll be able to eat, decorate, or gift them away.
I used these as a topping for sugar cookies, and you could also add them to decorate this cocktail recipe to make it extra festive!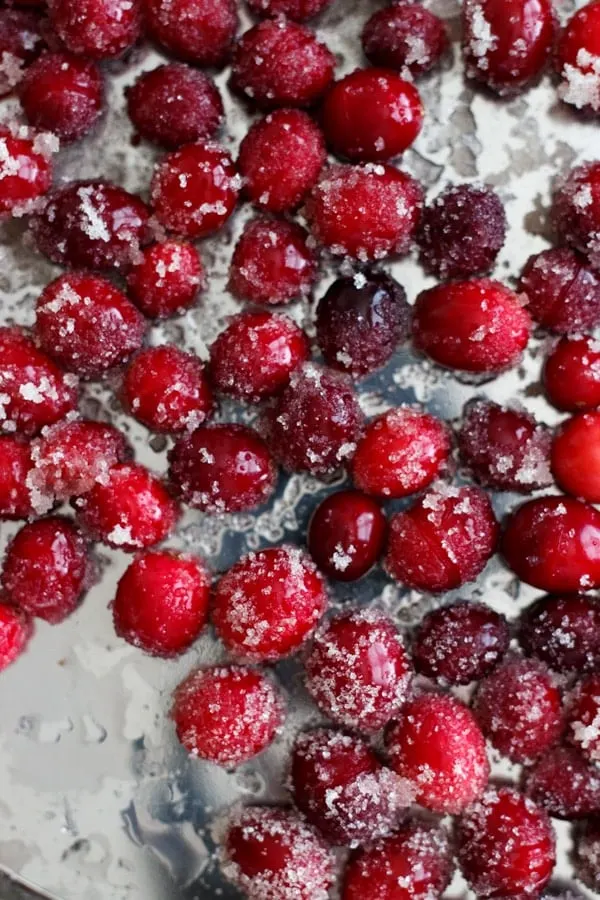 Yield: 3 cups
Sugared cranberries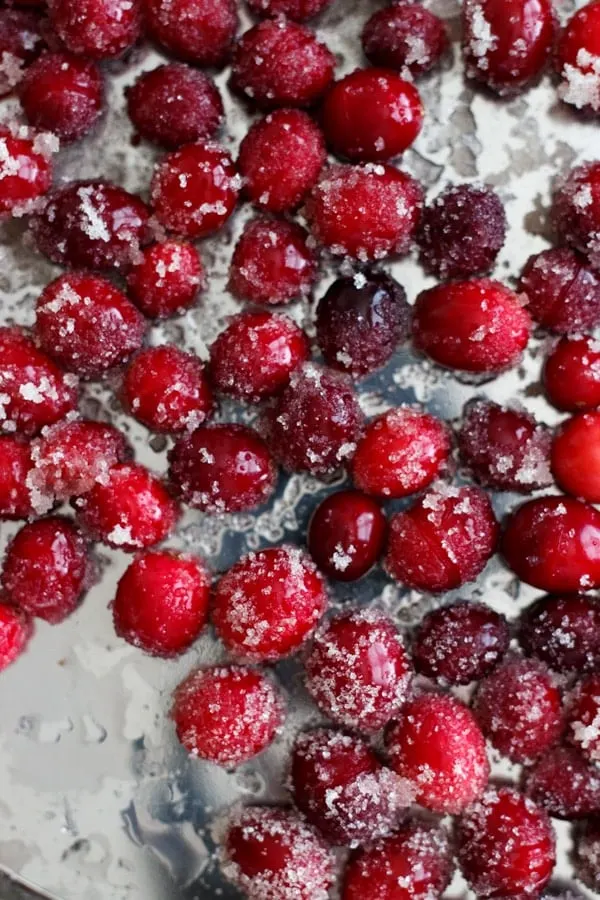 Sugared cranberries. Great for decorating desserts or a sweet snack!
Prep Time
1 hour
30 minutes
Total Time
1 hour
50 minutes
Ingredients
For the "light" simple syrup (3 parts water, 1 part sugar):
1 1/2 cups water
1/2 cup sugar (see notes)
For the cranberries:
1 (13 oz.) package fresh cranberries
1/2 cup sugar
Instructions
To make the light simple syrup, add water and sugar to a pot and boil for a few minutes, stirring until sugar dissolves. Remove from heat.
After syrup cools slightly, add the package of cranberries. Let the cranberries marinate for 10-15 minutes in the sugar water.
Drain (don't rinse) cranberries and allow to dry on cookie sheet or parchment paper for about an hour.
Add remaining 1/2 cup sugar to a bowl. Roll cranberries through sugar to throughly coat, and place back on tray to dry for a bit more, at least 20 minutes.
Notes
This recipes uses a "lighter" version of simple syrup (3:1 ratio water to sugar.) A regular simple syrup is 1:1 ratio, so if you'd prefer your cranberries extra sweet you can do that instead!
If you have more time, you can let the cranberries steep in the sugar water longer. Anywhere 10 minutes to an hour on the counter, or overnight in the refrigerator!
Nutrition Information:
Yield:
6
Serving Size:
1/2 cup
Amount Per Serving:
Calories:

137
Total Fat:

0g
Saturated Fat:

0g
Trans Fat:

0g
Unsaturated Fat:

0g
Cholesterol:

0mg
Sodium:

3mg
Carbohydrates:

36g
Fiber:

1g
Sugar:

34g
Protein:

0g
Nutrition information is calculated automatically by an online tool at Nutritionix. It is not always accurate. Please use your own tools to check if you rely on this information.