Peppermint eggnog hot chocolate using homemade (cooked) eggnog. It's the perfect holiday drink!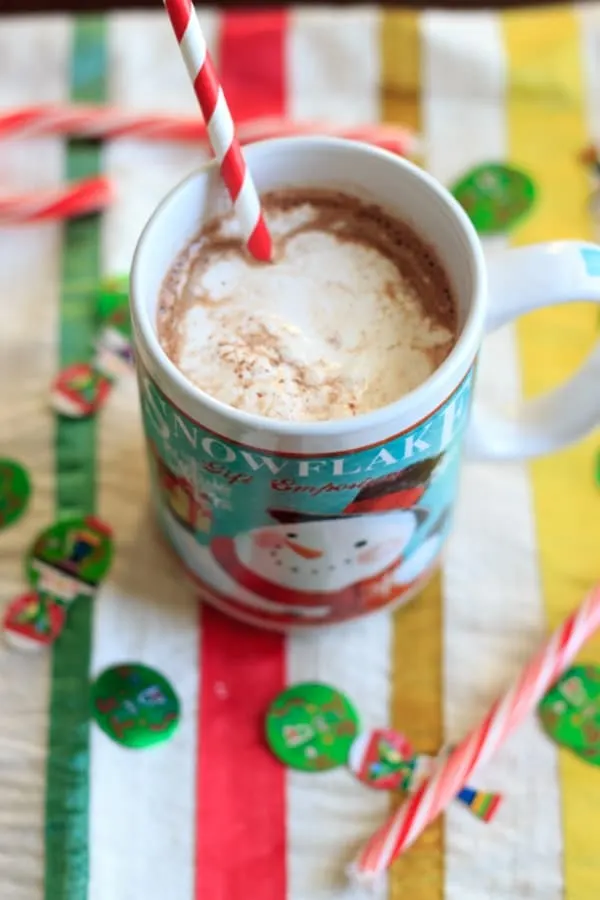 I originally made this recipe because of a (now defunct) event called Foodie Extravaganza.
One ingredient was picked each month, and all participating bloggers would make a recipe around that ingredient. The first time I heard about it, the ingredient was peanut butter so I was allll over those recipes.
The month I decided to participate, December's ingredient was eggnog.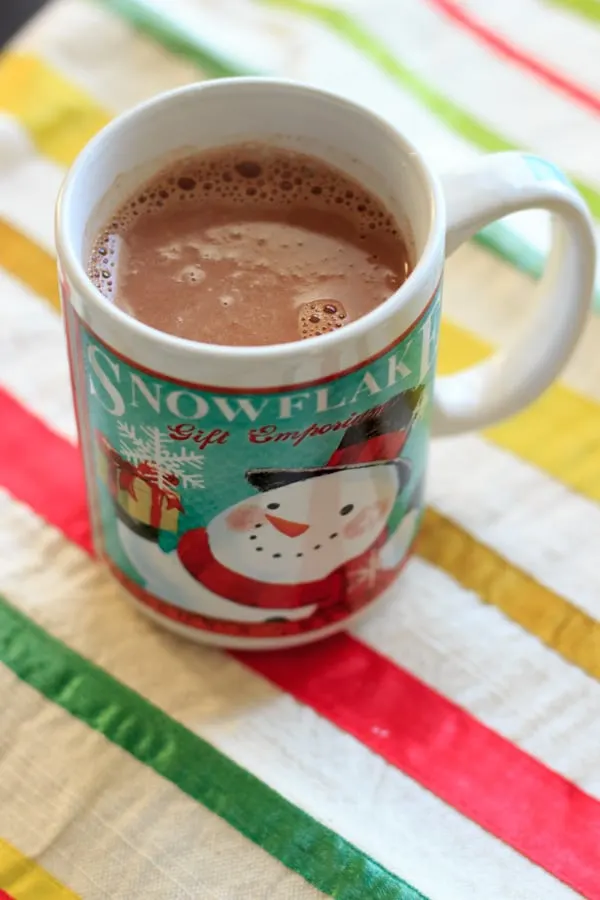 Of all the ingredients to get, this one was a challenge for me. I don't really drink eggnog (raw eggs and all that) so I was really wishing I had jumped in on the party for the peanut butter month.
Then I remembered that the whole point of this blog is to try new recipes and get out of my foodie box (within reason), so I decided to experiment.
In case you missed it, I made my own
cooked eggnog
specifically for this event. I didn't know what I'd do with it yet, I just wanted to see if it worked out okay.
And it did.
Though since I turned it into hot chocolate, I guess it would have cooked a little anyway? Regardless, I enjoyed my cup of hot cocoa much more having made my own eggnog!
(But you can totally use store-bought eggnog if you want.)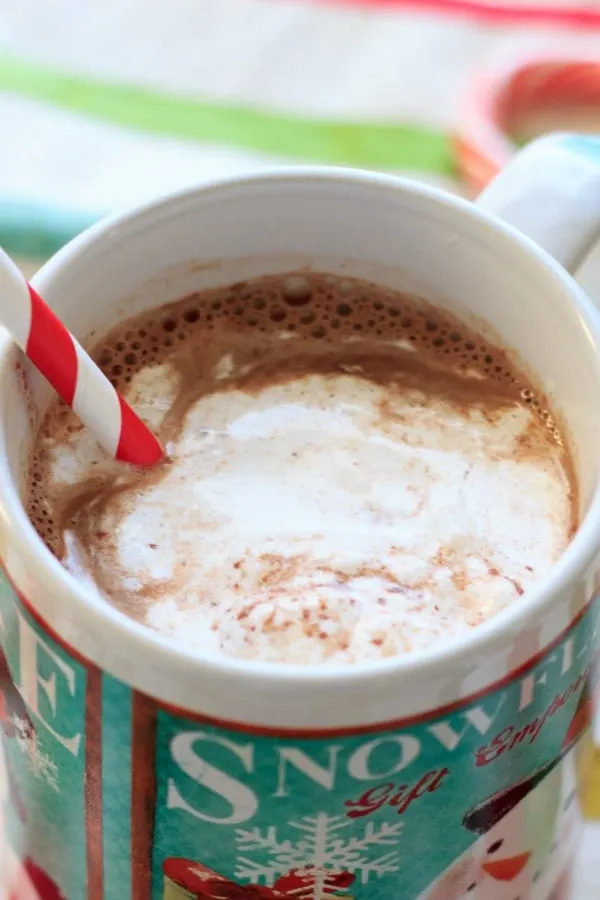 I decided on hot chocolate because I had a ton of cacao powder in the pantry. It may be because I ordered a big bag organic cacao powder
forgetting that I had just ordered another 1 pound bag the day before.
Amazon makes it too easy, I forget when I click through sometimes!
I've been wanting to buy cacao powder for a while after reading about the benefits of cacao vs cocoa. I always thought they were the same (chocolate is good for you, right?) but it turns out cacao is less processed than cocoa and therefore has more nutrients. The two can be used interchangeably in recipes though, so you can use cocoa powder if you don't have cacao!
My homemade eggnog already had enough sugar in it, but you may need to add some in depending on what eggnog you use.
The peppermint extract is optional but makes it feel more "wintery" to me. Remember with peppermint extract, a little goes a long way!
Add some marshmallow cream to top it off and drink up!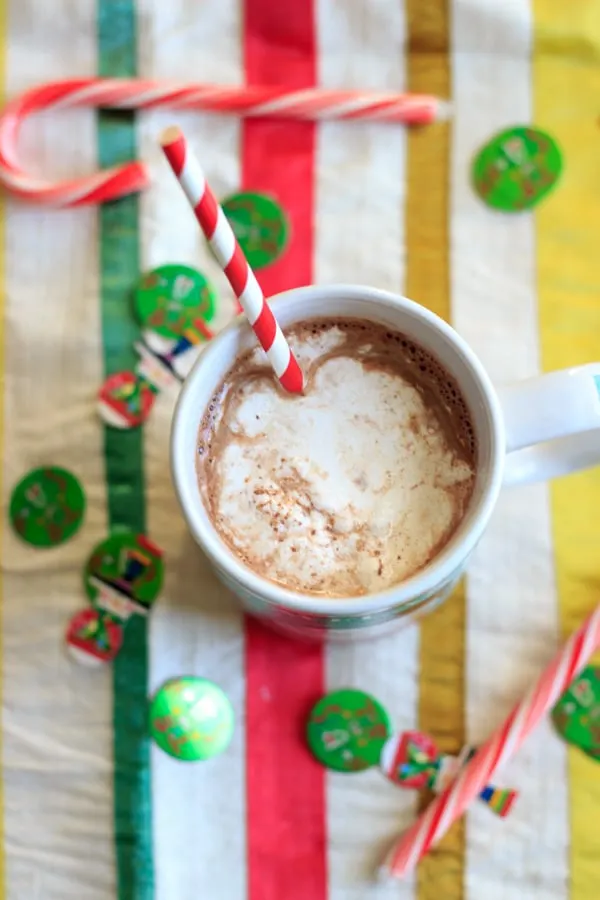 Yield: 1
Peppermint eggnog hot chocolate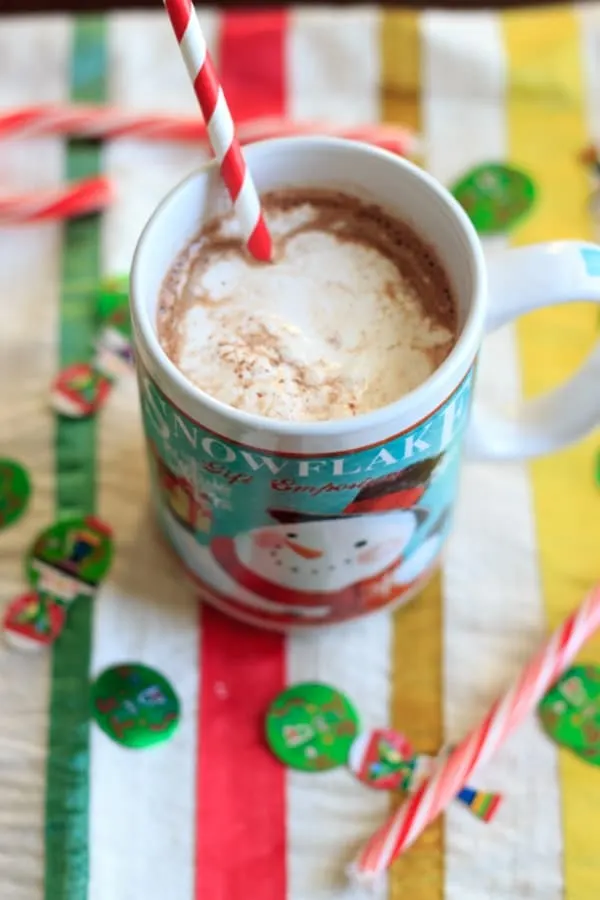 Peppermint eggnog hot chocolate using homemade (cooked) eggnog. Perfect holiday drink!
Ingredients
1 cup water
3/4 cup eggnog
2 tablespoons cacao powder (or cocoa powder)
1/2 teaspoon peppermint extract, or substitute vanilla extract
sugar to taste (depending on the kind of eggnog you use), if needed
marshmallow creme, for serving
Instructions
In a medium saucepan, add water, eggnog, and cacao powder. Whisk together on medium heat until combined and heated through.
Add sugar if needed (may not be needed depending on the sweetness of your eggnog). Stir until combined.
Remove from heat. Add peppermint extract. Pour into mug and top with marshmallow cream.
Notes
If using an eggnog that is not spiced, you may want to add a dash of cinnamon and/or nutmeg.
Nutrition Information:
Yield:
1
Serving Size:
1 g
Amount Per Serving:
Calories:

214
Total Fat:

9g
Saturated Fat:

5g
Unsaturated Fat:

0g
Cholesterol:

112mg
Sodium:

117mg
Carbohydrates:

26g
Fiber:

3g
Sugar:

19g
Protein:

10g