Fun edible craft instructions on how to make your own easy hot chocolate bombs! This tutorial uses dairy-free and vegan options, and includes other flavor variations from around the internet.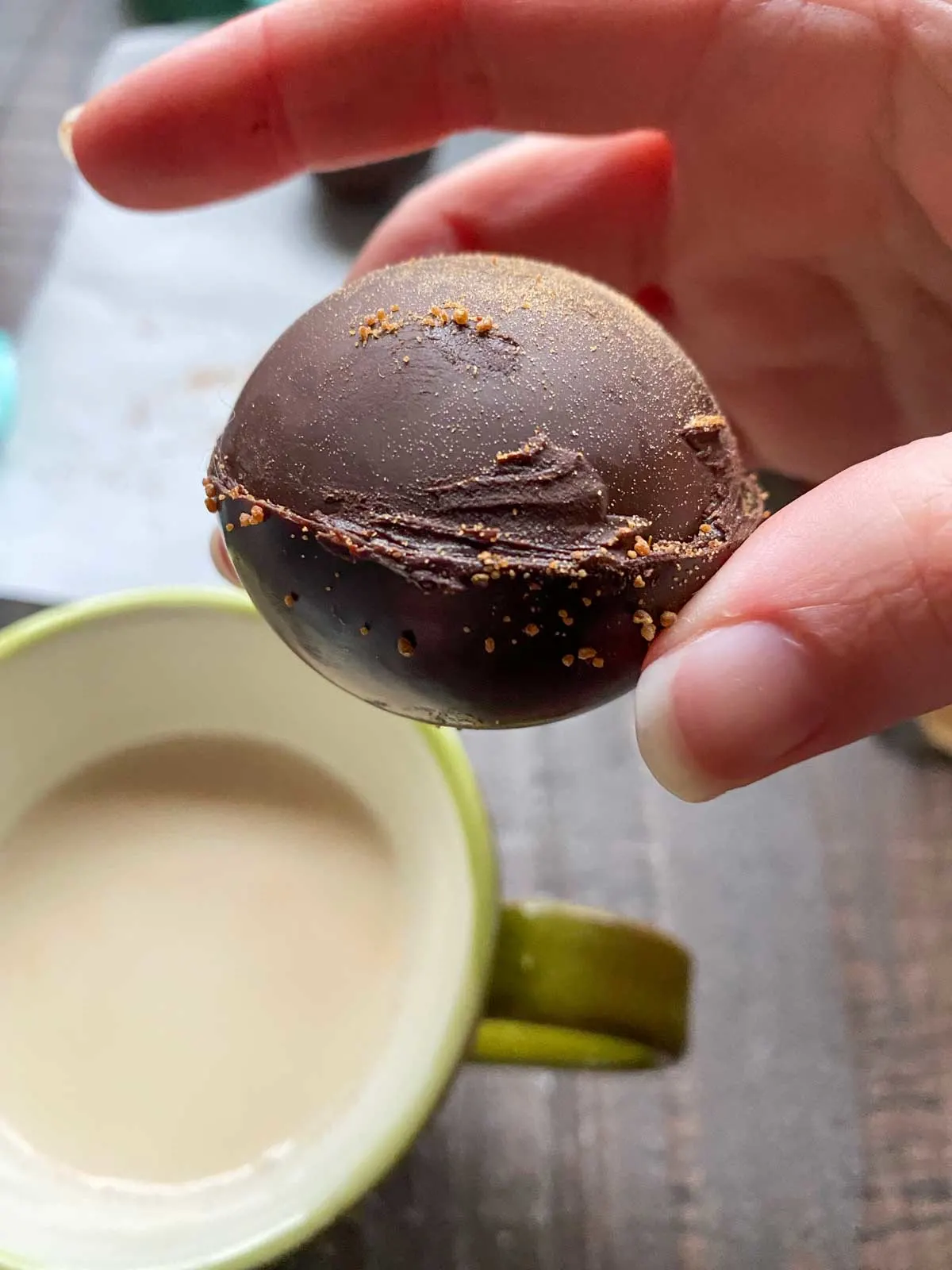 This post contains affiliate links. As an Amazon affiliate I earn from qualifying purchases.
Have you seen the hype about hot cocoa bombs? Silicone molds have been flying off the shelves and new businesses selling these delicious drink makers have been popping up everywhere. In true Trial and Eater fashion, I had to try to make them myself!
I'll start off by saying, I'm no expert at making these hot chocolate balls! But I wanted to show you a few tricks I've learned along the way and the tools that have helped me – and I will link to some other variations of hot chocolate bombs too.
The basics of what you'll need to make "hot chocolate bombs"
silicone molds
chocolate (chips, bar, or candy wafers)
hot cocoa mix (or cocoa/cacao powder, as long as you add sugar!)
Extras can include mini marshmallows, crushed peppermint, sugar, sprinkles.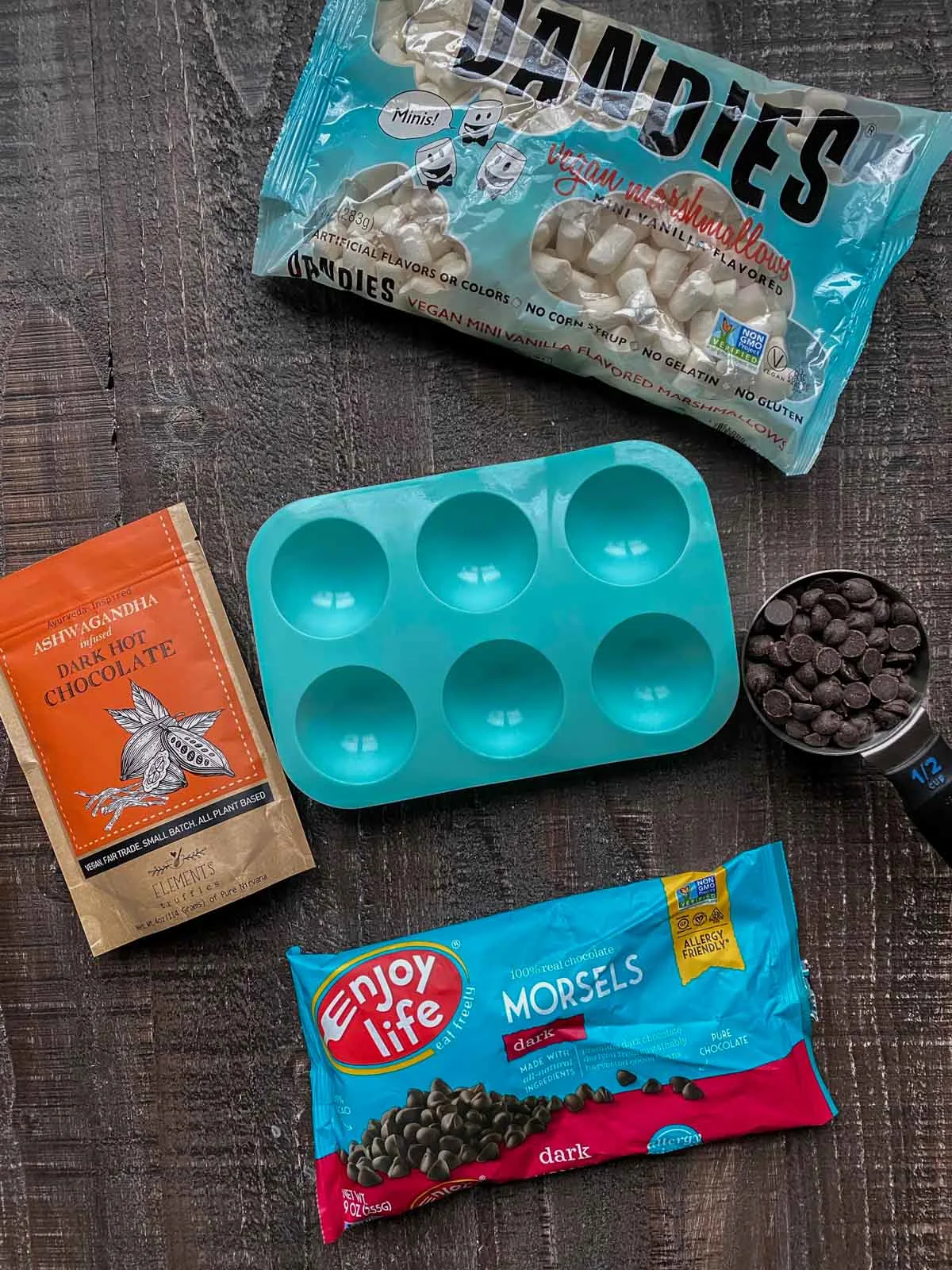 Silicone Molds
Sphere shaped silicone molds are the easiest to make hot chocolate bombs with, because they are flexible and easy to "pop" out the shape once it's hardened.
The size of your silicone mold will affect how much you can fit into the sphere. Amazon was wiped out of regular sphere silicone options when I purchased, so I found this shop on Etsy that is highly rated and had multiple sizes.
I tried both sizes from this shop – a 70mm (2.75 inch) and 52 mm (2 inch) sphere. The smaller size is a lot smaller than the large, even though the numbers aren't that different!
About 1 Tablespoon of hot cocoa mix + 8-10 mini marshmallows fit in one of the 2.75 inch spheres, and about 1 teaspoon of hot cocoa with just 3-4 mini marshmallows fit in the 2 inch sphere.
How to Make Them
Once you have silicone molds, you can get started on making them! One tip I've seen is to cut each sphere separately from the mold so that it's easier to handle – but this is optional.
First you melt your chocolate – I used Enjoy Life dark chocolate chips to keep it vegan / dairy-free, but you can use most kinds of chocolate chips, chocolate bar, or candy chocolate wafers.
The better quality the chocolate, the better your results will be. If you use a chocolate bar instead of chocolate chips, chop up into pieces first for easier melting.
Melting chocolate methods
I chose to go the "easy" route and melted the chocolate chips in the microwave in 20-30 second increments. You need to be sure to not over-cook them, or else it will basically burn.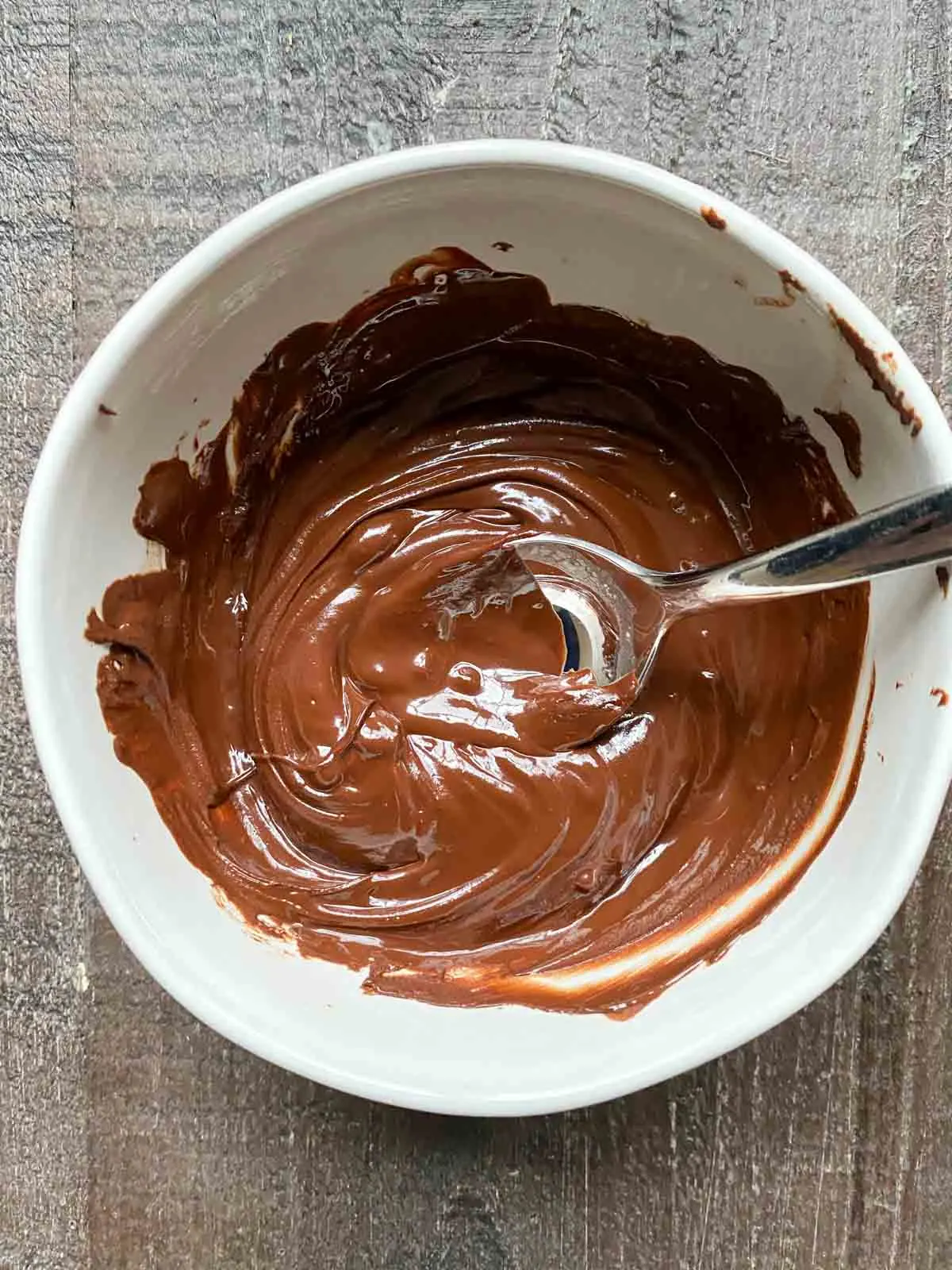 You could also choose to go the traditional way for melting chocolate, in a double broiler (<-linked to instructions).
Once your chocolate is perfectly melted, you'll fill your silicone molds with chocolate.
There are two methods here – one, is to fill it all the way to the top of the sphere with chocolate, and then turn it upside down over the chocolate bowl to dump the excess.
Or you can choose to spoon in the chocolate to each mold, until the sides are covered, without dumping the excess.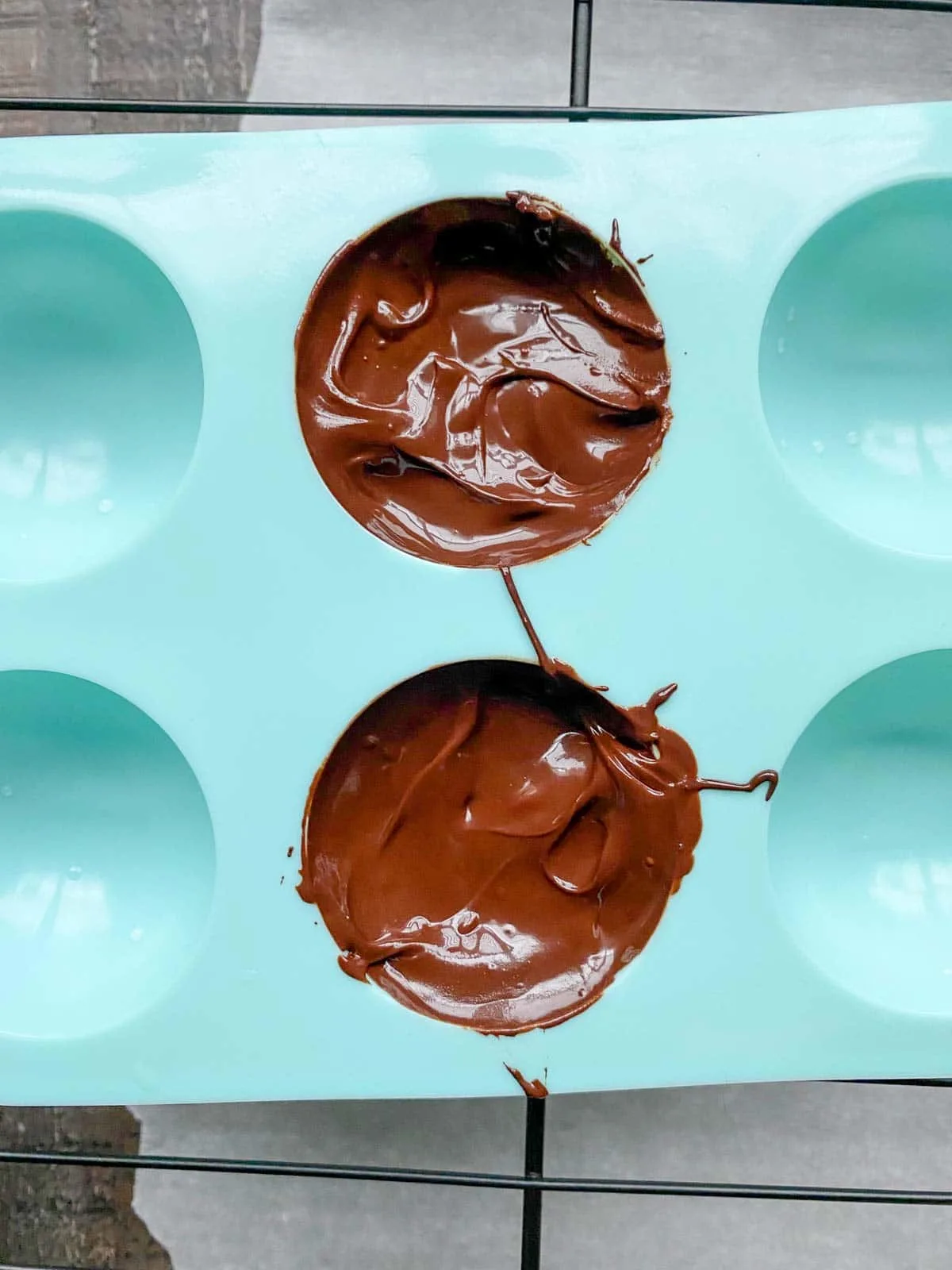 Either way you do it, the 3 biggest tips I have for filling the silicone molds are:
Make sure you cover the whole base with chocolate, or else there will be holes.
Go all the way up to the edges with the melted chocolate, and use a spatula to wipe off excess for smooth edges.
Don't make it too thick – or it may not "explode" properly!
Tip: You can also use fun-shaped candy molds! I tried it with this heart mold and it doesn't fit much hot cocoa in it at all but it is super cute.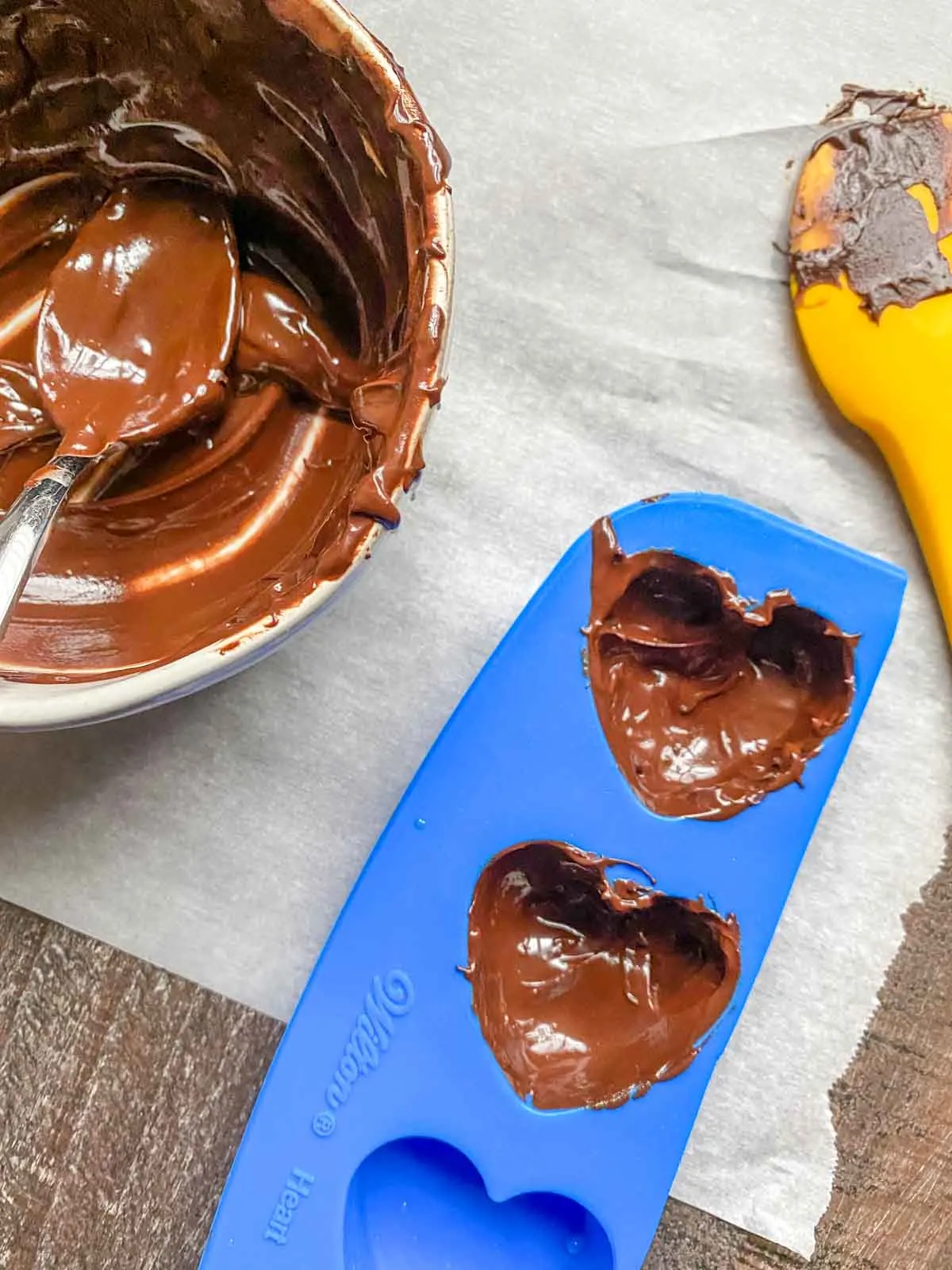 Harden and fill the chocolate shell
After filling your spheres, you'll put them in the fridge or freezer for 10-15 minutes to harden. I recommend the freezer, especially if you plan to decorate the outside of them (so they are extra cold and are less likely to melt when adding more melted chocolate on the outside).
When they are hardened, pop out the spheres from the mold. Fill half of your spheres with hot cocoa mix and marshmallows, and any other fillings you want if there's room. (I use Dandies vegan mini marshmallows.)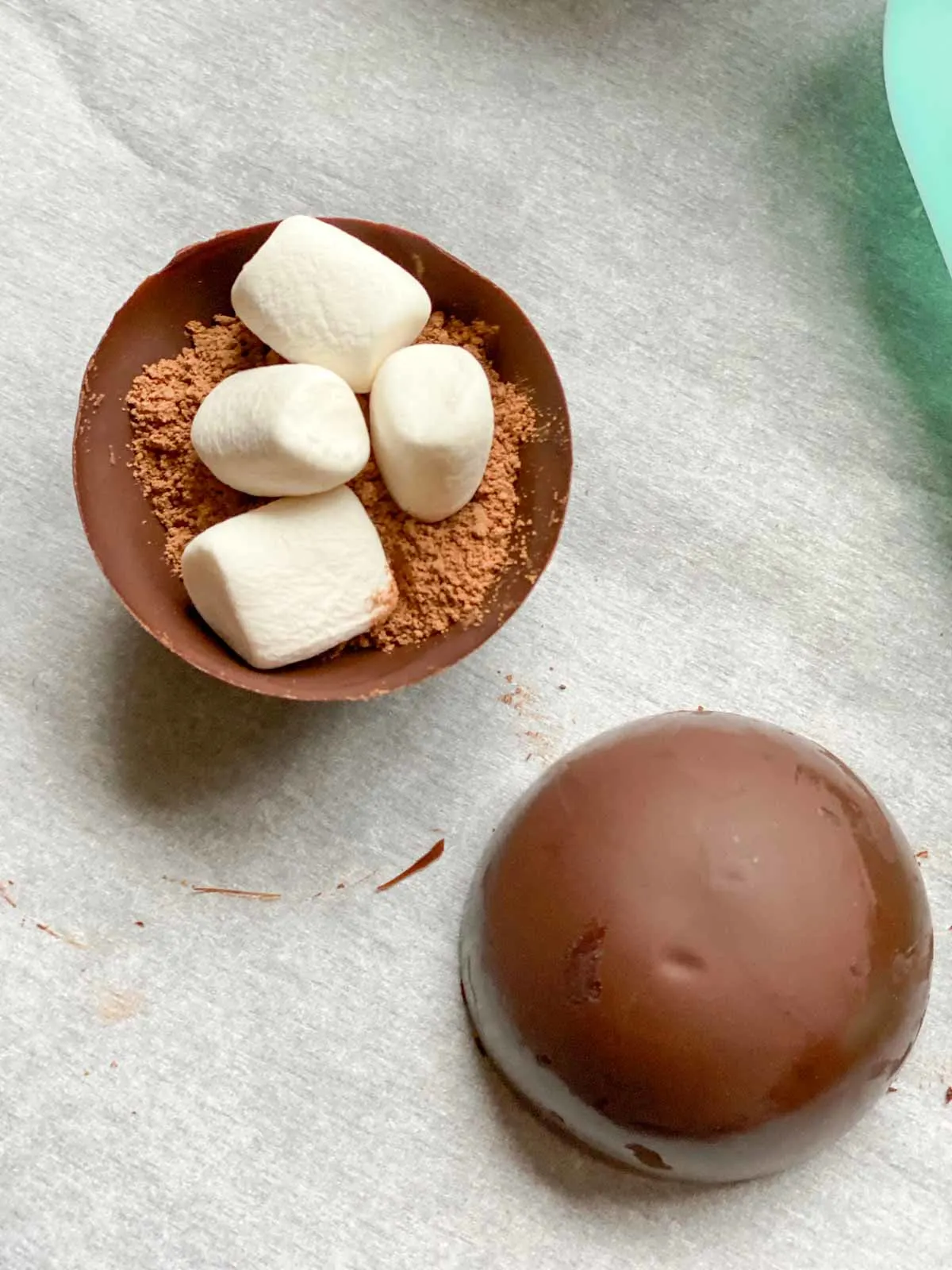 How to Attach the Spheres Together
There are lots of ways I've seen people attach two sides of the sphere to make the ball.
Most methods involve placing the empty sphere on a hot surface for a few seconds (hot plate, pan on burner, etc.) to melt the edge, and then be able to adhere it to the filled sphere.
I tried that way and it usually either ended up making the sphere melt too much or not enough to stick properly.
So my favorite way is to just add more melted hot chocolate!
You can either dip the empty sphere into the bowl of melted chocolate before attaching, or use your hand or a tool to put melted chocolate around the edge. This also allows you to decorate the middle with sprinkles or crushed candy cane if you wish.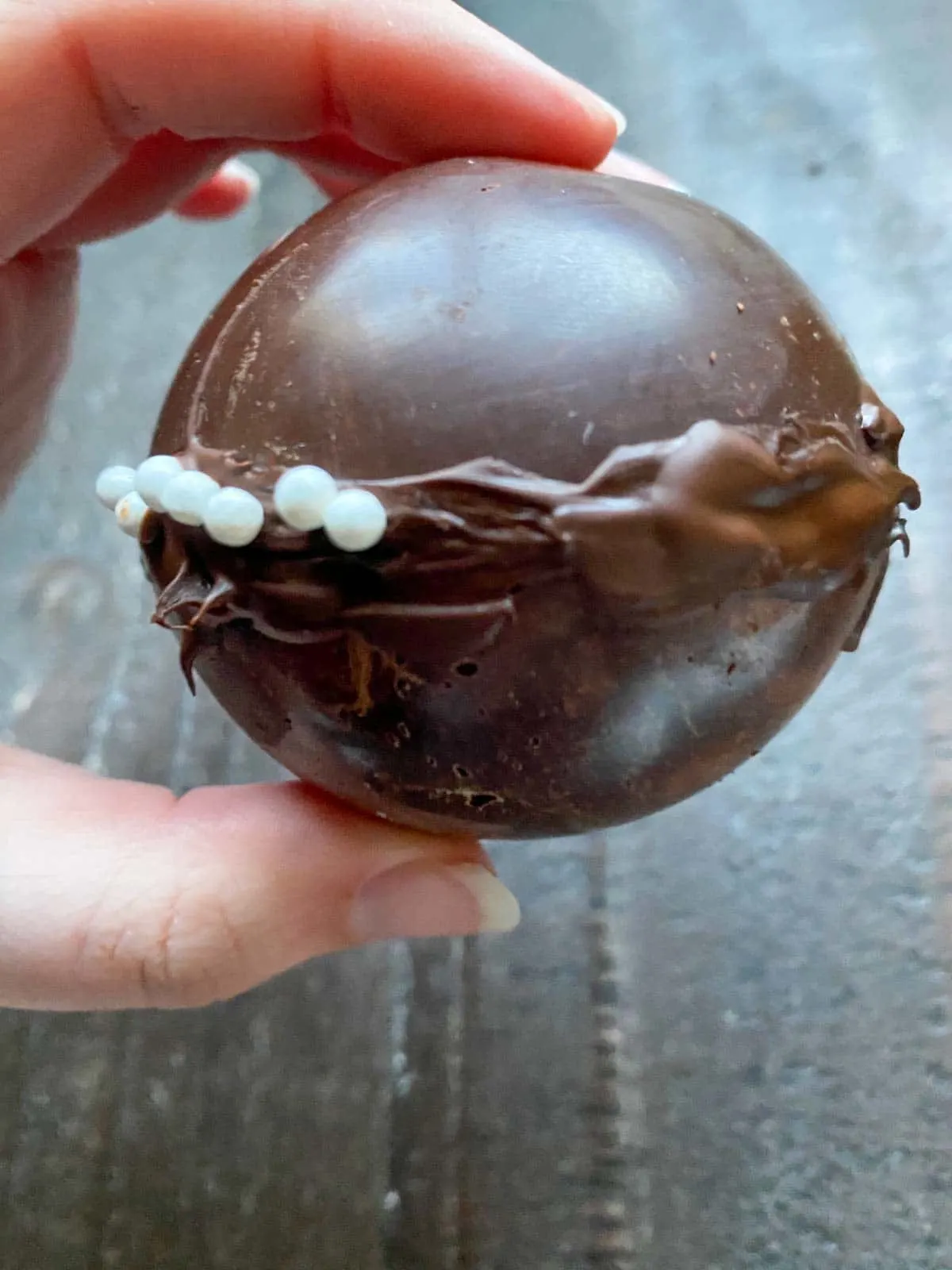 Place carefully back in the fridge or freezer after attaching and they'll be sealed in a few minutes.
Storing
Store the prepared hot chocolate bombs in the fridge until ready to use.
Making Hot Cocoa
When you're ready to make a cup of hot cocoa, just add the hot cocoa bomb in a mug and pour heated milk over it! I use oat milk, but you can use a milk or your choice.
If your hot chocolate mix works with hot water, you could also use water, but it will be much more luxurious with milk.
You can alternatively heat up the milk first and then plop the chocolate bomb in on top, it will likely just melt slower!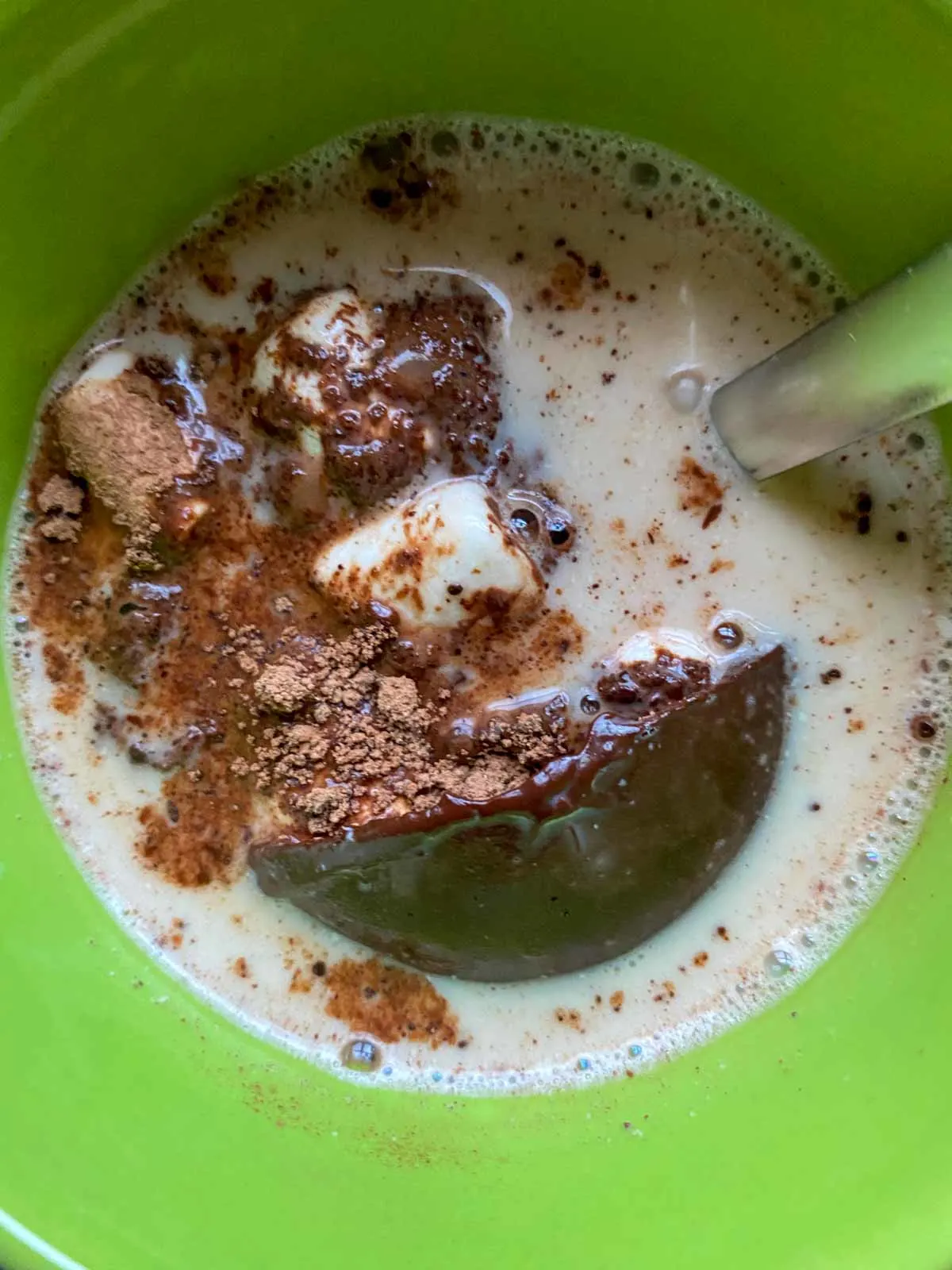 Where to Buy Pre-Made Hot Chocolate Bombs
After reading through all these instructions, you may decide you'd rather just buy pre-made ones! I encourage you do to a local search based on your city, as there are many small businesses and bakeries around that will sell unique ones.
If you can't find a good local option or want a place that will ship to you, I recommend looking at this list on Etsy. (Sometimes "bath bombs" pop up with "hot cocoa bombs" – be sure you're getting the right thing! Yes, I know of someone who has mixed those up!)
Yield: 3 hot chocolate bombs
Hot Chocolate Bombs (Vegan, Dairy-free)
How to make your own hot chocolate bombs! These edible craft instructions are fun for the whole family. This uses vegan and dairy-free ingredients.
Additional Time
30 minutes
Ingredients
1 cup chocolate chips (I used Enjoy Life dark chocolate chips for dairy-free)
3 tablespoons hot cocoa mix (or a combination of cocoa powder + sugar)
mini vegan marshmallows
extras: crushed candy cane, sprinkles
hot oat milk for serving (or milk of your choice)
Instructions
Melt chocolate - in a microwave-safe bowl in 20-30 second increments, stirring in between, until melted. (Can also do a double broiler.)
Fill a 6-count sphere silicone mold with melted chocolate, dumping out excess back into the chocolate bowl after fully coating the sides. Wipe the top with a spatula for clean edges.
Put molds in freezer for 10-15 minutes to harden.
Pop out chocolate from the molds. Fill half the spheres with hot cocoa mix (1 teaspoon for small 2" spheres, 1 tablespoon hot cocoa mix for 2.75" molds) and add mini marshmallows as will fit.
Dip empty spheres into melted chocolate bowl and place on top of filled spheres. Add more melted chocolate to seal as needed before placing the spheres back in the fridge or freezer to harden.
If you have leftover melted chocolate, you can drizzle on top. (Recommended to freeze the balls first so it doesn't self-implode.)
When ready to serve, drop one hot cocoa ball in a mug and pour hot milk of your choice over top until filled. The ball should "explode" and be ready to stir together for a delicious mug of extra-chocolatey hot cocoa.
Notes
*This recipe card includes the simplified instructions for making a few hot cocoa bombs - see the full article write-up for tips, tricks and alternatives!
Nutrition Information:
Yield:
3
Amount Per Serving:
Calories:

350
Variations of Hot Chocolate Bombs Across the Web
Melting snowman white chocolate hot cocoa bombs
Pokemon Poke Ball hot cocoa bombs
Salted caramel hot cocoa bombs
Have you tried this trend for making hot cocoa? Let me know in the comments!