Skinnier Zucchini Bread – made with applesauce and less sugar so you don't feel as much guilt for that second or third slice.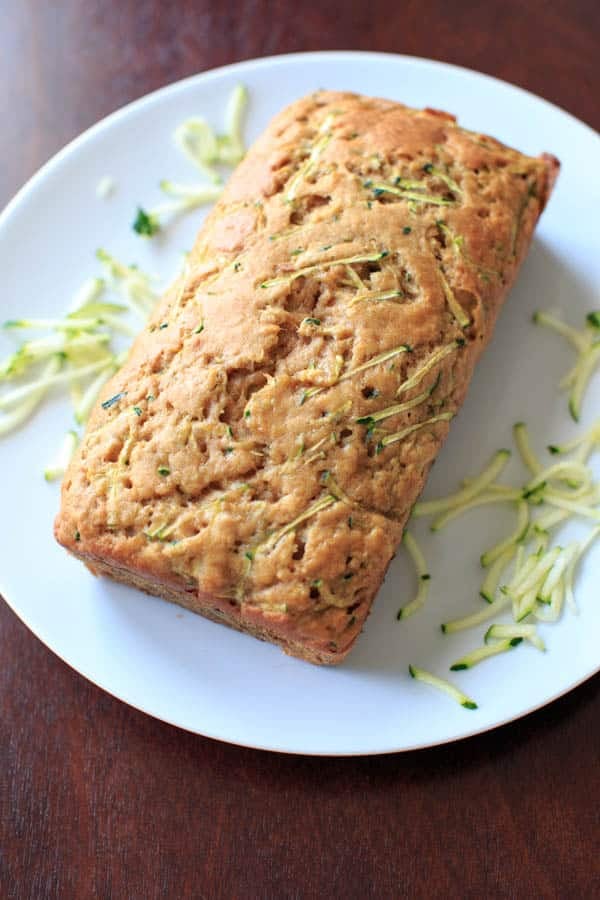 I was a bit worried I had waited too long to post another zucchini recipe since it is autumn already.
But Google tells me that plenty of people still eat zucchini in the fall, right?
Ao I'm going to pretend you're not all tired of this vegetable and give you this recipe anyway.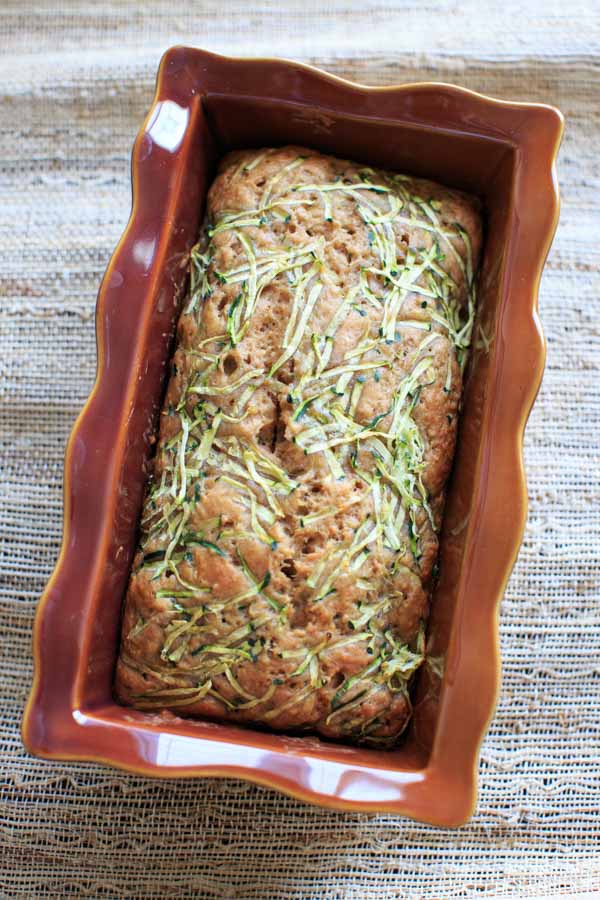 Even though zucchini is apparently one of the easiest things to grow, I still have not mastered growing zucchini (or really anything, for that matter) in my container garden.
The lack of green in my garden always led me to think I needed to buy more zucchini each time I went to the store, and like 99% of the population I ended up with way too much of it.
Nobody warned me that it is never ending and you will always, always have too much.
(Okay, everybody warned me.)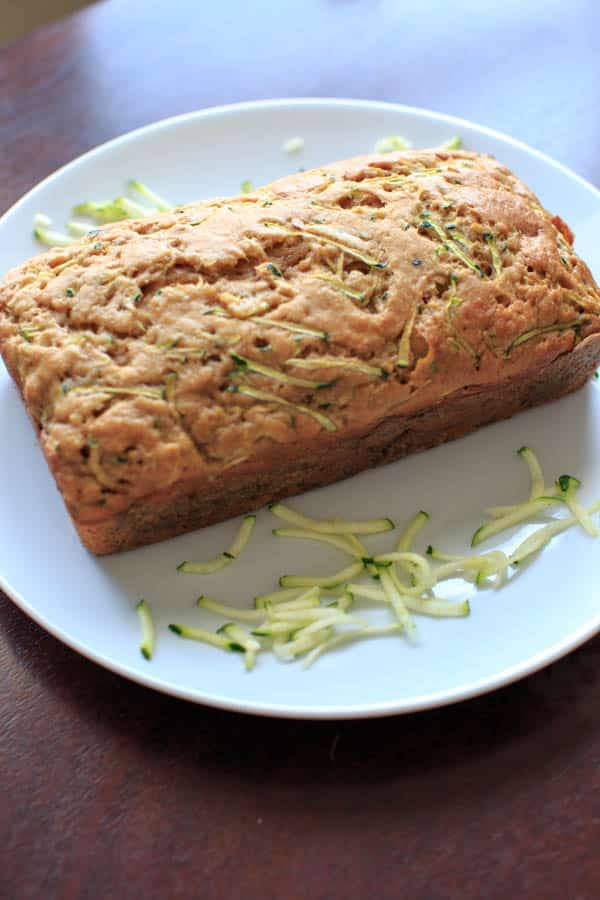 Enter zucchini bread.
I told you that my bread-free days were limited, but I have a really good excuse.
Bread and I get along too well.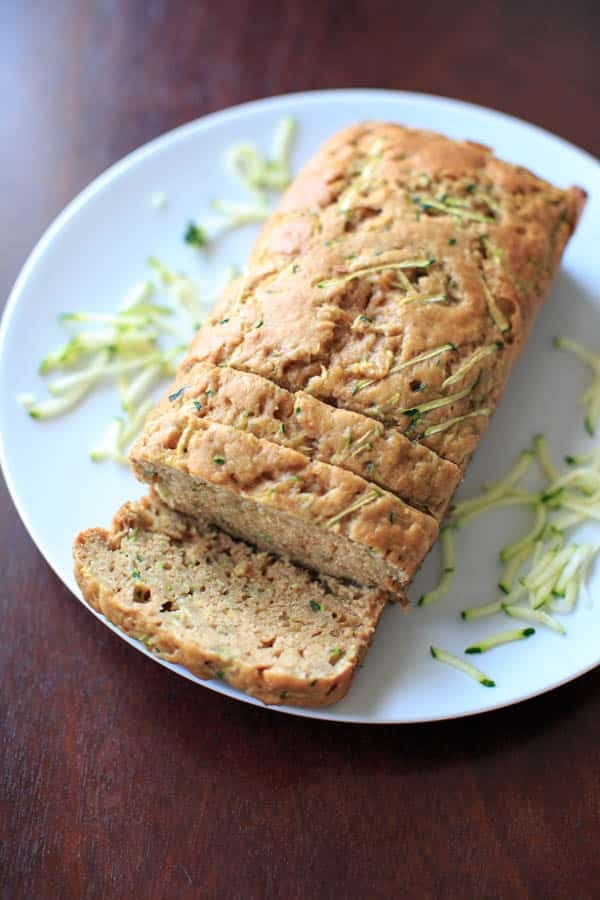 To make up for this fact, I did lighten up the original recipe a bit by replacing the oil with applesauce (I've been known to do that) and cutting out half the sugar.
Sometimes I really just can't stand to put so much sugar into a bowl, knowing I'm probably going to eat at least half of whatever baked good it will turn into.
It obviously is a bit less sweet but I like to save my sugar for more important things.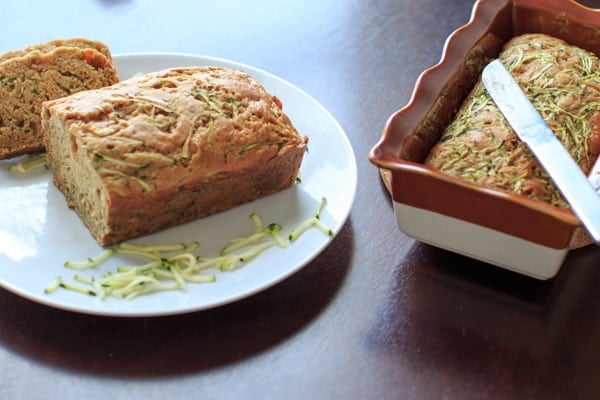 Original recipe called for nuts. I thought about adding chocolate chips but then I probably wouldn't be able to call it healthy.
But you do you.
Skinnier Zucchini Bread
Skinnier Zucchini Bread - made with applesauce and less sugar so you don't feel as much guilt for that second or third slice.
Total Time
1
hour
30
minutes
Ingredients
3

cups

all-purpose flour

1

teaspoon

salt

1

teaspoon

baking soda

1

teaspoon

baking powder

1

tablespoon

cinnamon

3

eggs

1

cup

unsweetened applesauce

1

cup

sugar

1

tablespoon

vanilla extract

2

cups

grated zucchini

(plus more for topping if desired)
Instructions
Preheat oven to 350 degrees Fahrenheit

In a medium bowl, whisk together flour, baking soda, baking powder and cinnamon.

In a larger bowl, beat together the eggs, applesauce, sugar and vanilla.

Gradually add flour mixture until combined.

Stir in zucchini.

Pour into bread pans (2, 8x4 inch pans) and bake for 40-60 minutes or until knife comes out clean.
Notes
Recipe adapted from allrecipes
Nutrition facts are per loaf.
Recommended items for this skinnier zucchini bread including my favorite baking pans, knife and spiralizer can all be found in the Trial and Eater amazon store!
*There are affiliate links within this post that we can earn a commission on at no extra cost to you.