Pineapple Tofu – a vegan & gluten-free meal that's ready in only 15 minutes, with a tropical twist of pineapple and mint.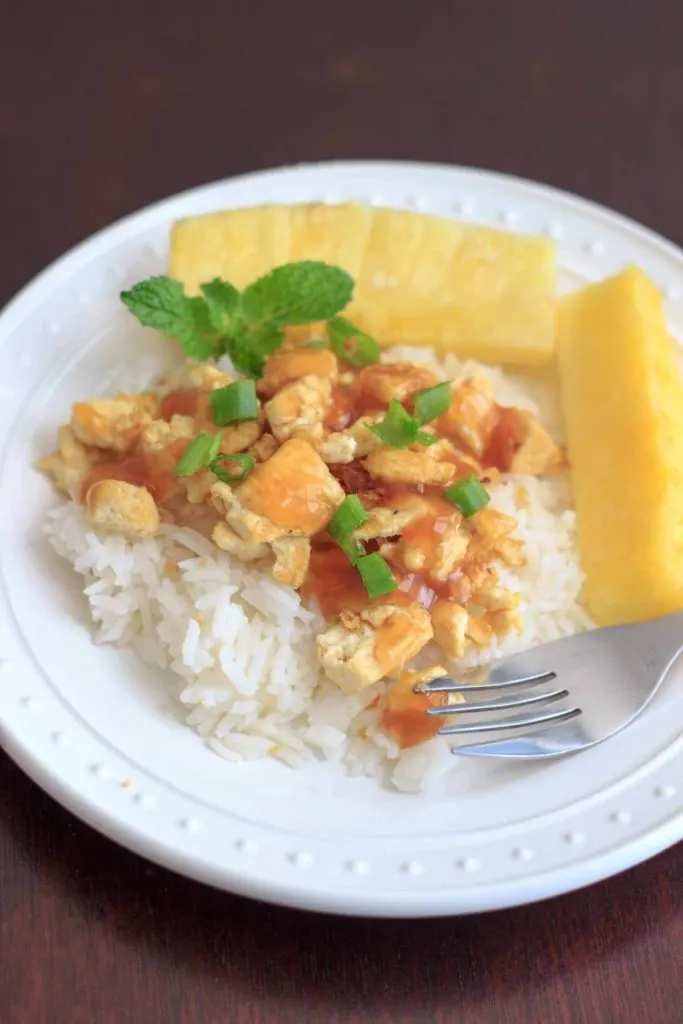 Can you believe it's taken me 150 recipes before I posted a tofu recipe? For a vegetarian blog, that seems a bit remarkable to me.
This is actually a recipe I made a long while ago. I'm sorry I've kept it from you this long.
A lot of people I know claim they don't like tofu. But I think tofu tastes like whatever you put on it!
For that reason it is pretty easy to get creative with tofu by just stir-frying it and topping it with a variety of sauces.
This pineapple-mint sauce gives it a tropical feel, and as long as you like pineapple, I think you'll like it.
And this time of year is an easy time to be dreaming about tropical vacations (like Aruba). Sadly, this pineapple tofu might be the closest I get to that dream for a while.
Perhaps I should call this tropical tofu?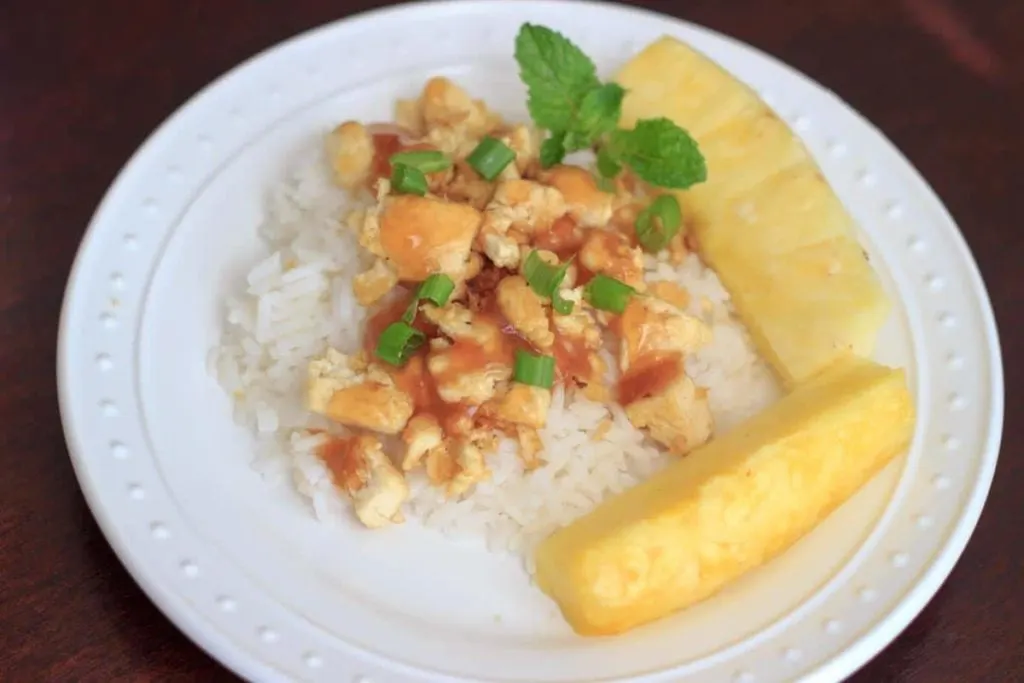 A few fresh mint leaves are chopped up and included in the sauce. You can garnish with some more fresh mint if you like, but eating it straight up is not something I'd recommend.
Serving with rice is a good way to bulk up this recipe a bit and also to soak up some of the extra pineapple sauce.
For this pineapple tofu recipe I like to buy the cubed extra firm tofu (1/2 inch size) as it helps with even cooking when stir-frying. (Also makes cooking time a little quicker.)
I also tried it with slicing up a slab myself, so if you prefer larger pieces do what works for you.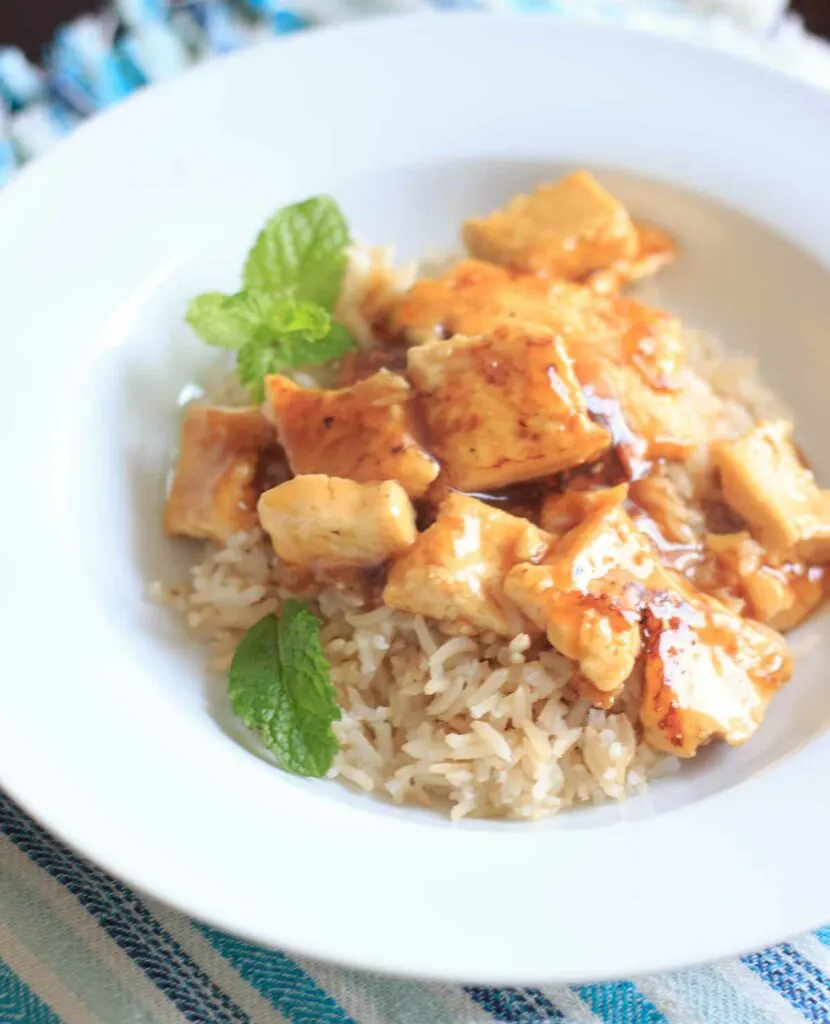 Pineapple spears and green onion are also optional garnishes, but see how pretty?!
The green really helps with the dish appeal of this recipe – otherwise it's just a yellow-orange blob on your plate.
Not a great way to convince someone to eat tofu that doesn't think they'll enjoy it.
So make it pretty!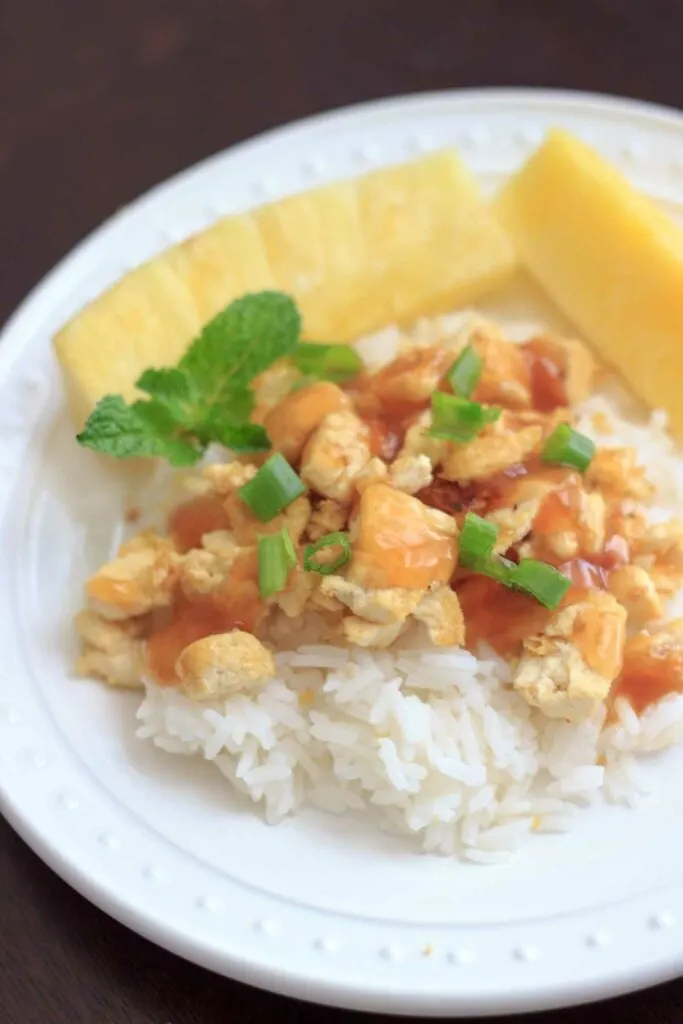 If you have some more mint leaves you'd like to use, my blueberry mint lemonade is a good beverage pairing!
Yield: 2 servings
Pineapple Tofu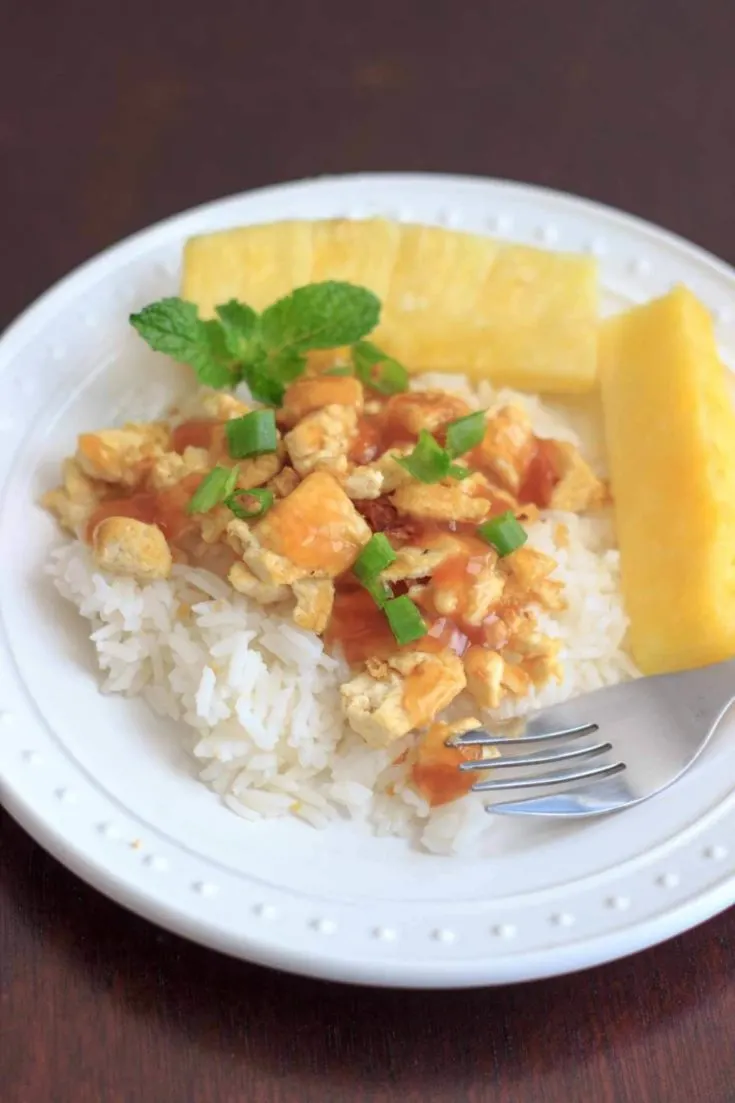 Pineapple Tofu - a vegan & gluten-free meal that's ready in only 15 minutes, with a tropical twist of pineapple and mint.
Ingredients
1.5 tablespoons vegetable oil or coconut oil
1 (14 oz.) package extra-firm tofu (cut into cubes or in thin slices)
¾ cups pineapple juice (100%, not from concentrate)
2 tablespoons brown sugar
1 tablespoon cornstarch
1 tablespoon soy sauce (or tamari sauce or other gluten-free soy sauce if gluten-free)
½ tablespoon rice vinegar
4 fresh mint leaves (plus more for garnish if desired, chopped)
Cooked rice (optional, for serving)
chopped green onions (optional, for garnish)
fresh pineapple spears (optional, for garnish)
Instructions
In a large cast iron pan, add oil and heat for 30 seconds (or until melted for coconut oil).
Stir-fry tofu with oil over medium-high heat for 7-8 minutes or until browned.
Meanwhile, in a small pot add pineapple juice, brown sugar, cornstarch, soy sauce, rice vinegar and a few chopped fresh mint leaves. Bring to a boil, then reduce heat to low and simmer for 5 minutes until thickened.
Add pineapple sauce to tofu, either all at once or as preferred for individual servings.
Serve with rice and garnish with green onions, fresh pineapple spears and mint.
Nutrition Information:
Yield:
2
Amount Per Serving:
Calories:

436
Total Fat:

20g
Saturated Fat:

7g
Trans Fat:

0g
Unsaturated Fat:

12g
Cholesterol:

0mg
Sodium:

454mg
Carbohydrates:

58g
Fiber:

3g
Sugar:

25g
Protein:

9g
Nutrition information is calculated automatically by an online tool at Nutritionix. It is not always accurate. Please use your own tools to check if you rely on this information.