This post was sponsored by Silk and Collective Bias, Inc. All opinions are mine alone.
Peanut Butter Chocolate Overnight Oats – a vegan, gluten-free, healthy breakfast that will feel more like dessert than breakfast. Sweetened with maple syrup, no added refined sugar.
Looking for a product to help make overnight oats even easier? Check out this review on the company Oats Overnight.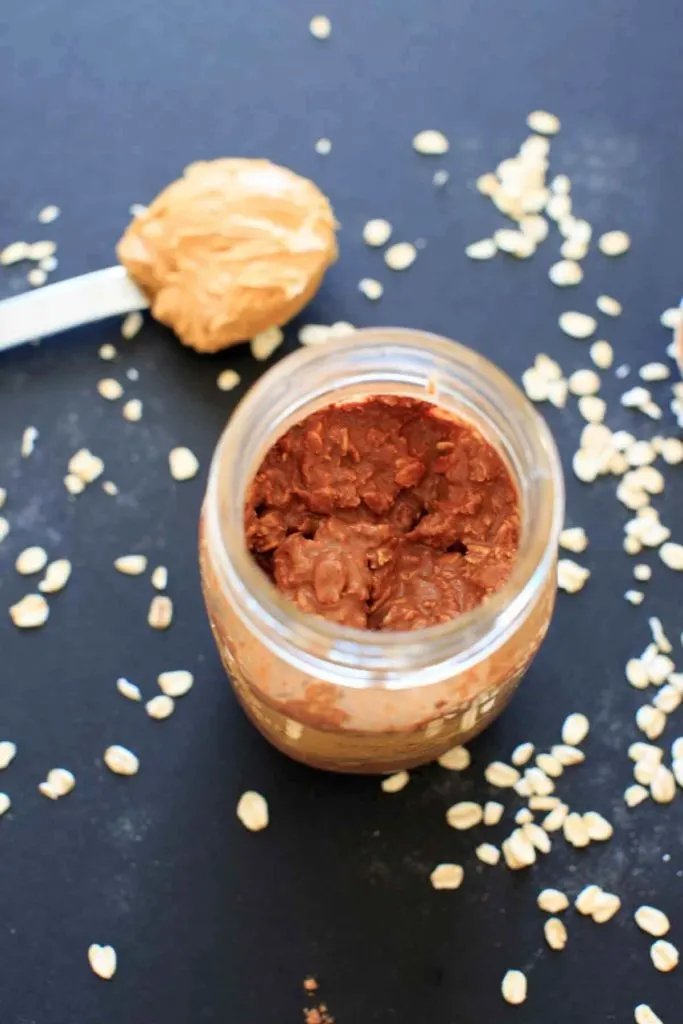 Considering my overnight french toast was such a hit, I thought I'd try another "overnight breakfast" fad – oats. Breakfast is a struggle for me because as I've shared before, I am not a morning person. This year one of my many goals is to make mornings a bit easier. If chocolate + peanut butter won't get me out of bed, I don't know what will.
I know I'm not alone when I say 2016 was a rough year. I'm determined for 2017 to be the complete opposite of that, meaning amazing. New year, new me. New life, new breakfast.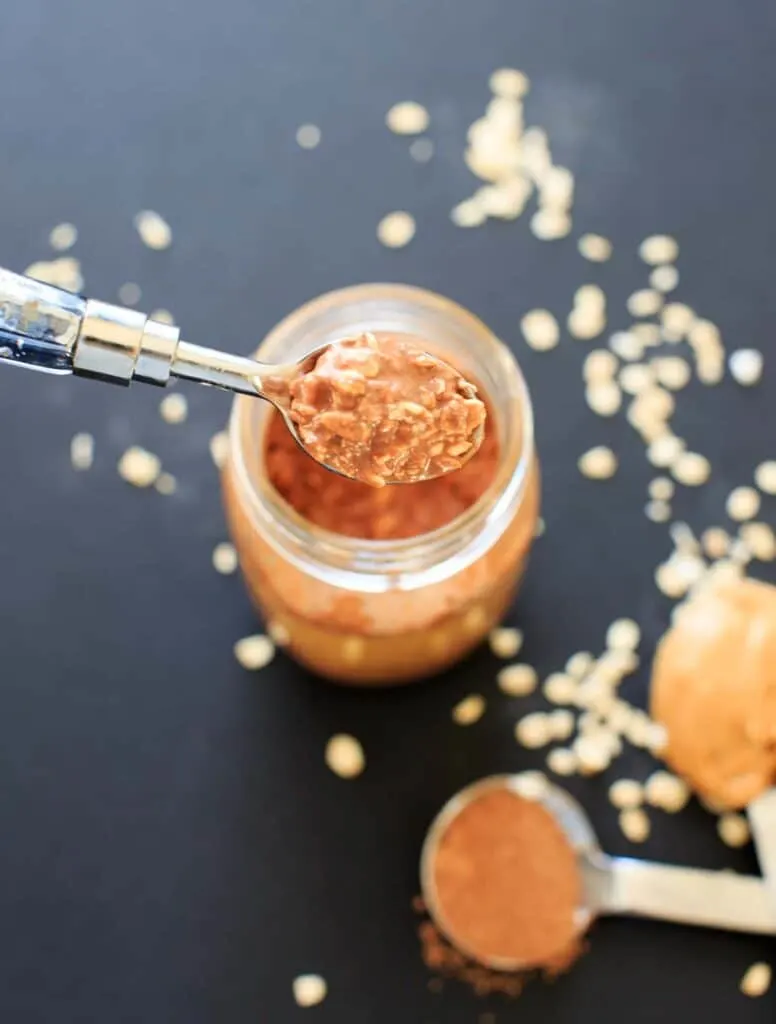 While I'm not vegan (because, cheese) I do try to leave out dairy when I can. One of the ways I've been doing as of late is replacing milk with almond milk. I chose to partner with Silk Milk for this recipe because their brand is carrageenan-free, with no artificial colors or flavors. And those are things we love.
Silk also just came out with a new dairy-free yogurt. Originally I was including the yogurt in these overnight oats, but since they can't be labeled as completely vegan I left it out of the final recipe. However it makes a good breakfast side if you aren't a strict vegan but still want to go dairy-free. It comes in 6 flavors (I tried the vanilla) and gives you 6 grams of plant-based protein.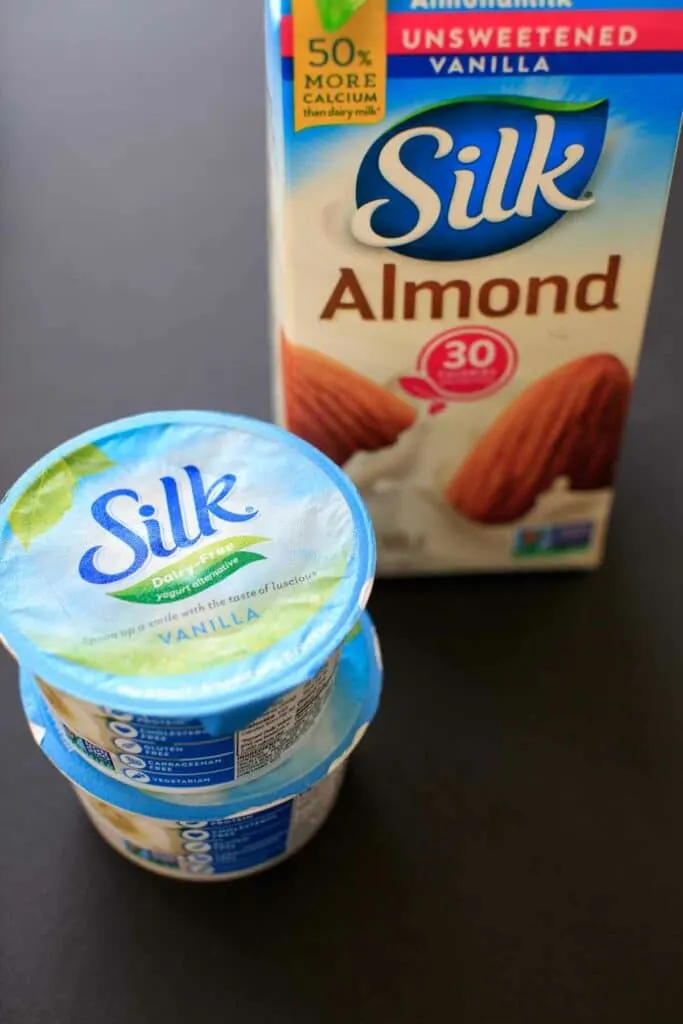 Back to the oats. Chocolate + peanut butter seemed like a no-brainer for the flavor combo, but it did take some recipe testing to figure out the right consistency.
I ended up preferring equal parts almond milk and oats (3/4 cups each), with a tablespoon of maple syrup, and 2 tablespoons of both peanut butter and cacao or cocoa powder. I tried one with chia seeds, but I decided those should stay out of my peanut butter cups.
This is another one of those recipes you can modify if you like – depending on consistency and sweetness preferences.
After trying 5 different variations I still didn't realize that most people use instant or quick oats for these overnight oat recipes, and I used rolled oats. They are pretty similar, so use what you've got!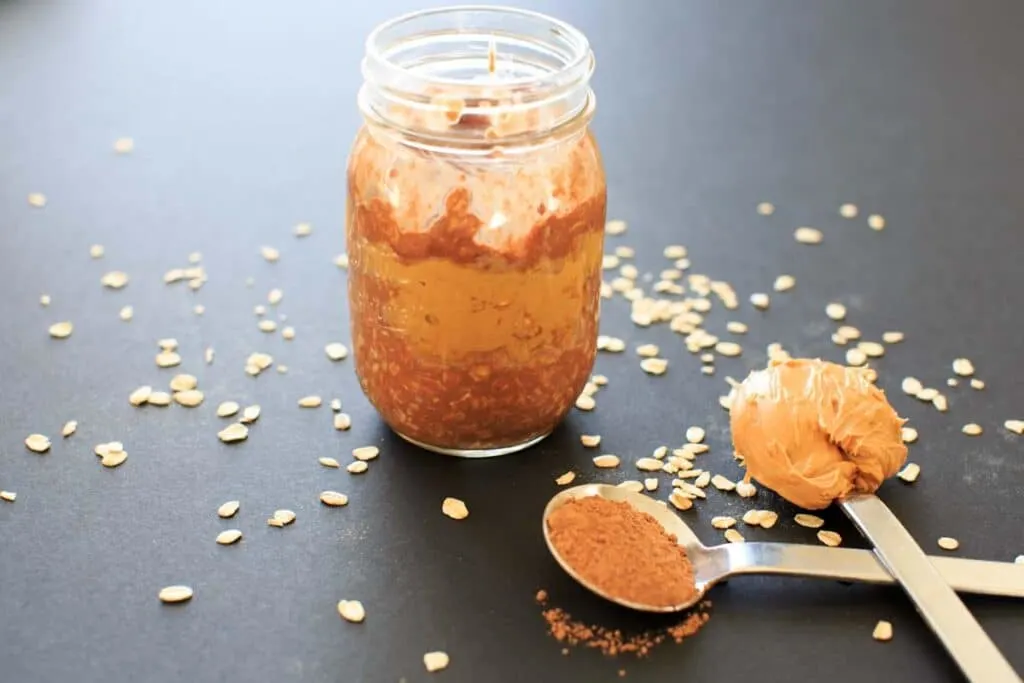 If you don't like the idea of cold oats in the morning, I also tried this heated.
The idea of overnight oats to make it a quick grab-and-go option in the morning, but no judgment if you prefer to pour it in a bowl and heat it up instead.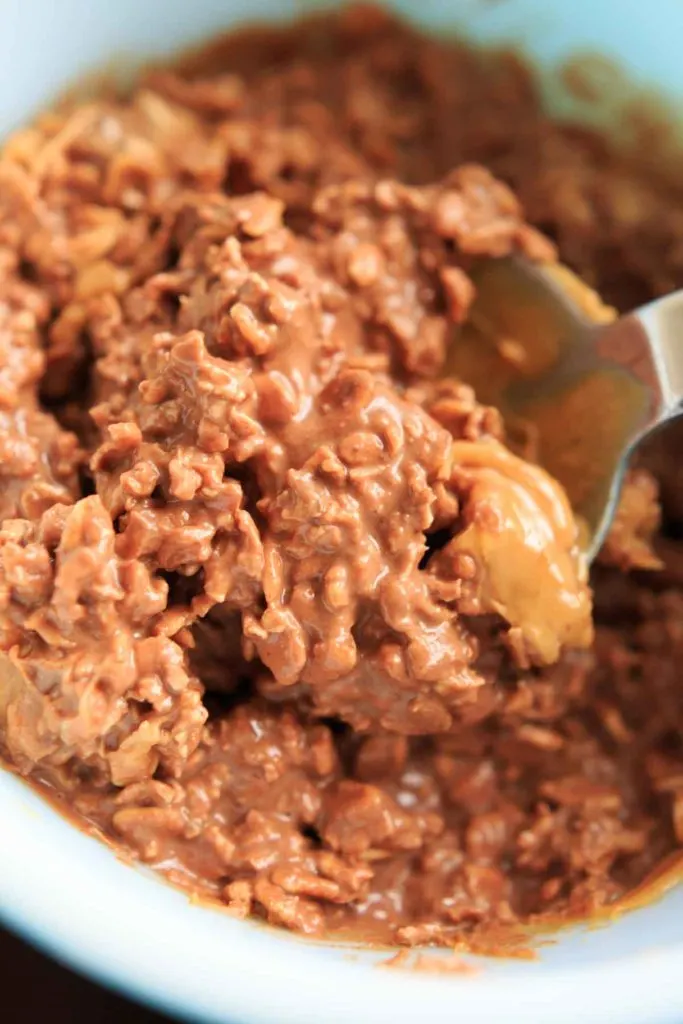 Funny side story – I was shopping for this recipe at Walmart right around an ice/snow storm that hit here in NC about a week ago.
North Carolina basically shuts down at the mere mention of snow, and everyone makes a mad run to the store for milk and bread like we're going to starve to death. So needless to say, the shelves were pretty bare the first Walmart run I made.
I went back a few days later (when it was then 70 degrees, no lie) and was able to get a better picture of where you can find the Silk products. They are releasing new packaging any day now.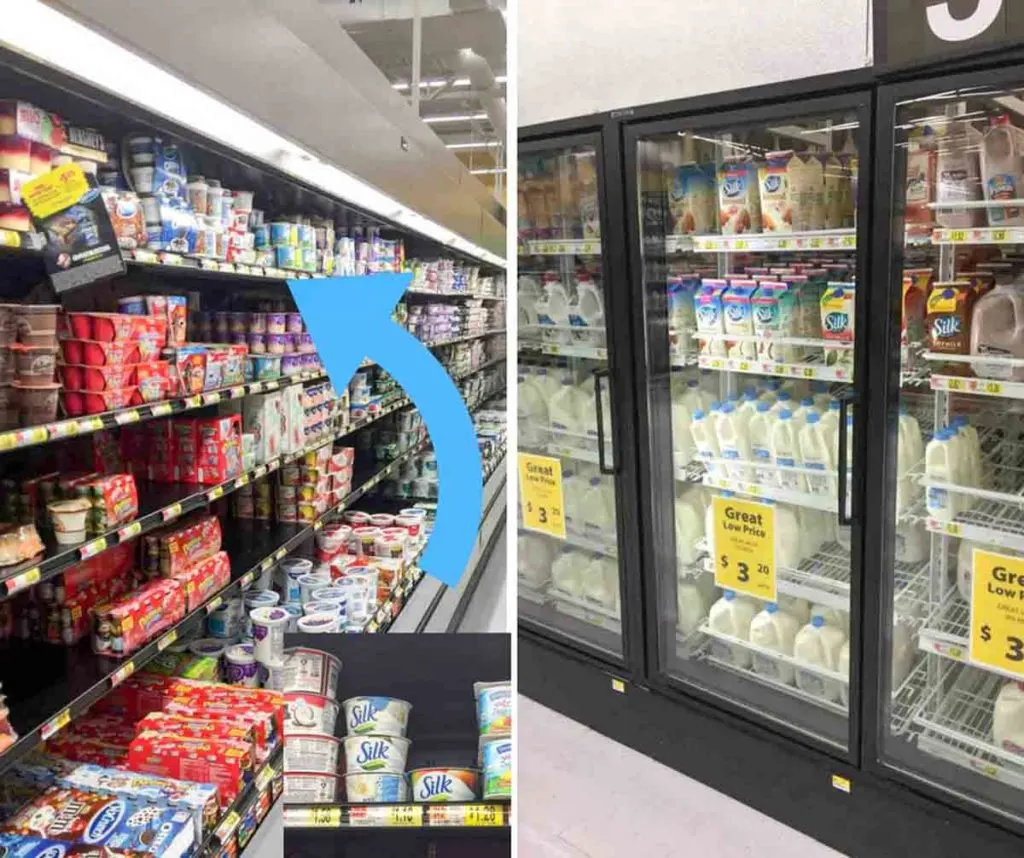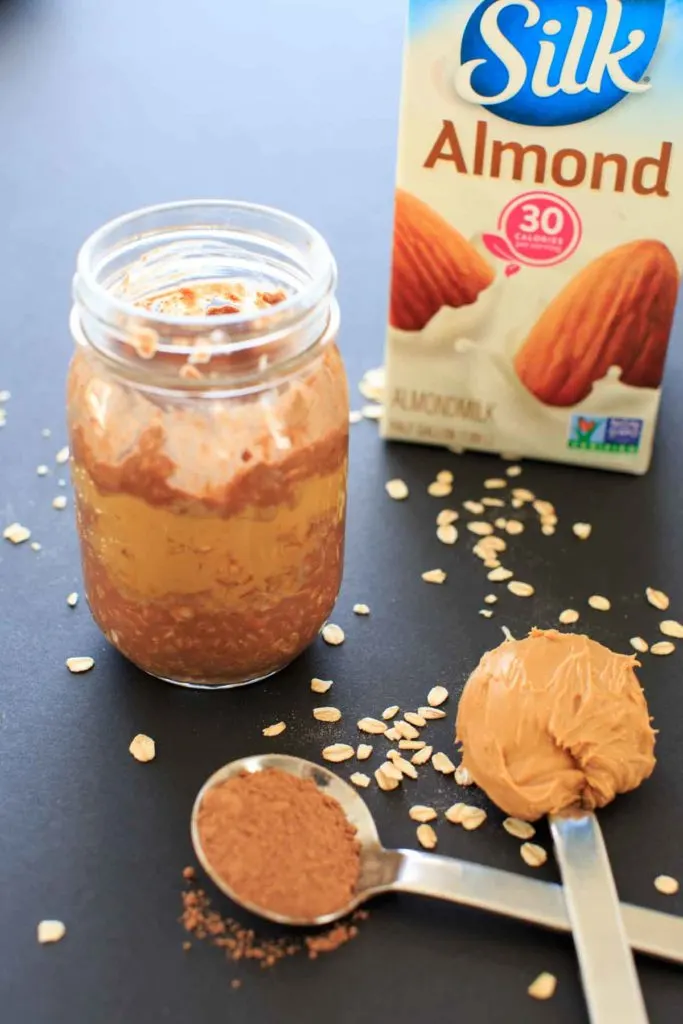 Yield: 1
Peanut Butter and Chocolate Overnight Oats
Peanut Butter Chocolate Overnight Oats - a vegan, gluten-free, healthy breakfast that will feel more like dessert than breakfast. Sweetened with maple syrup, no added sugar.
Ingredients
3/4 cup rolled or instant oats
3/4 cup Silk unsweetened vanilla almond milk
1 tablespoon maple syrup
2 tablespoons unsweetened cacao or cocoa powder
2 tablespoons peanut butter
Instructions
In a mason jar or other container of at least 16 oz, add the oats, milk, maple syrup, and cacao. Stir or shake until combined. Add peanut butter in as swirls or mix completely.
Cover and place in refrigerator overnight or a minimum of a couple hours. Will keep for 2-3 days in fridge.
Notes
Prep time doesn't include time in refrigerator.
Nutrition Information:
Yield:
1
Amount Per Serving:
Calories:

494
Total Fat:

22g
Saturated Fat:

4g
Trans Fat:

0g
Unsaturated Fat:

14g
Cholesterol:

0mg
Sodium:

160mg
Carbohydrates:

61g
Fiber:

10g
Sugar:

15g
Protein:

17g
Nutrition information is calculated automatically by an online tool at Nutritionix. It is not always accurate. Please use your own tools to check if you rely on this information.