This post contains affiliate links, which means I may receive a small commission if you make a purchase after clicking on my links. All opinions are my own.
A review of the overnight oats mixes from OatsOvernight! There are both vegan options and vegetarian options, and the flavors include blueberry cobbler, peach upside down cake, strawberries and cream, maple pancakes, mocha dream, chocolate peanut butter banana, green apple cinnamon and chai latte. Read more about them and find a discount code below!
Ready to buy and don't need to see the review? Use this link and enter coupon code OATSOVERNIGHT10 at checkout to save 10% on your purchase!
Oats Overnight wants to make your mornings a breeze with pre-packaged overnight oats in a variety of flavors. In fact, their motto is "Life is hard. Make breakfast easy!" Here is my honest, unpaid review of the Oats Overnight products after receiving a sampler package of their flavors.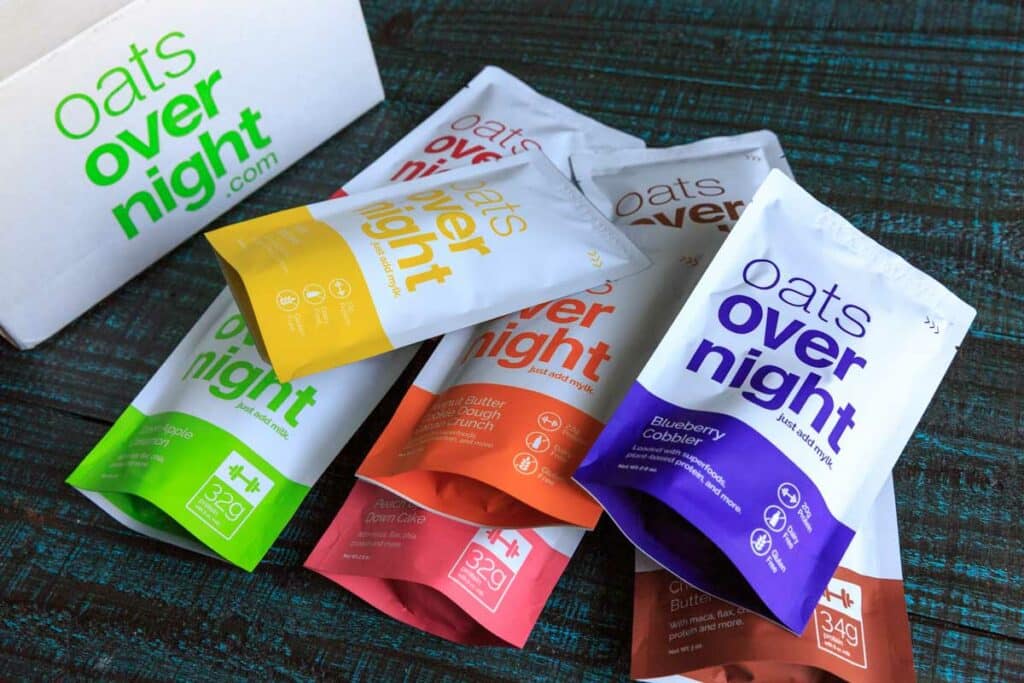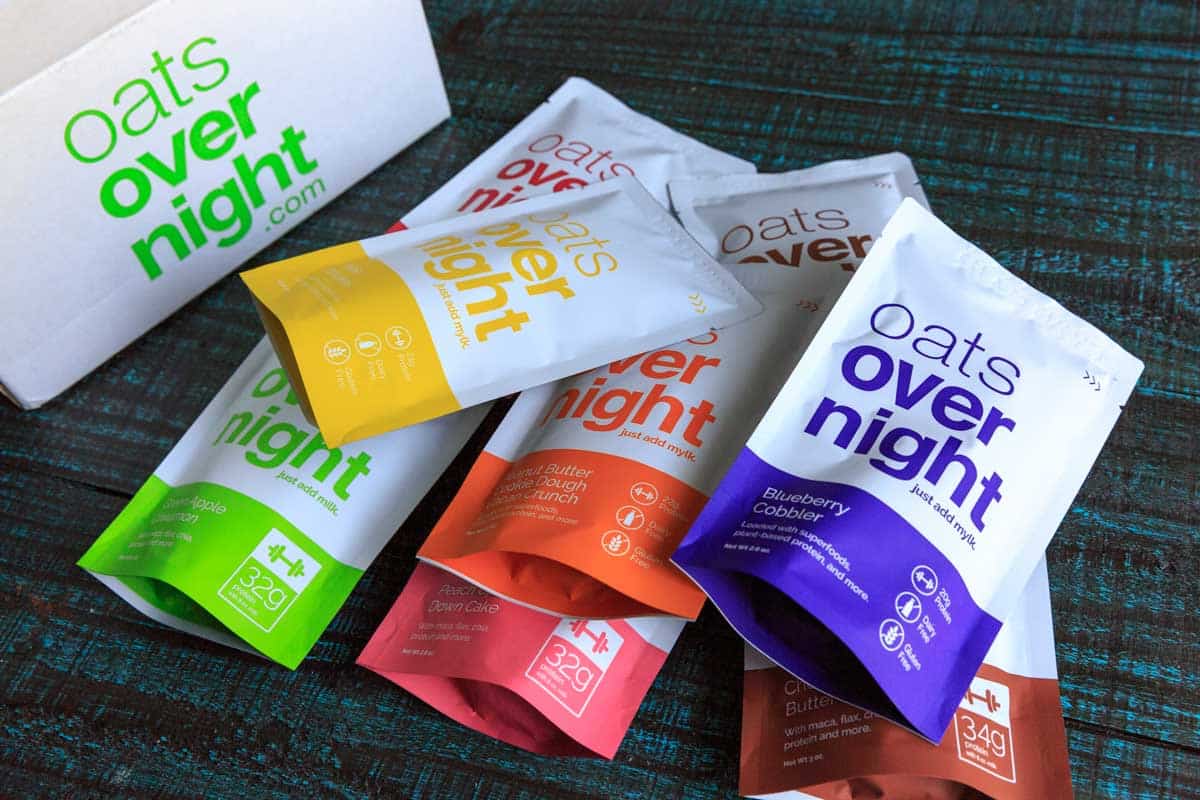 The Oats Overnight Products
There are currently 10 flavors of oat packets that I have tried from Oats Overnight (they've released a few more since then) – 4 plant-based flavors and 5 classic vegetarian options.
I love that they all have an amazing amount of protein (20+ grams each), which can be challenging to do for vegans and vegetarians – especially for breakfast! All of the flavors are also certified gluten-free.
The plant-based options say "Just add mylk" instead of "milk," so you can use almond milk or your favorite non-dairy option to keep them vegan. I actually like to use oat milk, not only because I think it's the best-tasting non-diary milk, but to keep with the oat theme!
The 5 options for vegan flavors include:
Blueberry Cobbler – 20 grams of protein, 9 grams of sugar and superfoods like chia seeds (My current personal favorite.)
Peanut Butter Cookie Dough Cacao Crunch – 22 grams of protein, includes superfoods like cacao and hemp
Maple Pancakes – superfoods like flax seed and maca, and 21 grams of protein
Chai Latte – 20 grams of protein, 7 grams of sugar, caffeinated + filled with flavors like cinnamon, ginger and clove
Caramel Cold Brew – 65 mg of caffeine, 20 grams of protein
VERDICT: I love the vegan flavors of the ones I've tried. They are naturally sweetened with monkfruit (which isn't true for the "Classic" flavors, as you'll read below) and yet still packed with at least 20 grams of protein each.
Shop vegan flavors by clicking here.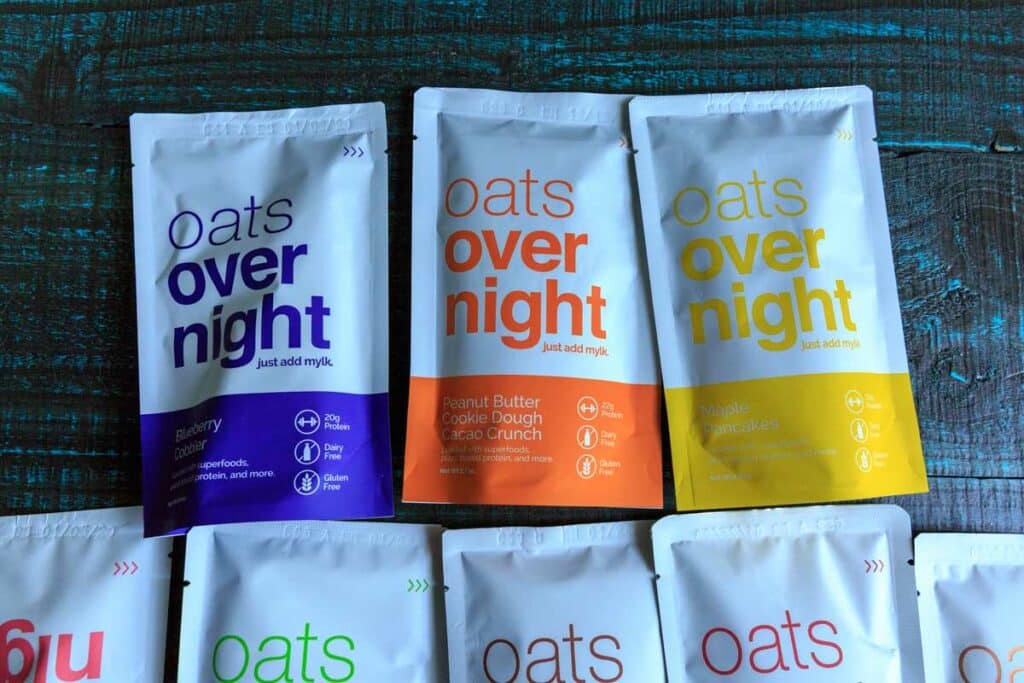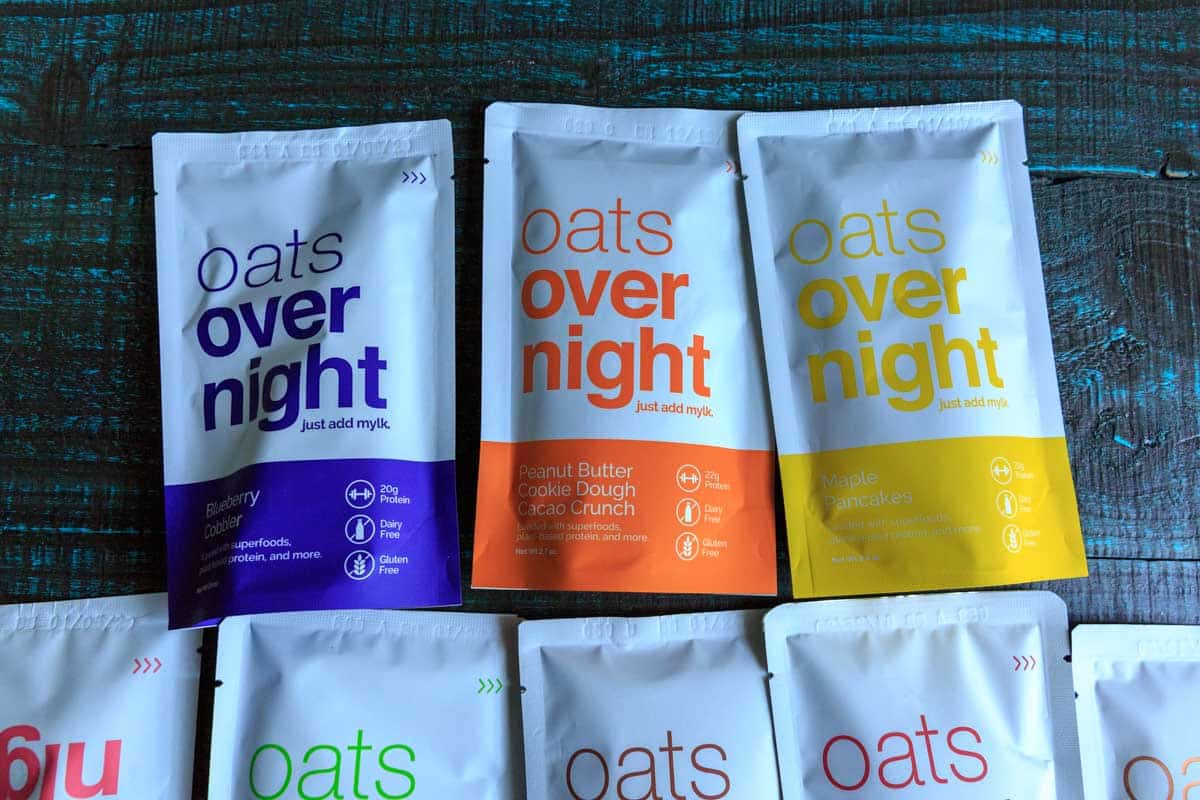 The other flavors contain dairy products, and are part of their "classic" collection.
Mocha Dream – with cacao, coffee (90 mg of caffeine!), maca and 32 grams of protein
Strawberries & Cream – 26 grams of protein, 6 grams of sugar, includes maca, flax and chia seeds
Green Apple Cinnamon – 24 grams of protein, 5 grams of sugar, includes maca, flax and chia seeds
Peach Upside Down Cake – 24 grams of protein, 7 grams of sugar, includes maca, flax and chia seeds
Chocolate Peanut Butter Banana – 26 grams of protein, 5 grams of sugar, includes maca, flax and chia seeds
Note that the protein content on the packages is the total when prepared with regular milk, the numbers listed above is the protein content for just the mix!
VERDICT: While I love the variety of these flavors, be aware that they are sweetened with Ace-K and sucralose. Do your own research on sweeteners and make up your own mind if this is a deal-breaker for you, but personally I try to stay away from these types of sweeteners.
The vegan flavors win out for me mainly because of the sweeteners!
Shop all flavors by clicking here.
Note: There is also a birthday cake flavor and a salted toffee, which I haven't tried but are sweetened with monk fruit.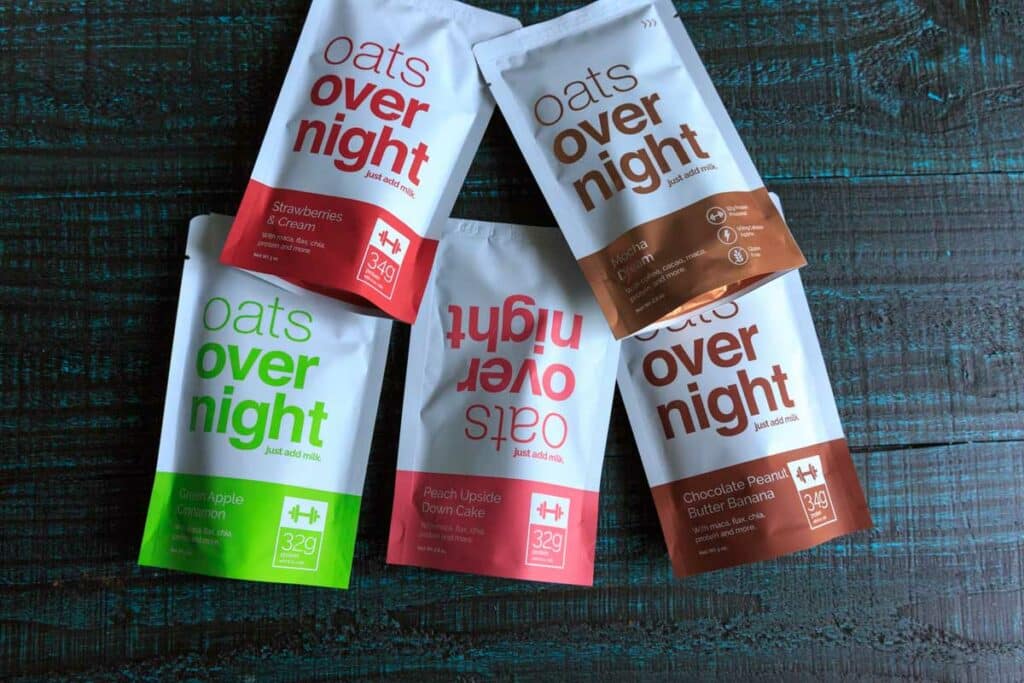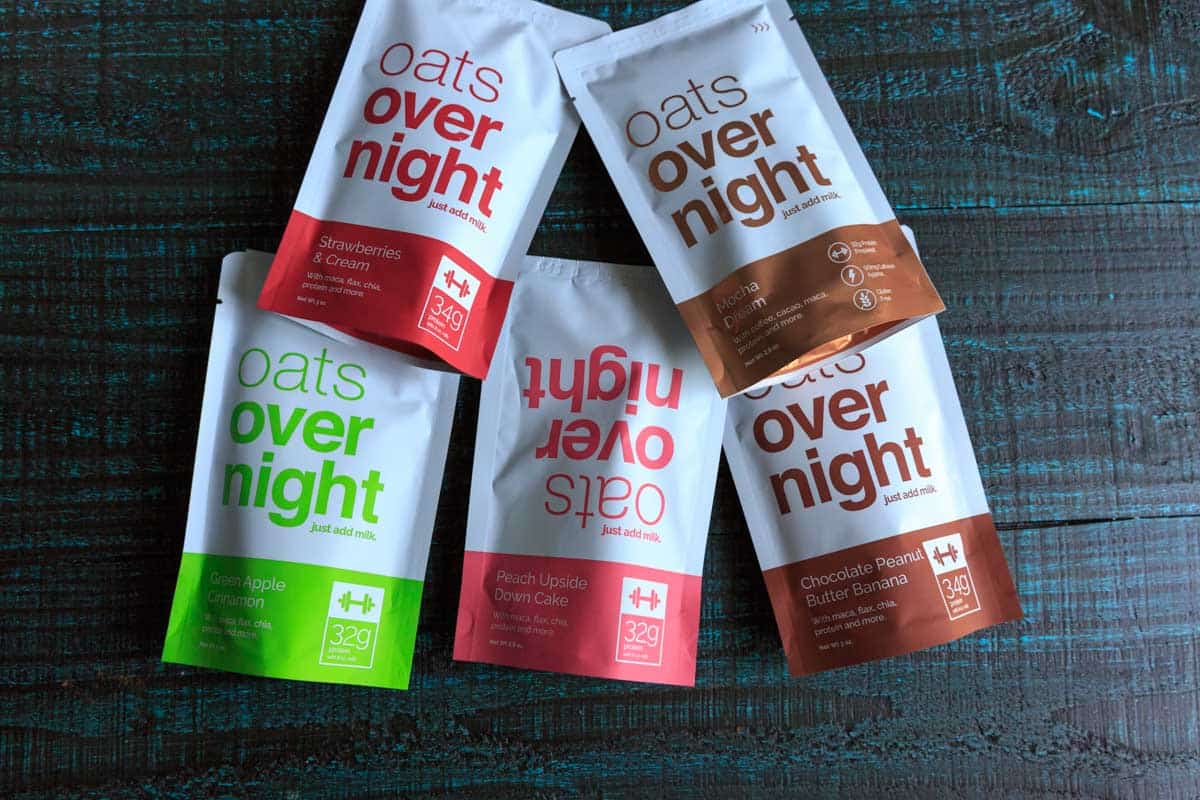 How to Eat the Oats Overnight Mixes
You can prepare these ahead of time (the night before) and mix them in the Oats Overnight container to drink on-the-go in the morning, or you can eat them right after you make them.
I actually prefer to mix the oats with a little less milk and eat them right away! Play around with the amount of liquid you add to see if you like the consistency of drinking them (which is a great option for people who need a liquid breakfast or eat while commuting), but I still prefer to eat them with a spoon!

Review Summary of Oats Overnight
While you can always make your own customized flavors of overnight oats, I love that Oats Overnight has made it super easy for you in individual packets. If you have busy mornings and have trouble finding time to eat breakfast, this is a great, PORTABLE option for you!
I hope they will continue to add more flavors that aren't sweetened with Ace-K, but in the meantime I will be enjoying the plant-based flavors on the regular!
Which one will you try first?!