It took me a few months to get to writing this post, because I wasn't sure at first if I wanted to start writing travel posts. I finally figured since most of my travel does revolve around food, I would expand the "trying and eating" talk beyond just my own recipes. I also just got back from a trip to Austin, TX where I am DYING to talk about all the food I ate there. But since I like to do things in order, I'll start with my Aruba trip.
I went to Aruba this summer for about 5 days with a group of friends new and old. It was kind of a last-minute trip, as a couple of us were going through some tough times and decided a tropical getaway was in order. Aruba did not disappoint.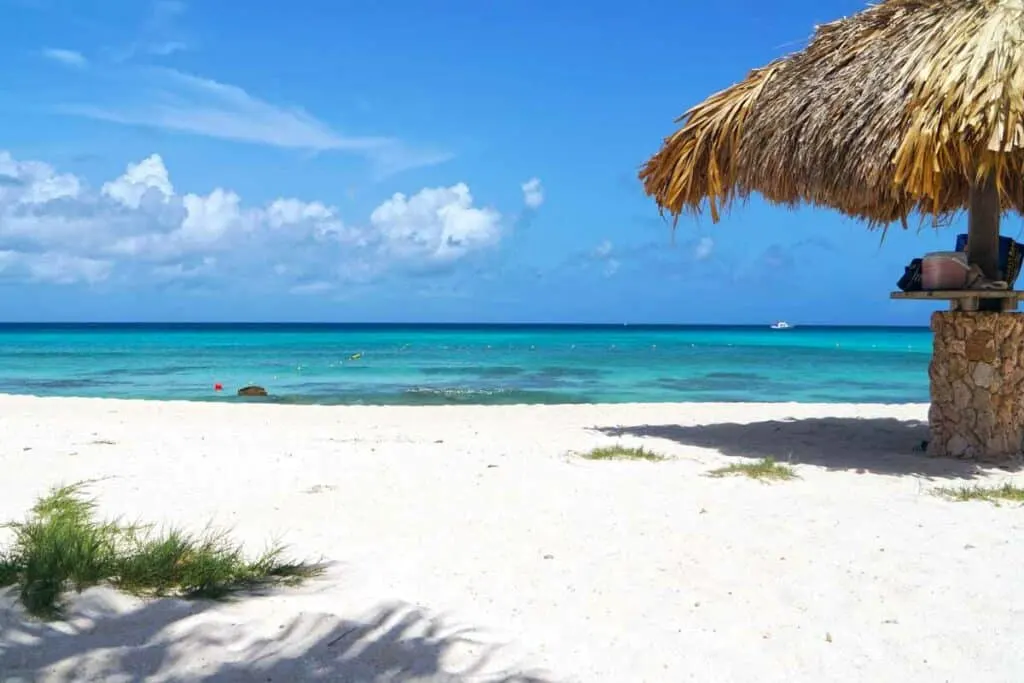 A couple reasons we chose Aruba were that flights were not that expensive (we were all flying in from different cities). At least not as expensive as some other places we looked in the Caribbean. Also, Aruba is south of the hurricane belt, making weather related travel delays rare. When you're looking to travel in June, that's a big deal!
Several people I talked to about Aruba before my trip said that it was their favorite place they have ever been. I personally liked certain places in the Bahamas better, but I'm definitely not complaining!
Aruba is kind of a small island, roughly 20 miles long and 10 miles wide. Most of the hotels are in the middle of the island, closer to the international airport. We stayed in the northern part of the island through a VRBO rental. Most people I've talked to choose to stay at one of the all-inclusive hotels, which would make the planning part a little easier (but also more expensive).
If you're not staying in one of the main hotels, I would suggest renting a car for your stay, or you may just want one for a day or two to drive around the island. They do have a bus system, but I don't have experience with it.
What I Ate in Aruba
Aruba isn't exactly the most vegetarian-friendly place, as most islands like this are heavy on seafood. So if you don't eat any meat or seafood, you'll want to check menus ahead of time. In "real life" I do eat seafood, so I was always able to find a coconut shrimp or fish sandwich option. I've noted what I ordered below and options for vegetarian-only. Worst case you can always order a salad, fries and/or a cocktail. The island's signature drink is called an "Aruba Ariba" and can be found pretty much everywhere.
Linda's Dutch Pancakes and Pizzas – We went for breakfast and not the pizzas, but the pancakes were pretty amazing. This was the first part of the trip we realized that Aruba is mostly Dutch, so they have many dutch cheeses, and of course dutch pancakes. There are standard menu options that they feature (sweet and savory), but you can also create your own which is what I chose to do. I made mine with brie, apple and nutella. There are gluten-free and diary-free options for panckes too. Closed on Sundays.
Bingo – One of my favorite meals of the trip was the goat salad from here: lettuce, tomato, cucumber, honey glazed goat cheese, pine nuts and honey apple dressing. So delicious, I need to recreate this! I also had coconut shrimp.
Bugaloe Beach Bar & Grill lunch – This is one of a couple places we ate where we had a beautiful view right on the water. I ordered a veggie wrap, which was just okay. But the view more than made up for it.
The West Deck – another open air restaurant on the water, but the direction we were facing didn't allow us to see the sunset. The 5 of us split a bunch of appetizers (9 of them if I remember correctly), but there weren't many veggie options. Fried Funchi with dutch cheese is the only one I recall. All their seafood was good though.
Madame Jeannette – This was probably the nicest dinner we had, and you likely need to call ahead for reservations. I ordered the Shrimp Casserole with gorgonzola, gouda and mushrooms, and we split an ice cream dessert. Not very many vegetarian options besides some veggie sides, but they were very accomodating with requests so there may be a pasta or salad where you can hold the meat. No extra service charge. If you're prone to mosquito bites, bring bug spray.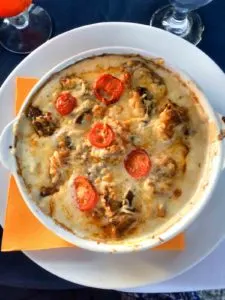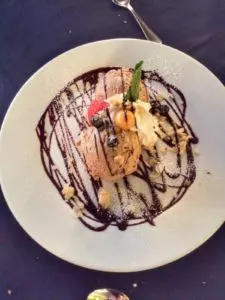 The Old Cunuco House – this was a nice dinner also, but the service was a bit slow. Though you're on island time! I ordered a tomato salad and coconut shrimp, and they have a vegetarian pasta option. A couple of my friends ordered the lobster, and were surprised to find out the "market price" was $75 – so be warned! No service charge added.
Pelican's Nest Seafood Grill & Bar Another open air restaurant with a great view. I ordered a grouper sandwich off the specials because I had been disappointed with the veggie sandwich from the other place, and it was good. At the entrance of the restaurant you can buy tickets for cruises, which is where we reserved a sunset cruise.
Salt and Pepper – After the above-mentioned sunset cruise with an open bar, afterwards we needed some food to soak up the free drinks. We stumbled across this place and split a few appetizers, but it was a little disappointing. I'm not sure if it was because the servings were small or just that it wasn't that flavorful. We ordered fried brie, mango shrimp, and a trio dip appetizer. Their breakfast menu looks like it would be better.
Gelatissimo Bistro is a cocktail bar and gelato place where you can also grab a sandwich. My friend and I couldn't decide if we wanted gelato or a drink, so we found the best of both worlds – a spiked shake! We tried a couple flavors – I'm pretty sure one was cookies and cream and one had Bailey's.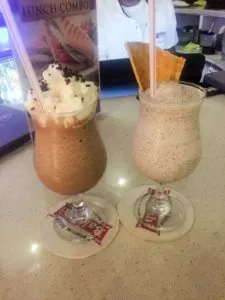 Cuba's Cookin – I ordered the coconut shrimp and fresh papaya salad, which personally did not hit the spot. If I were to go back, I would try the the vegetarian sandwich (with fried egg and asparagus) or the avocado salad.
Groceries
If you plan on cooking any meals at your rental or just need snacks, head to Super Foods – it's a huge grocery store and also a wine/liquor area and a small cafe. The only complaint I have is that some labels were in Dutch – so let's just say I had a hard time figuring out which coffee to buy so I didn't accidentally end up with decaf. Try to pace yourselves – we bought way too much dutch cheese and ice cream.
What I Did in Aruba
Natural Pool
By far, the coolest thing about Aruba is their Natural Pool. Rent a jeep for the day or sign up for a tour to take you out to the natural pool – you won't regret it. The upside of renting your own 4×4 vehicle is that you are on your own timeline and don't have to leave when the tour leaves. But the terrain is extremely rocky (and I mean really), so if you don't have a driver who is comfortable then you might be better off signing up with a tour.
There is a steep climb down to the pool, so keep that in mind. The pool is rather small, and if you feel like being in a wave pool, go to the back corner. If you climb up the rocks at the back, there is a little "hot tub" area. It's not hot water but it still feels like an appropriate description. You can jump off (or climb) the small cliff to get back to the main pool – the highest point is probably only 10 feet but I was still nervous when I did it. #daredevil
(You can't really tell, but I look really nervous. It was only after seeing the picture and realizing it wasn't that high that I felt ridiculous.)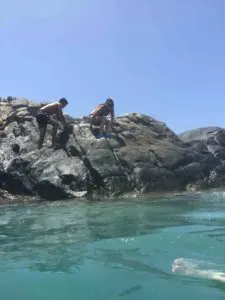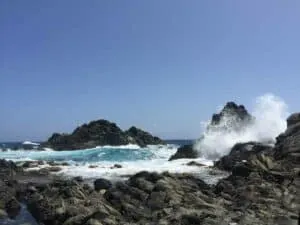 Snorkeling
One girl on our trip was scuba certified, so we found a place that would take the rest of us out to snorkel while everyone else was scuba diving. One of our guides was even an olympian swimmer! We got to explore a ship wreck and a plane wreck, though obviously the scuba divers got a better view. The waves were choppier than I was used to so I did get a heavy meal of saltwater, but I still enjoyed it.
Sunset Boat Tour
As I mentioned above, on our last night we went on a sunset boat tour. Food and drink was included, but I was sitting on the front of the boat and didn't hear the food announcement so I missed most of it. I definitely recommend sitting up front if you're brave enough (like even sitting on the rope area), it has the best view.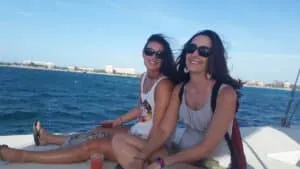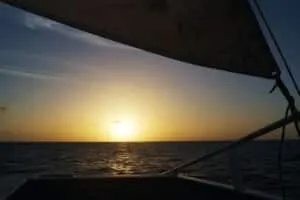 Beaches and Other
Within the Natural Park there are also some caves to explore. Not my favorite thing, but a little cool if you're into it.
Eagle Beach is probably the most popular beach in Aruba, and for good reason. All you can see around you is picture perfect sand and water. We read a woman's review of the beach that said it was "too windy" and we at first were laughing at the ridiculousness of anybody complaining about such a beautiful beach. But let me tell you, it can get WINDY. Laying down with the wind at 20+ mph can make the sand whip across your body to the point where you start to understand first world problems. If the wind is high, just go in the water and you'll have no complaints.
(I included the below picture not only as a representation of the beach, but also because I think it's funny that it looks like I'm doing pushups. I'm really not, my friend just happened to take the shot as I was laying back down.)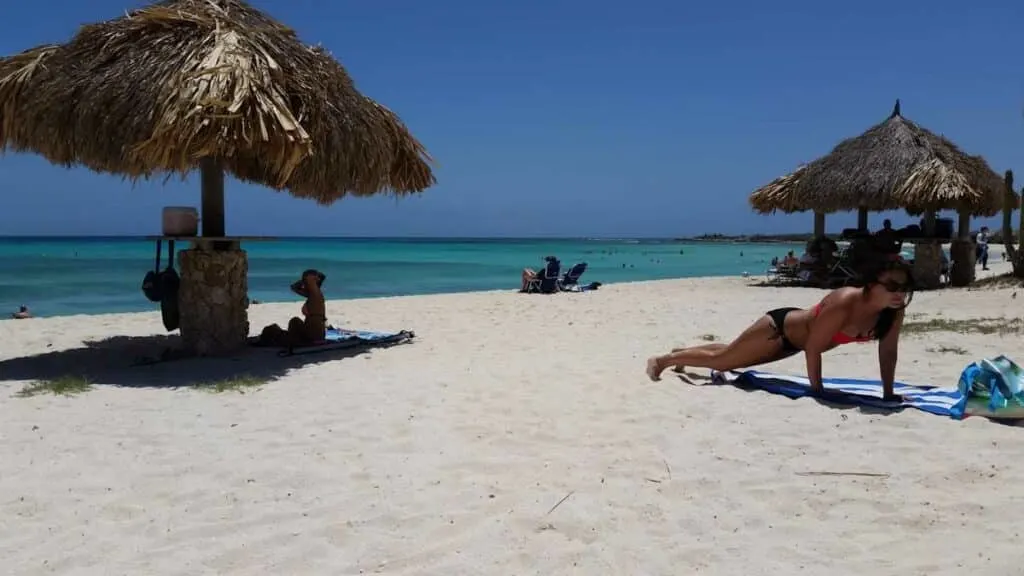 Baby beach is also a pretty spot. The water is much more shallower, we walked out at least 50 feet and still only had the water come up to our waists.
Final Notes
–Dining out will definitely be easier for you if you eat seafood, but it's not impossible to find places with vegetarian options. Super Foods is a great place to go if you don't want to eat out for every meal.
–Most places I visited accepted (and actually preferred) US dollars.
–There is a place you can climb up a bunch of stairs (forgive me, I don't know the name) and from the highest point you can see Venezuela! It was not that appealing to go climbing up a bunch of stairs when it was hot and sunny, but if you're there on a cooler day I would suggest looking it up. It's one thing I wish I would have done.
–When we were leaving Aruba, we got to the airport almost 3 hours ahead of our flights and it took us all of 5 minutes to get through security. Obviously this will depend on the time of year and other factors, but we had no problem with airport wait time.
Have you ever been to Aruba? What are your favorite things to see and eat there?