Delicious and easy homemade naan recipe made with flour and yeast.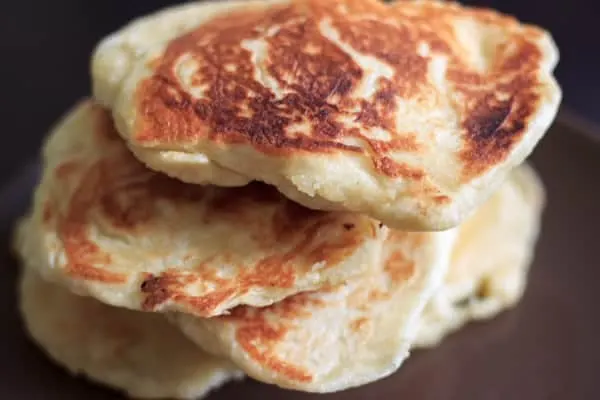 It wasn't until a few years ago that I discovered I liked Indian food.
It used to be that I was afraid to try ANY new foods, and this is one cuisine that can be quite intimidating if you're not sure what to order.
No matter what kind of Indian restaurant you go to, one thing you can typically count on being on the menu is naan bread.
Plain, garlic, cheese, whatever – they are all delicious. It had never crossed my mind that I could actually make naan – for some reason it seemed like it would be way too complicated.
There are apparently lots of different ways to make naan – with yogurt, with yeast, gluten-free, etc. This one is a yeast version and if you've made any kind of bread before you'll probably find it pretty easy.
And by the way – so, so good. I think I could live off this stuff.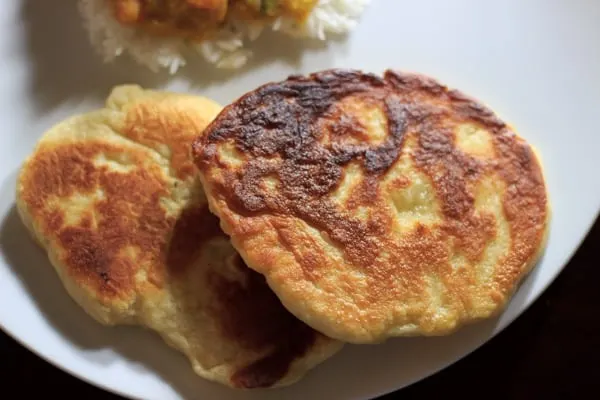 I served this with a red lentil curry dish and rice, but you could serve this with anything really. Soups, pasta, anything where you might normally serve rolls, it will likely be a hit.
Even for folks who aren't a big fan of Indian style food, naan bread is still a pretty safe bet. I mean, it's bread – unless you're a low carb person you'll probably love it, and if you are then we're probably not friends anyway.
This recipe I originally found on allrecipes, but I cooked in a skillet instead of a grill, and I used garlic salt instead of garlic.
If you want to use minced garlic, you can knead it in the dough before rising the second time.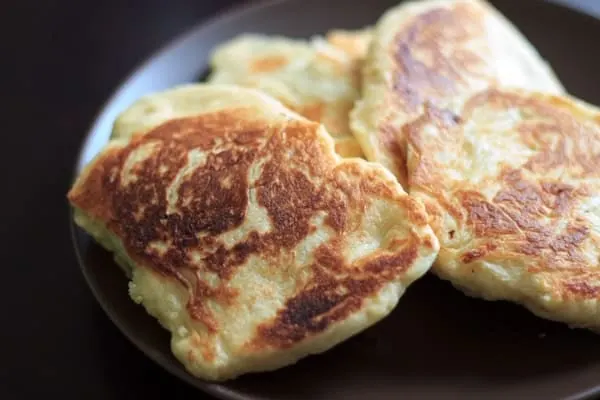 This naan recipe does have a bit of prep time just for the rising (1 hour and 30 minutes total), but it's worth it.
You can probably fit 3 balls of dough in the pan for each cooking cycle, depending on the size of your pan, which will help cut down on total cook time.
I will admit my impatience got the best of me and I only cooked about half of these before my dinner guests and I dove in, but I would recommend cooking all the dough the same night rather than refrigerating the dough for later use.
If you do choose to save the dough for later, add a few minutes of cook time for each side since the dough will be chilled. My dough must have had super power yeast because it was still rising and busting through the container after leaving in the fridge overnight!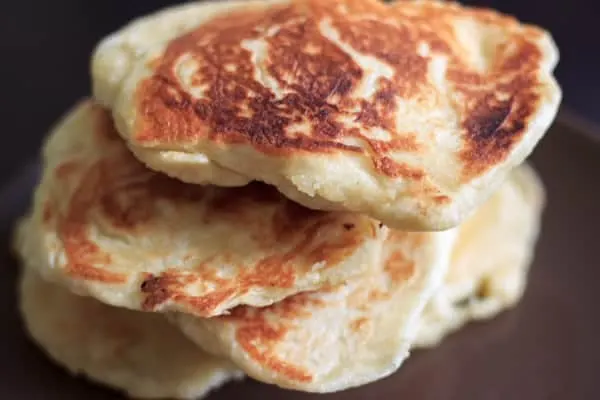 Delicious naan recipe made with flour and yeast.
Prep Time
1 hour
45 minutes
Total Time
2 hours
15 minutes
Ingredients
2 1/4 teaspoons dry active yeast, (1 package)
1 cup warm water
1/4 cup sugar
3 tablespoons milk
1 egg
2 teaspoons salt
4 1/2 cups all-purpose flour
1/4 cup butter, melted
vegetable oil for the pan
garlic salt, as desired
Instructions
In a large mixing bowl, prep the yeast by adding the very warm water (about 110 degrees Fahrenheit) and stir for a few seconds until combined.
Once yeast mixture starts to bubble, add in the sugar, milk, egg and salt. Slowly mix in the flour until combined. Knead for about 5 minutes.
Cover bowl with a damp cloth and set aside in warm area to let rise for 1 hour.
Once dough has roughly doubled in size, pinch off small balls of dough and place onto a tray. Cover again and let rise an additional 30 minutes.
On the stovetop, lightly oil a frying pan. Press each ball of dough into a flat circle and cook on high heat for 2 to 3 minutes. Brush uncooked side with butter and flip, cooking an additional 3 to 4 minutes until cooked through.
Serve with butter or garlic salt.
Notes
*Will make about 18 pieces, depending on the size you make each naan.
*The 30 minute cook time is an estimate of how long it will take to make the whole batch. Each pan of naan will take about 7 minutes to cook thoroughly.
*Recipe adapted from All Recipes
Nutrition Information:
Yield:
18
Amount Per Serving:
Calories:

161
Total Fat:

4g
Saturated Fat:

2g
Trans Fat:

0g
Unsaturated Fat:

2g
Cholesterol:

17mg
Sodium:

284mg
Carbohydrates:

27g
Fiber:

1g
Sugar:

3g
Protein:

4g
Nutrition information is calculated automatically by an online tool at Nutritionix. It is not always accurate. Please use your own tools to check if you rely on this information.