Maple Apple Spaghetti Squash Bake – a vegan friendly, gluten free veggie side dish that is great for family dinners and holidays.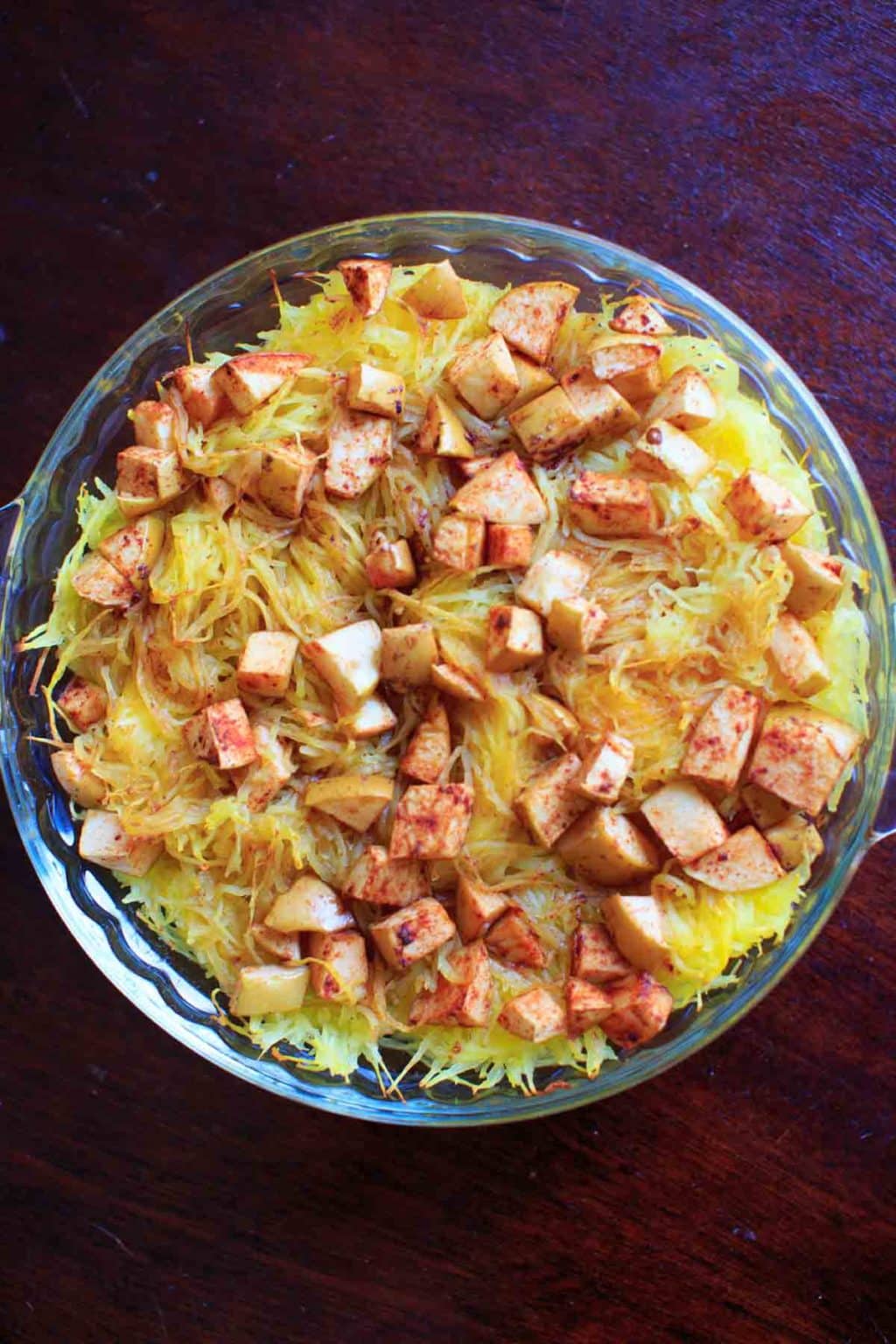 I'm so surprised that even though I have a post on how to cut and cook spaghetti squash, it took me a while to get an actual spaghetti squash RECIPE up! (Update: Now I have a couple more: spaghetti squash nests, and squash with spicy peanut sauce.)
Squash + apples seems to be a theme for me. It's a perfect cold-weather food combo that has the element of comfort food but the added bonus that it's healthy!
Nevermind that it's November and it's still in the 70's here.
But on the chance that it ever does start to get chilly, this dish is perfect.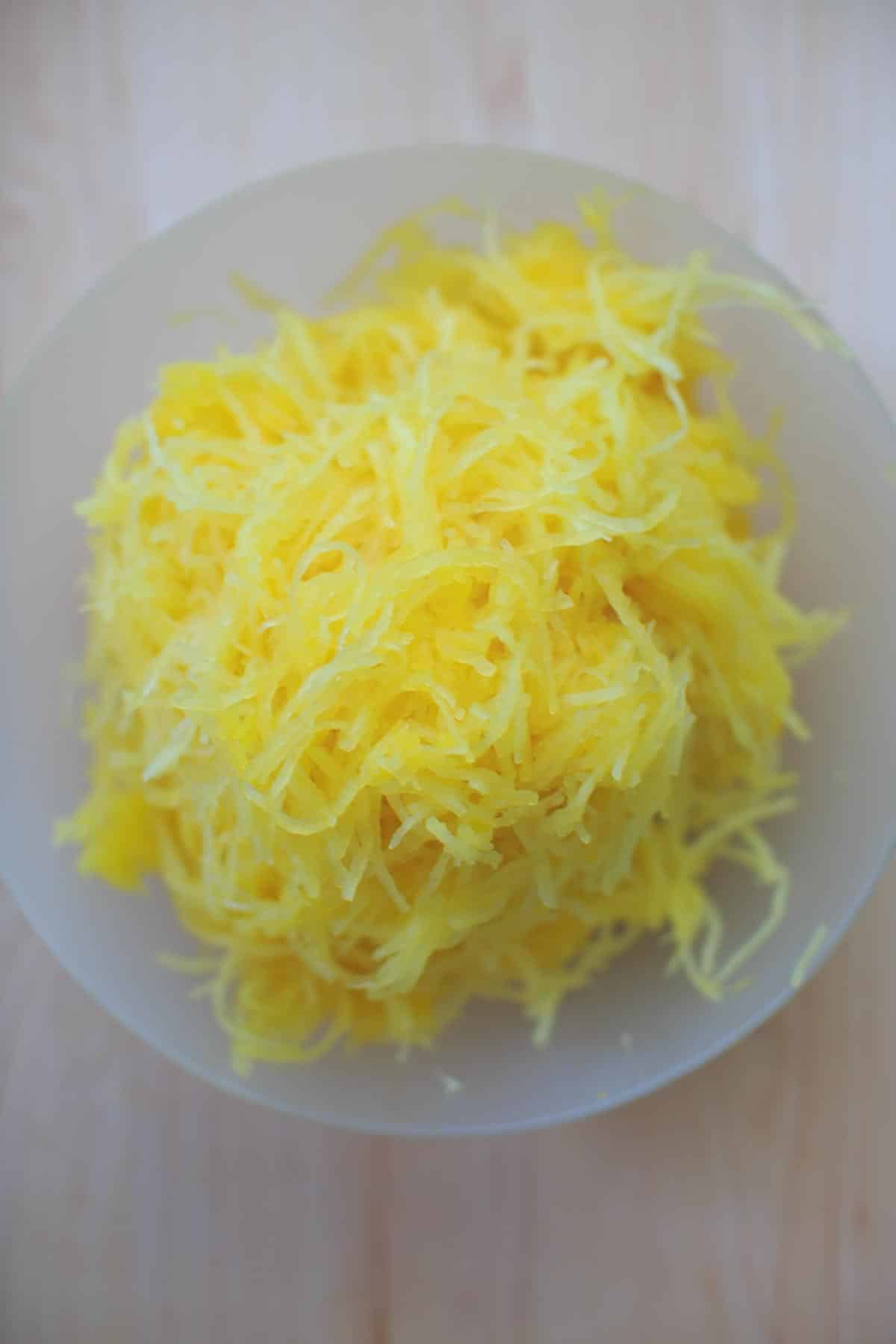 My grandma has made this recipe a few times and it was a big hit. I attempted to make this last year without the recipe, and let's just say it should have been on a food fail episode post.
I think I added flour that time, which makes no sense when I think back. It ended up tasting like… well, spaghetti squash with flour.
I don't think that's a combination that's supposed to go together.
Luckily my grandma sent me her recipe.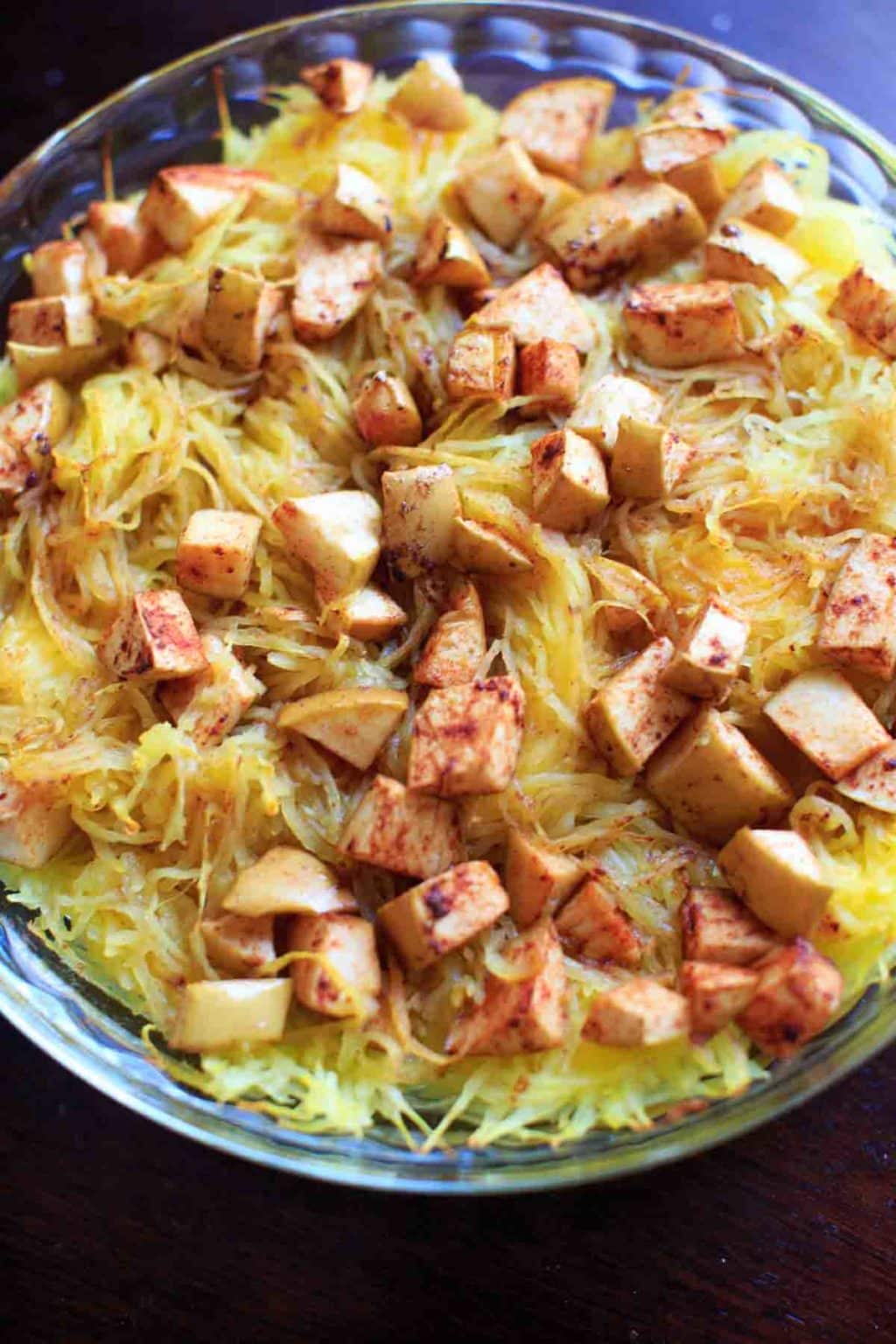 The original recipe calls for 4 tablespoons of butter, but I substituted olive oil to make it vegan. I was tempted to use coconut oil, but haven't tried that yet.
Use this guide to decide how to cook your spaghetti squash, put it in a casserole dish and then cover with olive oil. (Or butter if you decide not to go the vegan route.)
Mix up chopped apples with maple syrup + cinnamon (or pumpkin pie spice!). Top squash with apple mixture, and sprinkle with salt.
Then bake!
I made a quick video for you too:
Since the squash is already cooked, the baking is just to let the flavors all blend together. I kept it in the oven about 25 minutes.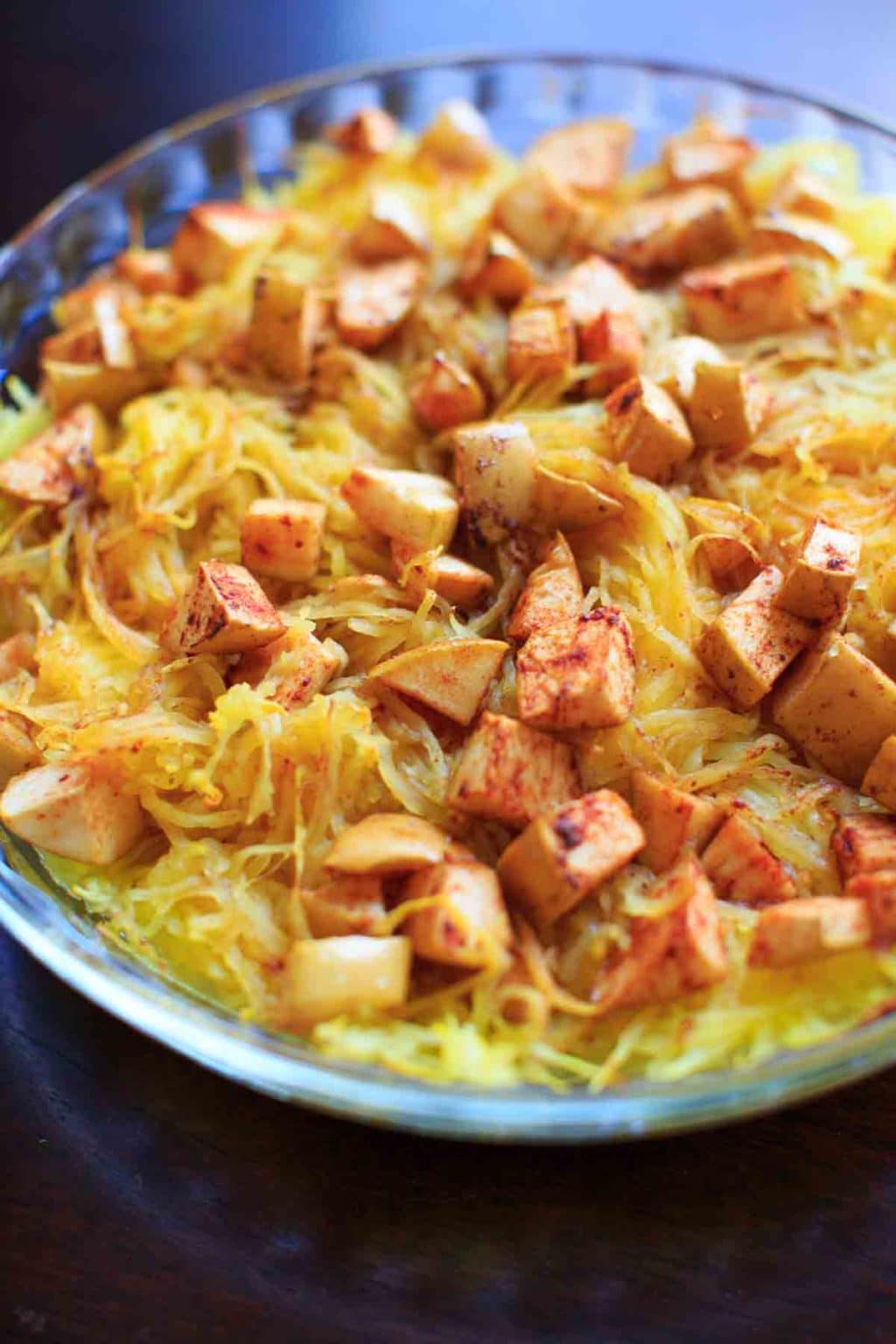 You can always top off with more maple syrup or cinnamon if you think it needs it after taking it out of the oven.
It's a super simple side dish that everyone will love!
Maple Apple Spaghetti Squash Bake
Maple Apple Spaghetti Squash Bake - a vegan friendly, gluten free veggie side dish that is great for family dinners and holidays.
Total Time
1
hour
30
minutes
Ingredients
4

tablespoons

olive oil

(or melted unsalted butter if not vegan)

1

teaspoon

salt

2

apples

, chopped

1/3

cup

pure maple syrup

1/2

teaspoon

ground cinnamon

(or pumpkin pie spice)
Instructions
Cut and cook the spaghetti squash (

see here for a guide

). After cooling, scrape out squash and put in a 9 inch casserole dish.

Drizzle olive oil (or butter) over spaghetti squash. Sprinkle with salt.

In a small bowl, combine chopped apples, maple syrup and cinnamon. Pour over spaghetti squash.

Bake at 350°F for 25-30 minutes or until lightly browned.
Notes
Prep time includes time for cooking spaghetti squash in the oven at 350F for 45 minutes.
Recommended and useful items for this maple apple spaghetti squash bake recipe:

*There are affiliate links within this post that we can earn a commission on at no extra cost to you. Thank you for helping to support the site!