Spaghetti squash noodles with spicy peanut sauce make a delicious, gluten-free and vegan dinner that's easy to prepare!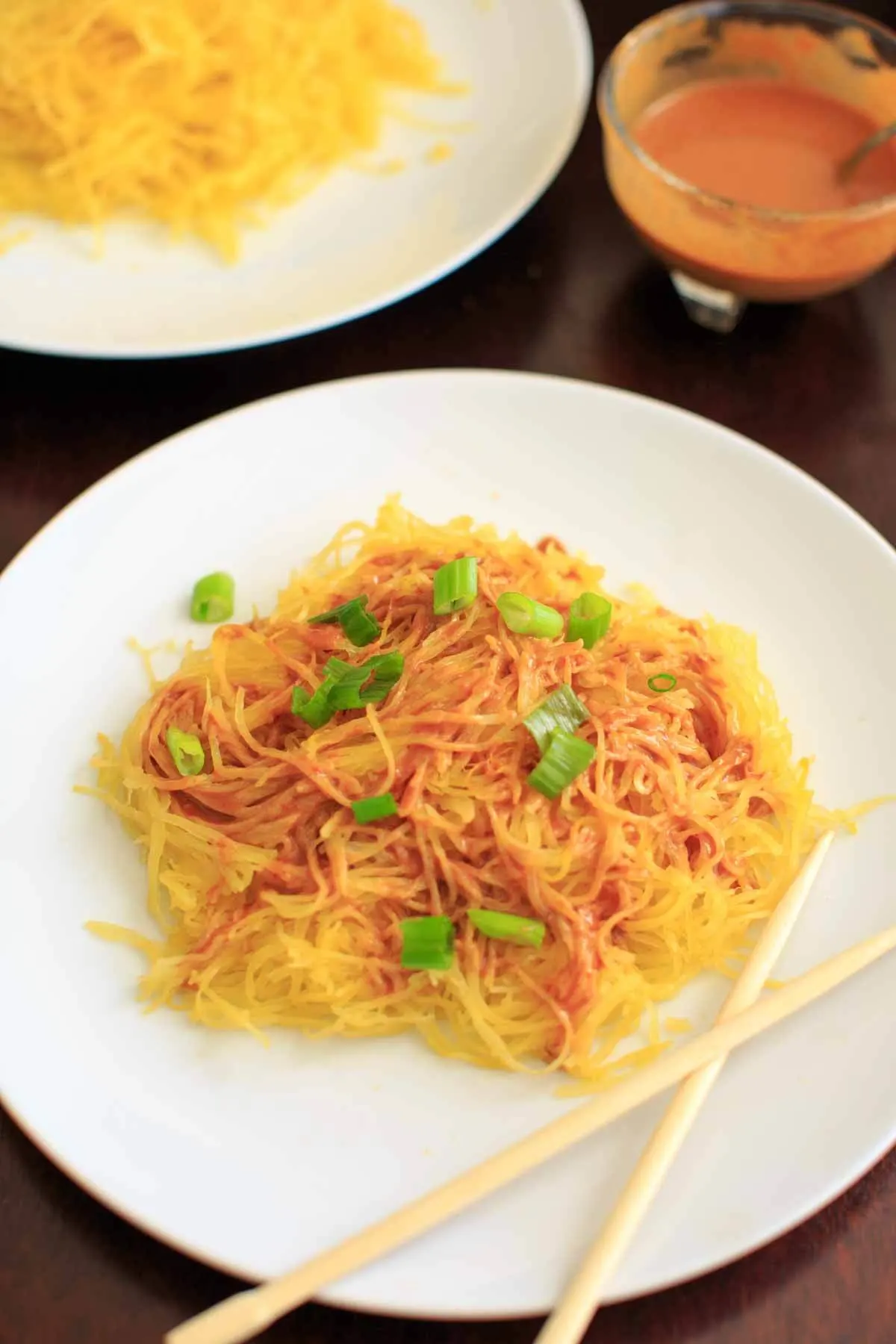 Operation "use all of my vegetables before they go bad" dinner party continues.
I frequently buy spaghetti squash (especially now that I know how to make sure how to make long noodles), but I rarely do anything fun with it.
Searching around, I found the idea to pair it with spicy peanut sauce from Leelalicious. Except she uses things like red curry paste, which I didn't have.
Turns out there are a million different ways to make peanut sauce.
I found recipes with coconut milk, ginger, red chili paste, garlic, tamarind, lime, etc.
None of those ingredients ended up in my peanut sauce.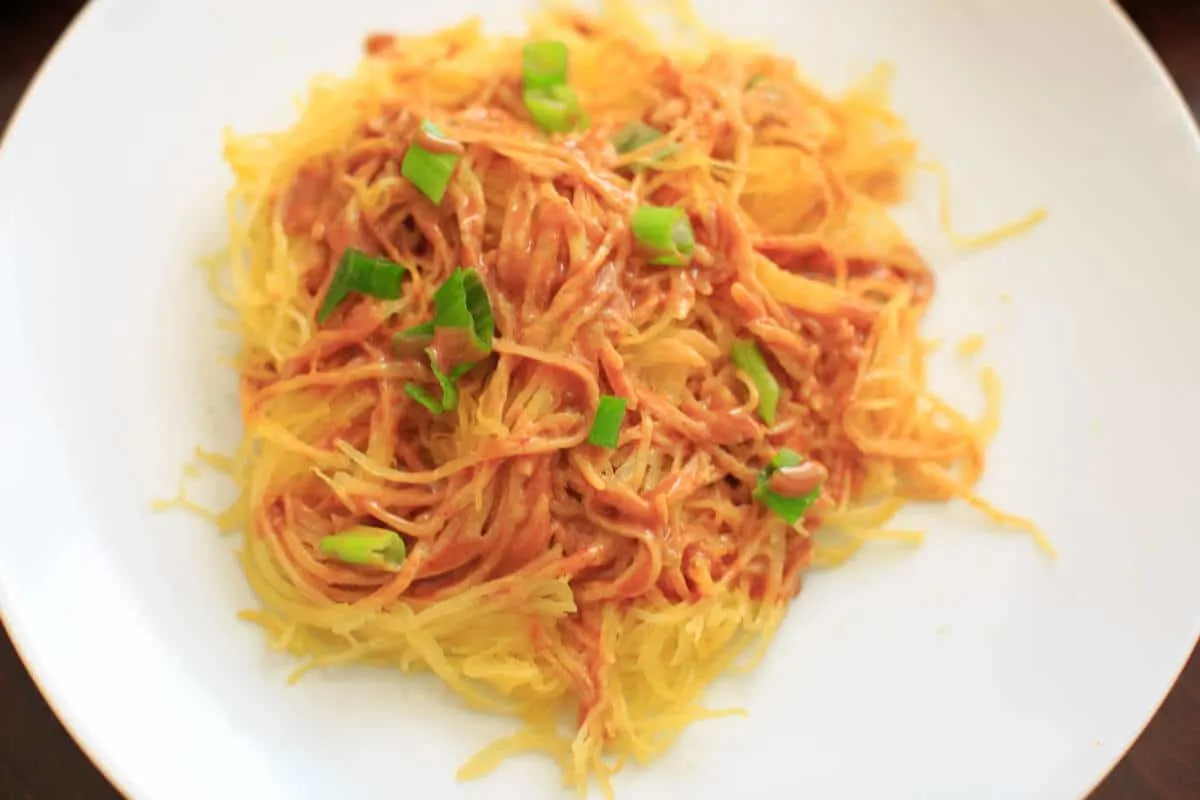 The most important ingredient is, well, peanut butter. A creamy natural kind works best, the kind where you have to mix in the separated oil before using. It'll make it easier to blend with the other ingredients.
Then I added soy sauce (or tamari sauce, for gluten-free), rice vinegar, sugar, sriracha and red pepper.
So here's what I'll say. This blog is all about trying things, and making them work for YOU.
If you taste it and decide you want it sweeter, add a little more sugar. Spicier? Add more red pepper or sriracha. Already know you don't like it AS spicy, just a little bit spicy? Halve the sriracha and eliminate the the red pepper. Want to use red curry paste? Well, refer to Leelalicious for that one.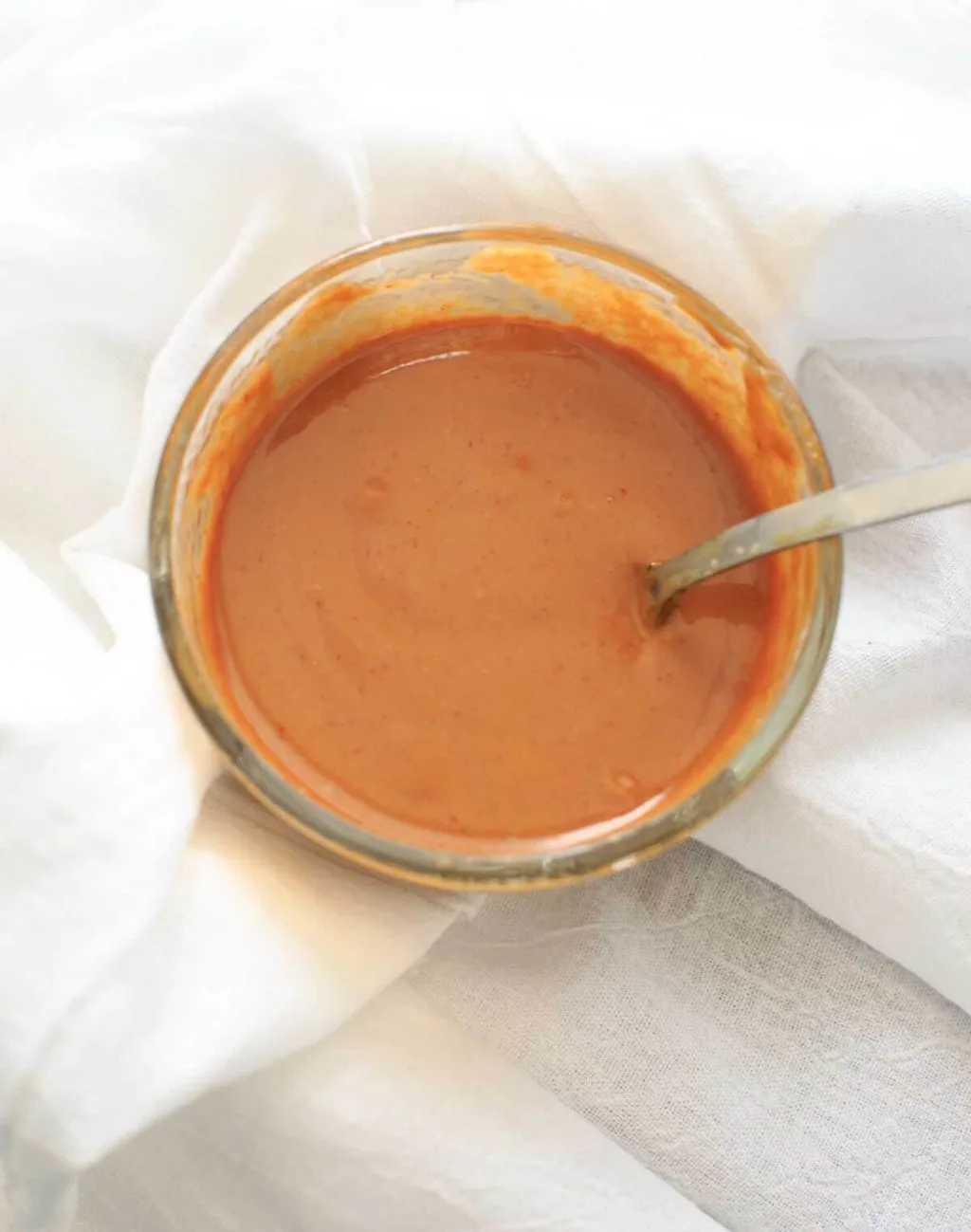 We already know I like it spicy. In the close-up version of this peanut sauce you can see the specks of sriracha. *drool*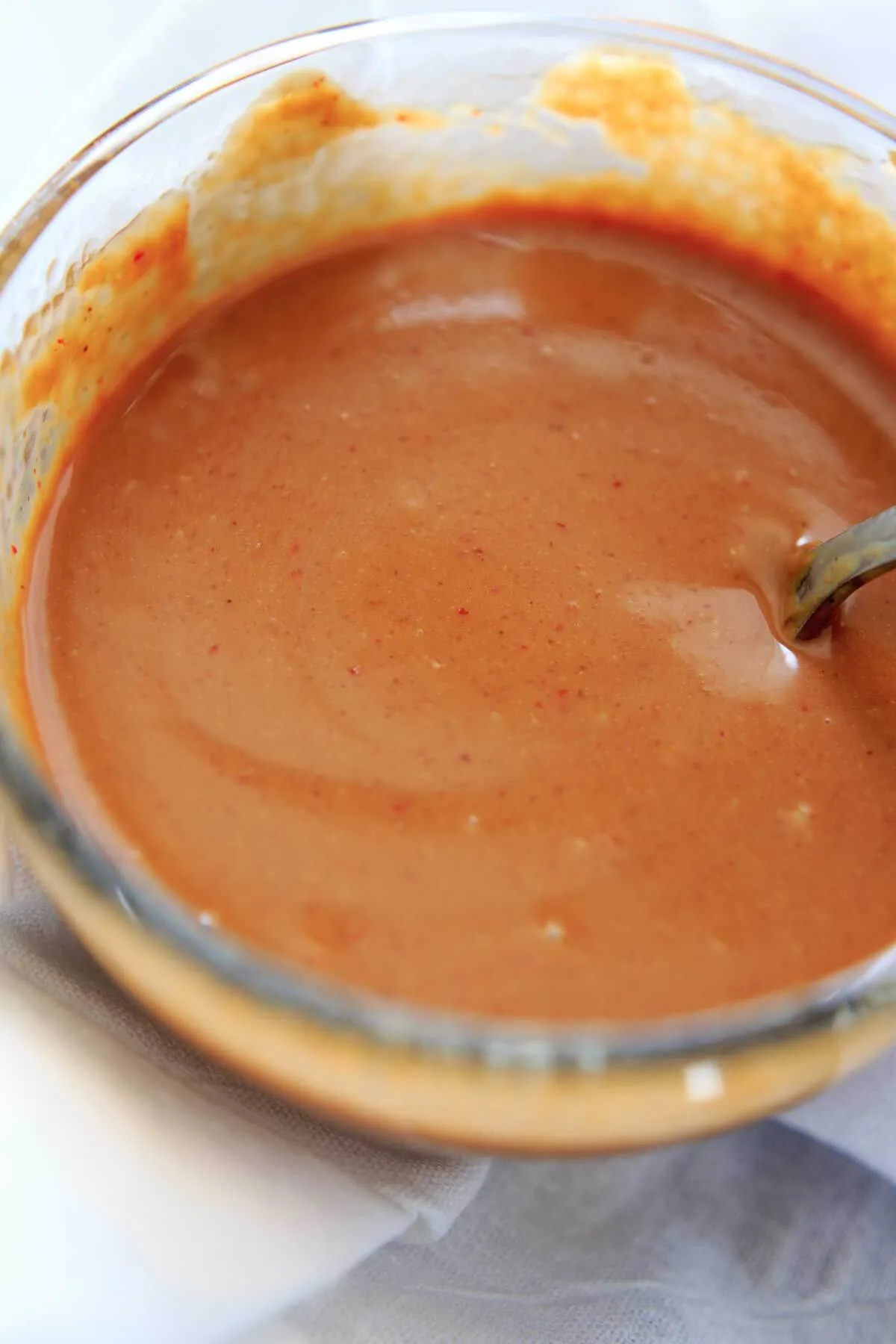 I've already written a whole post with options on how to cook spaghetti squash. My favorite way is to just cut it in half (not end to end, but width-wise in the center), scrape out the seeds, drizzle some olive oil in and bake at 400°F until tender (about 45 minutes).
Let cool slightly and you'll be able to scrape out the noodles.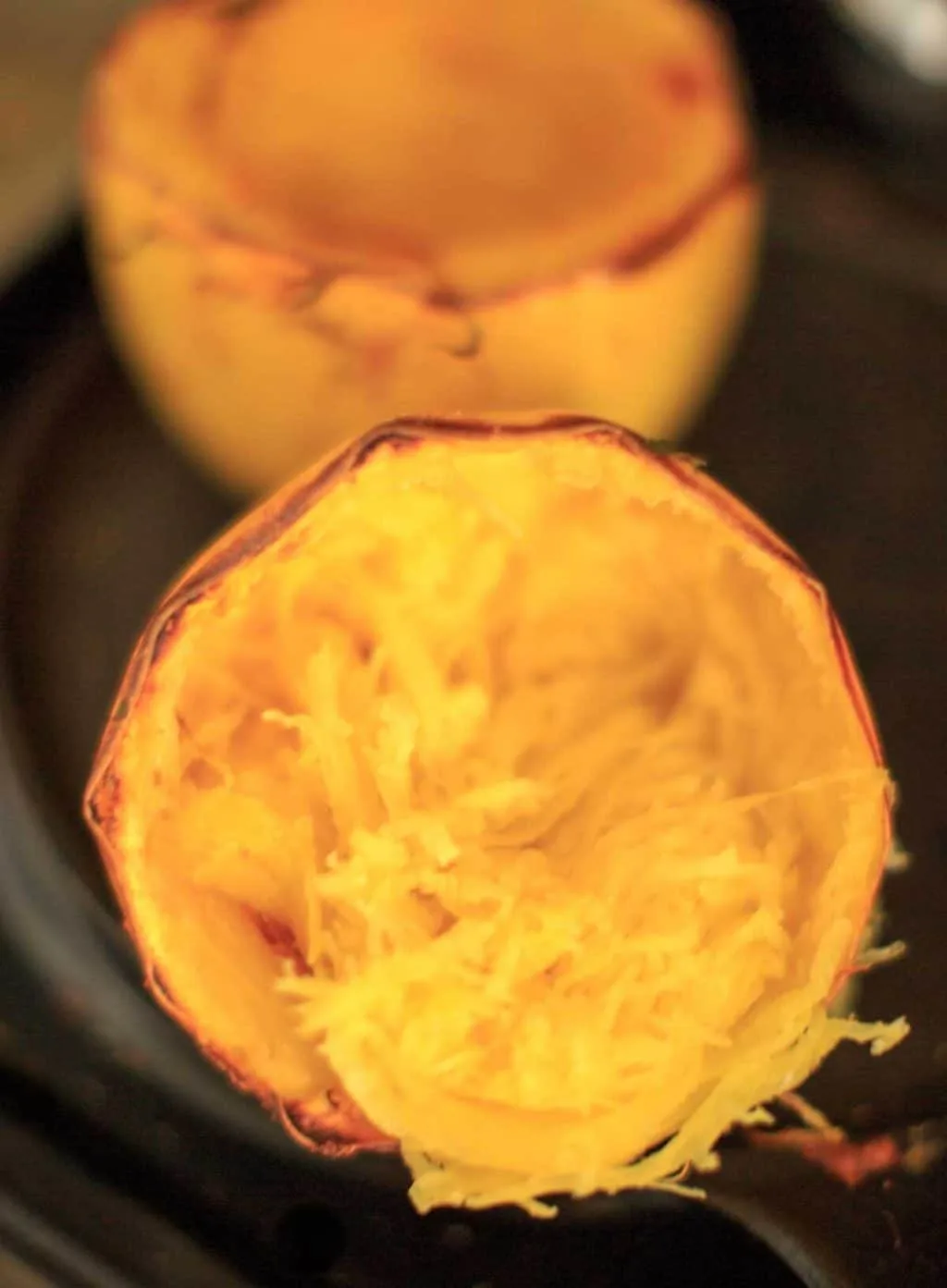 You can either drizzle on the peanut sauce or mix it in entirely.
Garnish with green onion.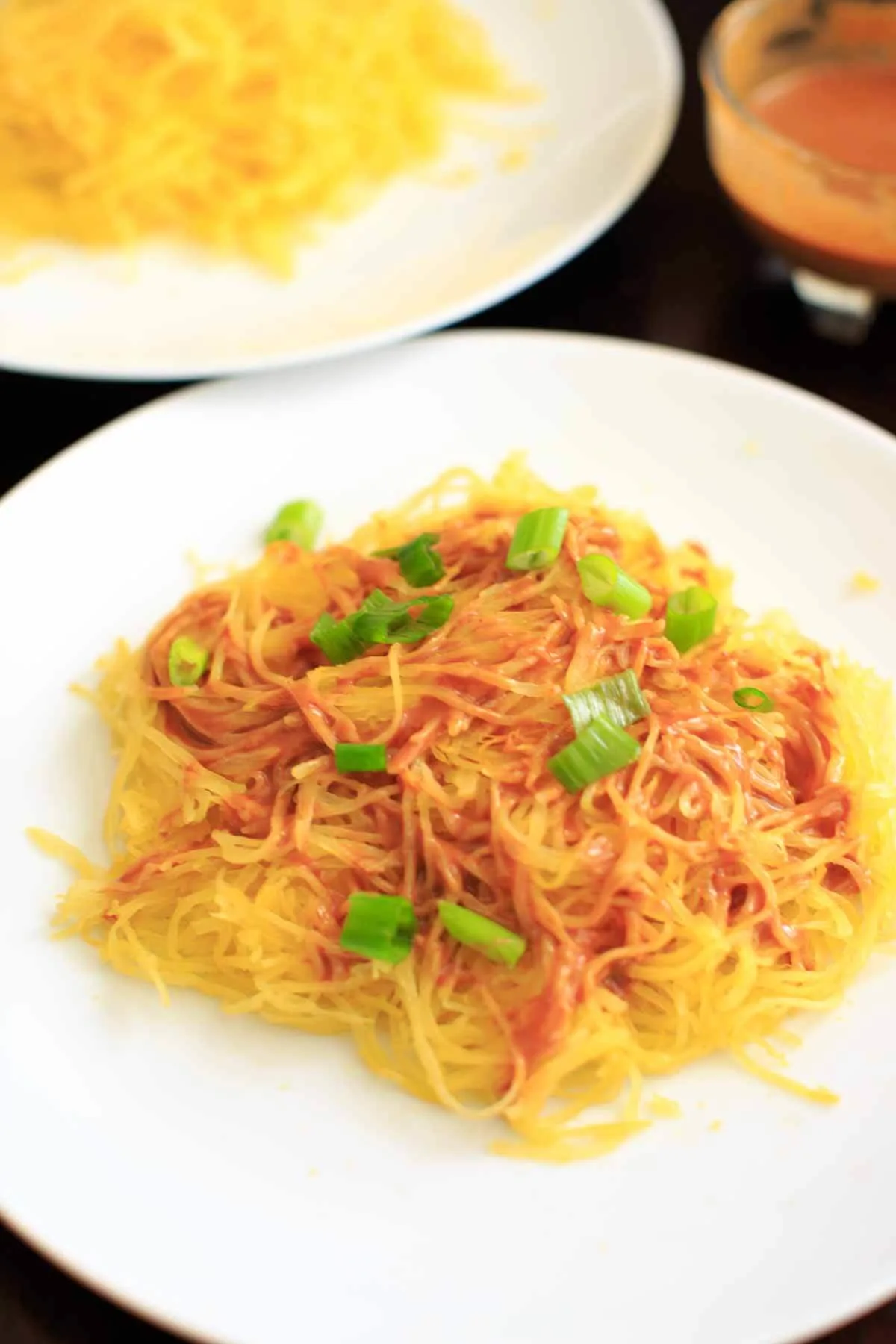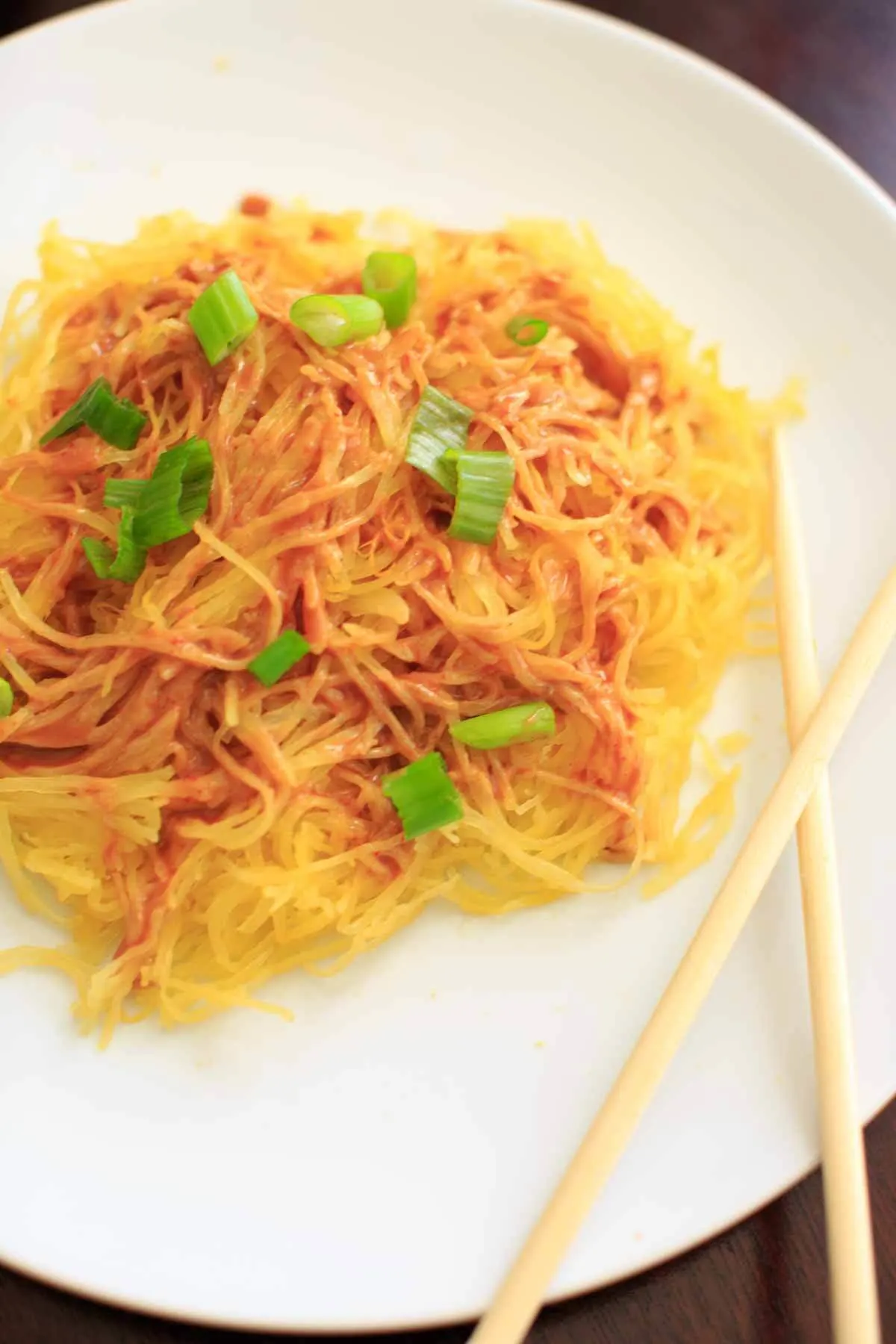 Yield: 2 servings (as a main dish)
Spaghetti Squash Noodles with Spicy Peanut Sauce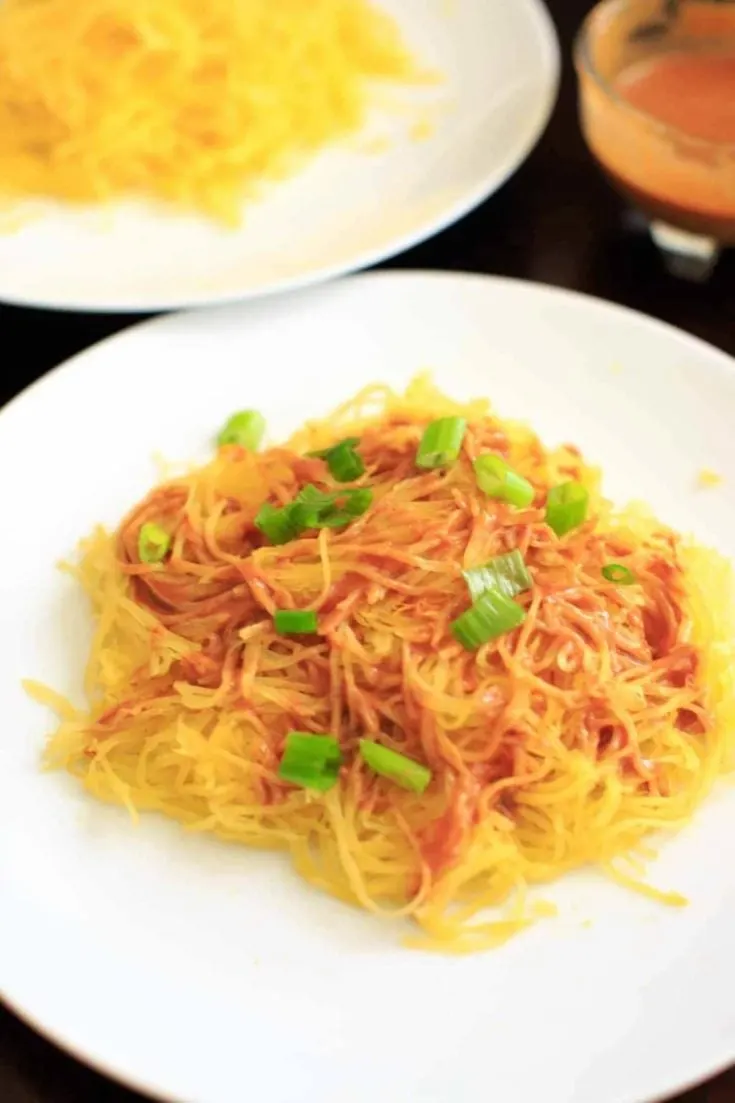 Spaghetti squash noodles and spicy peanut sauce make a delicious, gluten-free and vegan dinner that's easy to prepare!
Ingredients
For the spaghetti squash noodles
1 spaghetti squash
1-2 tablespoons olive oil
pinch of salt, or to taste
For the spicy peanut sauce
4 tablespoons peanut butter (a salted creamy natural peanut butter works best)
2 tablespoons soy sauce (or tamari sauce)
2 tablespoons rice vinegar
1 tablespoon sugar
1 tablespoon sriracha sauce
1/4 teaspoon cayenne red pepper
For garnish:
Instructions
For the spaghetti squash: Cut in half, scrape out seeds. Drizzle olive oil inside and bake at 400°F for about 45 minutes or until tender. For more instruction see this link.
Once slightly cooled, scrape out noodles with a fork and salt to taste.
For the spicy peanut sauce: In a small bowl, add all ingredients and stir to combine.
Pour peanut sauce over spaghetti squash noodles. Garnish with green onion.
Easily serves 2 for a meal or 4 as a side.
Notes
You probably won't use all the peanut sauce for this recipe. Store leftovers in fridge.
Nutrition Information:
Yield:
2
Amount Per Serving:
Calories:

501
Total Fat:

31g
Saturated Fat:

5g
Trans Fat:

0g
Unsaturated Fat:

22g
Cholesterol:

0mg
Sodium:

1391mg
Carbohydrates:

52g
Fiber:

10g
Sugar:

25g
Protein:

12g
Nutrition information is calculated automatically by an online tool at Nutritionix. It is not always accurate. Please use your own tools to check if you rely on this information.