Garlic Herb Focaccia Bread – an easy and flavorful bread that is vegan-friendly. Impress your family or dinner guests with this customizable bread that's better than store-bought.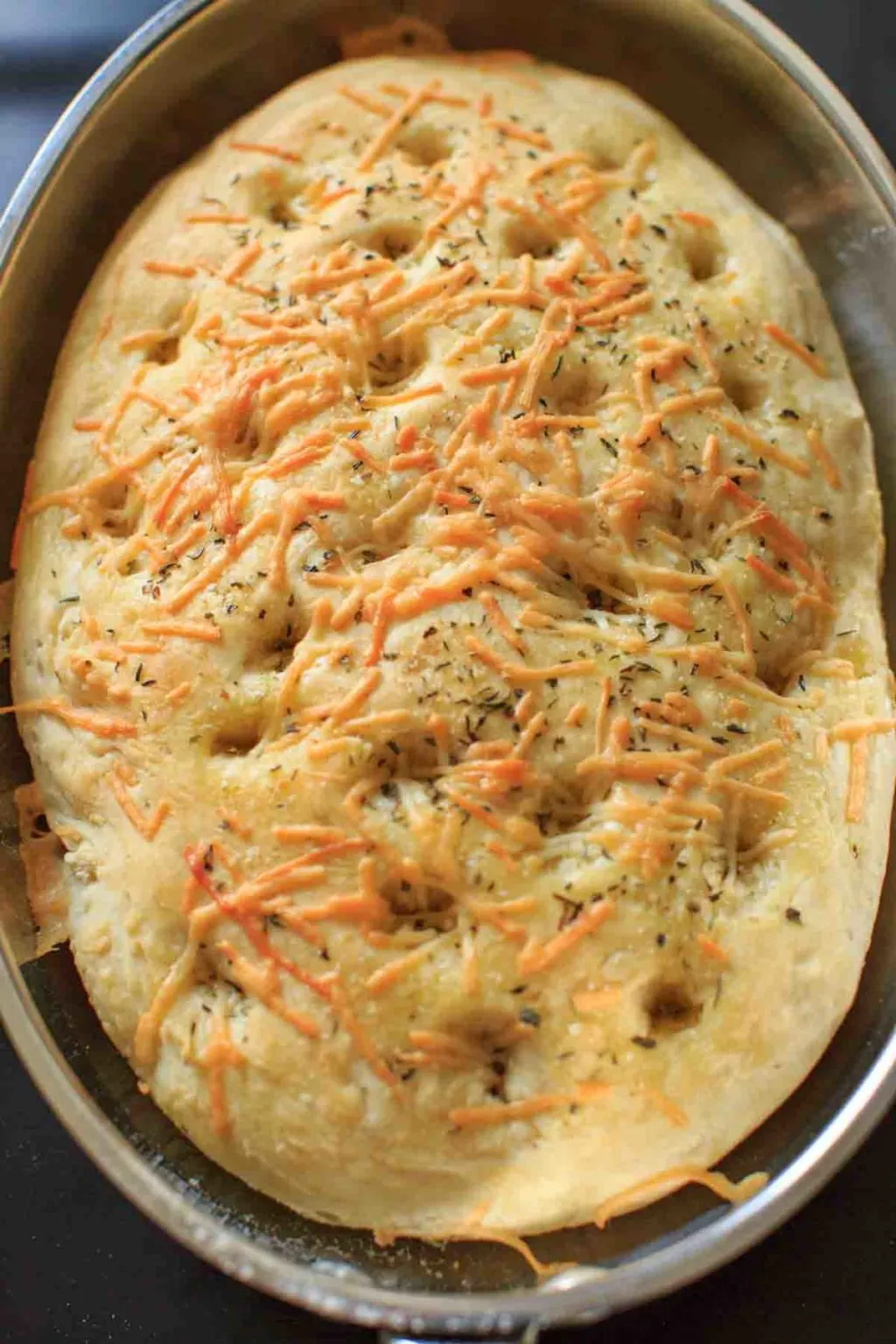 Making homemade bread is something that is good to know how to do, but dangerous for people (like me) who are carb-addicted.
I have to limit how often I allow myself to bake bread because it takes approximately 3 minutes for it to be eaten.
Only slightly exaggerating.
Focaccia bread was always something that I thought required a special technique or skill.
One day I decided to look it up, and found out that's not the case after all.
In fact, google tells me focaccia simply means a flat, oven-baked Italian bread similar in style and texture to pizza dough with added olive oil, salt, and maybe herbs, cheese or onion.
For that reason, I basically started with my easy homemade pizza dough recipe and added a few things.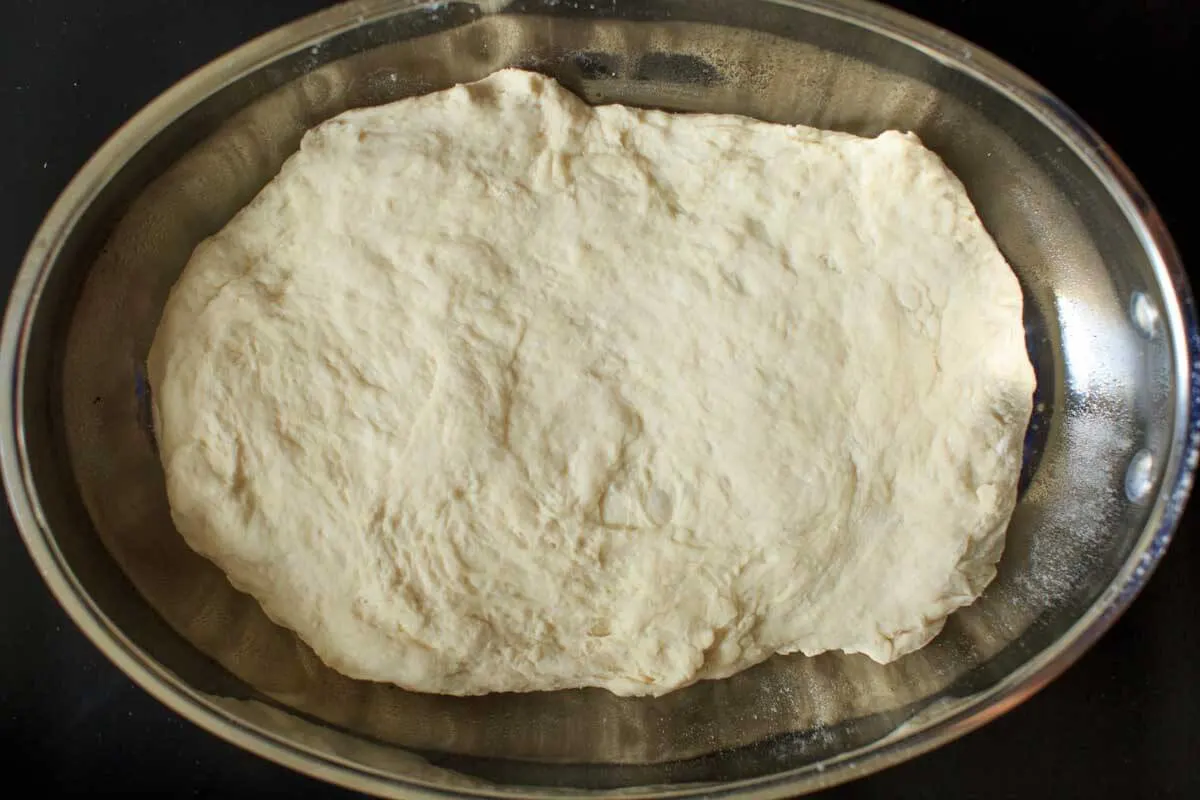 One difference with focaccia bread is that it's crispy on the outside and soft on the inside.
This is accomplished with a butter or olive oil coating.
Beyond that, there's not much difference to pizza dough besides the the herbs you put on top.
Also, I tried it with added parmesan but it's optional, as the bread is totally vegan and still delicious without cheese.
Some recipes use 1/4 cup of olive oil for a focaccia bread, but I just used 1 tablespoon to grease the pan and 1 tablespoon drizzled on top.
I found this still accomplished the goal.
Yeast, water, flour and salt is all you need for your dough.
After kneading, add to greased pan (I used a 12 inch skillet, or you can use something close to a 9×13 pan).
Let rise.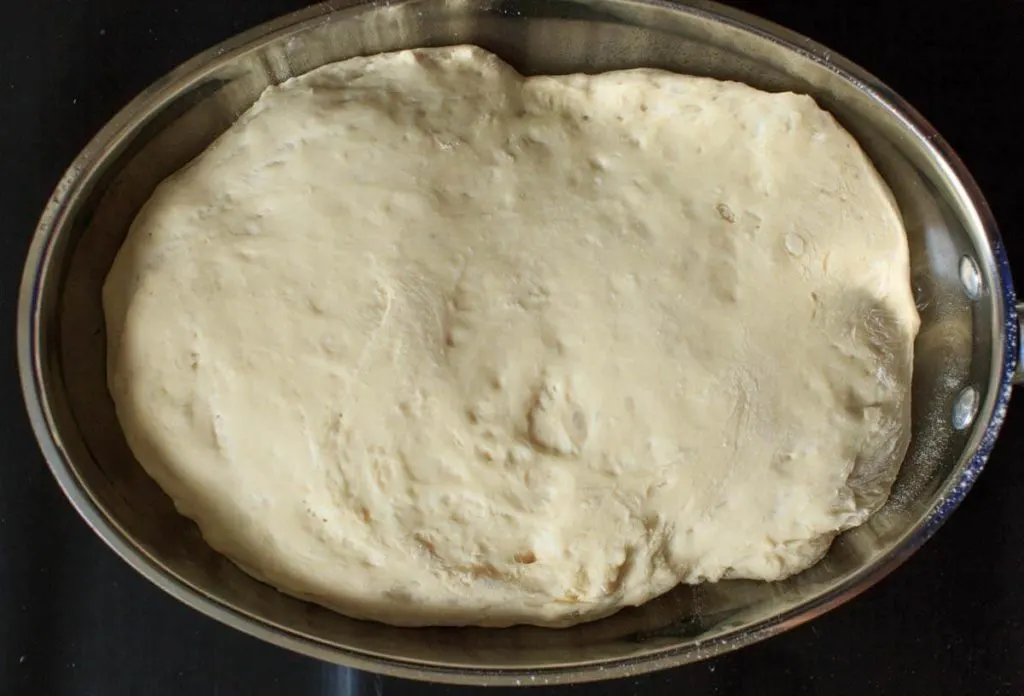 Poke holes! Not actual holes, more like indents.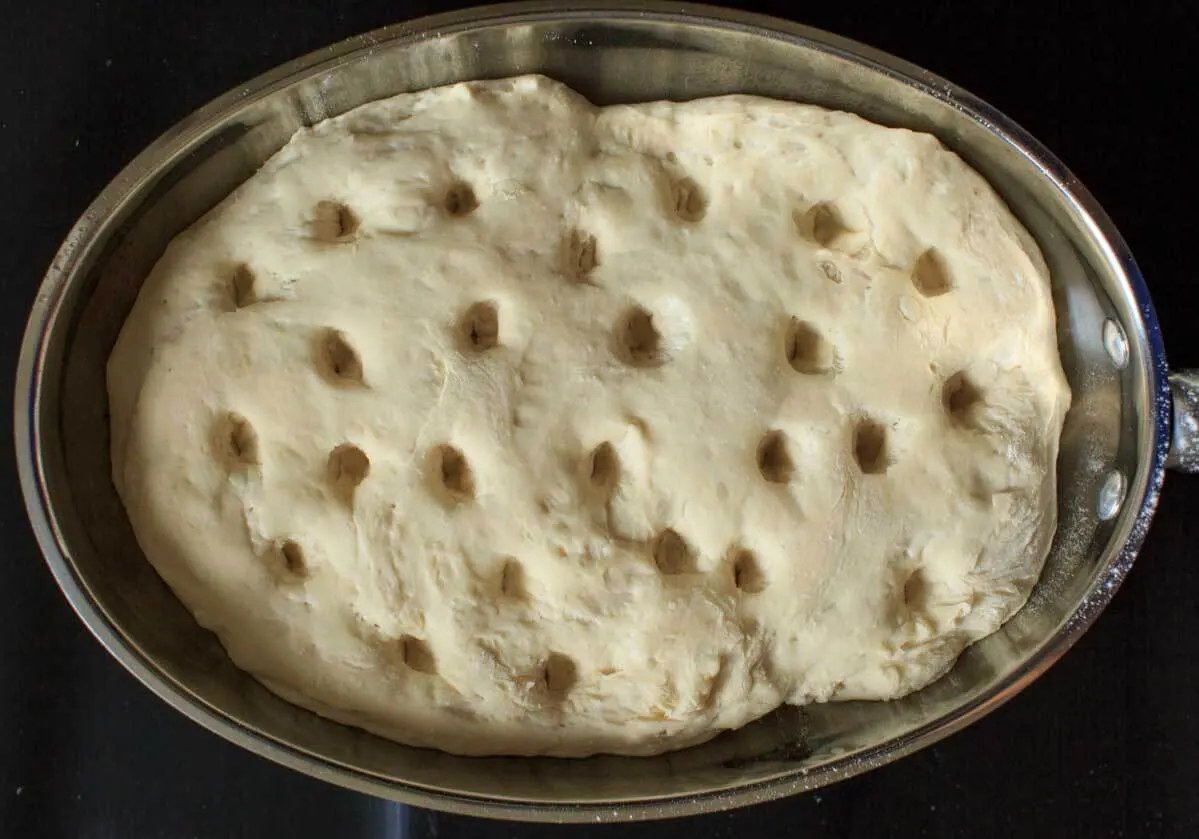 Drizzle olive oil, garlic salt and herbs.
I used basil and thyme, another good option would be rosemary.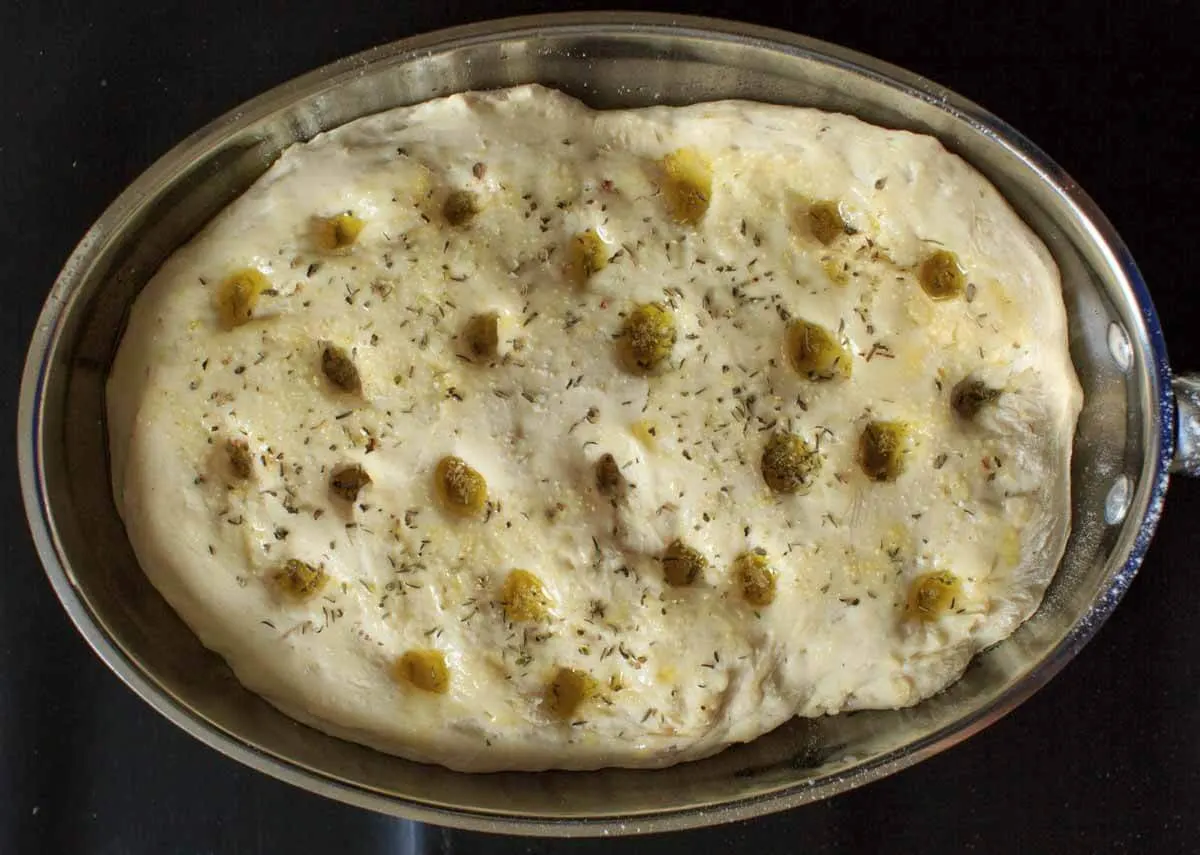 Sprinkle with cheese if using.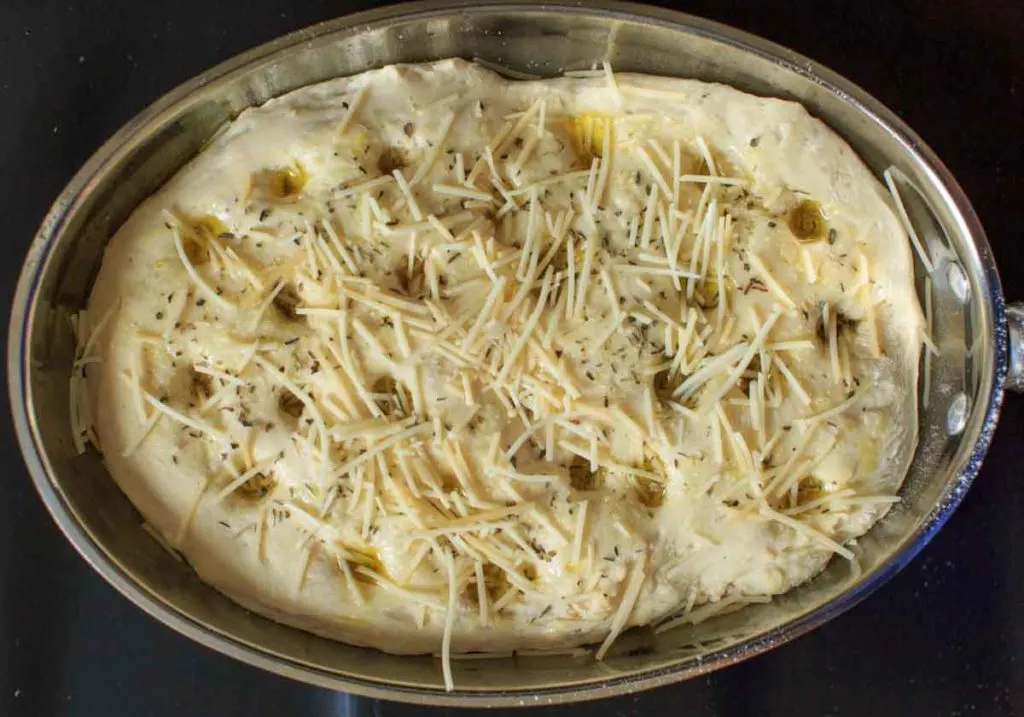 Bake.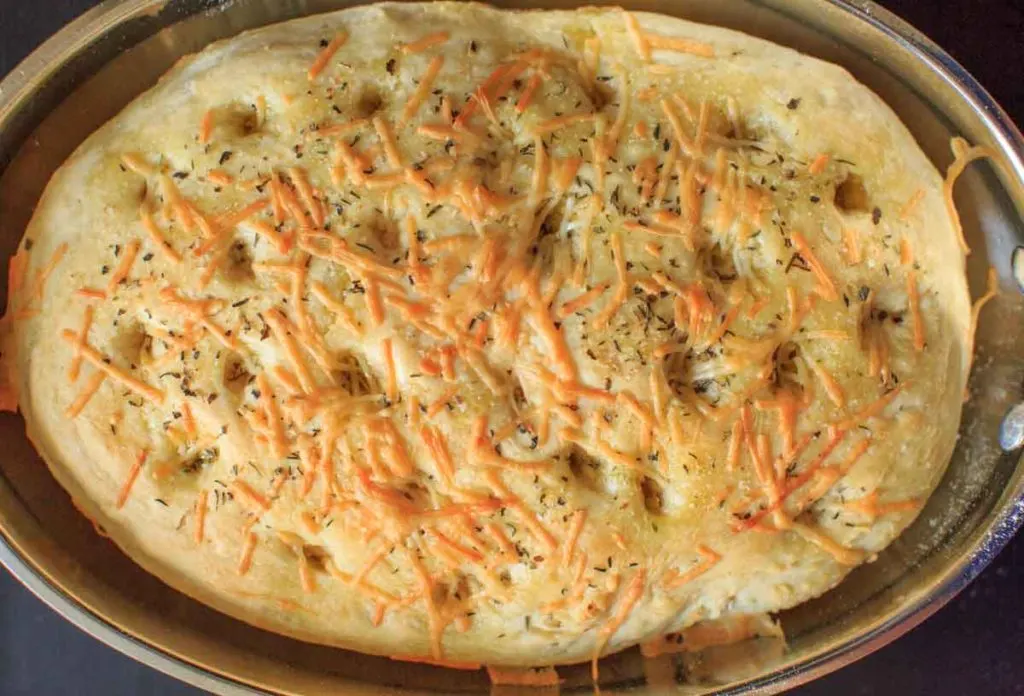 Eat.
Easy as pie! Or pizza dough. Whatever.
Yield: 1 loaf
Garlic Herb Focaccia Bread
Garlic Herb Focaccia Bread - an easy and flavorful bread that is vegan-friendly. Impress your family or dinner guests with this customizable bread that's better than store-bought.
Ingredients
1 cup hot water (about 110-115°F)
2 1/4 teaspoons fast-rising yeast (1 packet)
2 1/4 cup all-purpose flour (plus more if needed)
1 teaspoon salt
2 tablespoons olive oil
1/2 teaspoon garlic salt
2 teaspoons dried herbs (I used basil and thyme, option for rosemary, parsley)
1/4 cup parmesan cheese (optional, leave off or substitute vegan cheese for vegan version)
Instructions
In a large bowl, add the hot water and yeast, stirring briefly until yeast dissolves. Proof the yeast by letting it sit for 5 minutes until bubbly.
Add the flour and salt and mix to combine.
Knead the dough by hand or in a mixer with a dough hook until smooth (about 5 minutes), dusting with more flour if needed.
Use 1 tablespoon of olive oil to grease baking sheet or pan close to 9x13 inch (I used a 12 inch oval skillet like this one) and press dough into shape of pan.
Let rise until doubled for about 30 minutes.
Preheat oven to 425°F.
Once dough has risen, make indents with your fingers spaced 1/2 inch to an inch apart (see pictures in post).
Drizzle remaining one tablespoon olive oil on top of bread, sprinkle with garlic salt and choice of herbs. If using, sprinkle parmesan cheese over top.
Bake for 18-20 minutes or until lightly browned.
Nutrition Information:
Yield:
1
Amount Per Serving:
Calories:

1406
Total Fat:

38g
Saturated Fat:

8g
Trans Fat:

0g
Unsaturated Fat:

27g
Cholesterol:

22mg
Sodium:

3380mg
Carbohydrates:

224g
Fiber:

11g
Sugar:

1g
Protein:

40g
Nutrition information is calculated automatically by an online tool at Nutritionix. It is not always accurate. Please use your own tools to check if you rely on this information.