Easy homemade vegan pizza dough – Make your own dough in less time than ordering in. This recipe for quick yeast dough will make dinner prep easy!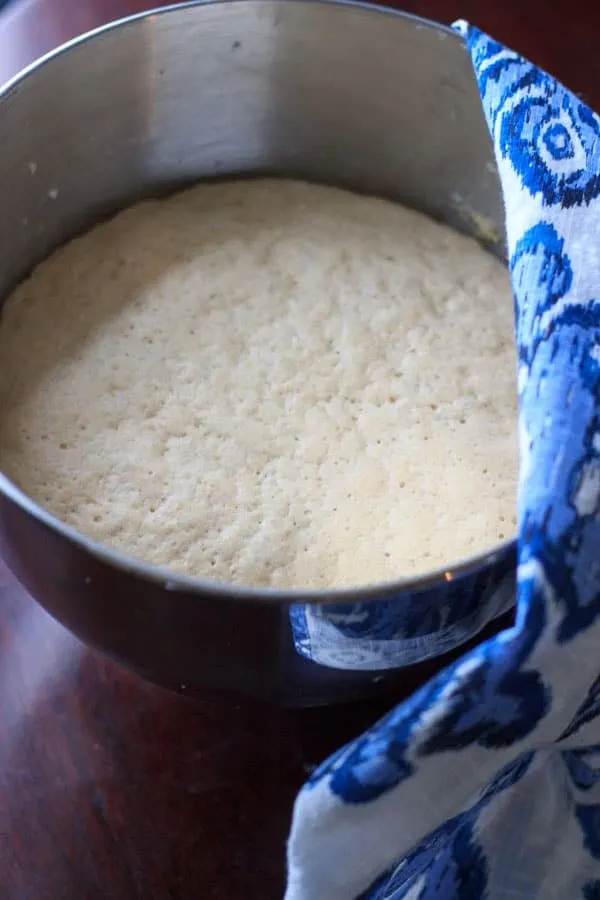 One of my favorite go-to dinners to make at home is homemade pizza.
I pretty much always have the ingredients on hand for at least a basic pizza, and the dough is so simple – all you need is yeast, water, flour, sugar and salt.
A lot of people I know are scared off by making their own pizza dough simply because they have trouble with proofing the yeast.
I've definitely had trouble in the past with making sure the yeast bubbles and will rise properly, but I've finally mastered i
The trick is getting the water hot enough but not TOO hot.
A couple things that really help are having a cooking thermometer on hand and making sure your yeast is good.
Making sure your yeast is not expired and is stored in the refrigerator also really helps.
The hot water you add it to should be about 115°F, and I like to add a teaspoon of sugar to the yeast to help it get started (yeast feeds off sugar).
When the yeast is working, it should get bubbly like the picture below. It will also have a distinct "bread-smell."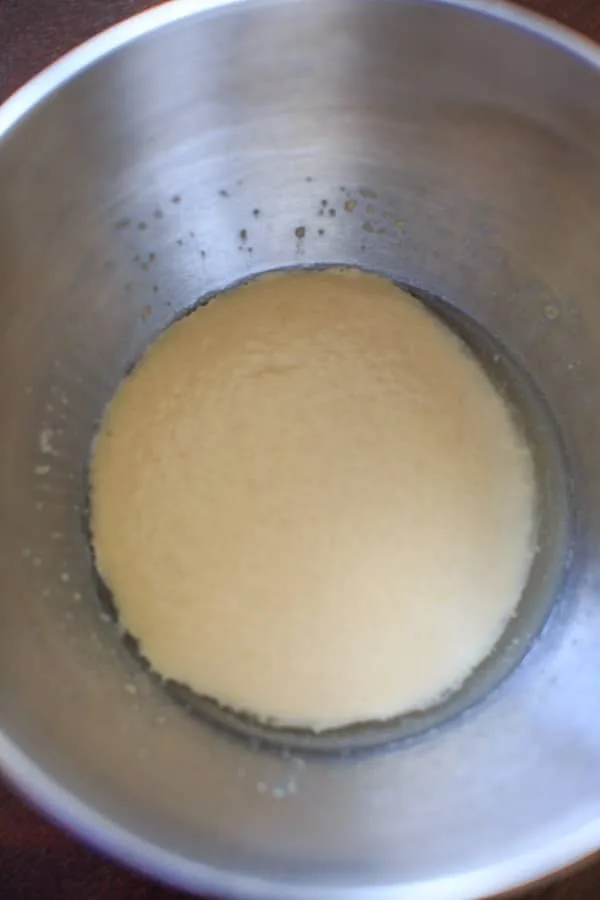 Then you add the flour and salt.
Sometimes I like to add a tablespoon of olive oil to the sides of the bowl, it seems to help with the rising and keep the dough soft.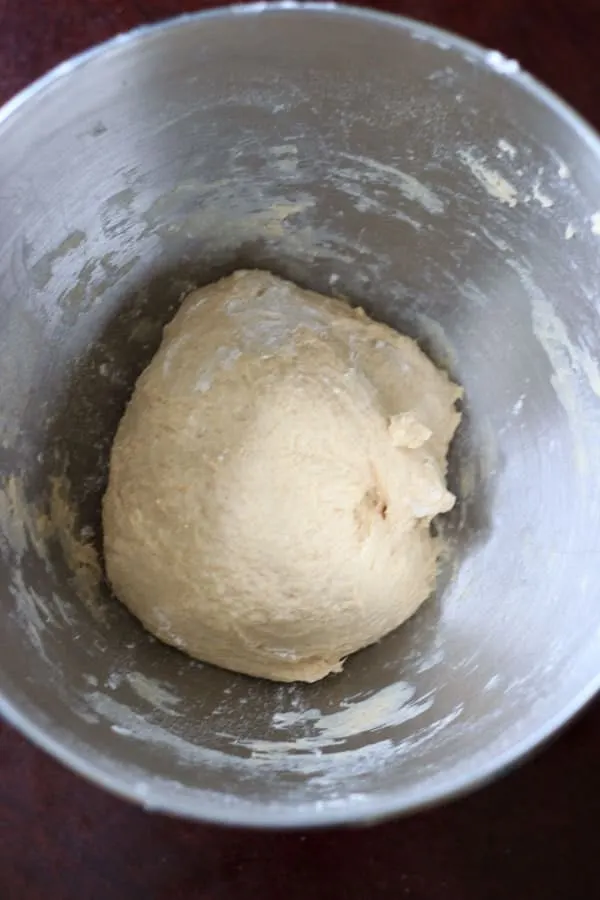 It should only take about 30 minutes to double in size. I like to have the bowl on top of the oven while it's preheating, and the heat also will help activate the yeast!
You'll know the yeast is working when it looks nice and fluffy after you let the dough rise, like this: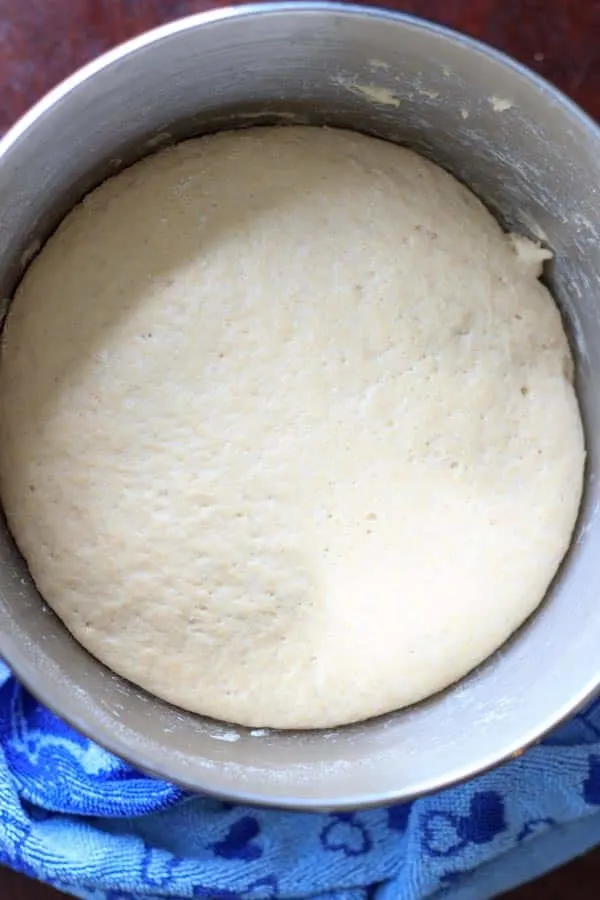 See, that wasn't so hard was it?
This recipe will make two thin crust pizza in a 12-inch cast iron pan.
This basic dough is ready for whatever toppings you want to add: tomato sauce, honey, spinach, tomato, sriracha sauce, veggies, you get the idea.
The dough itself is vegan so it is very versatile!
I've heard the best way to bake your pizza is at super hot temperatures like 500 °F – but since that number kind of freaks me out, I bake it at 475 °F, for about 12 minutes.
Quicker than delivery!
My favorite pizza lately has been jalapeno and pineapple. Other unique homemade pizza suggestions are this honey fig pizza, caramelized onion and brie pizza, and spicy pimento cheese pizza!
Yield: 2 pizzas
Easy Homemade Pizza Dough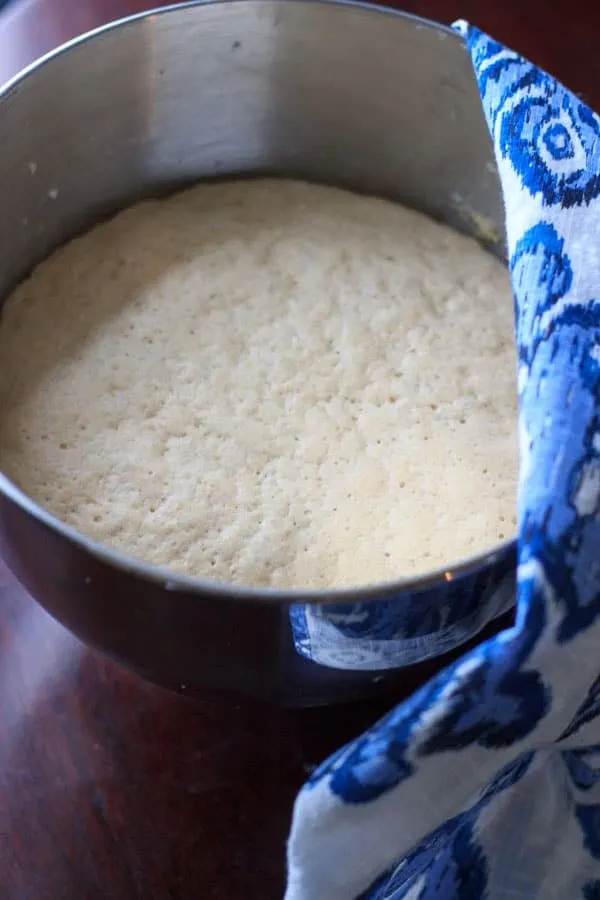 Easy homemade vegan pizza dough. Make your own dough in less time than ordering in. This recipe for quick yeast dough will make dinner prep easy!
Ingredients
2 1/4 teaspoons (1 packet) active dry yeast (can also use instant yeast)
1 cup hot water (about 115°F)
1 teaspoon sugar
2 1/2 cups all-purpose flour
1 teaspoon salt
1 tablespoon olive oil, optional
Instructions
Proof the yeast - in a medium mixing bowl, add yeast, hot water, and sugar. Stir together. Let sit for 5 minutes until bubbly.
Add salt and flour gradually, mixing together until combined. Knead using a mixer or by hand for 5 minutes until soft and elastic, adding flour if necessary. If using the olive oil, add to the sides of the bowl using an olive oil or pastry brush.
Cover and let rise in a warm area until doubled, about 30 minutes. (I like to leave it on top of the stove while it's pre-heating.)
Will make two, 12-inch thin crust pizzas. Cook with desired toppings at 475°F for about 12 minutes in a cast iron pan.
Nutrition Information:
Yield:
2
Serving Size:
1 crust
Amount Per Serving:
Calories:

651
Total Fat:

9g
Saturated Fat:

1g
Trans Fat:

0g
Unsaturated Fat:

7g
Cholesterol:

0mg
Sodium:

1068mg
Carbohydrates:

123g
Fiber:

5g
Sugar:

3g
Protein:

18g
Nutrition information is calculated automatically by an online tool at Nutritionix. It is not always accurate. Please use your own tools to check if you rely on this information.