General Tso's Tofu from the Chloe Flavor Cookbook. Serve with rice or quinoa, top with sesame seeds and you have yourself a delicious vegan, gluten-free meal!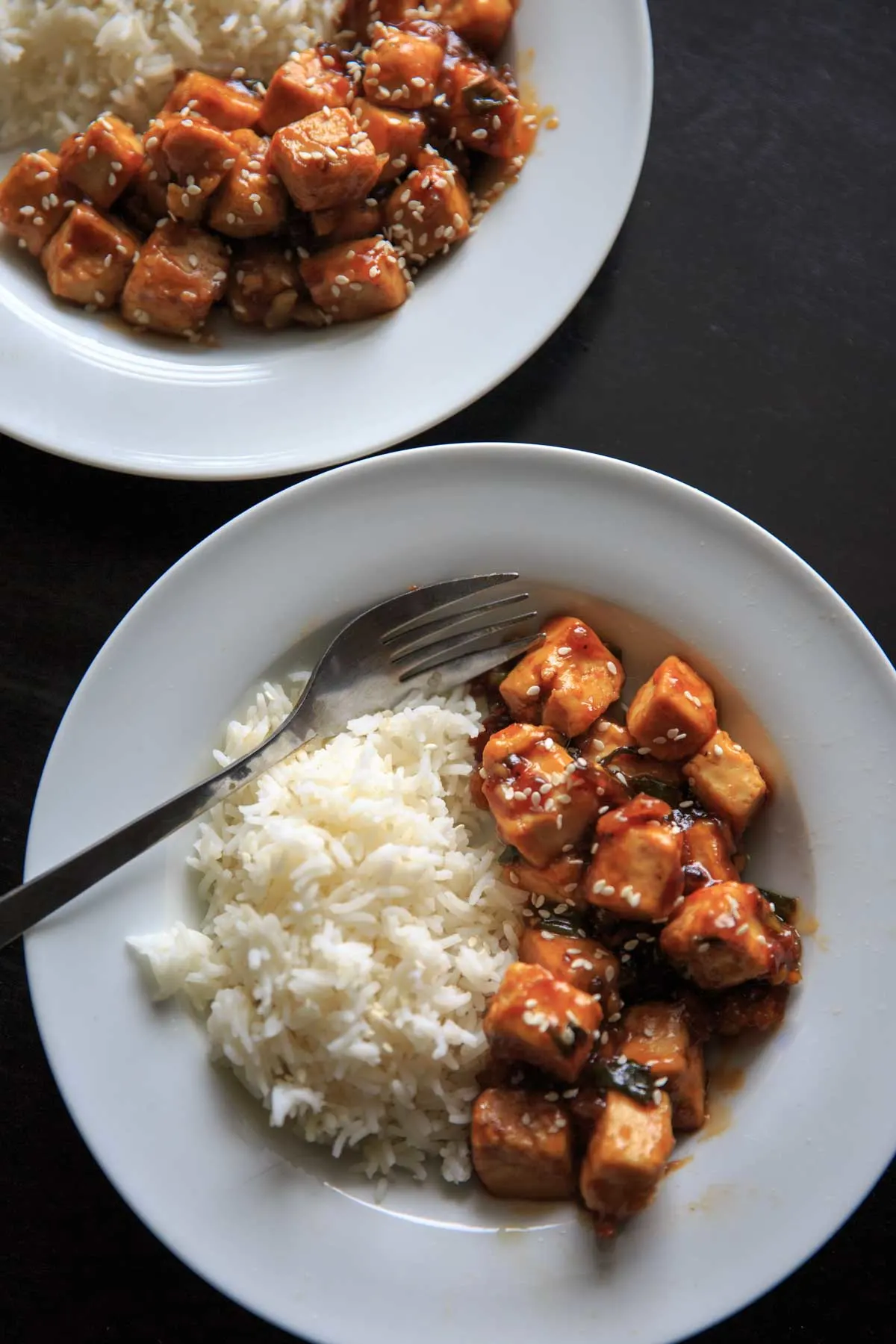 As an Amazon associate, I earn from qualifying purchases.
Tofu is something I have struggled with cooking over the years.
It tends to get stuck to the pan, and/or not be evenly cooked on all sides.
Considering I've been a vegetarian for 3/4 of my life, you'd think I would be better at this by now!
Luckily I was recently sent a copy of Chef Chloe's newest cookbook, Chloe Flavor, which includes some tips for stir-frying tofu to get it perfectly crispy.
Her tips include not only several tofu recipes (and a recommendation for her favorite tofu brand, Nasoya) but also to use a tofu press.
This isn't the first time I heard about a tofu press, but I honestly didn't think it would make much of a difference. I'll tell you though – I was surprised how much water still came out of an extra firm tofu block after pressing!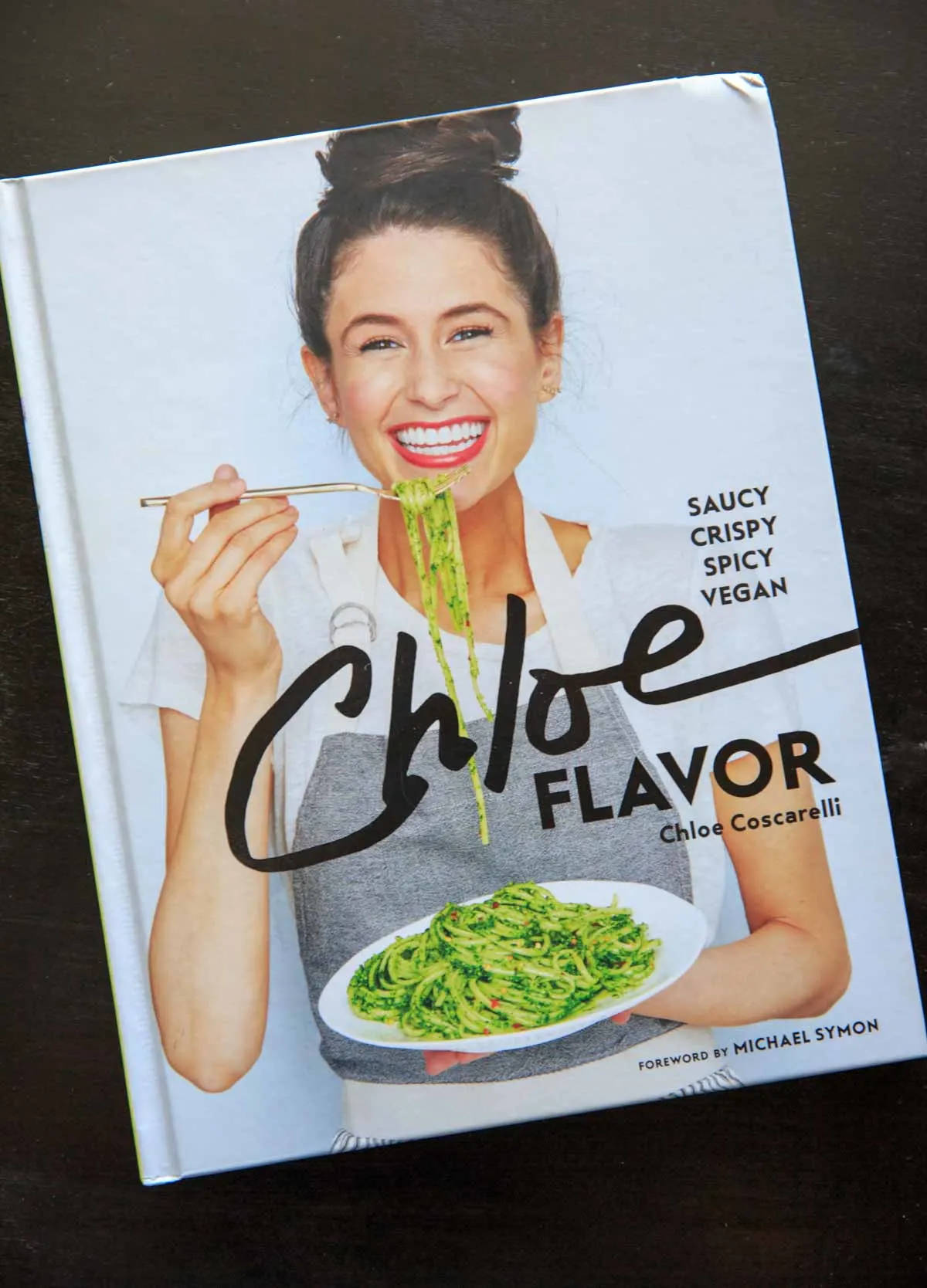 Getting the extra water out makes the tofu both firmer and crispier. I decided to try this trick on one of the cookbook recipes, General Tso's Tofu.
If you've ever ordered General Tso's Chicken on a menu at your favorite Chinese restaurant, you'll like this vegan-ized version!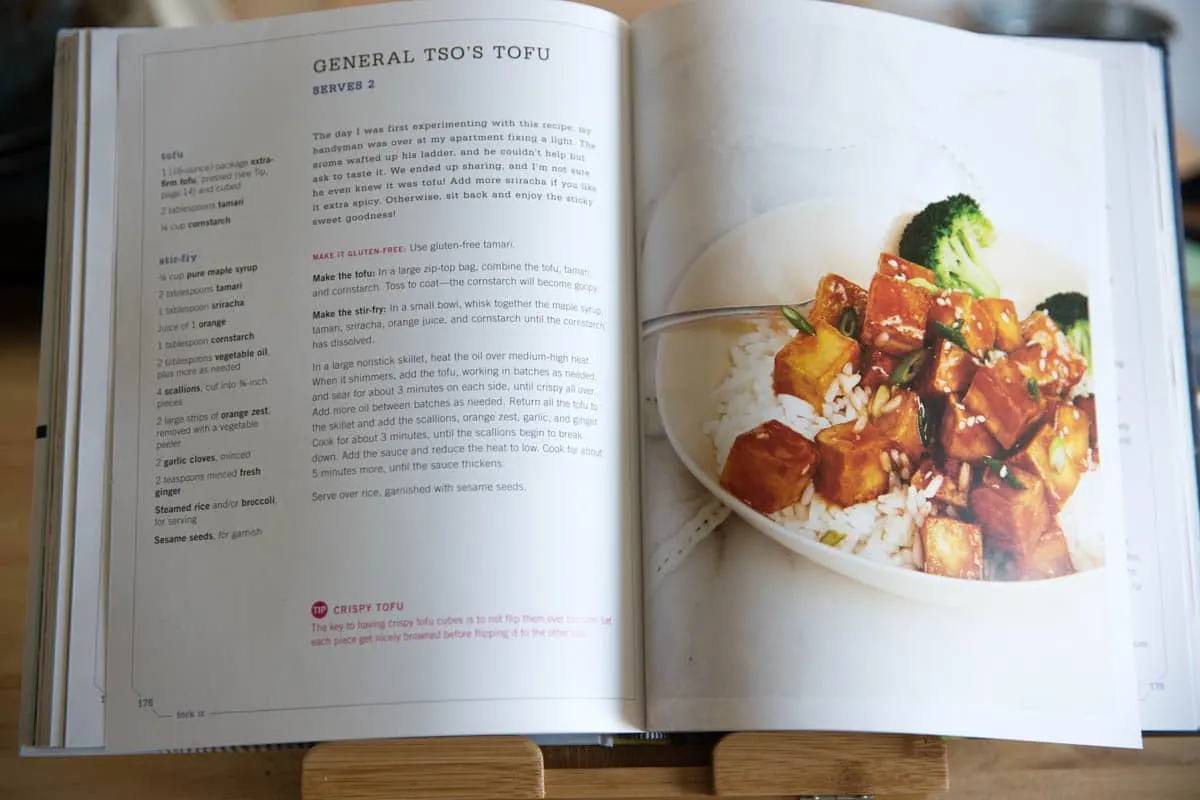 Start off with extra-firm Nasoya tofu, and put it in the tofu press for 20-30 minutes.
Then it's ready to be cubed, tossed in some cornstarch and tamari, and stir-fried!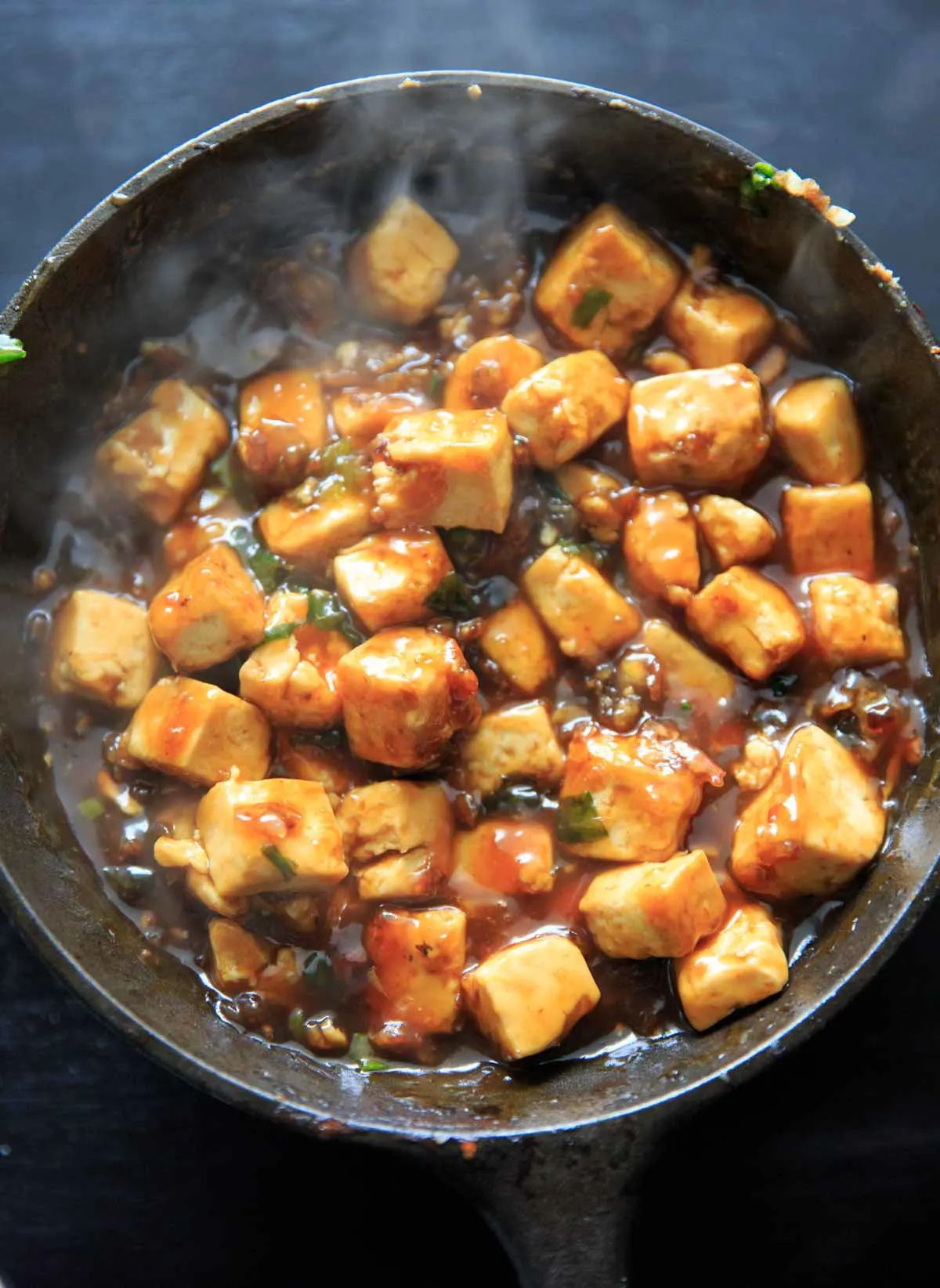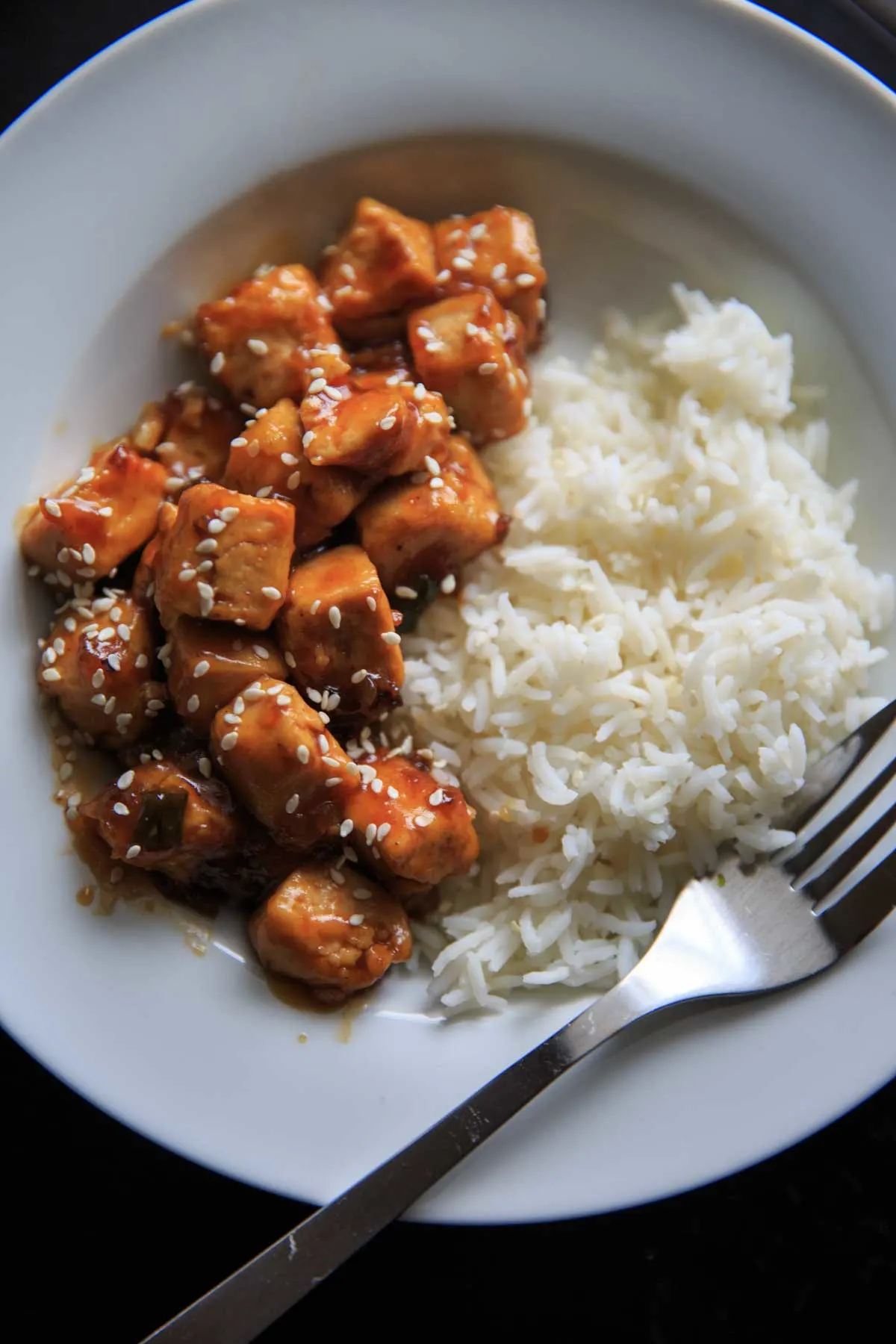 The original recipe added orange peel to simmer in the sauce, as well as some chopped ginger – of which I did neither.
I'm sure those add some wonderful flavor too, but in case you don't have them on hand like me, know that it will still turn out great!
Top with sesame seeds, serve with some cooked rice or quinoa, and you have yourself a delicious tofu dinner.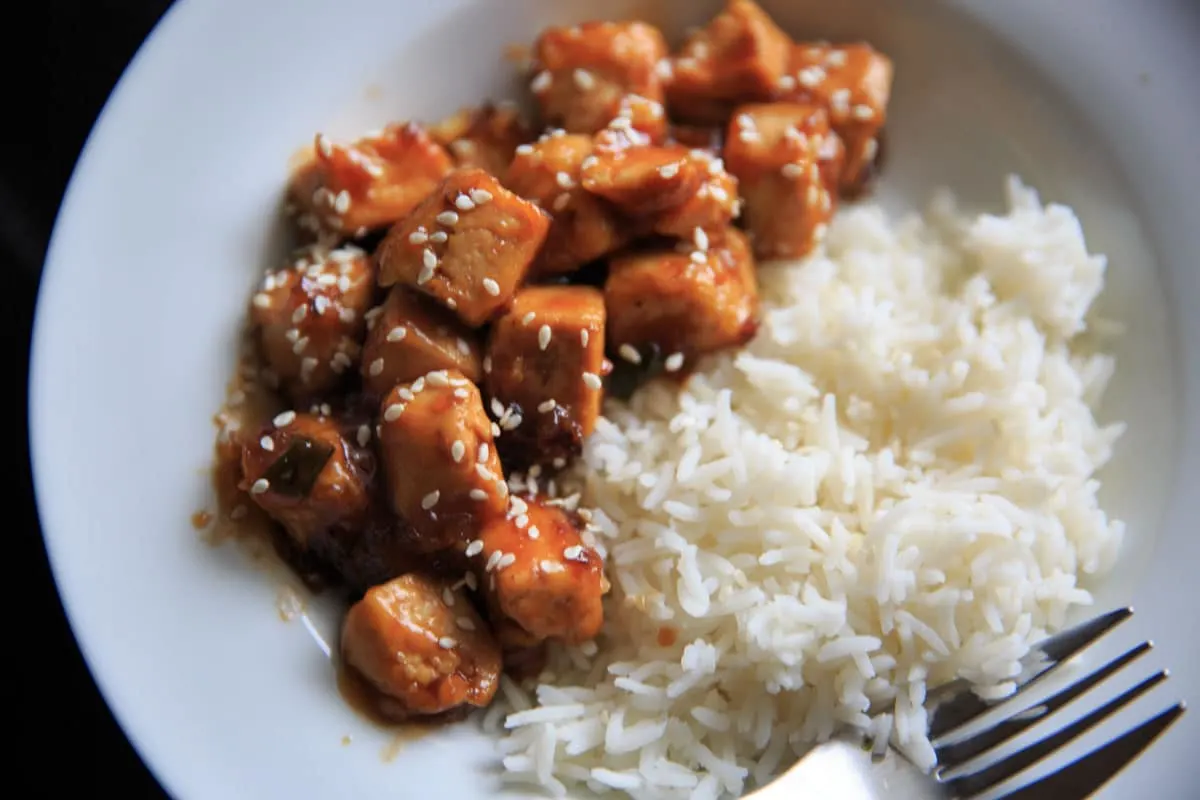 Another tofu recipe I have on the blog is pineapple tofu. I think it will be that much better trying this tofu press trick with it! I also want to try it with these tofu puffs!
Yield: 2
General Tso's Tofu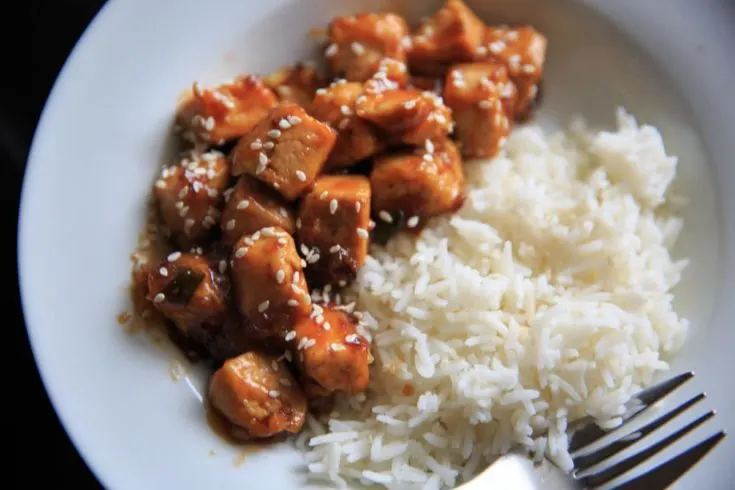 General Tso's Tofu from the Chloe Flavor Cookbook - serve with rice or quinoa, top with sesame seeds and you have yourself a delicious vegan, gluten-free meal.
Additional Time
20 minutes
Ingredients
For the tofu:
1 (16-oz.) package extra-firm tofu, pressed and sliced into cubes
2 tablespoons tamari
1/4 cup cornstarch
For the stir-fry:
1/4 cup pure maple syrup
2 tablespoons tamari
1 tablespoon sriracha
4 tablespoons orange juice (or juice from 1 orange)
1 tablespoon cornstarch
2 tablespoons extra virgin olive oil, plus more as needed
4 green onions (scallions), chopped
2 cloves garlic, minced
2 teaspoons ginger, minced
rice or quinoa, for serving
sesame seeds, for garnish
Instructions
Make the tofu:
In a large ziploc bag, add the cubed tofu, tamari and then cornstarch. Toss to coat.
Make the stir-fry:
In a small bowl, whisk together the maple syrup, tamari, sriracha, orange juice and cornstarch until the cornstarch has dissolved. Set aside.
In a large nonstick skillet or cast iron pan, heat the oil over medium-high heat. Once hot, add the tofu, working in batches as needed, and sear for about 3 minutes on each side or until crispy all over. Add more oil between batches as needed.
If cooked in batches, return all tofu to the skillet and add the green onions, garlic and ginger. Cook for about 3 minutes, until the green onions begin to break down.
Add the sauce you set aside and reduce heat to low. Cook for about 5 minutes more, until the sauce thickens.
Serve with rice or quinoa and top with sesame seeds.
Notes
*Recipe from Chloe Flavor Cookbook, reprinted with permission.
**Original recipe also adds some orange peel to the simmer.
Nutrition Information:
Yield:
2
Amount Per Serving:
Calories:

637
Total Fat:

24g
Saturated Fat:

3g
Trans Fat:

0g
Unsaturated Fat:

20g
Cholesterol:

0mg
Sodium:

2238mg
Carbohydrates:

92g
Fiber:

6g
Sugar:

31g
Protein:

16g
Nutrition information is calculated automatically by an online tool at Nutritionix. It is not always accurate. Please use your own tools to check if you rely on this information.