Blueberry crisp crumble with an oat and coconut oil topping. Healthy and fruity dessert that's gluten-free and vegan. No added refined sugar!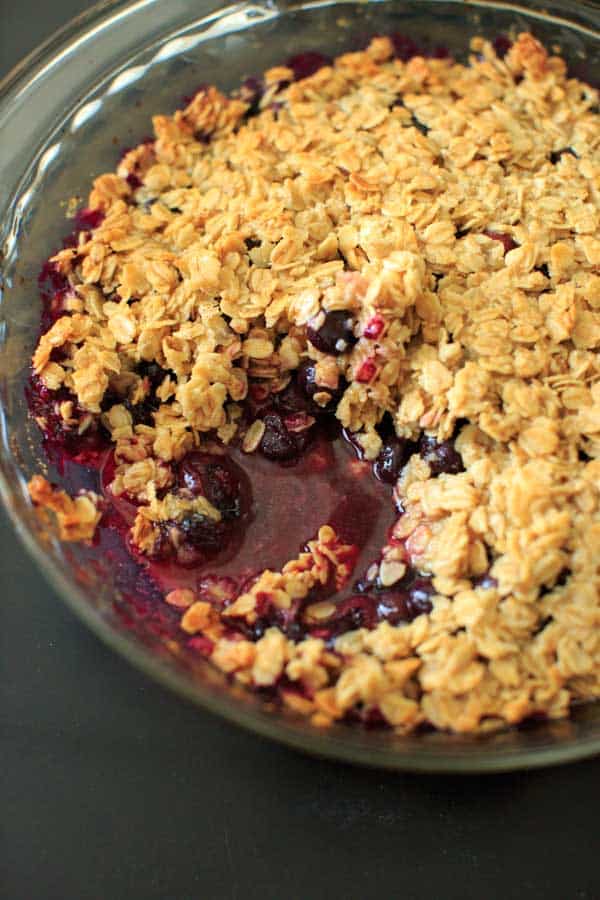 Two things I have an obsession with lately – blueberries and coconut oil. So I'm only surprised this recipe didn't happen sooner.
I didn't know whether to call this a "crisp," "cobbler," or "crumble." So I had to do some research.
Turns out, crisp and crumble can be used interchangeably. So I just call this a blueberry crisp crumble because it's fun to say. And because it's a challenge not to say "Kris Kringle" instead of crisp crumble because for some reason that's what wants to come out of my mouth. Is that a form of dyslexia? (See: bang bang cauliflower for another example of my word mix-ups.)
A crisp, or crumble, is fruit with a topping of some combination of flour, oats, nuts, butter, sugar. A cobbler is fruit topped with batter or biscuit crust, usually not entirely covering the fruit (like a cobblestone sidewalk). I also learned words such as "buckle" or "grunt" or "brown betty" but you can read about those here if you want.
The things I learn while writing recipes never ceases to amaze me!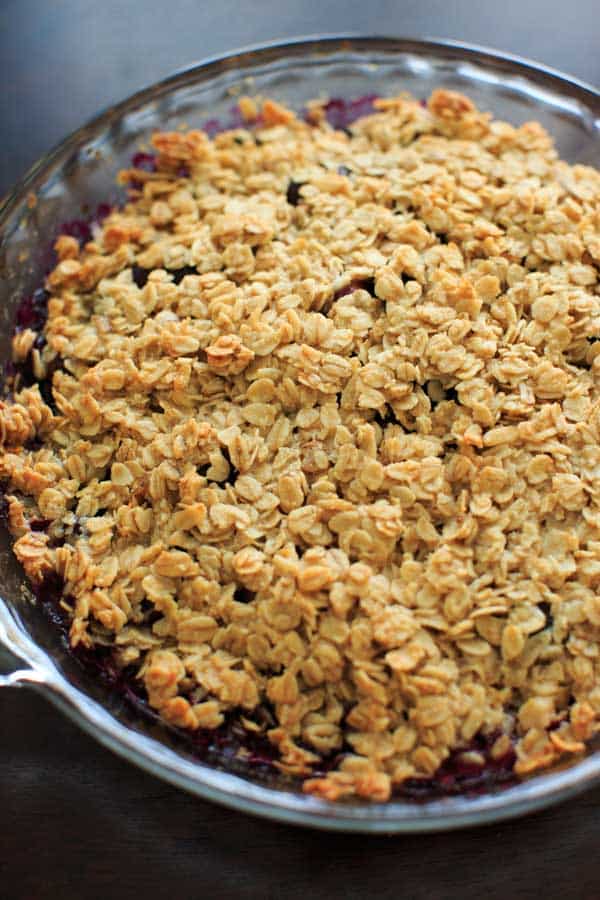 Anyway, the problem with crisps or crumbles or whatever you want to call it, is a lot of time there seems to be a lot of added sugar. As per usual, I wanted to make a healthier version that wouldn't sacrifice on flavor.
Blueberries are already so sweet, so I didn't miss the sugar.
Though I won't judge if you want to add more honey/maple syrup to sweeten, and/or serve the blueberry crisp crumble with some ice cream.
I used oat flour for this recipe, but if you're not trying to keep this gluten-free you can use regular flour.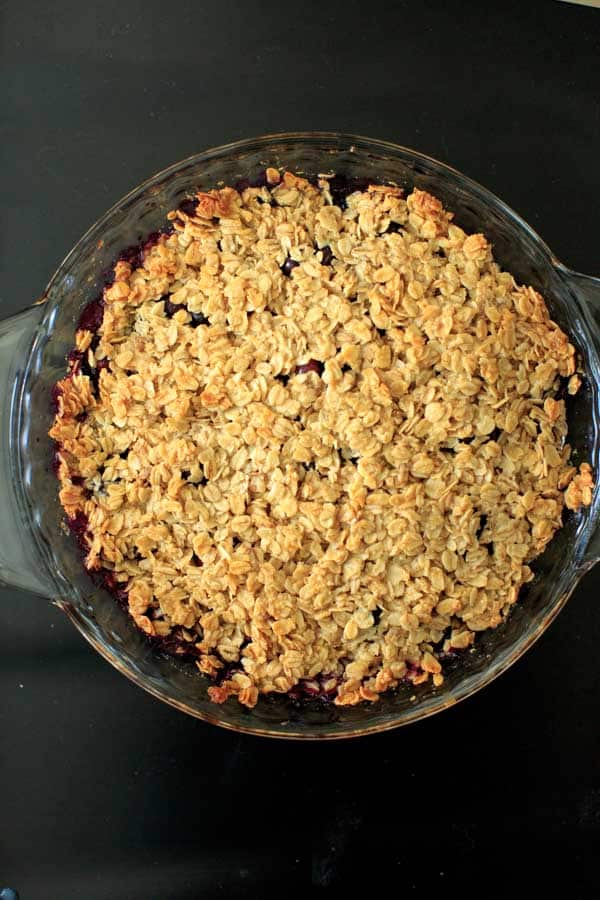 Coconut Oil Blueberry Crisp Crumble
Blueberry crisp crumble with an oat and coconut oil topping. Healthy and fruity dessert that's gluten-free and vegan. No added (refined) sugar!
Ingredients
1

18 oz container

fresh blueberries

(about 3 heaping cups)

1/2

lemon

1

cup

rolled oats

1/2

cup

coconut oil

, in liquid form

2

tablespoons

honey or maple syrup

(or your desired sweetener)

1/4

cup

almond flour

(or flour of your choice)

1

teaspoon

vanilla extract

1

teaspoon

cinnamon

pinch of salt
Instructions
Preheat oven to 350°F.

Rinse and dry the blueberries and place in a 9 inch baking pan. Squeeze lemon juice evenly over top and stir quickly.

In a small bowl, combine oats, coconut oil, flour, honey or maple syrup, vanilla, cinnamon and salt.

Evenly distribute oat mixture over top of blueberries.

Bake for 30-40 minutes or until oat topping is lightly browned.
Recommended and useful items for this coconut oil blueberry crisp crumble recipe:
*There are links within this post that we can earn a commission on at no extra cost to you (known as affiliate links). Thank you for helping to support the site!