Plant based carrot cake energy bites, vegan and gluten-free. It's a quick and easy no-bake snack that's healthy but still tastes like dessert, ready in 10 minutes! Recipe video included!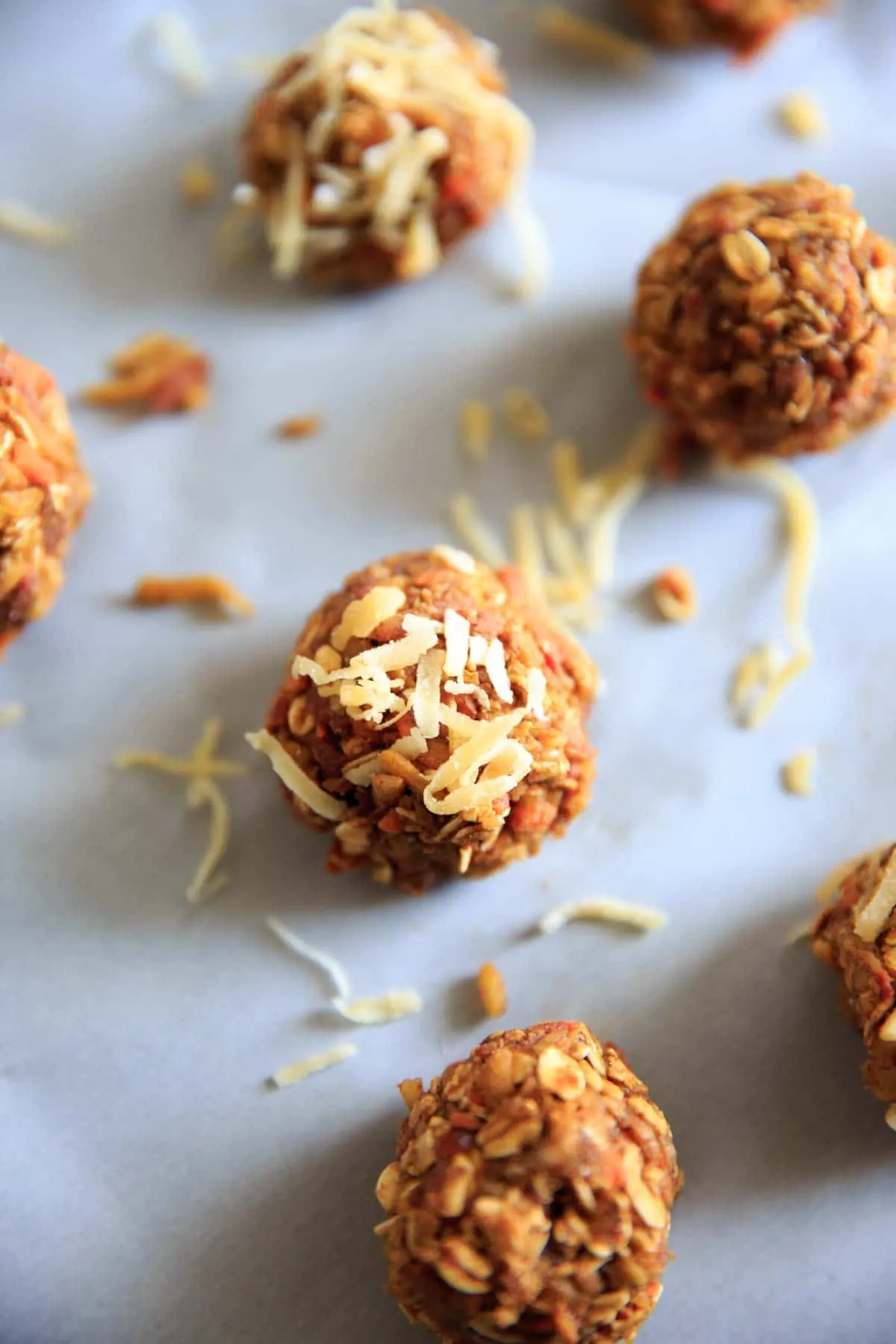 Have you ever tried full-body cryotherapy?
It's basically a machine that freezes you for 3 minutes. Seriously. Tony Robbins swears by it for increasing energy levels, and I've heard it's good for sports injuries and kickstarting your metabolism.
I think it's because your body thinks you are freezing to death, so it's so relieved when you're not that you get a burst of energy to GO LIVE LIFE again.
Yes, I've tried it and that was my experience the first time. I recently went for the second time at a new place, and they put me on "Level 1" which is only -100 degrees. instead of -200+ that I experienced the first time. At some point, freezing is just freezing.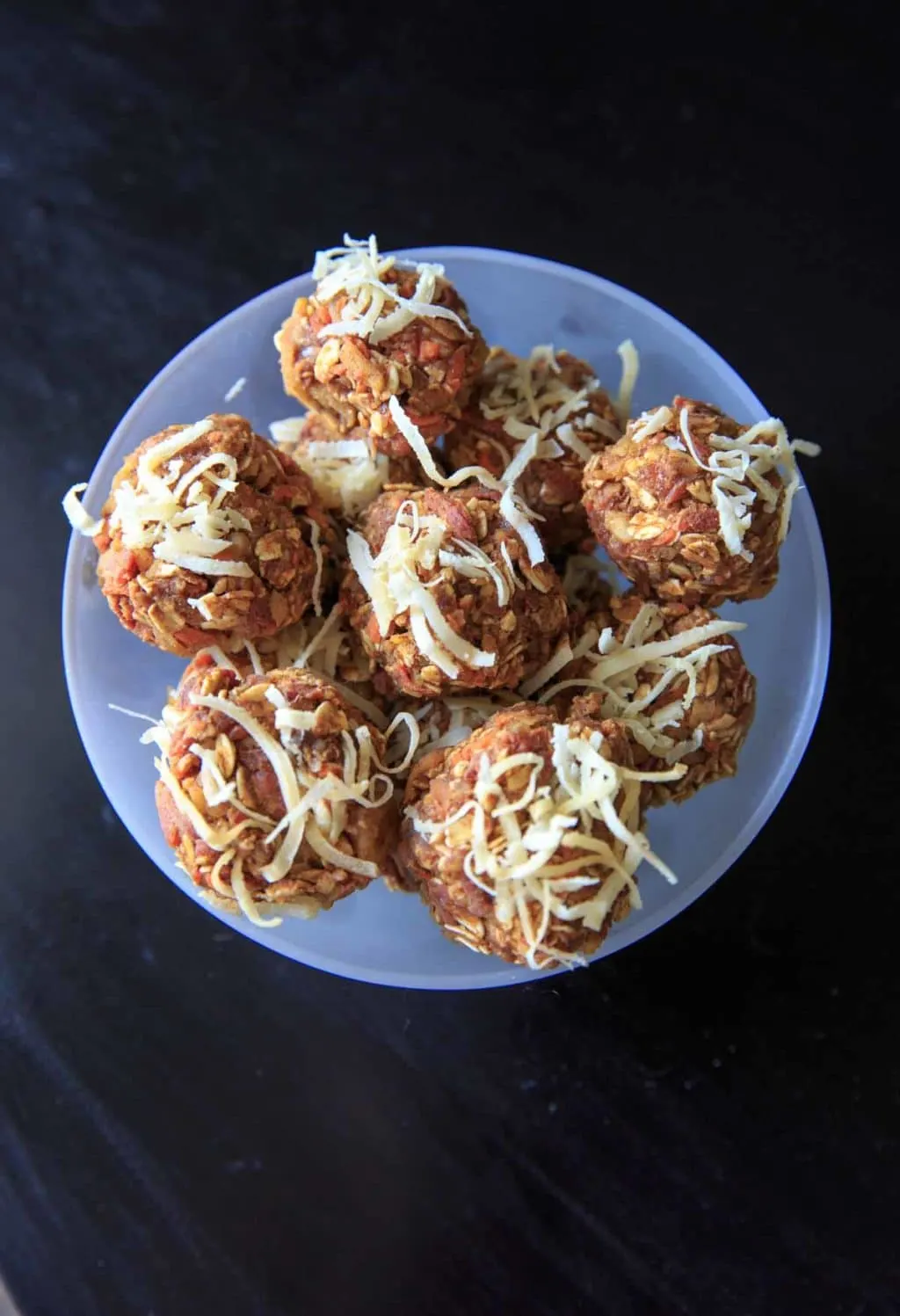 Really the only thing that story has to do with these energy bites is that I made these on the same day. And these bites are a much less painful way to try to increase your energy.
Two main reasons this recipe came to be:
The almond joy energy bites were posted over 2 years ago, and I figured it was about time I tried a new flavor.
Energy bites are so easy, and there are millions of flavors you could make. But today, it's carrot cake.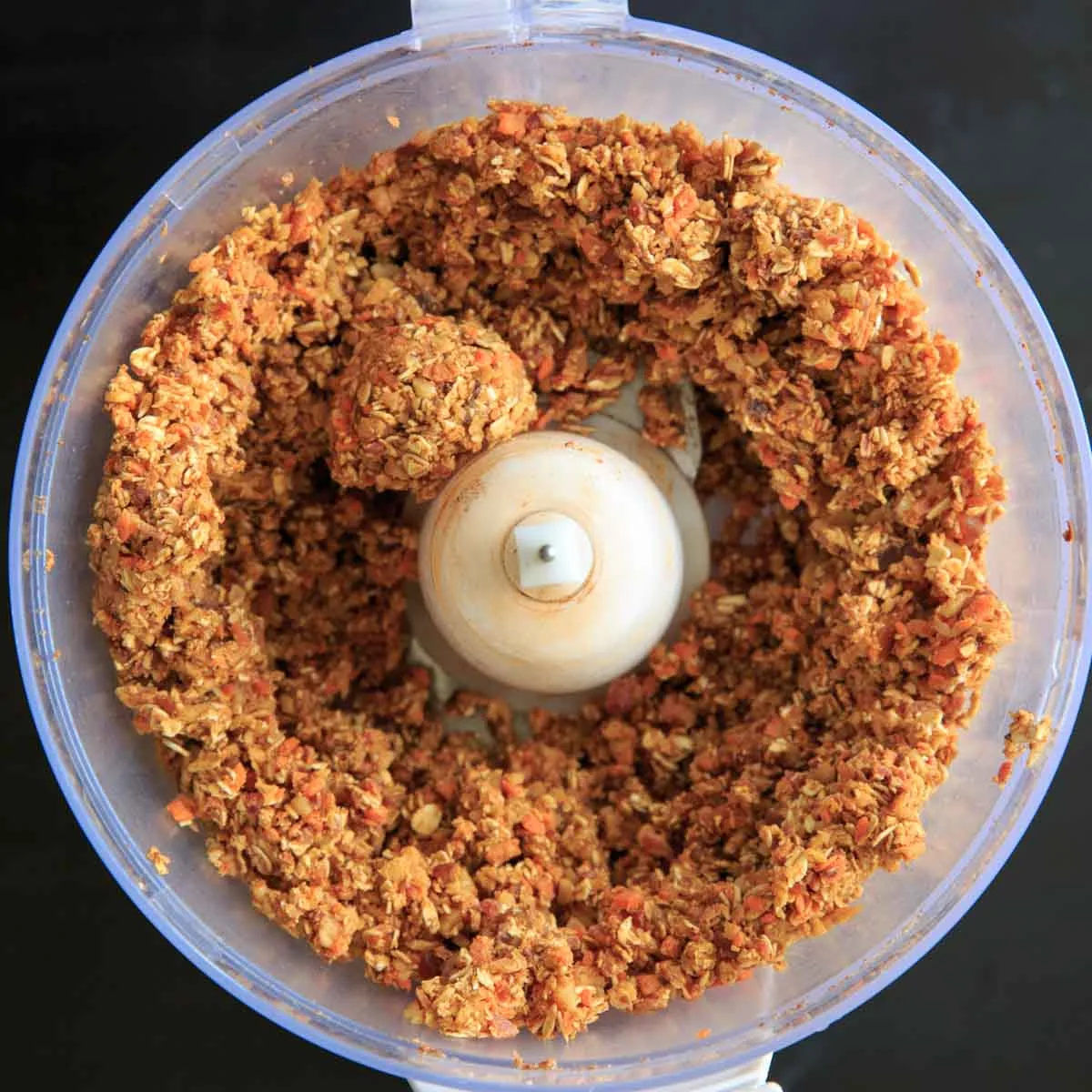 I've never actually baked a carrot cake, so I went to google and asked "what makes a good carrot cake?"
Apparently, some mix-ins are controversial ingredients in carrot cakes (raisins, coconut, even nuts) depending on who you ask.
But in general I learned it should definitely have a lot of spices, it shouldn't really taste like carrots, and it should be moist.
A lot of the other rules don't really apply for this recipe since these are no-bake.
So we don't need things like baking powder and eggs – and in fact, these are vegan and gluten-free.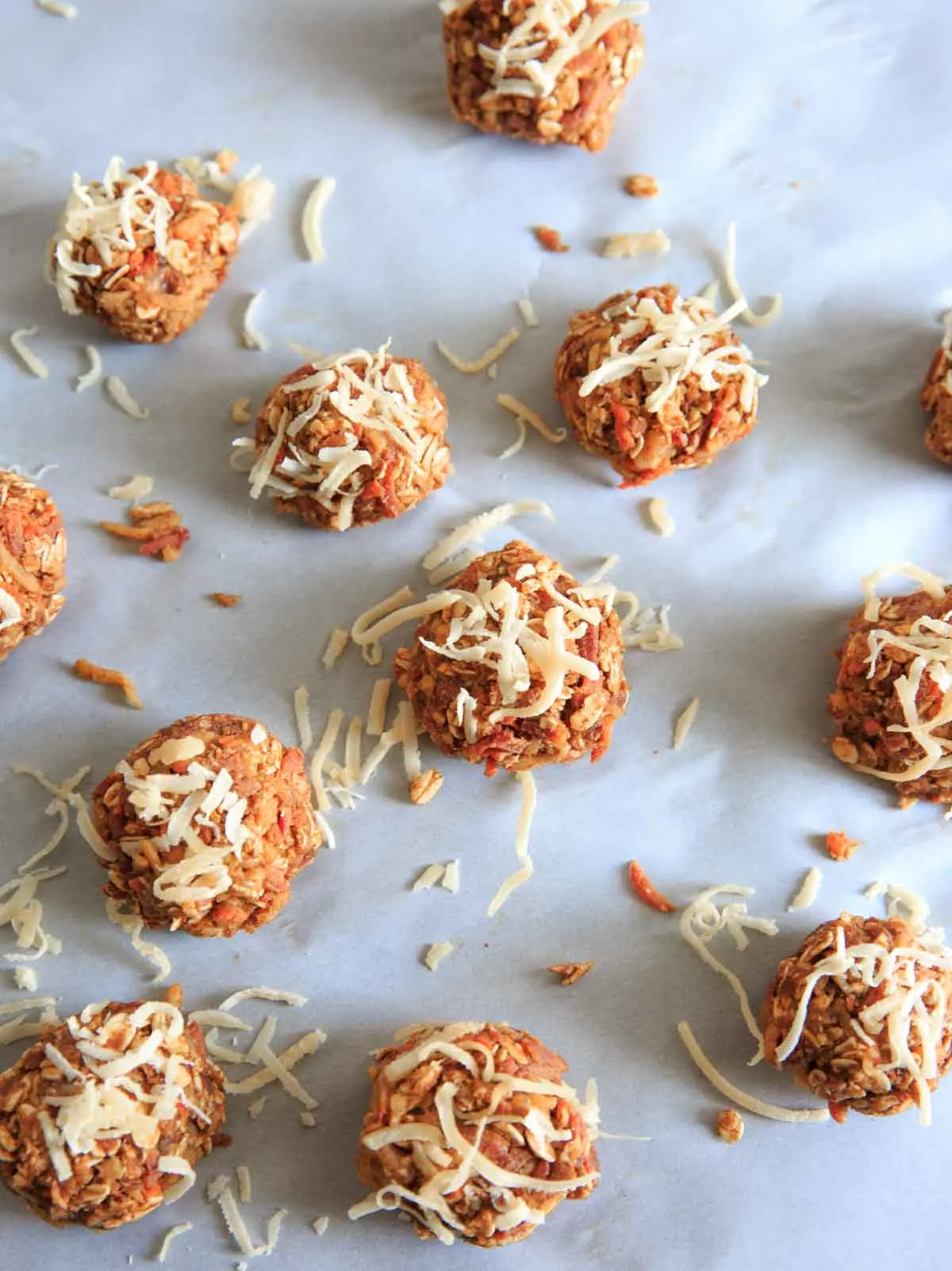 So I made sure to add a lot of cinnamon, and sprinkled in some nutmeg and salt for good measure.
The dates do most of the work to sweeten and moisten up the dough, so I just needed to add 1 tablespoon of coconut oil.
If you add more oats than the recipe says, or if the dough still seems to dry, you can add a little more coconut oil or water until the dough sticks together.
I just added a bit of shredded coconut to the tops, but leave it off if you don't like that idea.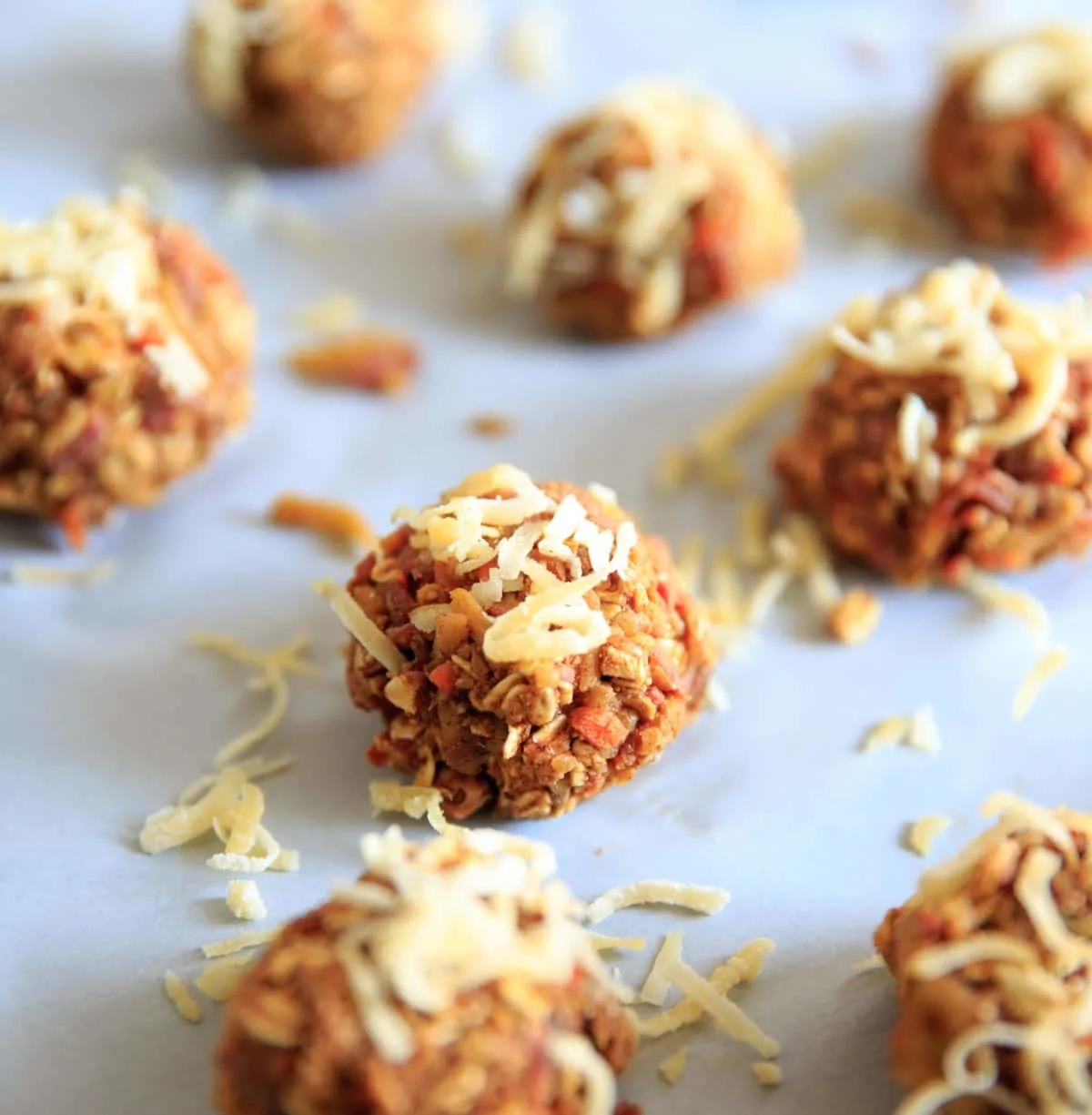 Personally I like these energy bites at room-temperature, but I do stick the leftovers in the fridge.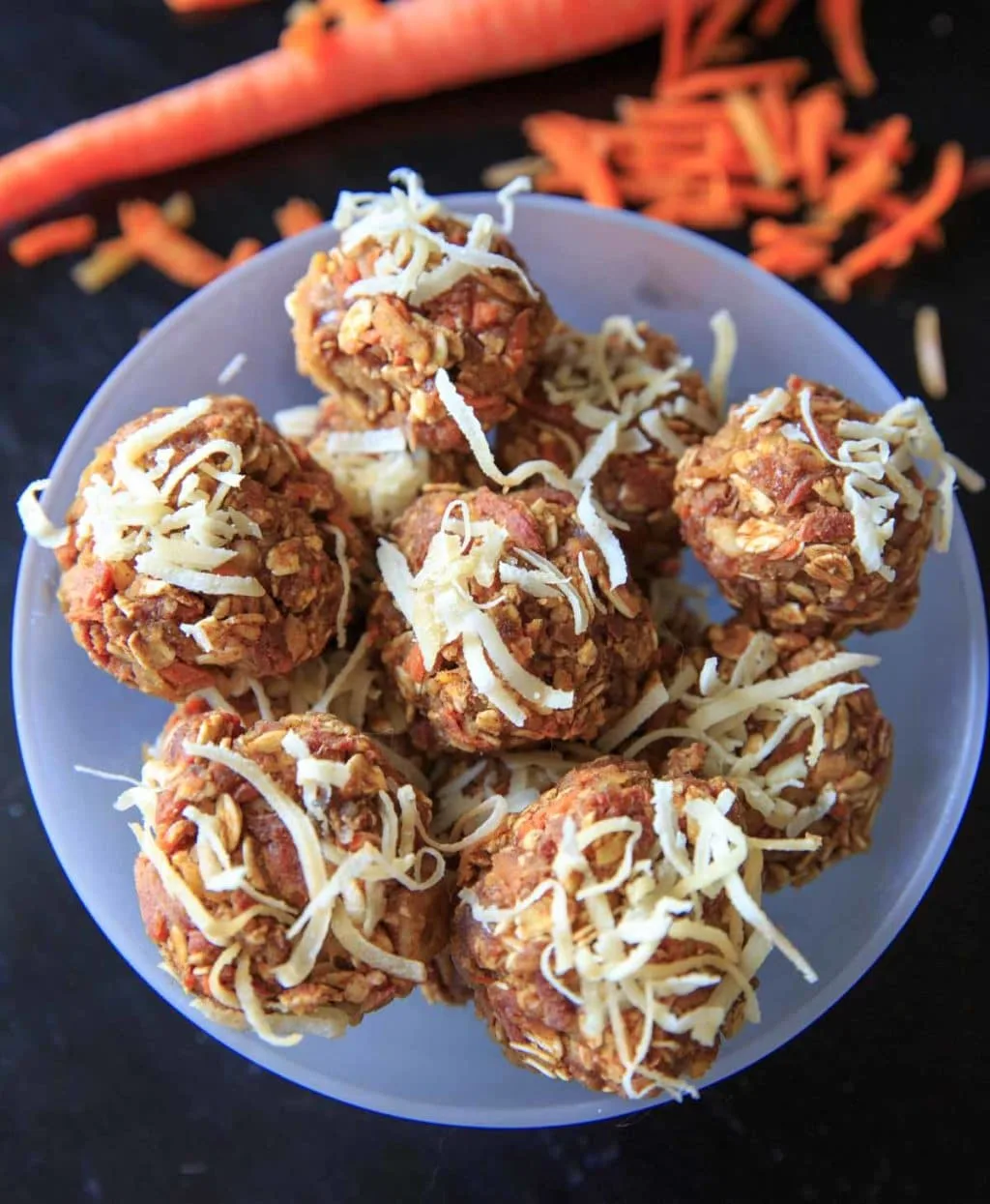 Yield: 18 balls
Carrot Cake Energy Bites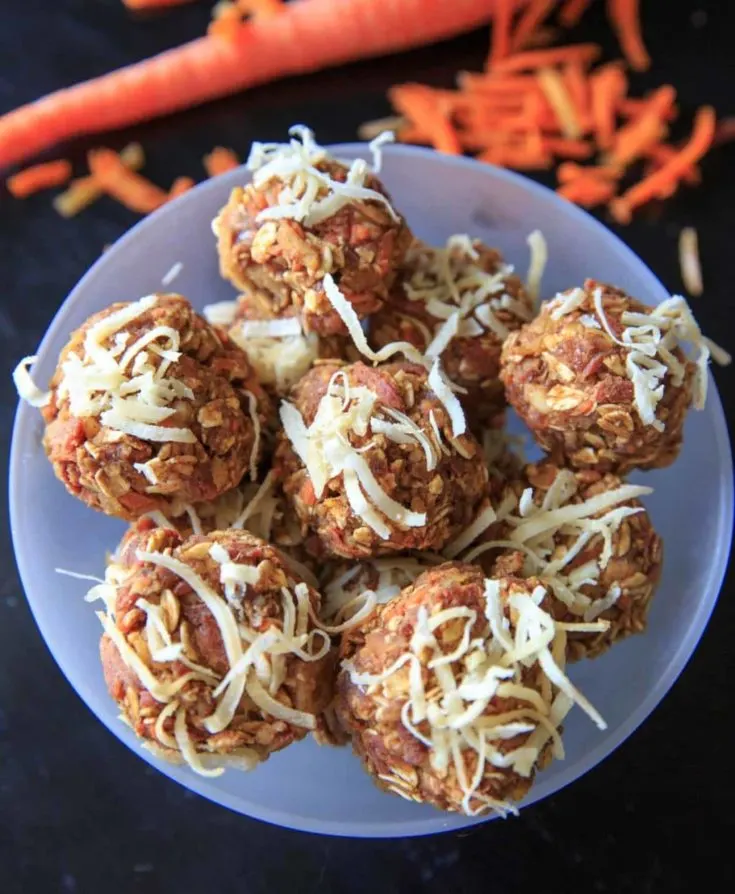 Vegan and gluten-free no-bake carrot cake energy bites. It's a quick and easy snack that's healthy but still tastes like dessert!
Ingredients
2 cups shredded carrots
1 cup pitted dates
1 cup rolled oats
1/2 cup walnuts
1 tablespoon coconut oil
1 tablespoon ground cinnamon
2 teaspoons vanilla extract
1/2 teaspoon nutmeg
1/2 teaspoon sea salt
1/4 cup shredded coconut (optional)
Instructions
In a food processor, add all ingredients except shredded coconut. Blend until combined.
Using hands, roll into bite sized balls. Option to top with shredded coconut flakes.
Refrigerate leftovers.
Notes
*Once blended, dough should not be dry - but if it is, you can add more coconut oil or water 1 tablespoon at a time until moist enough to make into balls.
**Can add chia seeds or more nuts for extra protein/energy.
Nutrition Information:
Yield:
18
Serving Size:
1
Amount Per Serving:
Calories:

79
Total Fat:

3g
Saturated Fat:

1g
Trans Fat:

0g
Unsaturated Fat:

2g
Cholesterol:

0mg
Sodium:

71mg
Carbohydrates:

12g
Fiber:

2g
Sugar:

6g
Protein:

1g
Nutrition information is calculated automatically by an online tool at Nutritionix. It is not always accurate. Please use your own tools to check if you rely on this information.