This post contains affiliate links, which means I may receive a small commission if you make a purchase after clicking on my links. All opinions are my own.
Trial and Eater's review of the organic frozen fruit and vegetable smoothie service, SmoothieBox! Frozen organic fruits, vegetables and seeds delivered straight to your door and ready to be blended into a smoothie. Fun flavors including clementine, cacao, berry, and greens. Read more about them and get an exclusive discount code here!
Ready to buy and don't need to see the rest of the SmoothieBox review? My readers can use the discount code TRIALANDEATER at checkout to get a special $15 off your first order.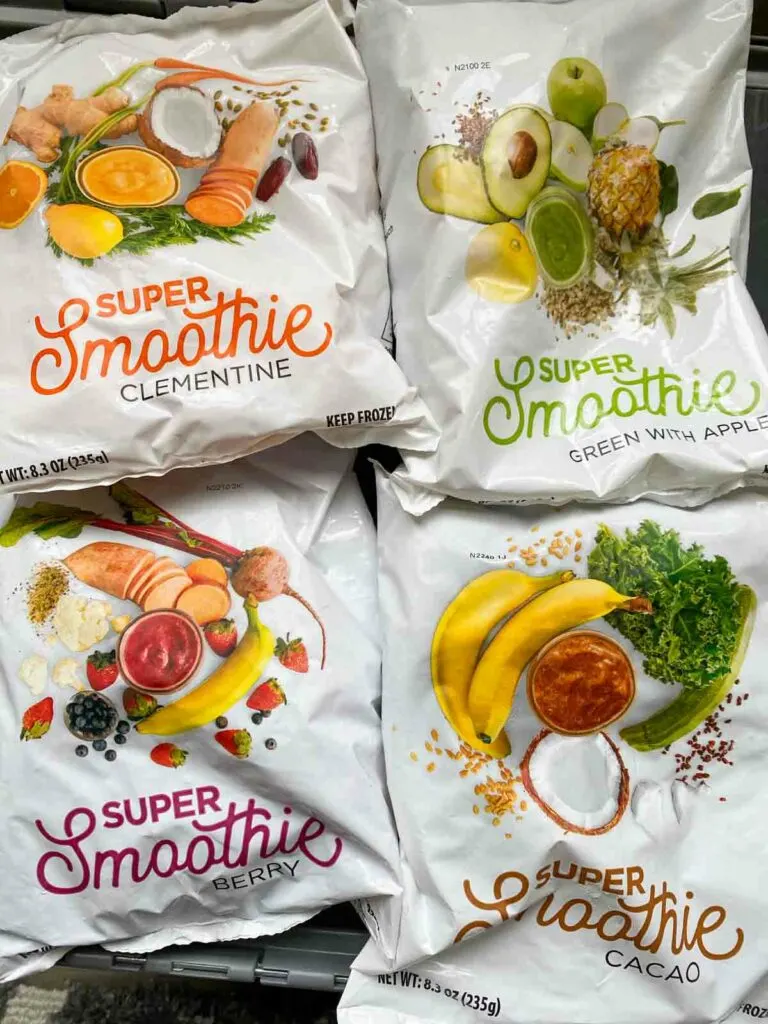 What is SmoothieBox
Simply put, SmoothieBox it's a box full of smoothie fixin's in a subscription box! Organic fruits and veggies that are flash-frozen at their peak of freshness to retain the maximum nutrients. Then a box full of ready-to-blend smoothies in your chosen flavors is delivered straight to your door!
Pre-portioned into easy frozen smoothie packs, it's easy to add protein powder or any other smoothie mix-in you desire when you are ready to make it.
SmoothieBox Flavors
SmoothieBox has four flavors of "Super Smoothies" to choose from – each come in a box of 5 smoothie packets, so if you order a box of 20 smoothies you can get 1 box of each flavor.
The berry one is my go-to! Ingredients: strawberries, wild blueberries, cauliflower and smoothie chips (sweet potato and banana puree, raw hemp seeds, lemon juice, beet juice). This is delicious as is, or with some vanilla protein powder and any superfood mix that has other berries in it – like Forever Beautiful from Your Super.
Full of antioxidants and very easy drinking for any blueberry fan.
I love the cacao blend mixed with peanut butter for more of a "dessert" smoothie!
Ingredients: Bananas, coconut cream, cacao beans, cacao, zucchini, kale, sunflower kernels, smoothie chips (coconut water, banana puree).
This makes a delicious smoothie bowl for when you're craving chocolate and also pairs well with fruit or granola. Pictured below has a couple variations, both of which have added bee pollen on top and the left has some cacao superfood honey from Beekeepers Naturals to make it extra chocolatey.
"Crisp and refreshing, like a summers day." Clementine smoothie pack tastes like an orange creamsicle with a ginger boost.
Ingredients: Mandarins, carrots, pumpkin seeds and smoothie chips sweet potato puree, ginger, dates, lemon juice, coconut water).
I like to add yogurt to this blend to keep in line with the creamy texture.
On days when you just need extra greens, this is a perfect healthy smoothie.
Ingredients: Pineapple, granny-smith apple, chopped spinach and smoothie chips (avocado, flax seed, hemp hearts, lemon juice, apple juice).
I like to mix this with Organifi green juice for an extra dose greens!
Price
If you order the 20 smoothie box, it's $5.95 per smoothie if subscribing or $7.44 per smoothie for a one-time purchase. A 25-pack smoothie box is $5.56 per smoothie for subscribers or $6.95 per smoothie as a one-time purchase.
Plus, remember to enter the coupon code "trialandeater" for $15 off the total on the SmoothieBox website.
Each bag is actually 2 servings, so I usually use half a bag and mix it in with some protein powder, superfoods and oat milk. Which means a box of 20 smoothies is really 40 smoothies if you do it this way (and therefore the price is cut in half – as low as $2.48 per smoothie for your first box when using our code on a 25 pack smoothie subscription!).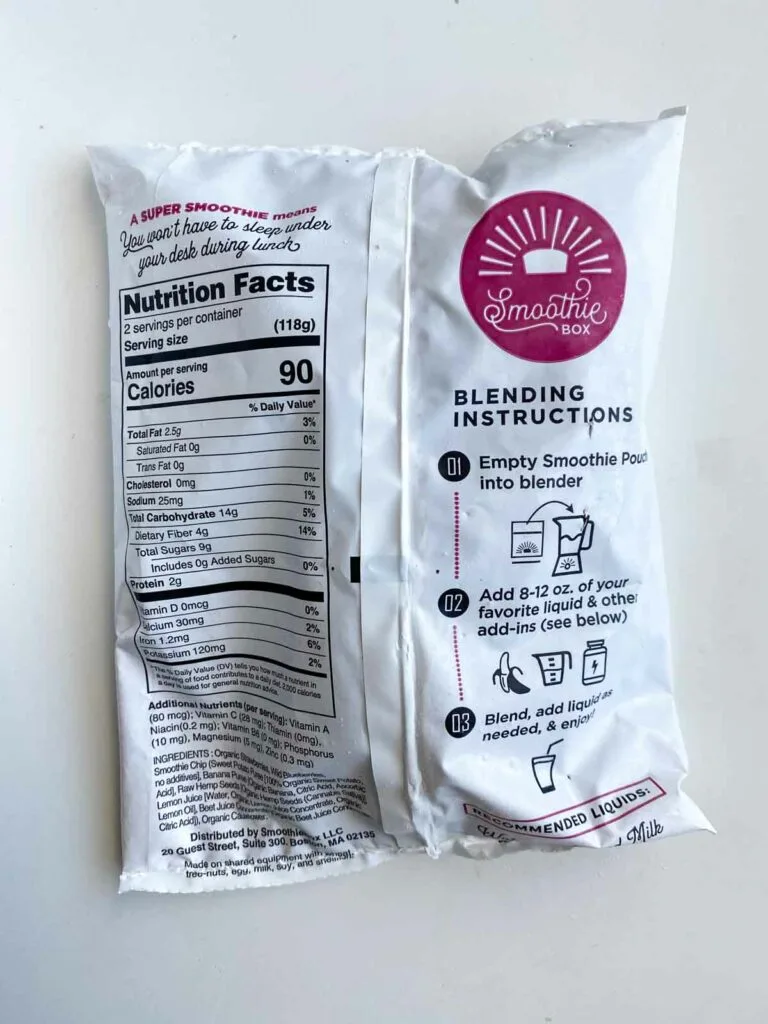 If you're just going to do a straight juice smoothie and not add protein powder or anything, you may want to use the whole bag of produce for it to be substantial enough.
Shipping is always included in the price, regardless of if you subscribe or place a one-time order.
How to Order
On SmoothieBox.com you can choose a box of 20 or 25 smoothies and then pick your flavors.
Remember each flavor comes in a box of 5, so if you choose 1 of each 4 flavors, that gives you 20. You could also choose all boxes of one flavor if you already know your favorite!
Choose one-time shipping, or subscribe to save 20%. Subscriptions can be paused, skipped or cancelled any time.
You may be prompted to enter your email address before choosing your items.
Use coupon code TRIALANDEATER to save an extra $15 at checkout.
Then they will be packed and shipped to your address in dry ice!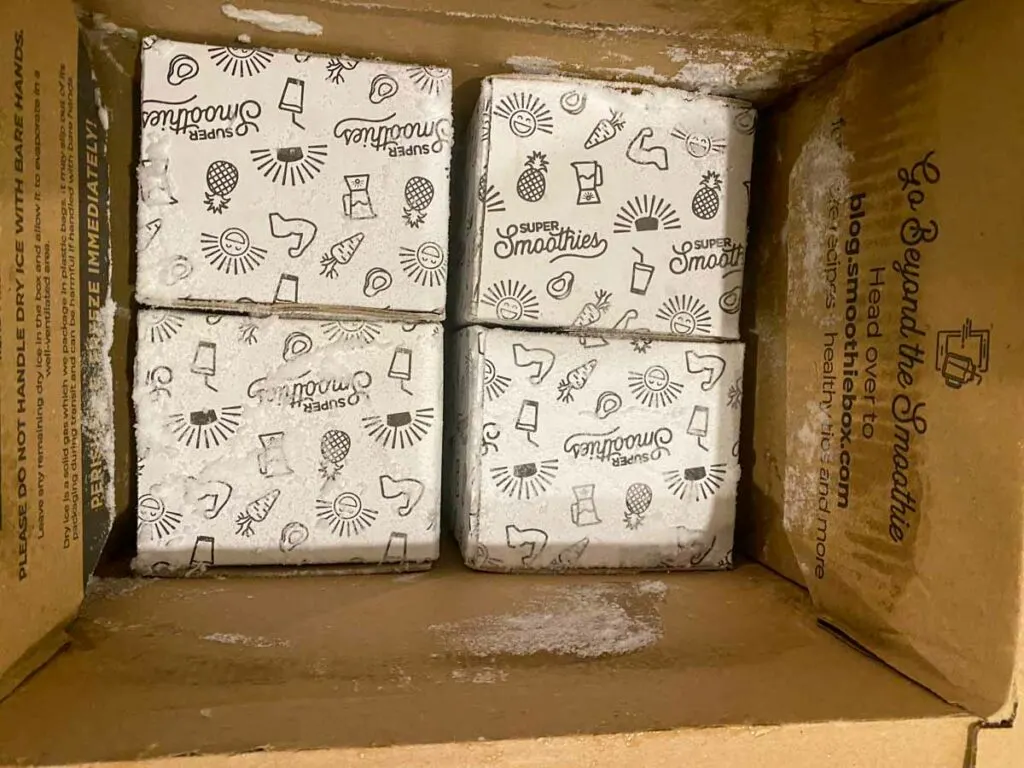 My Overall Review of Smoothie Box
What I love about SmoothieBox is the convenience of healthy, pre-packaged organic fruits and vegetables ready to be blended into a smoothie. It makes my smoothie prep much more streamlined to have these varieties ready to go, and easy to mix up flavors based on my mood.
There are no added sugars or sweeteners in them, which is also a big plus. Just keep this in mind if you prefer sweeter smoothies and you can add in something sweet when you go to blend.
The price is really affordable, especially if you split each package into two smoothies. This way, each smoothie is $3.72 instead of $7.44 for a one-time purchase (or $2.98 per smoothie if you're subscribing). Plus, remember to enter the coupon code "trialandeater" for $15 off the total.
Since I add in protein powder and oat milk, this amount still makes for a satisfying smoothie and fits perfectly in my personal smoothie blender.
Berry smoothie is my favorite every-day flavor, and with the cacao smoothie I like to mix in with peanut butter protein for a sweet healthy treat!
Speaking of protein powders: They did just started offering protein powder as an add-on, and they have a couple vegan options. They don't make it super easy to find the ingredients list currently, but I did some digging and it contains stevia. (Full ingredients for the vanilla vegan protein: Creamer (High Oleic Sunflower Oil, Tapioca Starch, Tapioca Dextrin,Natural Flavors, D Alpha Tocopherols), Organic Sucrose, Natural Flavors, Stevia.) I prefer my Four Sigmatic protein, organic and stevia-free.
In addition to that they also have a collagen peptides add-on, which obviously isn't vegetarian. If you want a plant-based collagen option, I like this one.
Which flavors will end up being your favorite? Let me know what you try!