This post contains affiliate links, which means I may receive a small commission if you make a purchase after clicking on my links. All opinions are my own.
Trial and Eater's review of Organifi products! The superfood company that makes a variety of organic powders like green juice, red juice, gold juice, and others that are vegan, gluten-free, dairy-free and even keto friendly. Whether you're looking for an energy boost or just need help with relaxation, there is a delicious plant-based powder from Organifi for you. Read more about them and find an exclusive discount code below!
Ready to buy and don't need to see the rest of the review? My readers can use this link or use coupon code TRIALANDEATER at checkout to save 15% on any order!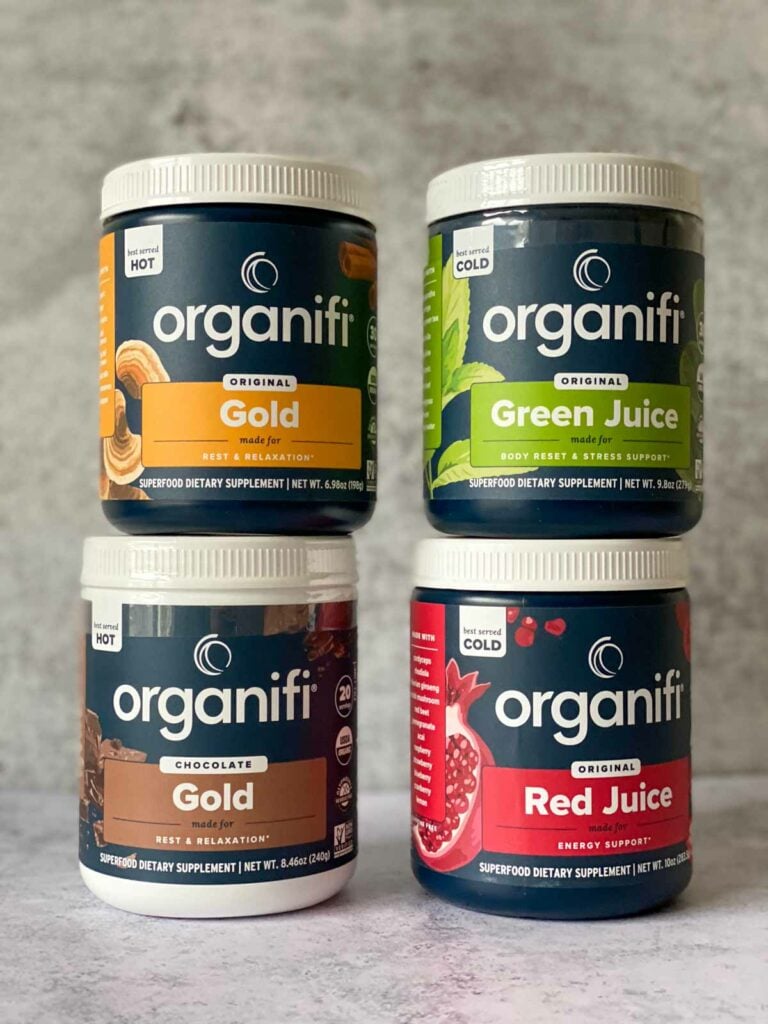 Organifi Juices
There are a variety of "juices" (that are really juice powders) that cover everything from workout recovery to relaxation. They are sold in jars and some of the flavors also come in travel packs.
They are not really meant as meal replacements because they don't have protein, but are more like a supplement for different times of day.
Most taste really good mixed in with just water, though gold is better with oat milk!
Green Juice
The green juice powder is the first product I heard about from Organifi (maybe you, too?).
It took me years to try this because I expected it to taste like a wheatgrass shot (which is uhh.. not great), as other green juice powders had. Luckily this isn't true! Even though it does contain wheatgrass, it is slightly sweetened with monk fruit and also has mint to give it a refreshing taste.
Green juice is labeled as a "morning reset" and is also good for stress support. It's very alkalizing Some of the key ingredients are ashwagandha, moringa, matcha green tea, chlorella, spirulina, wheatgrass and lemon. Plus others!
Tastes good just mixed into water, or you can blend into smoothies. (Also pairs well with the red juice.) Best served cold.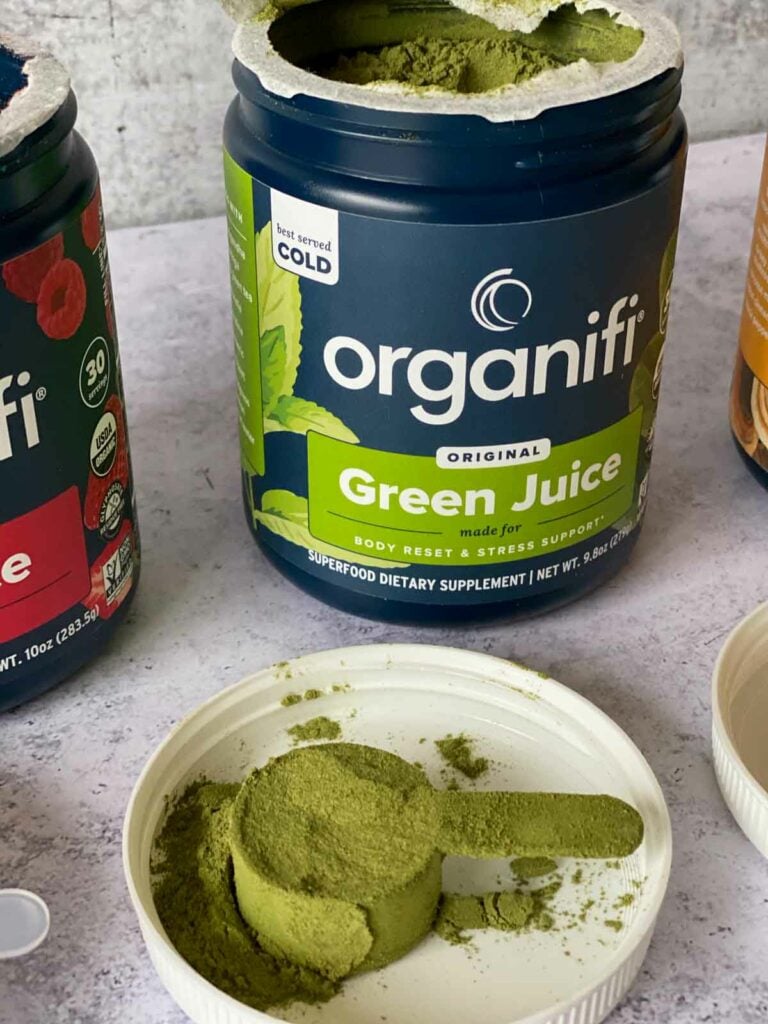 Red Juice
Red juice is formulated for energy support. I prefer the taste of this one a little bit more than the green, so sometimes I mix them together since they are both good for morning or day time consumption.
It's sweeter than the green juice from all the organic berries – like pomegranate, acai, raspberry, strawberry, blueberry and cranberry – and also contains cordyceps, rhodiola (which helps with concentration), siberian ginseng, red beet and reishi mushroom.
Best served cold.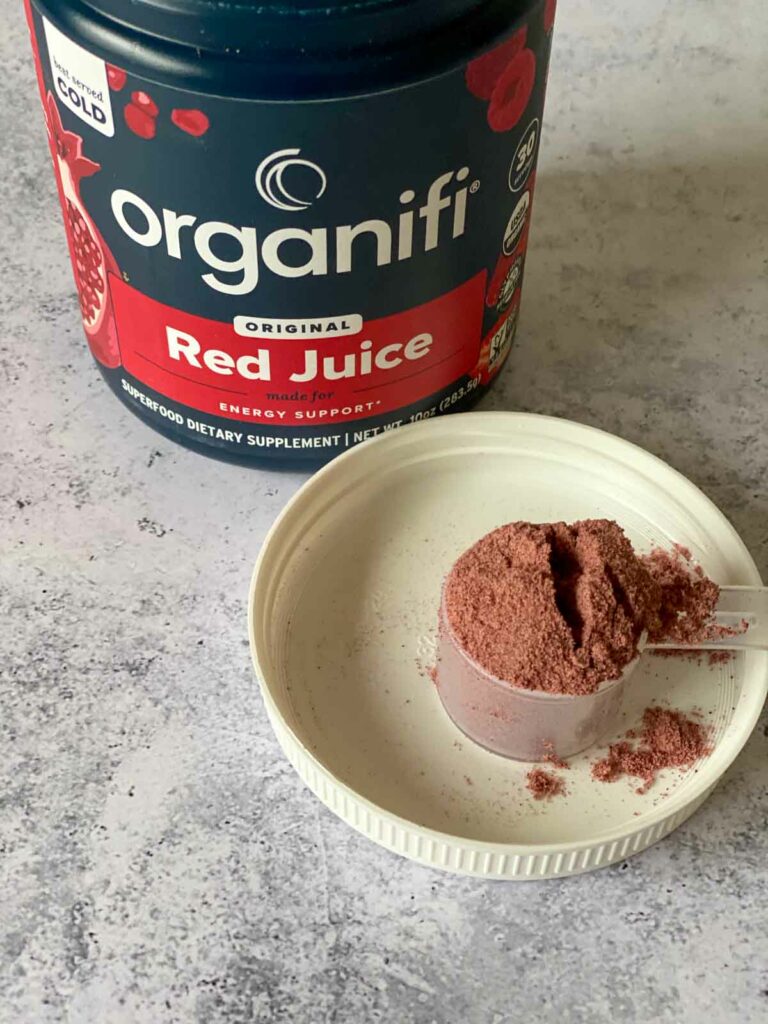 Gold Juice
Gold juice can be consumed at any time, but I typically have it at nighttime since it is formulated for rest and relaxation. Also great for immune support. (Best served hot.)
Mixed with hot oat milk it is basically "golden milk" – but tastes much better and is sweeter than the kind that just have turmeric powder. In addition to the turmeric, some other key superfood ingredients are ginger, lemon balm, turkey tail mushroom, and cinnamon! The cinnamon also helps stabilize blood sugar levels.
It actually has organic coconut milk powder in the ingredients, so it can be added to just hot water and still be creamy.
Pro tip: in the winter, they have "chocolate gold" which makes a great hot cocoa! I'll keep you updated when it's back in stock.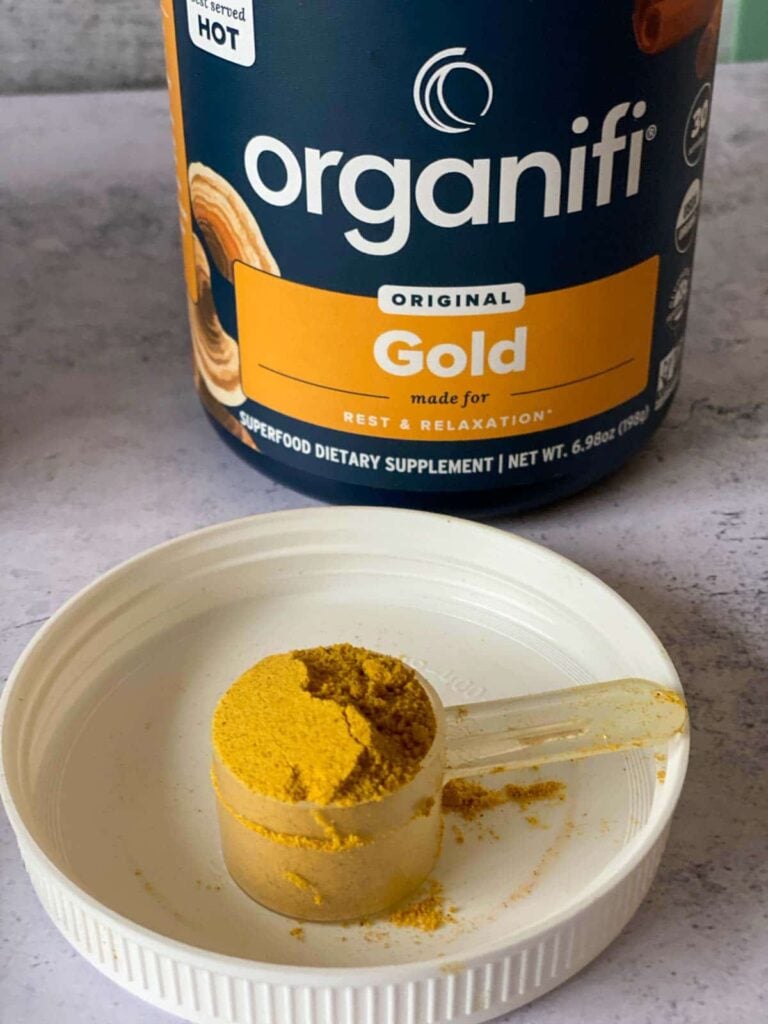 Pure
Pure is a cognitive blend, made for mental clarity and digestion. (This one I haven't tried yet, I'm getting it in my next order! Will update on the taste once I try.)
I've heard it's great mixed with red juice also.
Some key ingredients are lions mane mushroom, coffee fruit extract, aloe vera, apple cider vinegar and digestive enzymes.
Organifi Protein
They also make chocolate and vanilla protein powders – though unfortunately they contain stevia! We've talked before on the blog about how I can't have stevia, so I can't review this part of their product line.
I recommend Four Sigmatic protein powders instead (sweetened with monk fruit).
How to Order
On OrganifiShop.com you will find all products to choose from, and options for bundling. There may be a pop-up to sign up for the newsletter, but remember that our discount code is 15% – better than the 10% for first-time email signups!
Add all the products you'd like to try as a one-time purchase or on a subscription, then go to check out. If you're unsure what to start with, I'd recommend the green and red juice bundle, or the sunrise to sunset bundle which also includes the gold juice. Bundling in this way saves extra money, and our savings code will also apply on top of the discounted price.
The discount code "trialandeater" should be automatically applied to your cart if you've used one of the links in this review, but if it's not there will be a field you can add it to before you enter your payment info. This will save you 15% – and it will even work on already-reduced subscription orders! It's also a reusable coupon, so you can save on each order.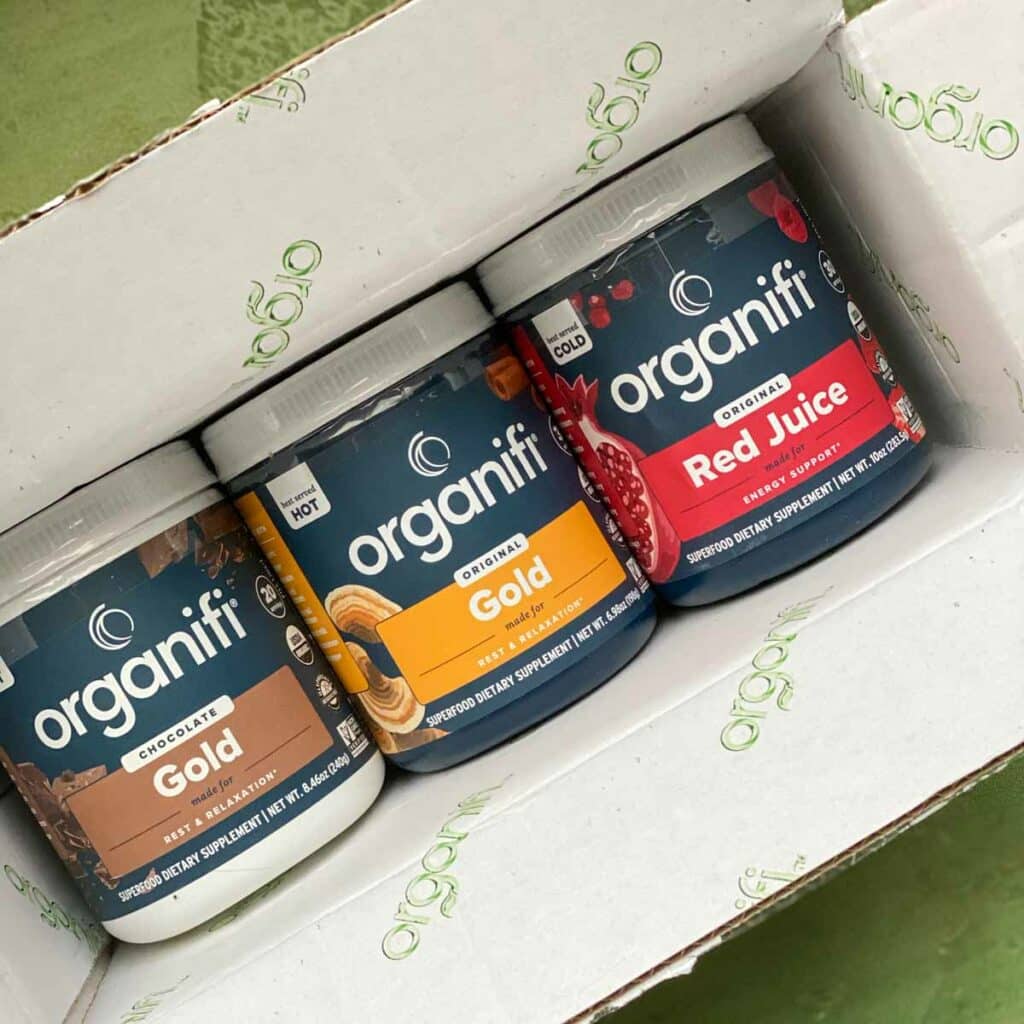 Overall Review
I have fallen in love with Organifi for their juice powders and aim to get at least one serving most days. Since most are easily mixed into water it is easy to simply add it to my water glass one of the times I fill it up during the day. And I love the night-time ritual of making the gold juice, as a hot drink before bed.
Their ingredients are high quality and USDA organic, and with all the superfoods they pack in it is no surprise that the mixes can be a little bit of an investment. Our discount code helps, and also the more you buy, the more you save – whether it be a bundle or multiple canisters at a time. Once you find your favorites, you can stock up!
The one I consume the most at this point is red juice, and the other mixes combine easily with it as well. Pure is next on my list and I've heard such great things about it that I have a feeling that will become a favorite of mine as well.
Other products from Organifi include some vitamins for specific health needs, which I haven't tried as I already have a pretty solid vitamin routine right now. I also mentioned the protein powders, but those (along with the Harmony blend, for hormones) I'm not able to try since they contain stevia. The ones I've mentioned in this review are the ones I'll continue to get!
Coupon code for 15% off
Remember to use our code TRIALANDEATER to save 15% on any purchase, and let me know what you end up trying!