This post contains affiliate links, which means I may receive a small commission if you make a purchase after clicking on my links. All opinions are my own.
A review of the superfood company Four Sigmatic! With products like mushroom coffee, plant-based protein powders, and more adaptogenic superfood blends, they have so many options to help you elevate your wellness in daily life. Read more about them and get an exclusive discount code here!
Ready to buy and don't need to see the review? My readers can use the code TRIALANDEATER at checkout (or click here) to get a special 10% off their order at FourSigmatic.com!
Since I first started with Four Sigmatic, they have continued to build out their product line. This review has been updated to include their adaptogenic plant-based protein powders!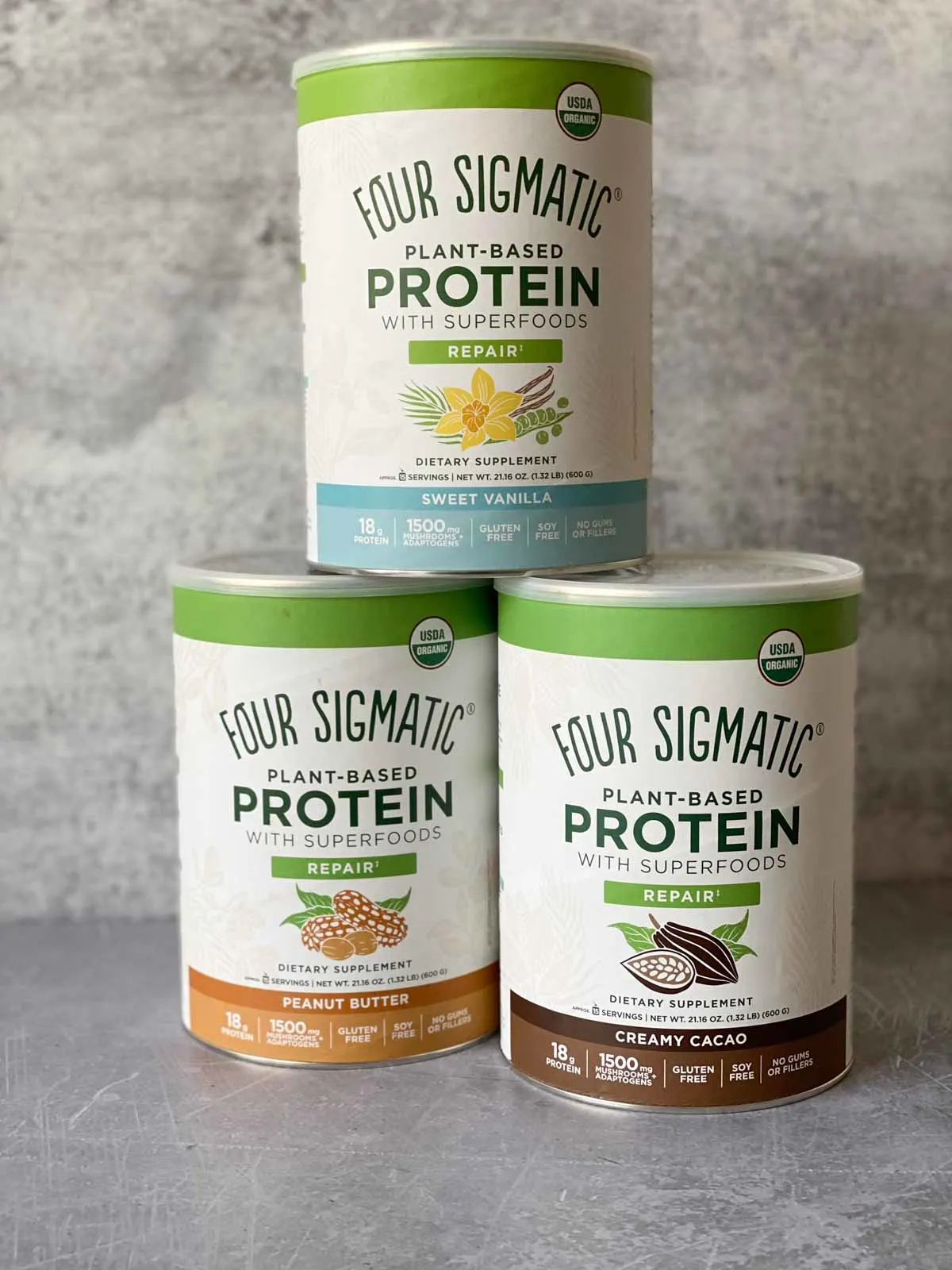 What is Four Sigmatic?
Four Sigmatic is a superfood company that specializes in all things mushrooms. Seriously – mushroom coffee blends, plant-based protein powders and other superfood and adaptogenic products.
The name "Four Sigmatic" actually comes from the fact that any ingredient they use as a superfood are four sigmas above average food. Sigmas = standard deviations. How cool!
There are only 50 ingredients that count as "superfoods" in the Four Sigmatic language, including (but not limited to) coffee, green tea, reishi, chaga, blueberry, moringa, turmeric, lion's mane, pumpkin, and cordyceps. They use the most nutrient dense ingredients available.
You might be like me and (initially) unaware of all the benefits of adaptogenic mushrooms, but Four Sigmatic has a great learning library with educational materials, which I've tried to give an overview below. (But also check out their free "Mushroom Academy", or the course by Mark Hyman!)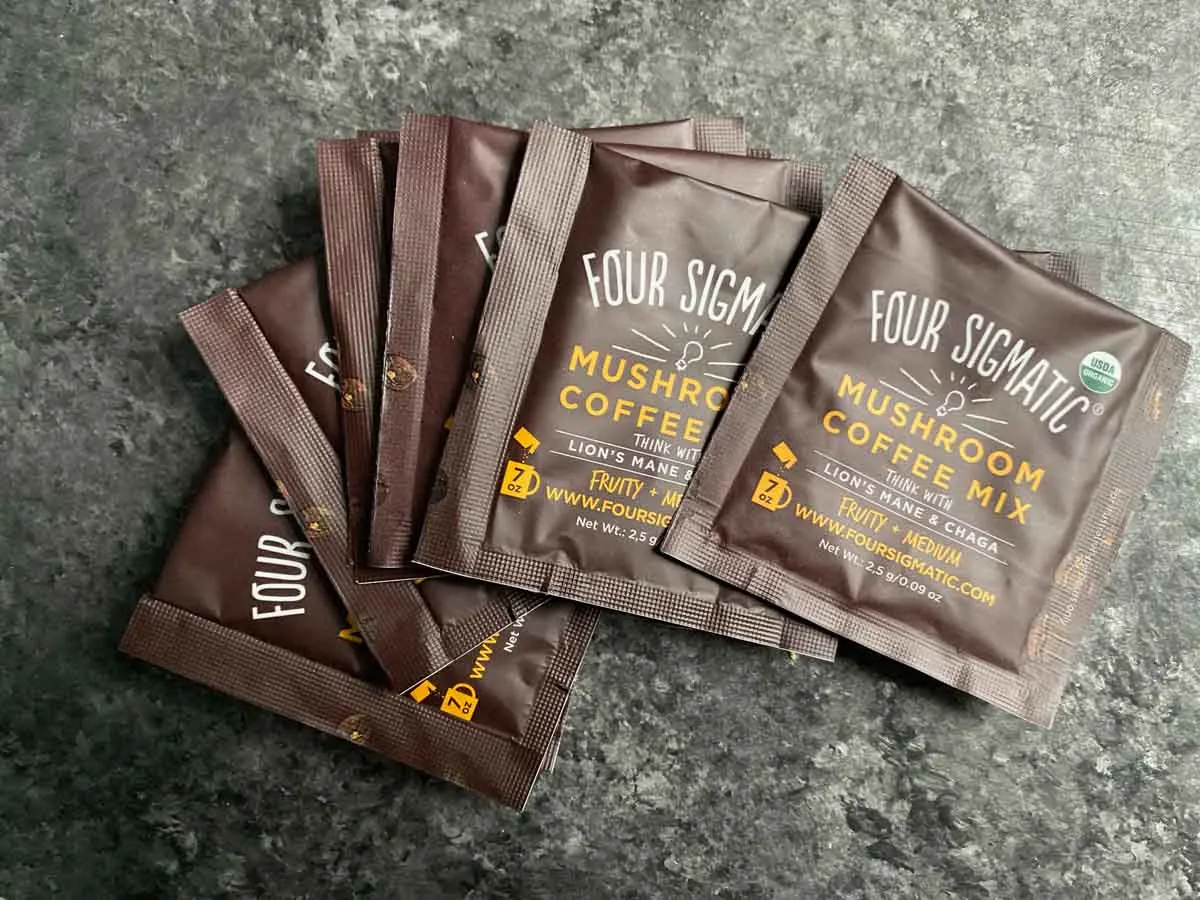 Four Sigmatic Protein Powders
Currently there are 4 flavors of protein powders, offered in either to-go packets or full-size canisters.
Unflavored, Peanut Butter, Creamy Cacao and Sweet Vanilla. All of which are USDA organic, no fillers, NO STEVIA, and free of gums and fillers. Each serving has 18 grams of plant-based protein and 1500 mg of mushrooms and adaptogens.
Peanut Butter is my personal favorite, though Sweet Vanilla is their most popular and probably most versatile – it even tastes amazing with just water, which is really hard thing to accomplish for a normal protein powder.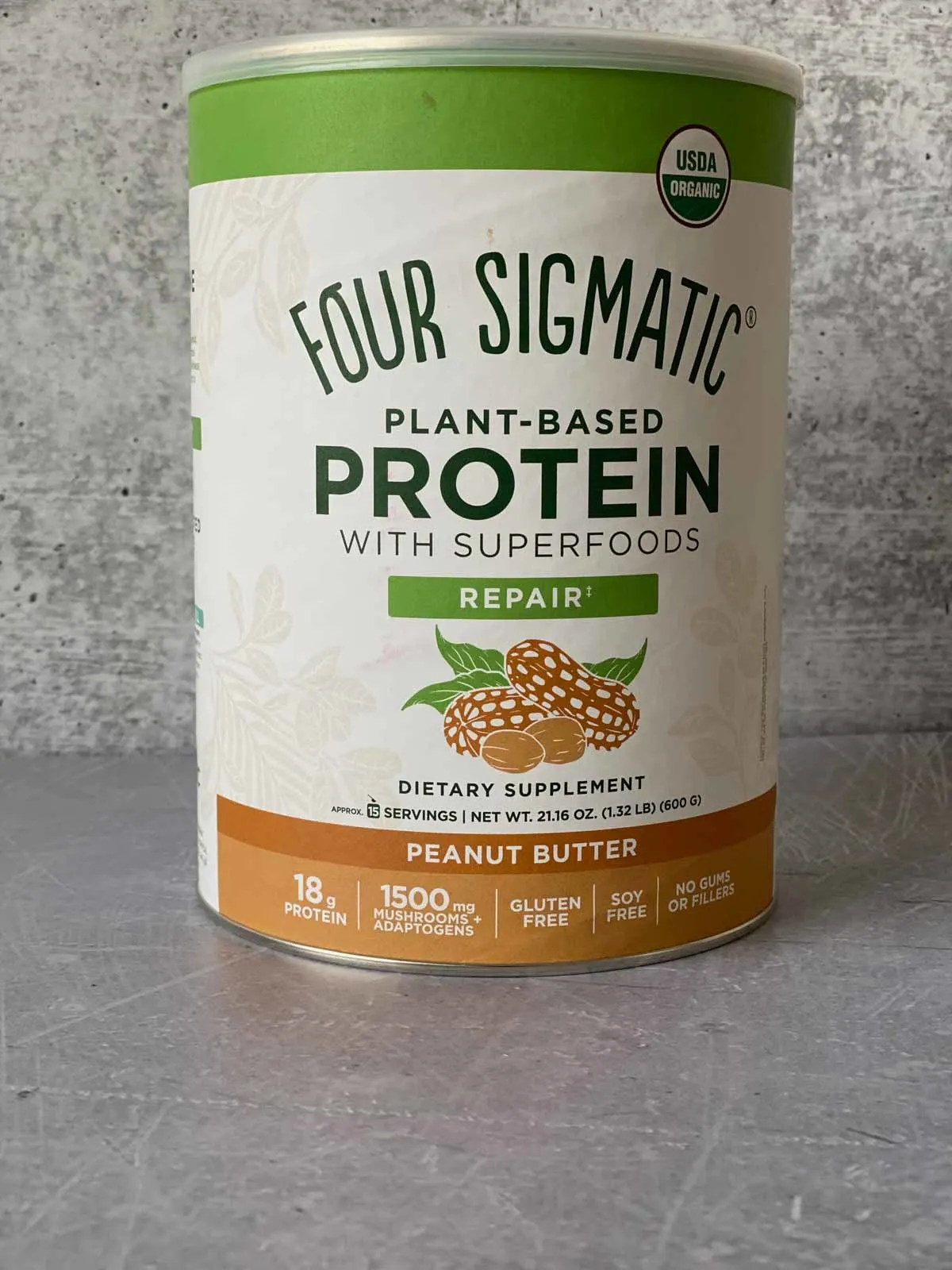 In addition to the functional mushrooms, all the protein powders use a mix of proteins that makes it a complete protein (meaning it has all the essential amino acids). Organic pea protein, organic hemp protein, organic chia protein, organic pumpkin protein and organic coconut protein.
Fun fact: Did you know that vanilla bean is the second most expensive spice in the world? That's because it must be hand-pollinated. That is why you'll often see other companies use "natural flavors" or a vanilla substitute for flavoring – but Four Sigmatic uses the whole vanilla bean in their Sweet Vanilla protein.
Four Sigmatic Mushroom Coffee
Four Sigmatic has several coffee products. The first one I tried is actually an instant coffee packet, which I was so surprised to find I actually liked! I had never met an instant coffee I enjoyed until this one. They are great to take as a back-up while traveling.
They also have ground coffee mixes that aren't instant – a probiotic coffee blend and a "Think" blend, which has Lions Mane mushroom in it. I really enjoy the Think blend for every-day drinking.
They still contain caffeine, which is important to me. If you're trying to give up caffeine this won't work for you. From their website:
the Mushroom Coffees as well as the Coffee Latte, Adaptogen Ground Coffee and Adaptogen Coffee contain organic, 100% Arabica coffee, along with functional mushrooms and other supporting herbs and adaptogens. (This means all of our mushroom coffees contain caffeine as well! The instant coffees contain about 50mg of caffeine, and our ground coffee contains 110-130mg of caffeine)
Four Sigmatic Review Summary
Four Sigmatic has become my absolute GO-TO for flavored protein powders. They taste amazing and mix right in with water or smoothies, and there are lots of recipes that you can use them in too to boost your protein intake. All ingredients are super clean and organic and have adaptogenic properties.
Their Think coffee blend is also one of the coffees I rotate between each morning. It tastes just like regular coffee and even though it has slightly less caffeine, I do find it helps my concentration on days I drink it.
They continue to expand their product line but the ones I talk about above are what I have tried. They break their categories into "Think" (brain function), "Defend" (Immune Support) and "Chill" (Stress-Reduction) if you're looking for adaptogens that will help specifically with one of those categories.
In addition to being plant-based, gluten-free, and organic ingredients, most of their products are sweetened with monk fruit which is another thing I love. Though if you're sensitive to stevia (like me), be aware that a couple of their products – the cacao mix for hot chocolate and matcha in particular – do contain stevia.
Be sure to use coupon code TRIALANDEATER (automatically applied with this link) to save 10% on your order. You can use this discount as many times as you want, with each time you make a purchase!
Coupon Code for 10% off at Four Sigmatic
Since you're part of our community, you can use the code TRIALANDEATER at checkout to get a special 10% off your order at FourSigmatic.com!
Let me know what you end up trying!