Green Bean Chickpea Salad with tomato, walnuts and feta. A great appetizer or vegetable side dish for dinners or holiday gatherings!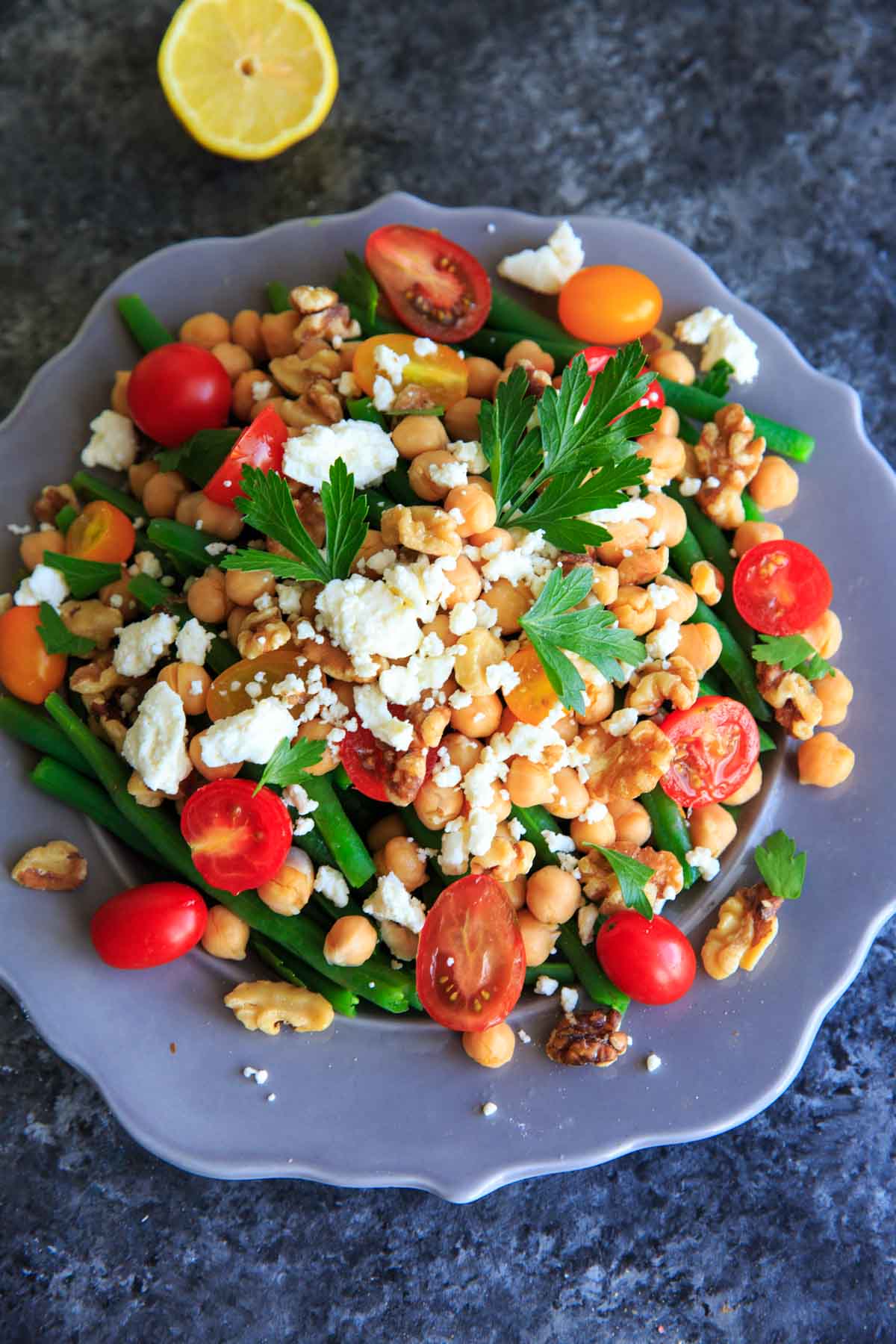 This is one of those dishes where I just kept piling on more ingredients. Blame it on too much food in the house?
But in my defense, it totally works!
When I throw dinner parties, I tend to get a little crazy. My mother referred the menu planning as "around the world in 80 minutes", which I think means she believes I mix too many cuisines.
Usually that's because I get a little too excited about cooking up new dishes and I can't "pick a theme."
So this last time I tried to limit myself to simple, fresh veggie dishes – nothing too heavy, and not 17 bazillion courses.
(I'm not even sure which cuisine this counts as. Though I suppose it has sort of a mediterranean vibe, with the chickpeas, olive oil and lemon.)
Green beans were high on my list to make something with, mostly because I kept buying them without a purpose but also because I really like them.
And the rest of the toppings evolved while consulting my favorite flavor bible and my food supply.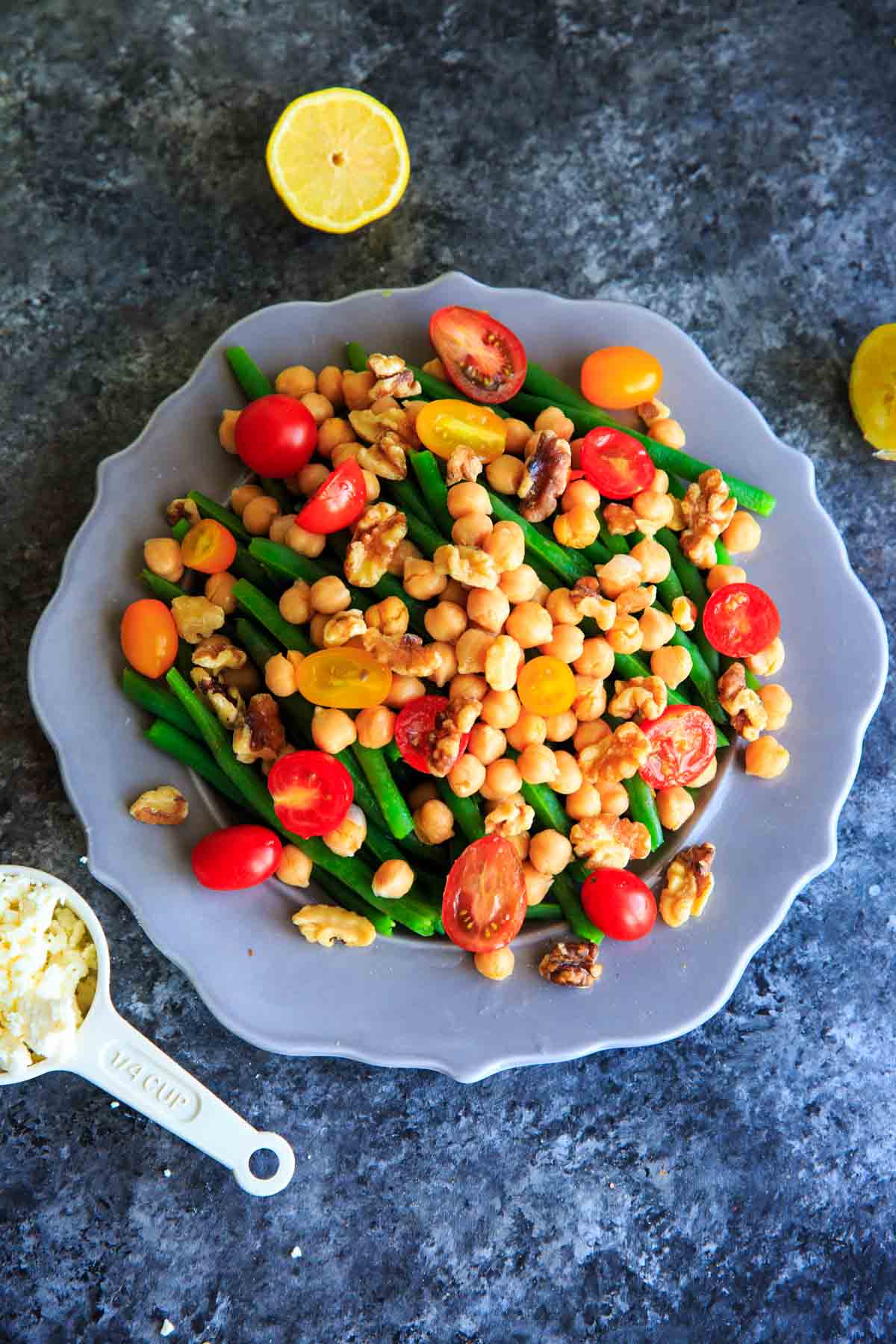 To break it down – we have fresh green beans, blanched in boiled water (5 minutes).
Then a can of chickpeas, walnuts, cherry tomatoes, feta cheese, fresh parsley, olive oil and lemon.
Besides being pretty and colorful, it was pretty tasty!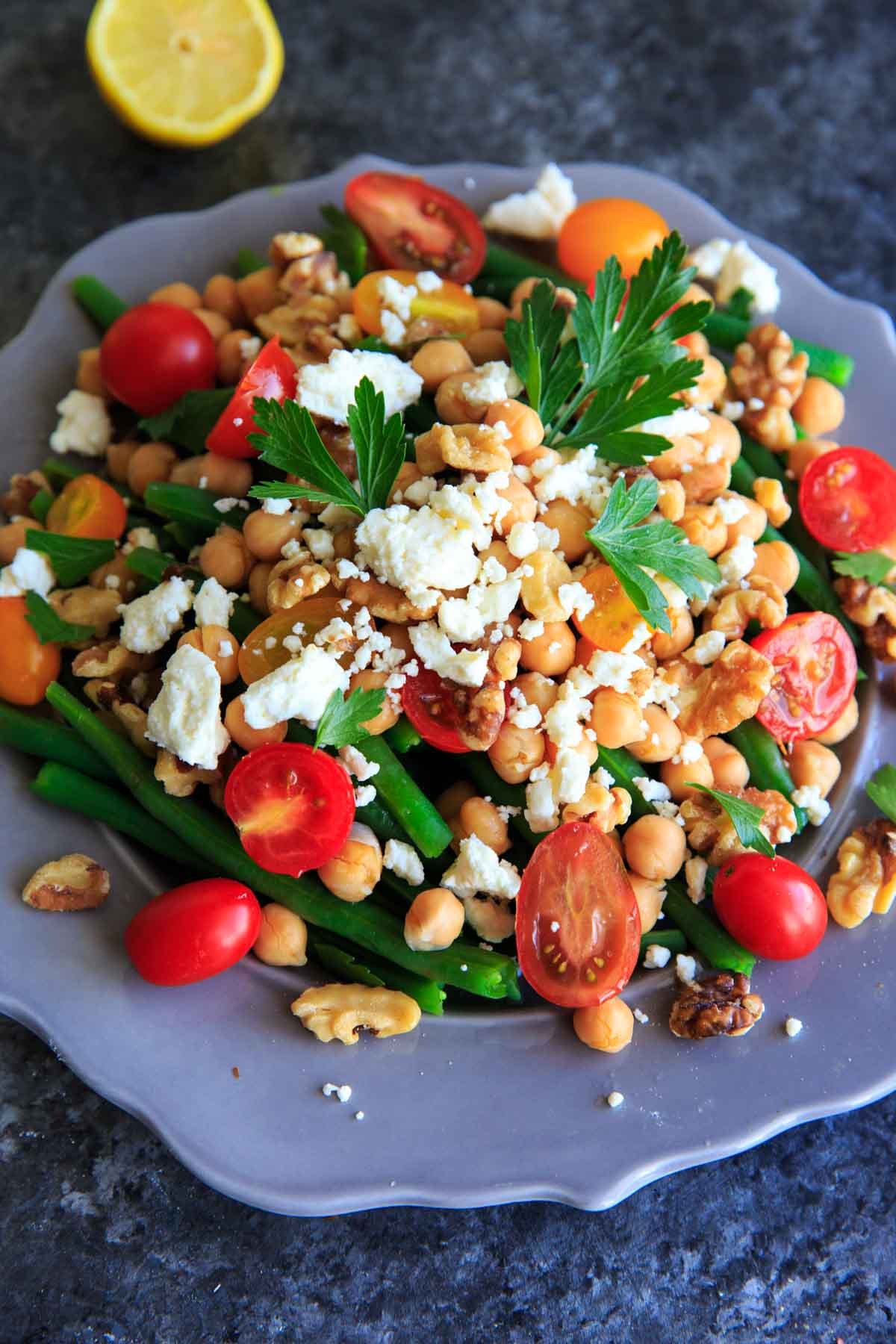 Again I'm getting winter/holiday vibes with the red + green.
Can you tell I'm ready for the cooler seasons?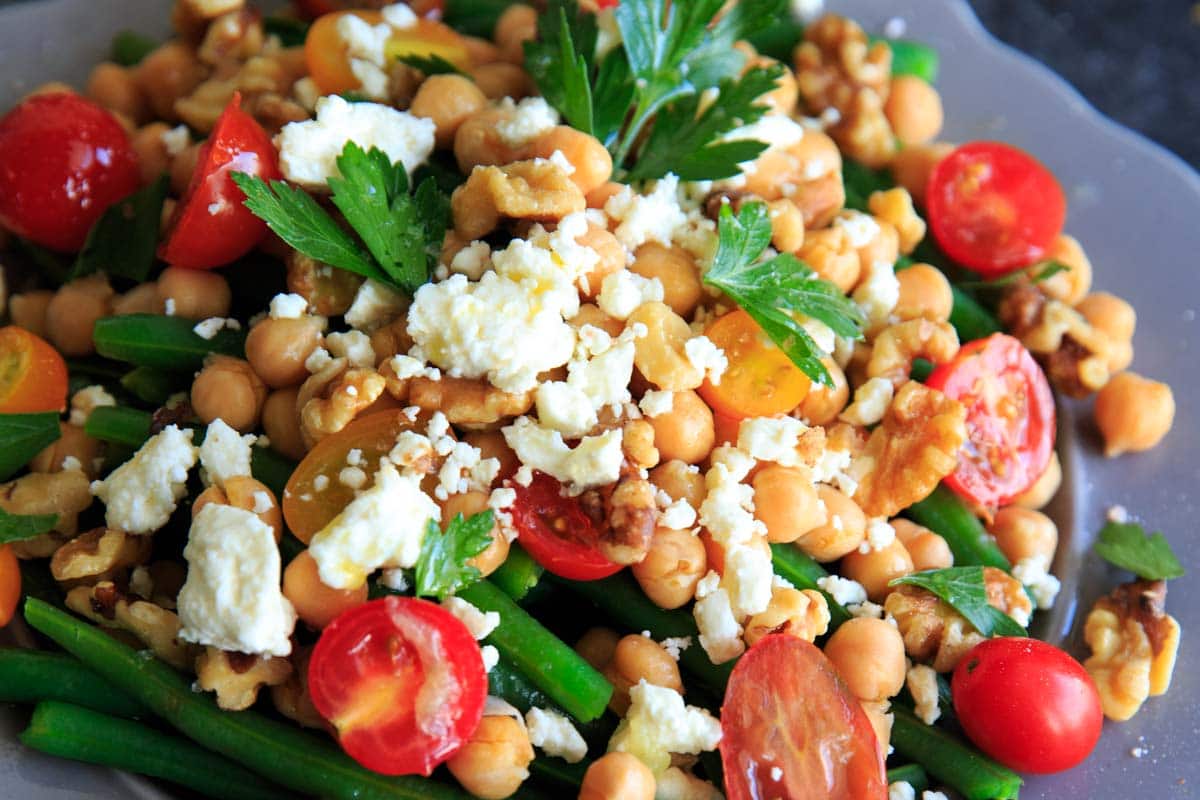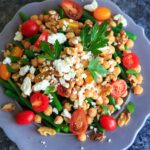 Green Bean Chickpea Salad
Green Bean Chickpea Salad with cherry tomato, walnuts, feta cheese, lemon and olive oil.. A great appetizer or vegetable side dish for dinners or holiday gatherings!

Ingredients
1

lb.

green beans

, ends trimmed

1

15 oz. can

chickpeas

, drained and rinsed

1/2

cup

cherry tomatoes

, halved

1/4

cup

chopped walnuts

1/4

cup

feta cheese

2

tablespoons

olive oil

, for drizzling (or as desired)

1

lemon

sea salt

as desired

fresh parsley

, for garnish
Instructions
In a large stove pot, boil water. Add green beans and cook (blanch) for about 3-5 minutes. Beans should still be crisp and the color will be brighter. Immediately rinse with cold water to stop cooking.

On a serving plate, add green beans. Top with chickpeas, tomatoes, walnuts, ad feta.

Drizzle olive oil and squeeze lemon juice over the salad. Sprinkle salt as desired. Garnish with fresh parsley.
Recipe Notes
Salad can be refrigerated for a few days but oil will likely pool at bottom of plate.
Recommended and useful items for this green bean chickpea salad recipe:

*There are affiliate links within this post that we can earn a commission on at no extra cost to you. Thank you for helping to support the site!