Vegetarian Million Dollar Spaghetti – Pasta casserole with a cream cheese layer that will feed a crowd. Check out Ragu's new line of homestyle sauces.
So you're probably wondering why this is called "Million Dollar Spaghetti?"
As far as I can tell, the recipe originated from here and named it that because it tastes like a million dollars.
The reason I'm clarifying "vegetarian" even though every post on this blog will be vegetarian, is because the original recipe has a pound of meat as one of the layers.
It also contains a WHOLE STICK of butter. Both of which I left out. I considered calling this "thousand dollar" spaghetti instead because of those modifications, but I didn't think it was fair to have to discount the recipe just because of meat and butter.
Also because I kept mistakingly calling it "Millionaire" spaghetti instead of million dollar, and thousand-aire just doesn't have the same ring to it.
What still makes this spaghetti casserole special though is the cream cheese layer between the noodles.
To compensate for whatever flavor might be lost from the butter and meat layer, I added some seasoning to the cream cheese layer and I also used the Thick & Hearty Mushroom sauce from Ragu's new Homestyle line.
I also tried a version with the Thick & Hearty Traditional, and there are two more vegetarian flavor options for you to play with (Four Cheese and Roasted Garlic).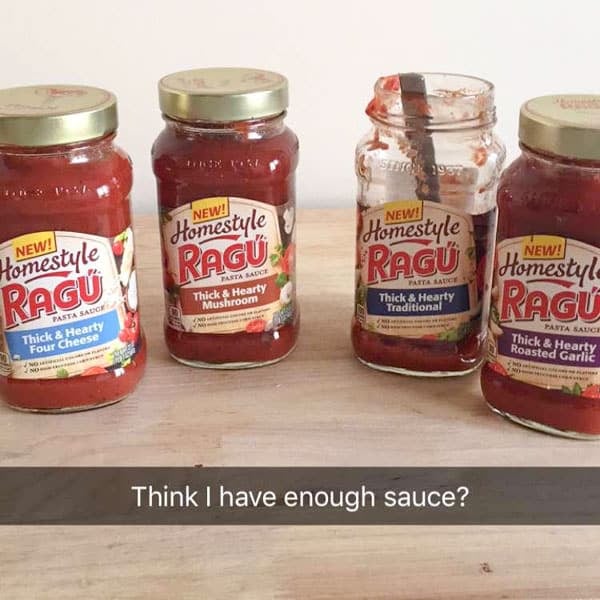 I loved all their sauces, and especially loved the fact that they are made WITHOUT artificial colors or flavors and NO high fructose corn syrup. Just good old homestyle sauce.
I'm yelling because that's not common, people.
"Homestyle" to me means cooking with real ingredients and making good comfort food the whole family can enjoy.
So another thing I tried was cheddar cheese vs. mozzarella cheese. This is called Trial and Eater after all, so I have to live up to my name.
There was no clear winner here, as the verdict was split at my dinner party – so just use whichever cheese you tend to like best! My personal choice is the mozzarella, but I still enjoyed the cheddar version.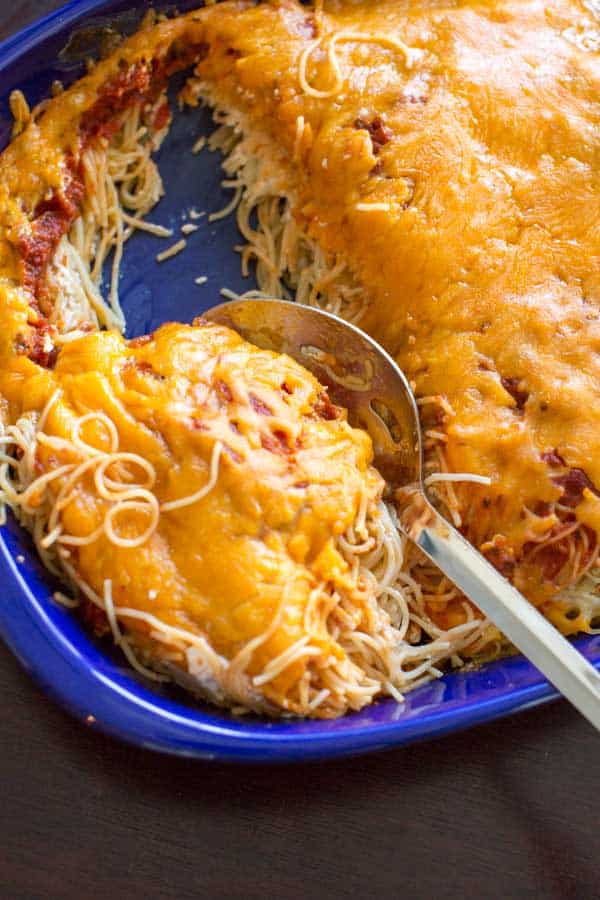 Either way this recipe will feed a crowd (especially if you make multiple versions like I did).
So you can split it into two 8×8 casserole dishes and freeze one, or just invite everyone you know over.
Nobody complains about homestyle cooking!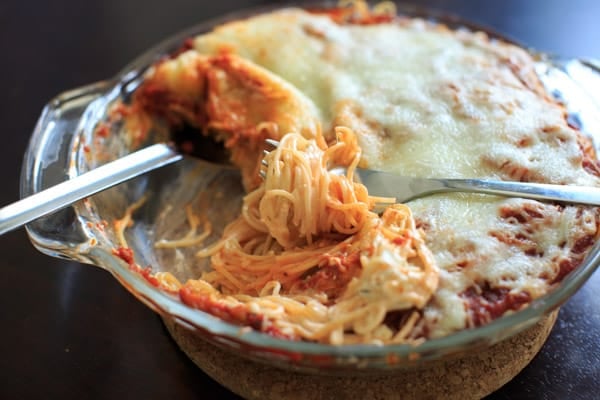 Learn more about Ragu's heritage and find more featured recipes using their Homestyle sauces here.
Recommended and useful items for this vegetarian million dollar spaghetti casserole recipe:
Vegetarian Million Dollar Spaghetti Casserole
Vegetarian Million Dollar Spaghetti - Pasta casserole with a cream cheese layer that will feed a crowd.
Ingredients
1

lb

spaghetti noodles

(16 oz box)

1

8 oz. block

cream cheese

1

cup

cottage cheese

1/4

cup

sour cream

1

tablespoon

italian seasoning or other dried herbs

(optional)

1

23 oz. can

Ragu Homestyle sauce

(I preferred the mushroom flavor)

1

8 oz. package

shredded mozzarella cheese

(or sharp cheddar depending on preference)
Instructions
Preheat oven to 350°F.

Boil water in a large pot and cook noodles according to package instructions.

Meanwhile, combine cream cheese, cottage cheese and sour cream in a bowl and mix until combined. Add the italian seasoning if using.

Drain spaghetti noodles once cooked. In a large casserole dish or two smaller 8x8 casserole dishes, arrange half the spaghetti noodles at the bottom of the dishes.

Add cream cheese mixture to the noodles, spreading out to make an even layer.

Cover with remaining spaghetti noodles, sauce, then the shredded cheese.

Bake for 30 minutes or until cheese is fully melted.
Notes
Inspired by the Million Dollar Spaghetti found here: http://ashleykaitlin.blogspot.com/2011/01/million-dollar-spaghetti.html

*There are affiliate links within this post that we can earn a commission on at no extra cost to you. Thank you for helping to support the site!