Curry sunflower hummus – Change out your normal chickpea hummus and make it out of sunflower seeds instead! Curry and cayenne spices give it an extra kick of flavor.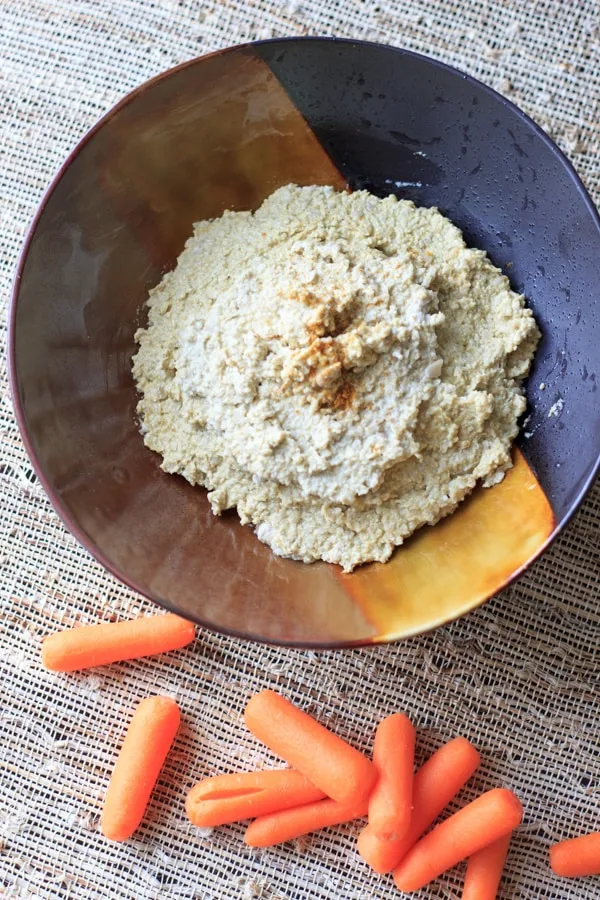 I stopped by a vegan restaurant earlier this summer and had a meal that included a curry sunflower hummus.
Up until that moment, I didn't even realize people made hummus out of sunflower seeds. It was so good I knew I was going to have to try to make it myself.
One thing I learned about sunflower seeds is that you are supposed to soak them for 6-8 hours (as you are with most nuts and seeds) to aid proper digestion. So naturally, this recipe kept falling lower on my "to-try" list until I finally had enough foresight to soak the seeds ahead of time.
I was beginning to crave the rest of the meal that came with this dip (recipe here if you wanna peek) so I knew I had to get going on this hummus.
I took time-lapse pictures of the seeds soaking but (surprise!) it isn't much to look at. Though the picture below is a bit blurry, you might be able to see the difference between the raw unsoaked seeds (left) and the soaked seeds after 7 hours (right).
Some people also toast their soaked seeds in the oven, for extra flavor. I wanted to keep this a "raw" recipe, so I opted not to toast them.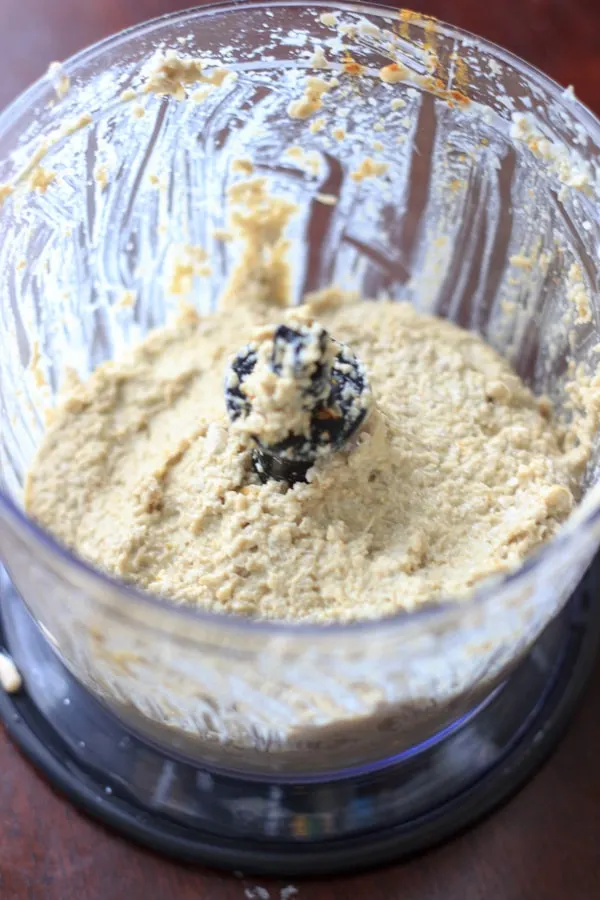 Everybody seems to have a different preference for how thick they like their hummus. I added 2 tablespoons of olive oil and 4 tablespoons of water. You can add more or less of either to achieve your desired consistency.
I used a spice blend of yellow curry powder with cayenne pepper. I've included some notes on the recipe on what you can sub for this if you don't have that blend available. Cumin is always a good spice to add, and cayenne pepper will keep it spicy.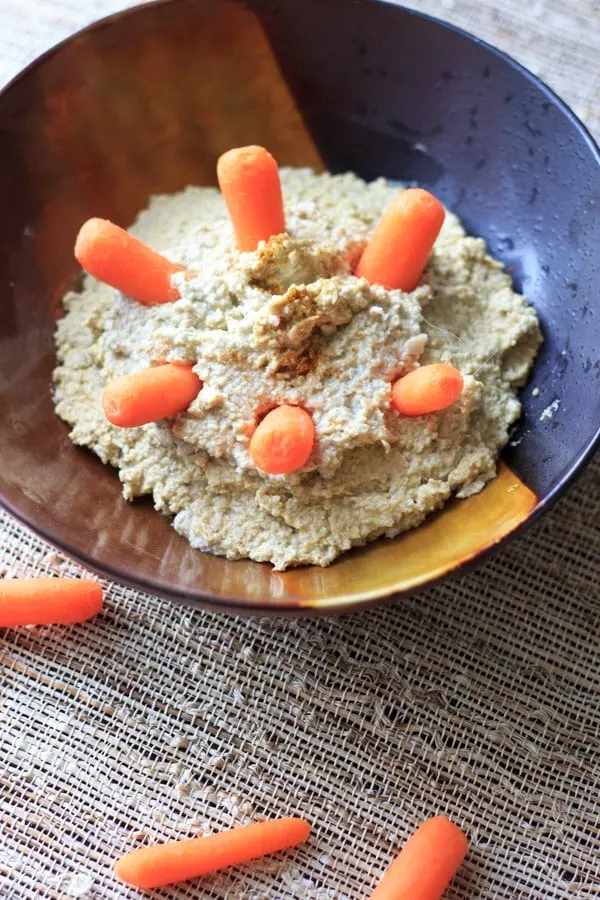 Serve with carrots, crackers, etc. Or the recipe I call the sunflower wrap!
Yield: 2
Curry sunflower hummus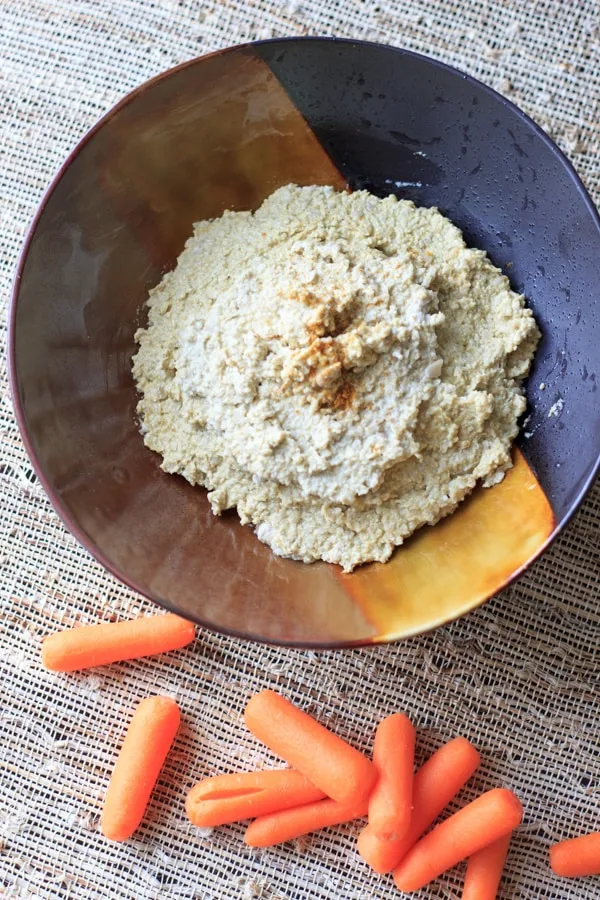 Curry sunflower hummus - Change out your normal chickpea hummus and make it out of sunflower seeds instead! Curry and cayenne spices give it an extra kick of flavor.
Total Time
8 hours
5 minutes
Ingredients
1 cup raw sunflower seeds
1 cup water
4 tablespoons water (or more to achieve desired consistency)
2 tablespoons olive oil
1 tablespoon lemon juice
2 teaspoons yellow curry powder with cayenne*, see note
salt and pepper
Instructions
Soak sunflower seeds in 1 cup water for 6-8 hours. Seeds will then measure about 1 and 1/2 cups.
Add all remaining ingredients (soaked sunflower seeds, water, olive oil, lemon juice and spices) to a food processor and blend until smooth. Can add more water if desired to achieve a thinner consistency.
Serve immediately or store in airtight container in refrigerator for up to a week.
Notes
The yellow curry with cumin was a blend I used from the Savory Spice Shop.
If you have curry powder already, you can make your own blend by adding 1/2 teaspoon of cayenne to 1 1/2 teaspoons of curry powder, or alternatively you can use a mixture of cumin (1 teaspoon), turmeric (1/2 teaspoon) and cayenne (1/2 teaspoon).
Nutrition Information:
Yield:
2
Amount Per Serving:
Calories:

480
Total Fat:

46g
Saturated Fat:

5g
Trans Fat:

0g
Unsaturated Fat:

39g
Cholesterol:

0mg
Sodium:

4002mg
Carbohydrates:

12g
Fiber:

7g
Sugar:

2g
Protein:

13g
Nutrition information is calculated automatically by an online tool at Nutritionix. It is not always accurate. Please use your own tools to check if you rely on this information.