Grown up grilled cheese with two sauces, two types of cheese, and two kinds of fruits (including tomato). Loaded with flavor!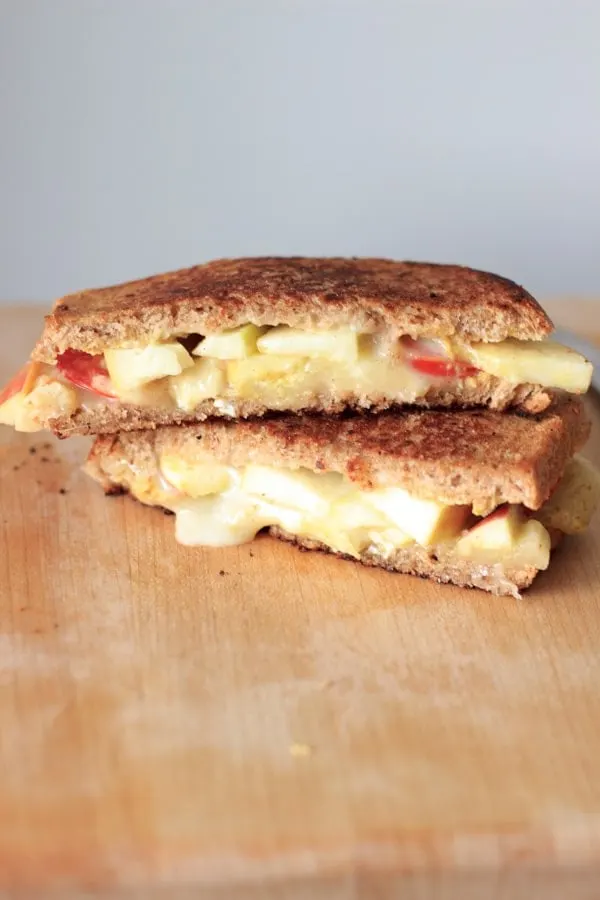 It was supposed to thunderstorm here all day yesterday. I was prepared to put on some yoga pants, eat comfort food and settle in on my couch with the windows open.
Guess what? It didn't rain. one. drop.
Most people would be excited about this change in forecast, but I am the kind of person who is disappointed when I feel like I missed out on a good thunderstorm. I treat it almost like an event – I put on proper attire (yoga/sweat pants), plan a menu (comfort food and hot cocoa – even in the summer, I know that's weird), and clean the house (I'm much more productive when it rains).
Luckily I still made this grilled cheese in anticipation of the rainy day. Actually, I made it 3 times, each time adding more and more ingredients to it. Also hoping that each time I made it would bring the rain closer. (Kidding, kind of).
Sandwich #1 (pictured below, left): monterey jack cheese (with jalapeno), apple and honey. Browned perfectly. Apples fell out, not enough cheese.
Sandwich #2 (pictured below, right): added brie cheese and spicy brown mustard. Delicious, but the bread sort of fell apart before the cheese could fully melt. Lesson learned: don't add the sauces directly on the bread.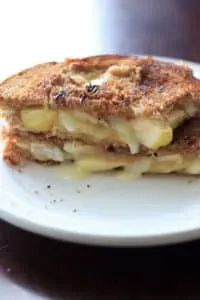 Winning sandwich, #3: monterey jack cheese (with jalapeno), spicy mustard, tomato, honey, apple, brie cheese. In that order.
Not pictured below: me prying open the sandwich after putting it on the grill to sneak in the apple slices I forgot to add. Put those on top of the tomato before the brie!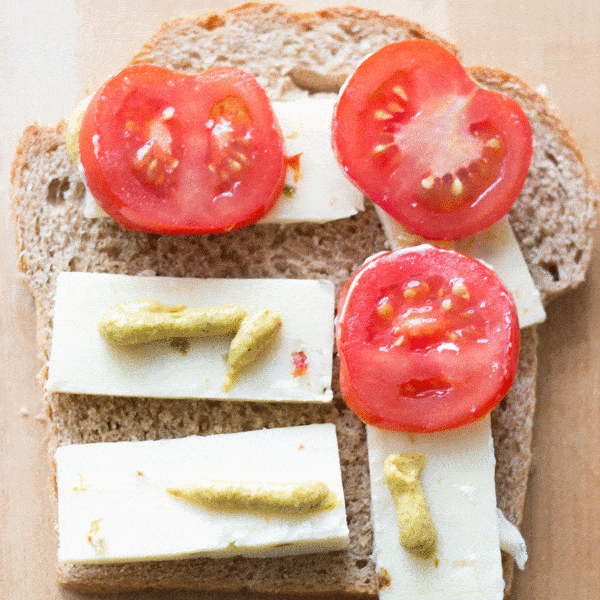 It worked best for me to fully load the sandwich before putting on the grill, and it also helped to put the sauces on top of the first layer of cheese instead of directly on the bread.
I also thought preparing ahead would help me not forget any ingredients, but then I still had to sneak in the apple afterwards.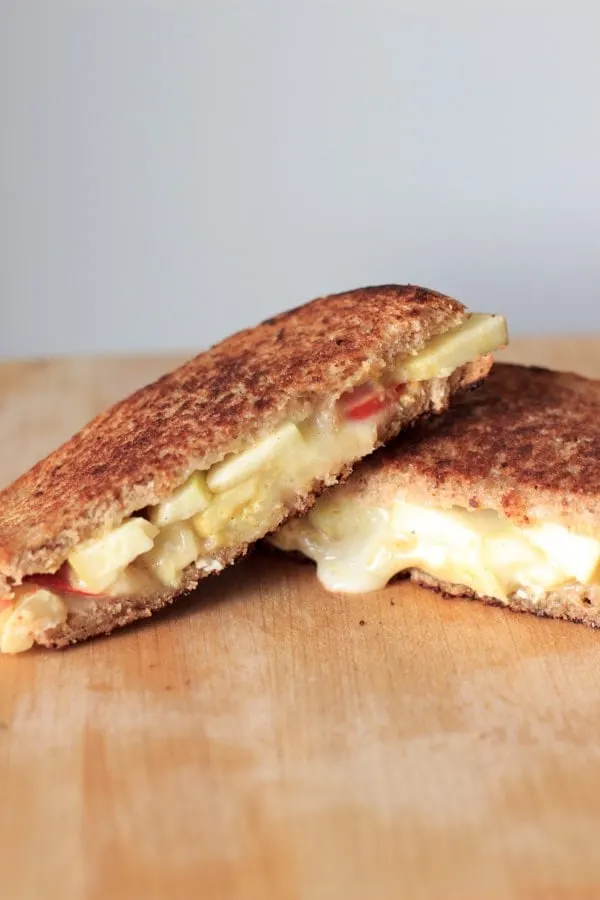 I'm not the first to come up with the title "grown up grilled cheese" – there are a ton of variations on pinterest. Some add avocado, fresh herbs, or even meat (but we don't do that around here!).
Tell me – do you like rainy days?
Yield: 1
Grown up grilled cheese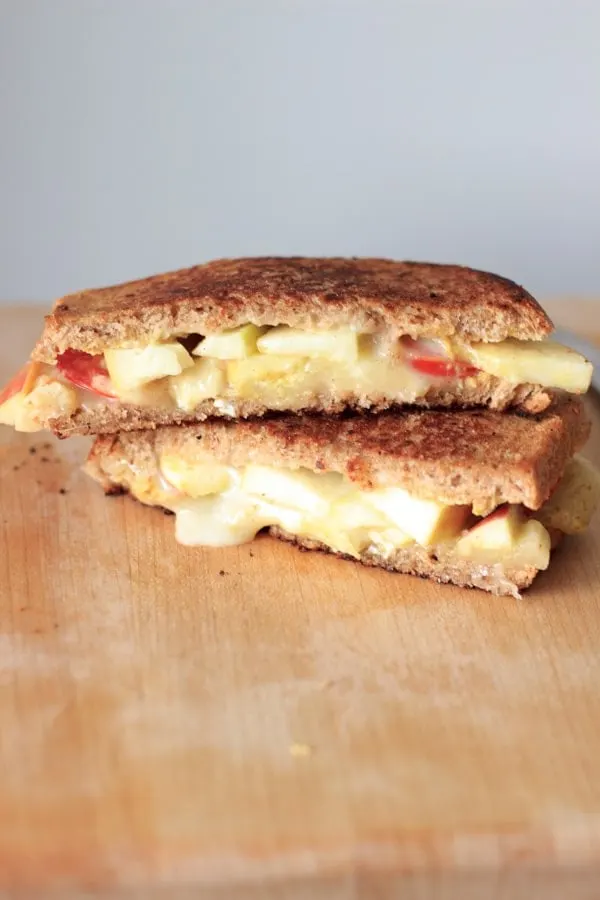 Grown up grilled cheese with two sauces, two types of cheese, and two kinds of fruits (including tomato). Loaded with flavor!
Ingredients
2 slices whole wheat bread
2 tablespoons coconut oil, (or butter)
2 ounces monterey jack cheese, sliced
2 teaspoons spicy brown mustard, or as desired
1 small tomato, sliced
1 teaspoon honey, or as desired
1/2 apple, thinly sliced
2 ounces brie cheese, sliced
Instructions
Spread a little of the coconut oil (or butter) over one side of each piece of bread. This side will be the outside of your sandwich.
Prepare the sandwich by adding the ingredients in the following order: monterey jack cheese, mustard, tomato, honey, apple, and brie. You want the cheese to be closest to the bread, and all the rest of the ingredients to be put in between the cheeses.
Add about 1 Tablespoon of the coconut oil or butter into a frying pan over medium-low heat. Once the pan is hot and oil is melted, place sandwich in pan and grill until cheese is melted and bread is browned, about 3-4 minutes on each side.
Serve hot!
Notes
*I used a Monterey Jack cheese that had a little jalapeno in it - which I understand may be hard to find! If you like the idea of a little spicy kick addition to this, add a few slices of jalapeno too.
Nutrition Information:
Yield:
1
Amount Per Serving:
Calories:

896
Total Fat:

63g
Saturated Fat:

44g
Trans Fat:

0g
Unsaturated Fat:

15g
Cholesterol:

107mg
Sodium:

1108mg
Carbohydrates:

50g
Fiber:

8g
Sugar:

21g
Protein:

35g
Nutrition information is calculated automatically by an online tool at Nutritionix. It is not always accurate. Please use your own tools to check if you rely on this information.