Vegan Carrot Hot Dogs – or Not Dogs – are a veggie-centered meal, fun to cook and eat!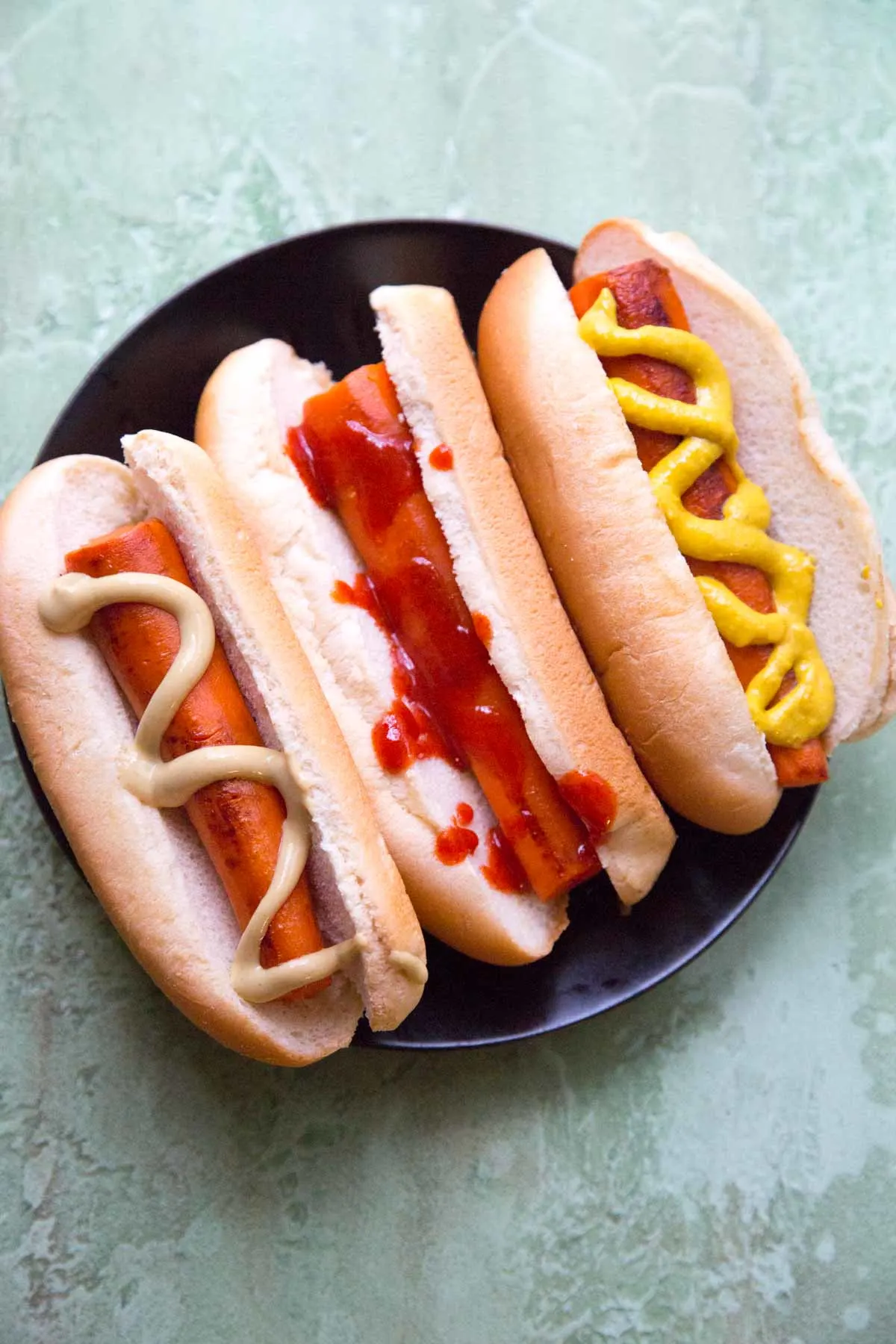 As an Amazon affiliate, I earn from qualifying purchases.
One of my favorite things is flipping through a good cookbook.
I remember when I was young spending hours looking through all my Nana's old cookbooks.
I myself have never created a cookbook (yet?) but I'm in such awe of my blogger friends who have published one, and I can only imagine how much work goes into creating it!
The latest one I had the pleasure of receiving in the mail was from the blogger of My Goodness Kitchen – Great Vegan Meals for the Carnivorous Family.
Besides cookbooks, another one of my favorite things is making a vegetarian or vegan meal that a meat-eater loves. That's why this cookbook is especially cool!
There are recipes like no-sausage rolls, bird-less chicken noodle soup, vegan BBQ + bacon burger and desserts like silken chocolate peanut butter pots!
I just wish cookbooks came with a sampling of everything because flipping through makes me so hungry.
To celebrate the launch of this new cookbook (you can buy yourself a copy from amazon or find it in my amazon store), I decided to try a recipe I've been curious about lately – Carrot "Hot Dogs" (or really 'Not-Dogs").
I've seen various versions on the internet this year, especially during grilling season.
Some of the recipes seemed like they took forever, and I really wasn't convinced at all that they would fool someone into thinking it was a hot dog.
These carrot dogs are actually pretty delicious, and seasoned in a way that has the same hot dog flavor!
(I don't think I've ever had a "real" hot dog, but veggie dogs can get a bad rap sometimes.)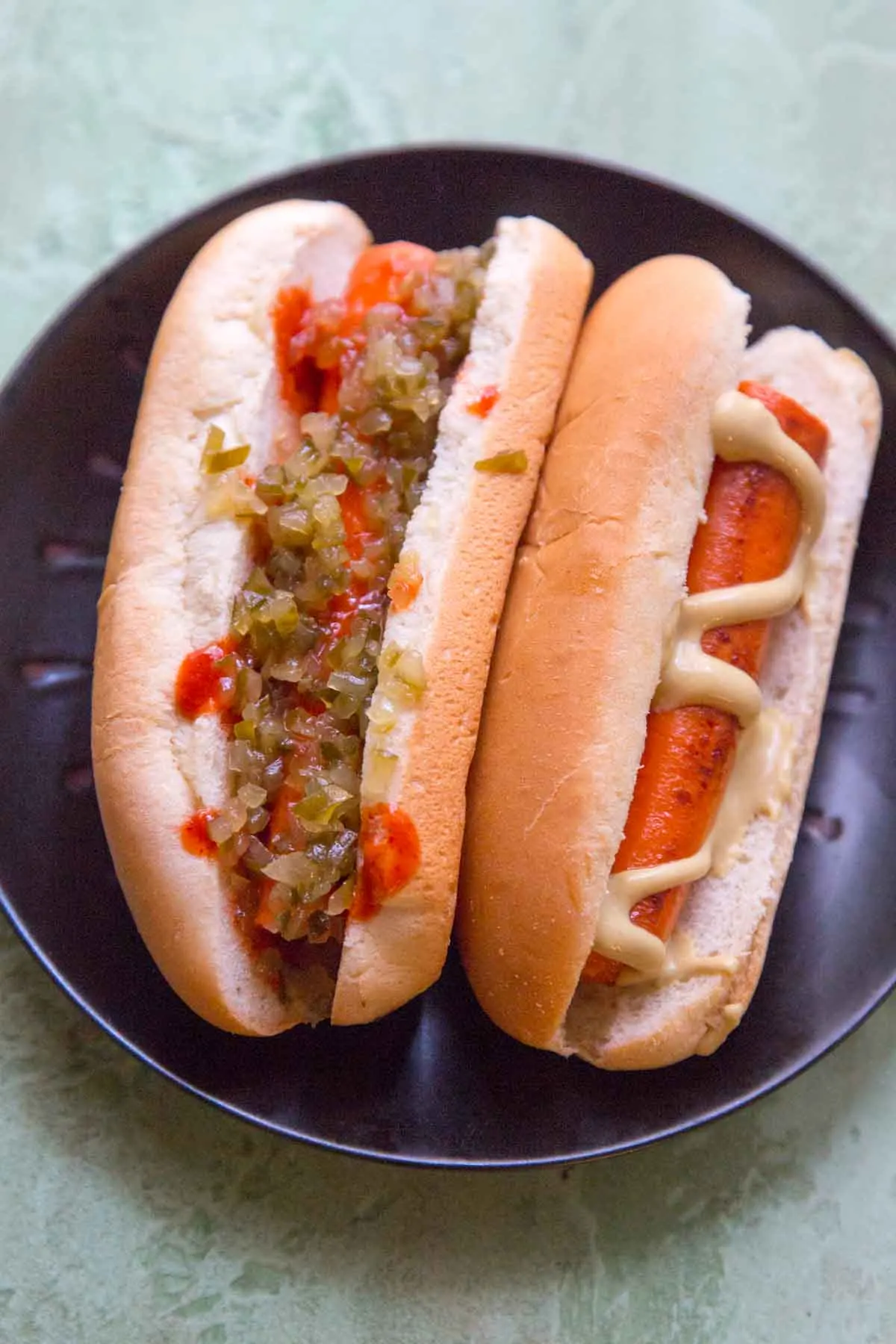 The trick is making sure the carrot is cooked well, and is soft enough to not have the typical carrot crunch.
Typically I don't peel my carrots when they are organic, but it does help for the "realness" factor if you're trying to get the look of a hot dog. If you don't need to worry about that, leave the peel on.
After cutting them to the bun-size, you'll boil them and then let it marinate them in seasoning for overnight or up to 3 days. I ended up doing the latter mostly because I got busy.
This is why I called them "make-ahead" and why they can be great for meal-prep, since they keep well in the fridge before cooking.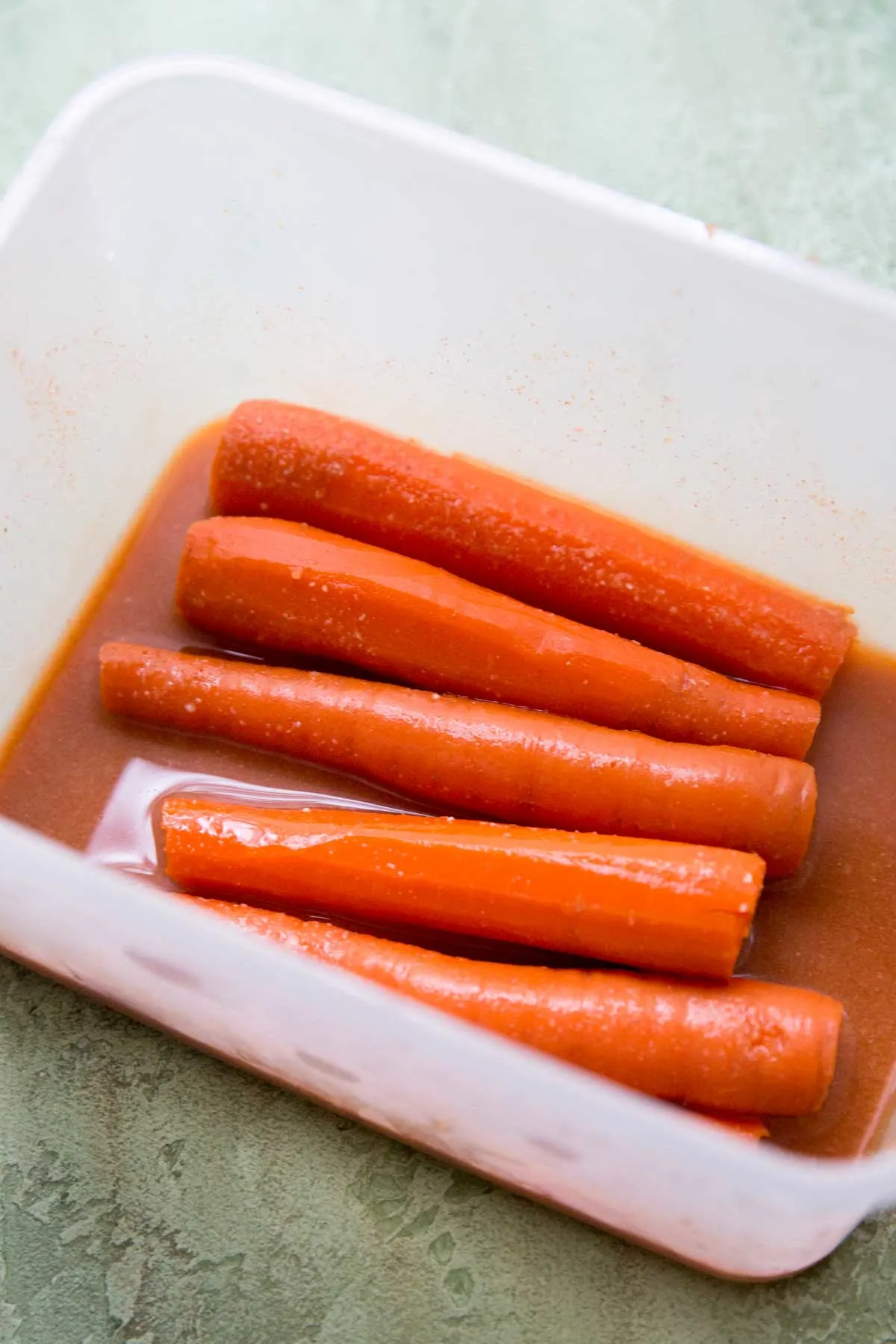 Then all you need to do is grill them to get those cook marks on them, and to warm them up.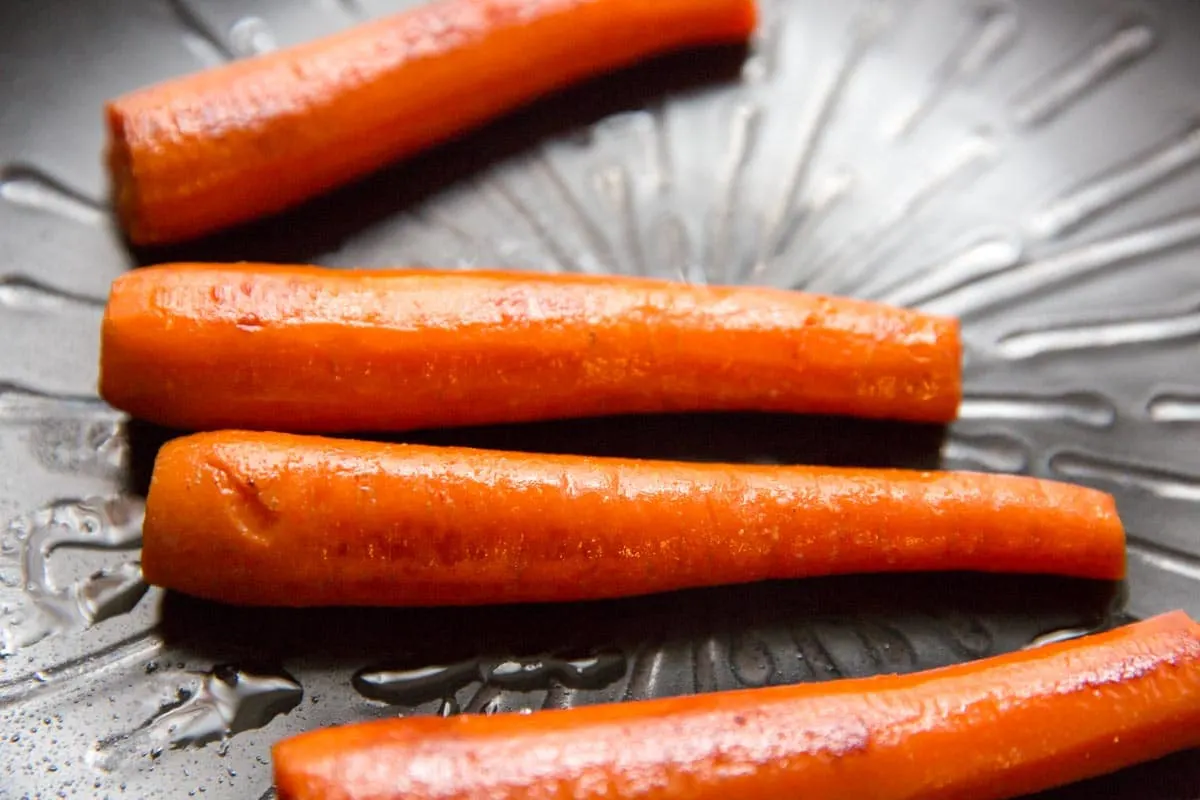 Put them in a hot dog bun and top with your favorite toppings!
Personally, I like mustard and relish.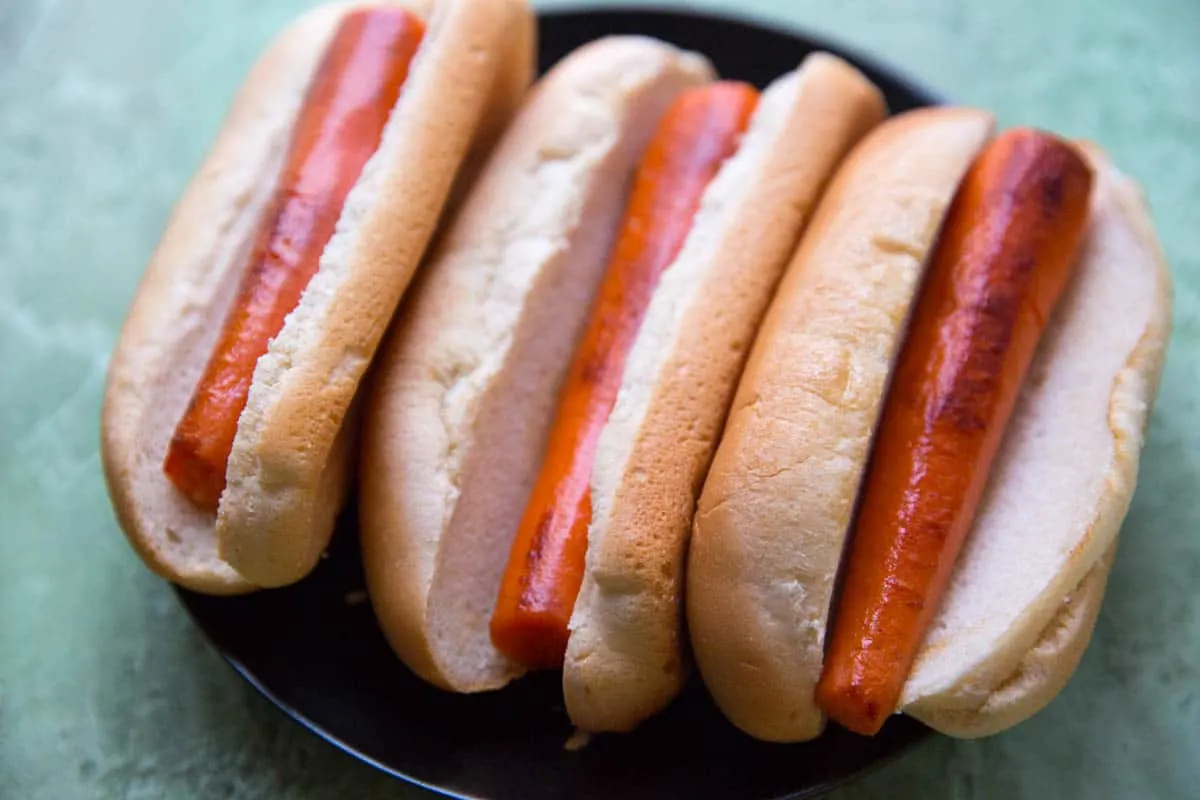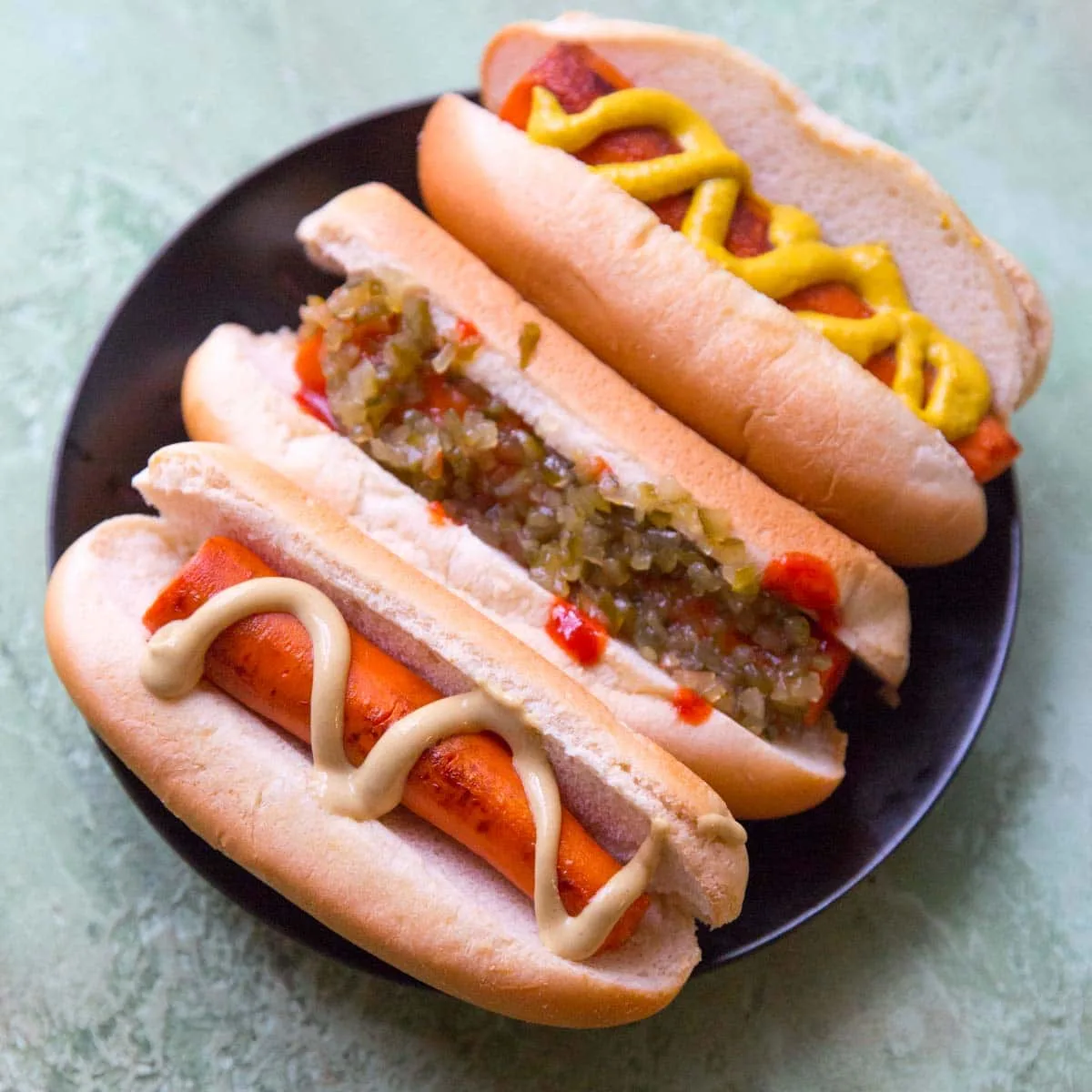 I still remember in 4th grade when I told everybody what hot dogs were really made of (google it if you don't know), and I grossed everyone out and probably didn't have friends any more (joking, kind of).
If I met them now, maybe I'd make them a carrot dog to make up for it.
Yield: 6-8
Make-Ahead Carrot Not-Dogs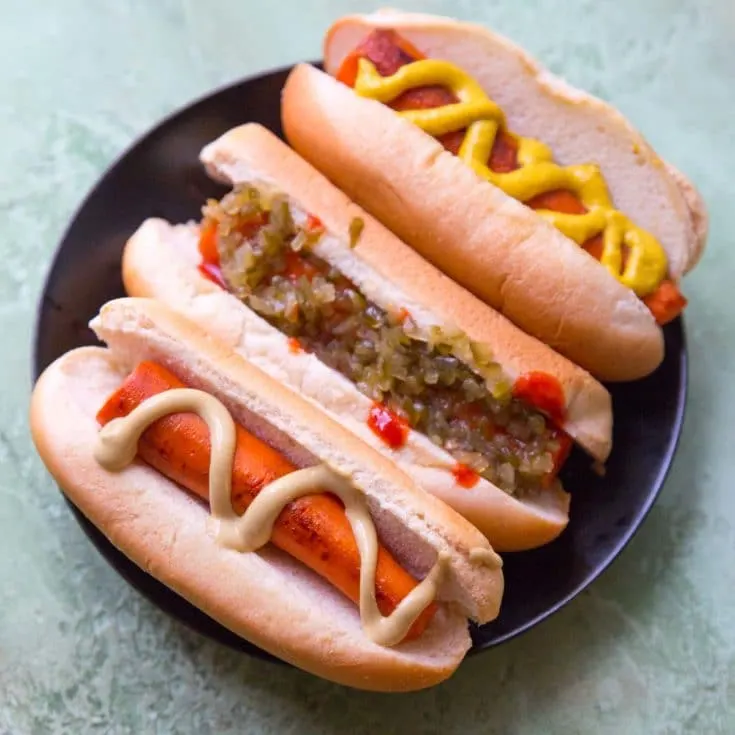 Vegan Carrot Hot Dogs - or Not Dogs - are a veggie-centered meal. Fun to cook and eat!
Total Time
8 hours
25 minutes
Ingredients
6-8 medium carrots
3 tablespoons apple cider vinegar
2 teaspoons pure maple syrup
1 teaspoon mustard powder
1 teaspoon garlic powder
1 teaspoon smoked paprika
1 tablespoon miso paste (red or white)
3/4 cup vegetable stock
1/4 teaspoon sea salt
1 tablespoon coconut oil or olive oil
6-8 hot dog buns
Instructions
Peel and trim the carrots to the size of the hot dog buns. Bring a large pot of water to a boil and cook the carrots for 20 minutes, or until tender (but not falling apart).
Meanwhile, whisk the apple cider vinegar, maple syrup, mustard powder, garlic powder, smoked paprika, miso paste, vegetable stock and sea salt together in a bowl before transferring them to a container with a lid (large enough to fit the carrots).
When the carrots are done boiling, remove them from the water and place directly in the brine. Let them cool slightly, cover with the lid and put them in the fridge for 8 hours or up to 3 days.
When ready to cook the not-dogs, heat a griddle to medium-high and heat the oil. Grill the carrots until warmed through and grill marks appear, about 1-2 minutes each side.
Serve in a hot dog bun with your choice of condiments.
Notes
Reprinted with permission from Great Vegan Meals for the Carnivorous Family by Amanda Logan, Page Street Publishing Co. 2018.
Nutrition Information:
Yield:
6
Serving Size:
1/6 recipe
Amount Per Serving:
Calories:

273
Total Fat:

8g
Saturated Fat:

3g
Trans Fat:

0g
Unsaturated Fat:

4g
Cholesterol:

0mg
Sodium:

661mg
Carbohydrates:

43g
Fiber:

4g
Sugar:

8g
Protein:

8g
Nutrition information is calculated automatically by an online tool at Nutritionix. It is not always accurate. Please use your own tools to check if you rely on this information.