Broccoli Cheddar Bites – perfect snack or finger food for a delicious serving of veggies. Both kids and adults will love them!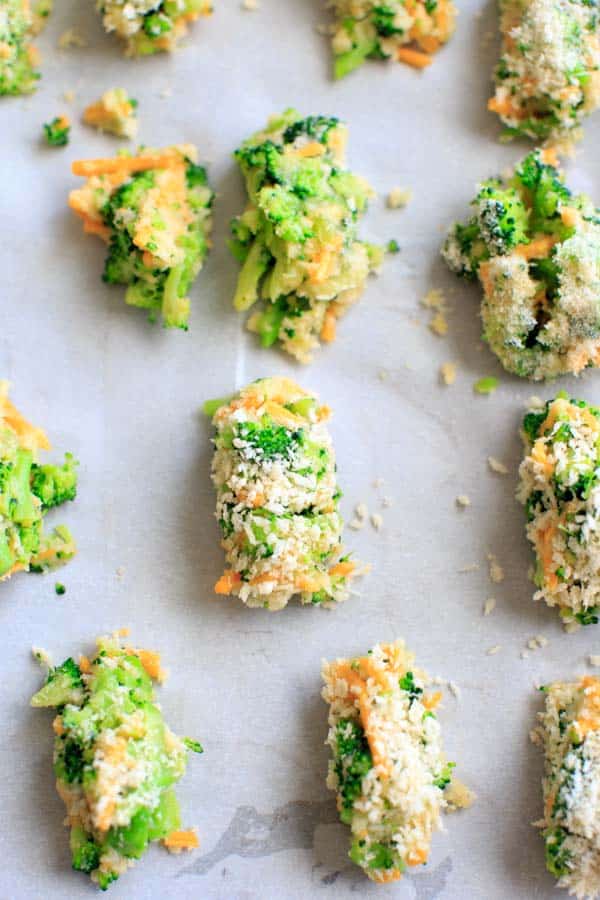 Confession – these were originally going to be called "broccoli tots," an imitation of "tater tots" that I've seen floating around the web.
However, since they both look and taste nothing like tater tots, I didn't want to deceive you and instead decided to call them Broccoli Cheddar Bites.
Veggies disguised as other foods is definitely a trend these days. Cauliflower disguised as pizza crust, spiralized zucchini in place of spaghetti noodles (ZOODLES), avocado in place of cream. Okay that last one is a fruit, but you get my point. It never ends.
So I'm not going to pretend these are tater tots. Tater tots are made from potatoes. And are deep fried. These are just baked broccoli and cheese bites, okay?
I'm all about transparency guys. (If you'll remember by my chickpea cookie dough?)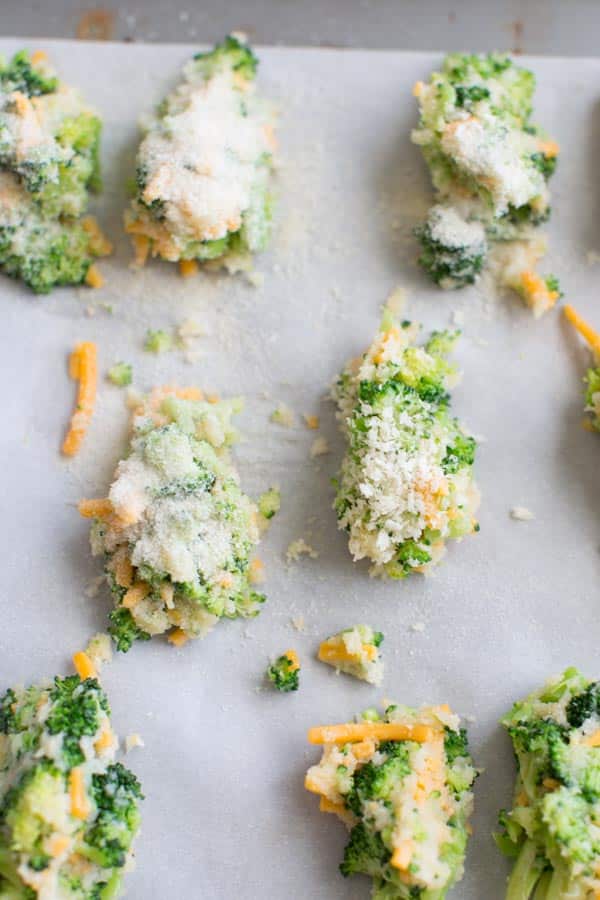 So you pretty much know what you're getting here – broccoli and cheese.
I was too lazy to get out the food processor so they look a little messy (especially before putting on the panko). If you're trying to disguise the veggies for a kids snack or even just to make them look a little prettier, I'd recommend getting it out.
There's only so small you can chop broccoli florets. You might not even need as much panko if you used the food processor.
Serve with ketchup or hot sauce or your favorite dipper. A great way to get a serving of your greens without missing out on flavor!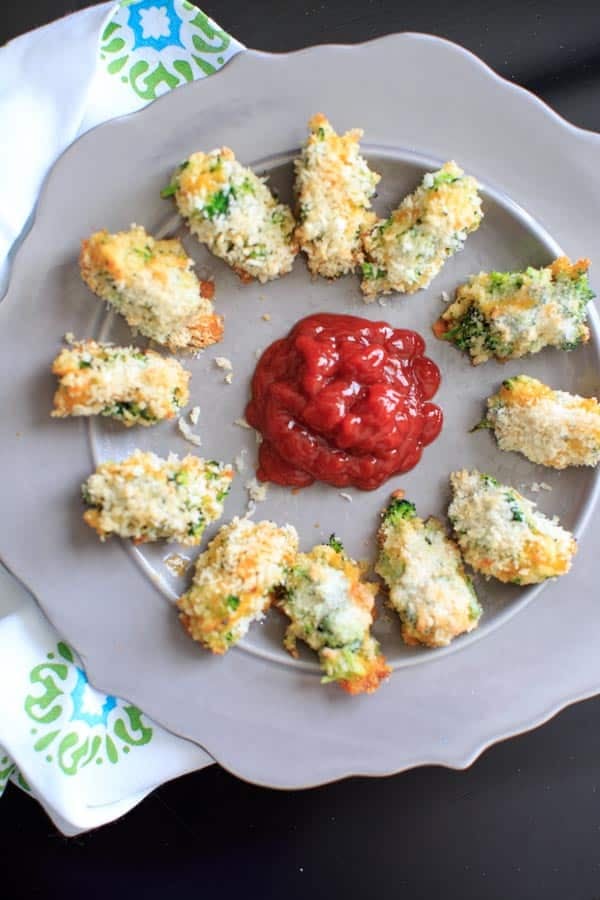 Recommended and useful items for this broccoli cheddar bites recipe:
Broccoli Cheddar Bites
Broccoli Cheddar Bites - perfect snack or finger food for a delicious serving of veggies. Both kids and adults will love them!
Ingredients
6

ounces

broccoli

(about 2 cups), chopped

2/3

cup

shredded cheddar cheese

1

egg

1/2

teaspoon

minced garlic

1/2

teaspoon

salt

2/3

cup

panko crumbs

(gluten-free if necessary)
Instructions
Preheat oven to 400°F.

Combine all ingredients except panko in a bowl. If a smoother appearance/consistently is desired, use a food processor and pulse until combined. (see notes)

Make small bite-size pieces from broccoli mixture (think nugget-size) and place on baking sheet.

Roll bites into panko or just top with panko crumbs as desired.

Bake for 15-20 minutes or until lightly browned.
Notes
I did not use a food processor to combine the ingredients for the pictures here, but doing so will create a smoother apperance and make it easier to roll into bites.

*There are affiliate links within this post that we can earn a commission on at no extra cost to you. Thank you for helping to support the site!