Apple "Nachos" with peanut butter and chocolate drizzle. Fruit, protein and chocolate makes this a great healthy snack at any time!
One of the best things about pinterest is the inspiration you can find, and I especially love when I see a picture of food that makes me feel the need to go make that recipe right that second. Enter: apple nachos. It was a pin from this page where I first heard about such a thing, and the options for toppings are endless. These are not exactly (at all) like "nachos" since I didn't melt the whole thing in the microwave, there are no chips and there is no cheese (note to self: try this another time with cheese!). However apple nachos sounds much more exciting than "apples with varoius toppings", so I'm going to go with it. It's basically a way to get your "apple a day" while satisfying your sweet tooth at the same time. In my searches I have seen toppings like caramel, marshmallows, candy bars and cinnamon, but of course for my first try I decided on apple nachos with peanut butter and chocolate. Why would I go any other way?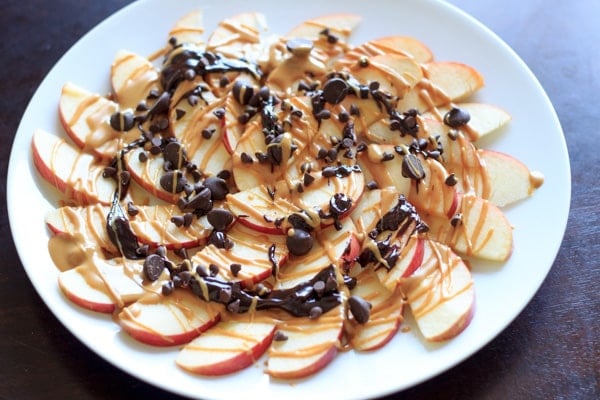 This is a totally flexible recipe – you can use any kind of apple you want, any kind of topping and any amount. Though I would definitely recommend a sweet red apple as opposed to a granny smith/green apple, and you just can't go wrong with peanut butter and chocolate. I list the amounts I used for my plate just for a guideline. I only had one Fuji apple in my kitchen, so I cut it up into 32 thin slices for my plate (I used an 8-piece apple corer like this one
, cut each piece in half, and then each in half again). I melted 1/4 cup of peanut butter in the microwave and drizzled that on, and I tried to do the same with 1/4 cup chocolate chips. The melted chocolate didn't spread as far as I wanted so I also added chocolate chips (a few mini, and few regular sized) on top.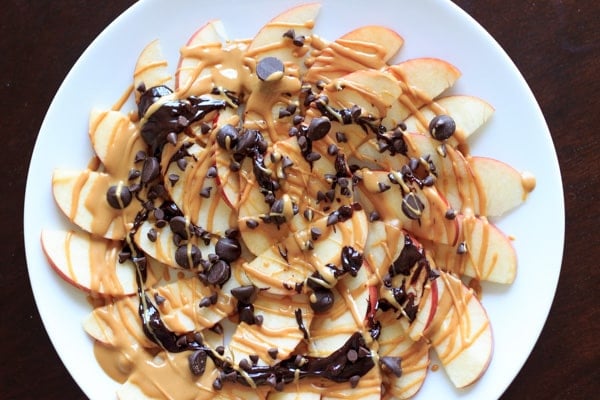 I imagine this would be a hit as an appetizer too, but I can't claim to have shared this with anyone. It's not often you get a serving of fruit, protein, and chocolate all in one, so this is basically the best dessert snack ever.
If you make these apple nachos, take a pic and tag me on instagram with the hashtag #trialandeater so I can find them! I'd love to see your creations.

Apple nachos with peanut butter and chocolate
Apple "Nachos" with peanut butter and chocolate drizzle. Fruit, protein and chocolate makes this a great healthy snack at any time!
Tested in the kitchen of:
Kelly @ Trial and Eater
Ingredients
1 Fuji apple (or slicing apple of your choice), cut into 32 thin slices*
¼ cup smooth peanut butter, melted
¼ cup semi-sweet chocolate chips, melted**
handful of chocolate chips, for sprinkling (I used a combination of mini semi-sweet chips and regular sized dark chocolate chips)**
Instructions
Arrange apple slices on a plate.
Drizzle melted peanut butter over apple slices with a spoon, and do the same with the melted chocolate.
Sprinkle handful of chocolate chips over the plate as topping.
Serve immediately.
Do you like these apple nachos? Be sure to follow me on
pinterest
or sign up for
email
updates so you don't miss more recipes!
Similar items used in this recipe:

You might also like..